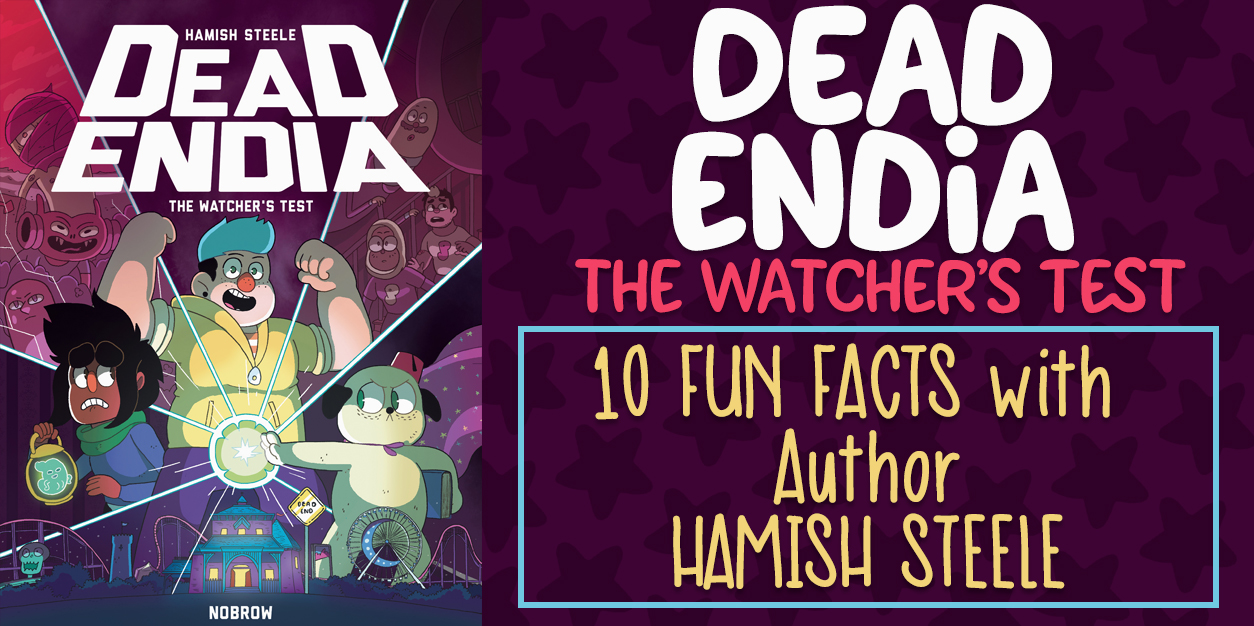 DeadEndia: The Watcher's Test Fun Facts with Author Hamish Steele
As the air turns crisp, leaves change colors, and pumpkins get placed on doorsteps, we can't think of a better way to embrace the Fall season than to curl up with a book that totally captures that vibe in a silly and spooky way. In DeadEndia: The Watcher's Test from Hamish Steele, Barney, Pugsley, and their friends spend their days working the haunted house at an amusement park that also doubles as a portal to the underworld. They're used to their fair share of spooks and weirdness, but are in for an intense surprise when an evil Demon King with a master plan possesses Pugsley, and they are unwillingly thrown into the role of demon slayers and world savers.
Mysterious and magical, we think DeadEndia will appeal to anyone who loves the paranormal charm of Gravity Falls, the BFF adventuring of Adventure Time, and the spooks and thrills of Goosebumps!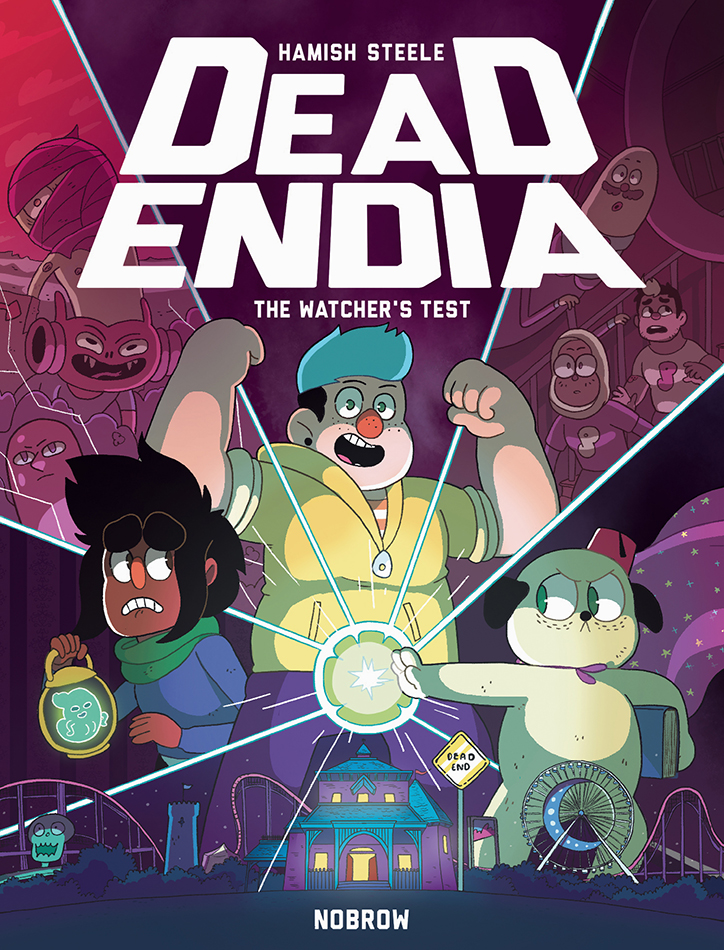 Follow the lives of the employees of a haunted house theme park which may or may not also serve as a portal to hell, in this comedic but moving graphic novel from the bestselling author of Pantheon.
Barney and Norma are just trying to get by and keep their jobs, but working at DeadEnd also means battling demonic forces, vengeful ghosts, time travelling wizards and scariest of all… their love lives. Praised for its storytelling and diverse cast of characters, DeadEndia is an exciting and emotional book about lost souls finding each other and forming a family.
AUTHOR: Hamish Steele
PUBLISHER: Nobrow
DATE: August 7, 2018
We can't help but gush over this diverse, charming, and inclusive read. DeadEndia brings the spooks, the feels, and over the top weirdness in all the best ways. There are colorful park maps, character profiles that include their preferred pronouns, and a deep story and lush illustrations that will take you on a fantastical romp through the underworld like you've never seen before. This quickly became one of our all-time favorite graphic novels upon the first read, and we've only grown to love it more and more sense.
Get to know DeadEndia as author Hamish Steele shares his experiences trying to bring DeadEndia to life, working with sensitivity readers to create an authentic representation, and the backstory behind his characters!
Author Hamish Steele Shares 10 Fun Facts About DeadEndia: The Watcher's Test:

(Image provided by Hamish Steele)
FACT #1:

It was a long rambling road to get DeadEndia released as a book! It began life as an animated short for Frederator Studios, the company behind Adventure Time and Fairly Odd Parents! We then pitched the short to Nickelodeon, hoping it'd be a full tv series but it wasn't meant to be.

Then I took the story I'd written and turned it into a webcomic, released every week on my website. I self-published that comic to sell at fairs and conventions and then eventually, it fell into the hands of the publisher, Nobrow, and here we are! It really shows that if you're passionate about your story, it can happen even after several (ha ha) Dead Ends!

FACT #2 :

DeadEndia is full of spooky characters. I got my love of ghost stories from growing up in a magical town called Glastonbury. It's nestled among the green hills of the English countryside and is the home of Pagan and Wiccan practices in the UK. It's also home to a fair few ghost stories – my mum's even been spooked by one ghostly monk where she used to work (emphasis on USED!).


FACT #3:

The two lead characters, Barney and Norma, are both based on me! Barney is the version of myself I'd like to be, and Norma is the version of myself I fear I am sometimes.

Barney represents me when I'm feeling confident, friendly and ready for adventure and Norma represents me when I'm feeling anxious, over-worked and in need of some personal space. But I wouldn't be myself without having both aspects in me! I think that's why they're such good friend, despite being so different.


(Image provided by Hamish Steele)
FACT #4:

I had a pet called Pugsley, just like Barney, although my Pugsley was a Guinea Pig. My Guinea Pig also didn't get possessed by a demon and gain magical powers and the gift of speech, as far as I know!

FACT #5:

"The Watcher's Test" is the subtitle for the book but I had a few other ideas originally planned. At one point it was called "The Watcher's Quest", "The Ballad of Pugsley" and "The Wizard At The End of the World". Yeah. Pretty clunky that one!

FACT #6:

To help me write some of the characters, or character traits, most different to me, I employed sensitivity readers! These are people who can read your story to see if you're representing the types of person they are correctly.

For example, I am not transgender but Barney is, so I put a call out online for trans readers to have a look at my story and offer advice. Even if you think you know everything, it's always good to get a second, third or fourth opinion!


(Image provided by Hamish Steele)
FACT #7:

In Chapter 3, Norma's struggle with mental health is at the forefront. While this chapter has changed a little over time, when I originally wrote it, it was to try and articulate my own struggles with mental health. Thanks to writing it and posting it online, my readers were able to offer me advice on how to get professional help with it. It's always good to share how you're feeling, even if it's via a strange method like I did!

Chapter 3 is also about fears and includes one of mine: I'm pretty scared of the ocean!

FACT #8:

The book is based on my pitch for "Series One" that we presented to Nickelodeon and I had to turn a 26-episode outline into an 8-chapter book. Therefore, lots of ideas were cut in order to just keep the essentials. Some will come back in later books, but some cut ideas included: Pugsley attending a wizarding school for dogs, a creature made of feet, Norma starting a band with her doppelgängers, a demon the size of the moon and a sinister ghost stood in the corner of every room that only Barney can see…



(Image provided by Hamish Steele)
FACT #9:

DeadEndia was actually the 4th attempt to make a webcomic. Lots of the ideas from previous webcomics I'd started but dropped were incorporated into the book, such as a time-travelling fighting tournament, someone who is half-ghost and the concept of a creature that changes based on who it hangs out with. There's also a few cameos from characters in the book from some of my old project. Look out for Vanish, a mysterious magician in an Egyptian mask and Urchin, a little ginger-haired Victorian street orphan.

It's ok to abandon a project because it isn't working, but keep all the good ideas in your head or a notebook – you'll never know where you might be able to fit them later.

FACT #10:

Book 2 is being written right now and the title is "The Broken Halo". What could it mean!? You'll have to find out later but one hint is that while Book 1 was very much focused on Barney and Pugsley's relationship, Book 2 will focus heavily on Norma and Courtney.
We genuinely loved DeadEndia and can't wait to see what's next for Barney, Pugsley, Norma, and Courtney in Book 2! You can see more of Hamish's work by visiting his website and you can order the book by visiting your favorite bookstore or clicking here!
Love graphic novels about friendship and spooky stuff? We think you'll love Fake Blood by Whitney Gardner!