10 Fantastic Facts About SWEEP Author Jonathan Auxier
Sweep: The Story of a Girl and her Monster is a lot of things, including dark and gritty, giving readers a glimpse into some of the darker times that really happened in Victorian London. However, it's also a fantastical story of hope, friendship, and growing up. Sweep also takes a look at the meaning of the word monster, a word that is generally used to describe the scary, unwanted, or unknown. We love the way author Jonathan Auxier managed to sprinkle magical elements and funny moments throughout otherwise bleak historical happenings, leaving readers with an adventure that's not to be missed!
Our favorite part of the story, of course, is Nan Sparrow, one of the few girls working as a climber in all of London, who is also one of the best. Despite her awful working conditions, an abusive master, and being caught in a terrible fire, Nan radiates kindness, independence, and strength.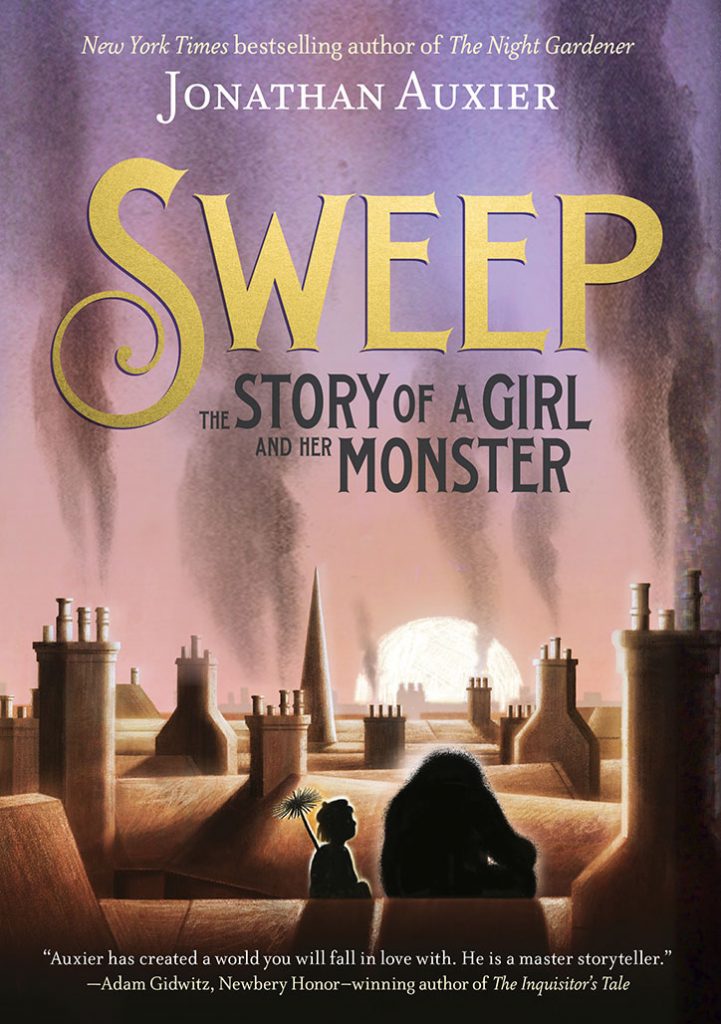 A brand-new novel by one of today's most powerful storytellers, Sweep is a heart-rending adventure about the everlasting gifts of friendship and hope.
For nearly a century, Victorian London relied on "climbing boys"–orphans owned by chimney sweeps–to clean flues and protect homes from fire. The work was hard, thankless and brutally dangerous. Eleven-year-old Nan Sparrow is quite possibly the best climber who ever lived–and a girl. With her wits and will, she's managed to beat the deadly odds time and time again.
But when Nan gets stuck in a deadly chimney fire, she fears her time has come. Instead, she wakes to find herself in an abandoned attic. And she is not alone. Huddled in the corner is a mysterious creature–a golem–made from ash and coal. This is the creature that saved her from the fire.
Sweep is the story of a girl and her monster. Together, these two outcasts carve out a life together–saving one another in the process.
AUTHOR: Jonathan Auxier
PUBLISHER: Amulet Books
DATE: September 25, 2018
Rather than share fun facts about his book, the interesting and hilarious Jonathan Auxier is dazzling YAYOMG! readers with 10 Fantastic Facts about himself! From his sweet yo-yo skills to a deep love of Yoo-Hoo, get to know Sweep author Jonathan Auxier below!
Get to Know Sweep Author Jonathan Auxier:
FACT #1:

I used to be a yo-yo performer. My first job was traveling to schools and doing yo-yo shows. It turned out to be great training for being a writer – I still bust out my tricks at author events!

FACT #2:

I've been immortalized in the children's lit canon! Caldecott Award-winning illustrator Dan Santat snuck my last name onto a bottle of maple syrup in his book Crankenstein, and Tom Angleberger named a jerky minor character after me in the fourth Origami Yoda book!

FACT #3:

I am a sucker for weird bets. I am constantly making wagers with other children's authors. My favorite was when Lisa Yee agreed to attend a panel dressed as Holly Golightly if I would sing all my answers to the tune of Moon River.

FACT #4:

I carry a journal with me everywhere I go. I've been using the exact same type of journal for nearly twenty years. Over time, I've filled an entire bookshelf with them. To see inside some of my journals, click here!

FACT #5:

I am an accomplished hater. Here are just a few things that everyone loves that I hate: live music, Belgian waffles, homemade salsa, tiny dogs, walking on unpaved surfaces, lavender, padded chairs, direct sunlight.

FACT #6:

I have always been huge kidlit nerd. True story: I asked out my future wife because she walked into a coffee shop carrying the Blackwell's Anthology of Children's Literature. (Also true: she turned me down.)

FACT #7:

My favorite drink is Yoo-Hoo. If you meet me in person and give me a bottle of Yoo-Hoo, I will become your best friend.

FACT #8:

I am an obsessive board gamer. If you hang out with me, I will try to make you play a game. Here's me teaching a bunch of librarians how to play Karuba!

FACT #9:

I pretty much only take "Monster Face" pictures. If you point a camera at me, I will make a monster face. This was true in high school and is still true today. Check out this gallery of me forcing other authors to make monster faces with me.

FACT #10:

I am a SLOW writer. I might be the slowest writer I know. My new book Sweep took over ten years to get right.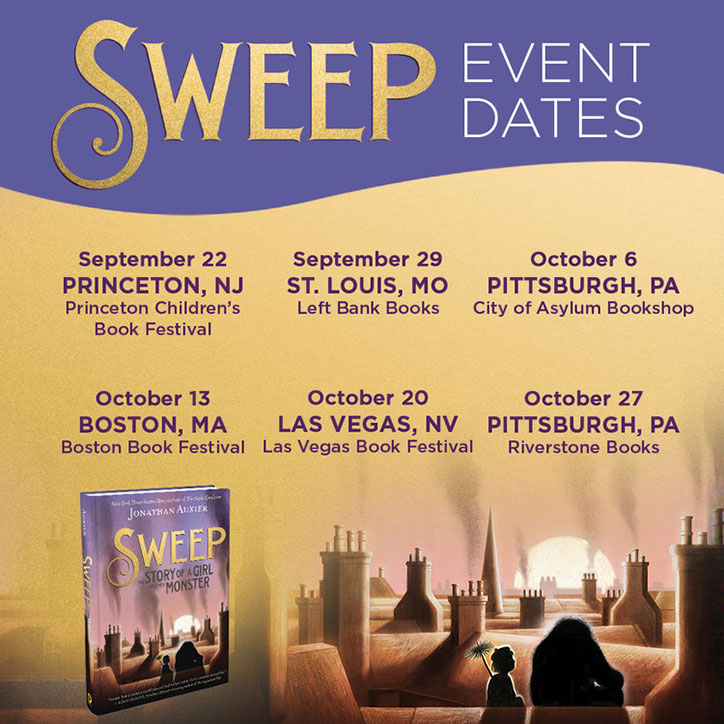 Sweep: The Story of a Girl and her Monster is out today from Amulet Books. Author Jonathan Auxier will be touring and doing events to celebrate the release of his new book, so be sure to check them out if he's visiting your city, and don't forget the Yoo-Hoo! For more details, click here!
Looking for another amazing read? Check out DeadEndia: The Watcher's Test by Hamish Steele.