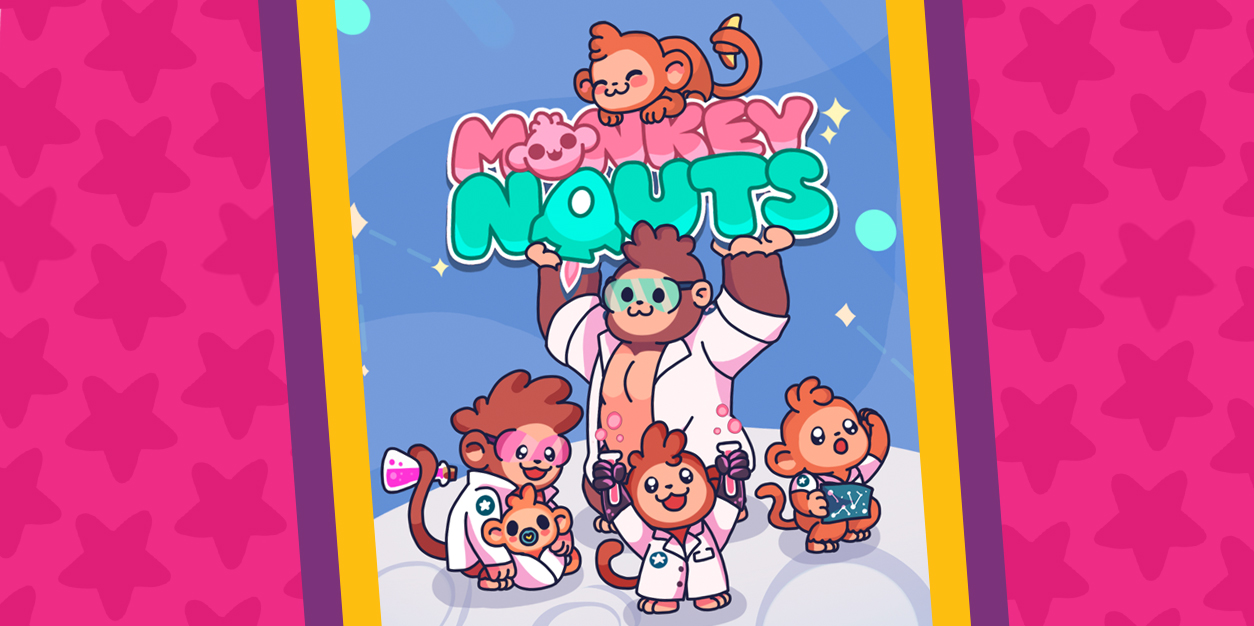 Monkeynauts is Monkey Merging Madness
Note: We received a complimentary review code from HyperBeard in exchange for a fair and honest review of Monkeynauts. All opinions are our own; we were under no obligation to give a positive review.

Monkeynauts is a brand new mobile game from HyperBeard and Pocket Rocket Games that lets you boldly go where no monkey has gone before! The game combines all the best things in life into one super fun idle clicker – adorable graphics, a charming soundtrack, monkeys, and SCIENCE!
If you've ever played KleptoCats 2, Clawbert, or Chichens, you'll know that HyperBeard are basically the kings of crafting cute, casual, and utterly addictive mobile games, and Monkeynauts is no exception! Ready to explore the galaxy and get your experiment on with some monkey scientists? Monkeynauts is available today for iOS and Android devices.
Our Monkeynauts Review:
What It's All About:
Monkeynauts kicks off with a curious monkey scientist who gets the brilliant idea that there might be bananas in space! He gets to work planning and building a rocket ship and heads off to outer space to begin his experiments. The idea is totally silly, and that's precisely why we love it!
When the game begins, you'll find yourself in a lab where a fancy monkey incubator will start to produce monkey specimens every 12 seconds. As the incubators appear, tap them to unleash the monkey specimen inside. The first monkey you'll find is baby Albie, and he's the beginning of your monkey merging possibilities.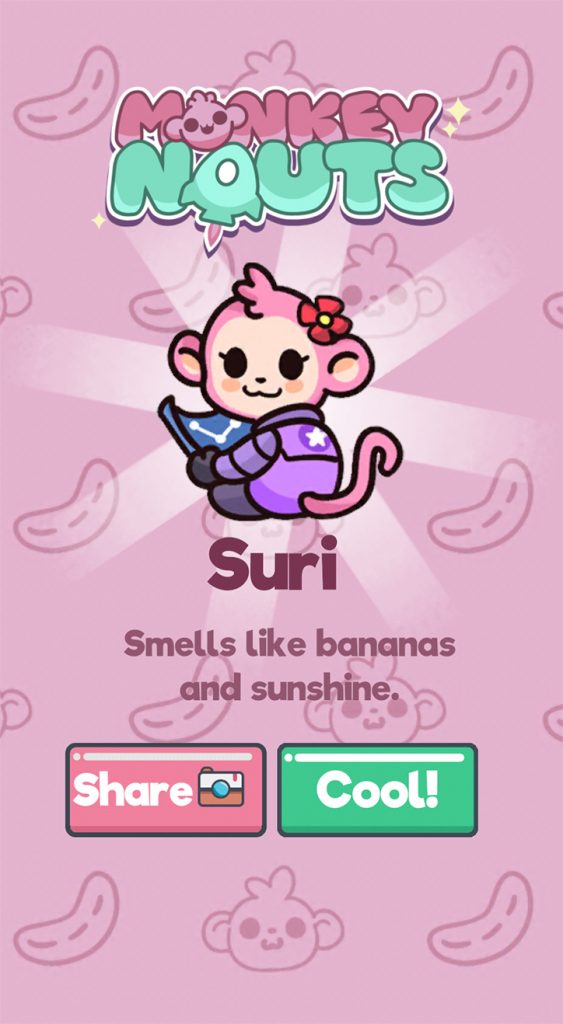 Create New Species and Discover New Planets:
After creating at least two of Albie (or any other monkey in the game), merge the two together to create a brand new species. From there, you'll continue merging as many monkeys as you can, creating new evolutions as you go. Each monkey scientist in Monkeynauts boasts their own distinct look, style, and personality, which makes it super exciting each time you unlock a new one. You'll watch as you merge and evolve them from baby to toddler to kid to teenager to adult until you finally reach the largest possible evolution.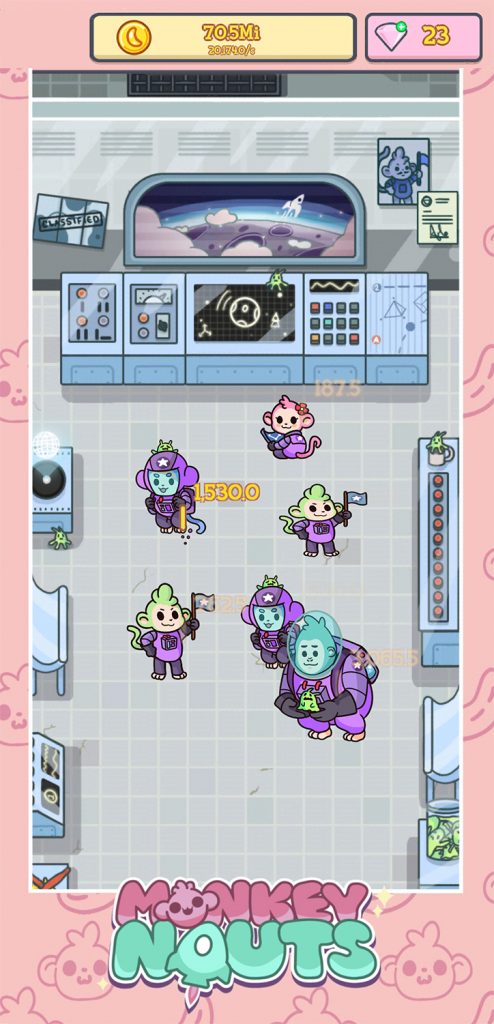 After you create the largest monkey possible and merge two together, something exciting happens! A rocket ship will take off towards the next planet, unlocking a new lab with a shiny new color scheme and new monkeys to collect. There are four planets in total at the moment, with 6 possible monkeys to discover on each planet.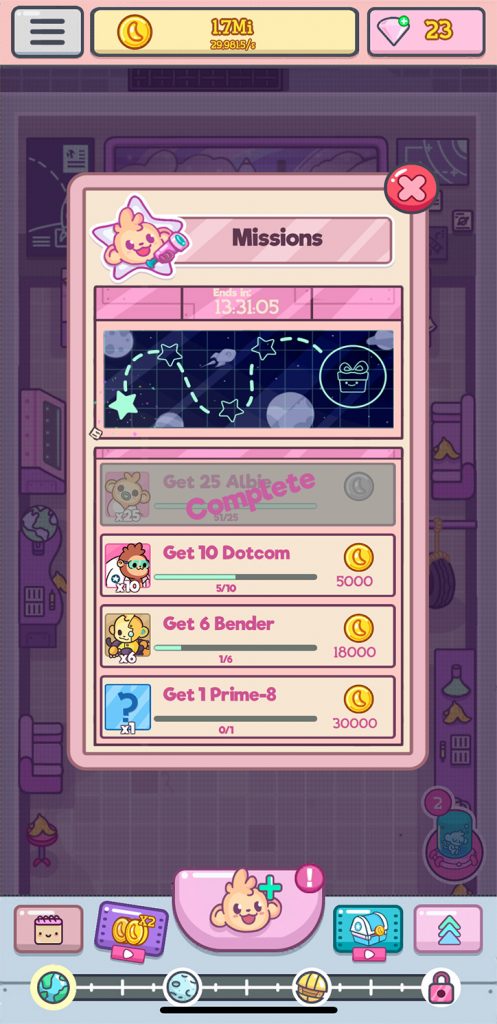 Speed Things Up and Complete Fun Missions:
In addition to a daily gem reward you can earn every 24 hours, Monkeynauts keeps things interesting by giving players daily missions to complete. Most of them are pretty easy and can be done in just a few minutes of gameplay. Others are much more time consuming, asking you to create specific monkeys that require a lot more time and patience to produce. Completing each task earns you a coin reward based on the level of difficulty it takes to complete. For example, Albie is super easy to get since the game is continually producing him while you play, so completing the task of creating 25 Albies will earn you fewer coins than creating just one Prime-8, who is one of the larger monkeys on the third planet.
Feeling Impatient? That's where the idle clicker aspect of the game comes into play, allowing you to take control by tapping the incubator to speed the monkey creating process. You can also speed up your coin production. As you play, you'll notice that your monkeys are continuously earning coins, even when the game is closed. Tap them to make cash more quickly. The bigger the evolution, the more money you'll earn.
Letting your monkeys hang around and do science for a while is a great way to earn large amounts of coins, but personally, we always get a bit impatient to unlock the next monkey on the list and are always on a mission to merge and evolve!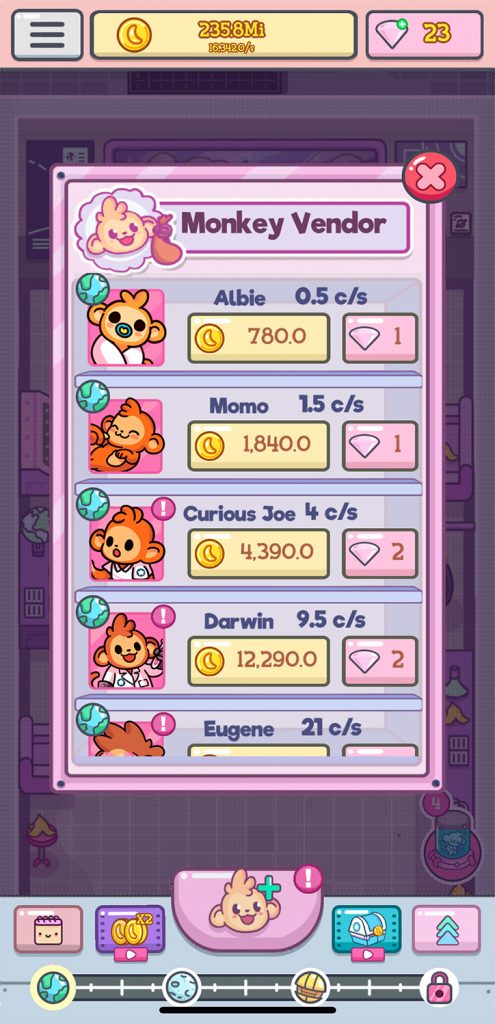 Spend Those Hard Earned Coins:
Since you're always earning a neverending flow of cash, you're probably wondering what you can do with it all. Hit up the Monkey Vendor to buy additional monkeys to add to your labs. They can be purchased for coins or gems, and they'll boost your ability to merge more monkeys more quickly. The Monkey Vendor is also where you can view how many coins each monkey species is earning you. Looking for even more ways to earn currency? You can watch video ads in order to double your coin stash and earn gems.
What We Think:
We're having a really great time playing Monkeynauts. We love the surprise each time we unlock a new species or planet, and we're absolutely charmed by the color palette and adorable graphics in this game. If you're someone who likes idle clickers or just simple collecting games, we think you'll be really into Monkeynauts. It adds an extra layer of charm to a basic gameplay style that will always have you curious and checking back in to complete missions and earn more monkeys.
We're excited to see what future updates bring, especially in the way of more labs and merging possibilities. Wouldn't it be cool if you could create special monkeys by combining different species together or maybe feed your monkeys banana boosts in order to earn coins more quickly? The possibilities are totally endless!
If you like Monkeynauts, be sure to check out our interview with HyperBeard Co-Founder and Director, Antonio Uribe.