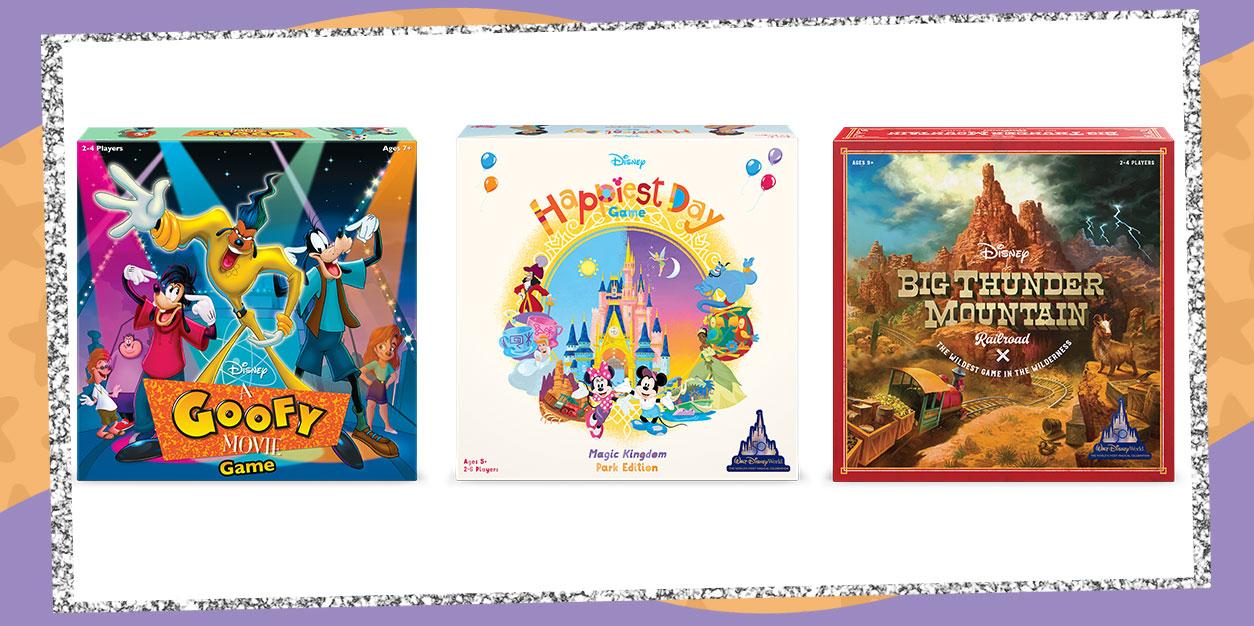 Have a Disney Adventure This Summer with These Magical New Funko Games
NOTE: We teamed up with Funko Games for this Disney Adventure Giveaway. All opinions are our own; we were under no obligation to give a positive review. Giveaway prizes provided by Funko Games.
Summer break means fireflies, s'mores, and long, sunny days filled with endless possibilities. Whether you're boogie boarding at the beach, sharing stories around the bonfire at camp, or just soaking up as much couch time as possible before school starts, one thing is for sure – summertime is the best time!
Being on break from school means road trips with the fam, sleepovers with the squad, and maybe even an epic family vacation to a theme park. Whether you're headed to a campground, a beachside resort, or simply living your best staycation life, these new Funko Games are the escape you need to make every day feel like a magical Disney adventure!
These four fabulous new games will have you road-tripping with Goofy and Max, mining for gold in the wild west, swapping cherished Disney memories, and lurking around the spooky Sleepy Hollow, all from the comfort of your living room, motorhome, or hotel room.
We teamed up with our friends at Funko Games to help you have a magical Disney adventure this summer with a Disney Adventure giveaway! Ready to enter? Grab your favorite adult and have them fill out the form below for your chance to WIN!
These 4 New Funko Games Will Inspire Magical Disney Adventures: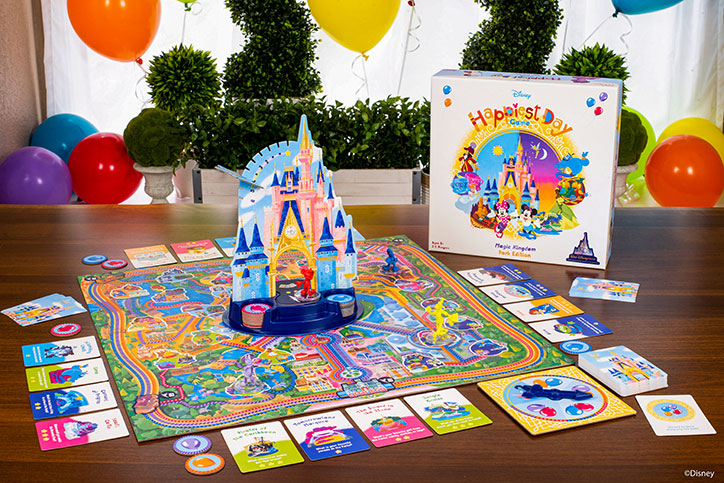 Disney Happiest Day Game:
THE VIBE: POV: You're snacking on a Dole Whip in your sparkliest pair of Mickey ears as you make your way over to Space Mountain. Whether Disney is your dream vacay or your absolute favorite destination, Disney Happiest Day is all about making and sharing magical memories – almost like an interactive scrapbook you can play through with your fam!
GAME DEETS: Set in the Magic Kingdom, players start at Cinderella's Castle and try to have the happiest day ever at the park. Each balloon token you earn will help you move throughout the board to recognizable locations and attractions throughout the park where you'll get to answer questions about all your park favs – best treat, favorite souvenir, pin collecting, go-to rides, and more!
When Tinkerbell reaches the top of the castle, everything switches over to night, where you'll re-think your route and embrace the dazzling fireworks and nighttime vibes of the park.
WHAT WE LOVE: It's hard to pick just one favorite – but we think the gorgeous artwork is our favorite thing about this enchanting experience! It really captures the feeling of being at the parks IRL.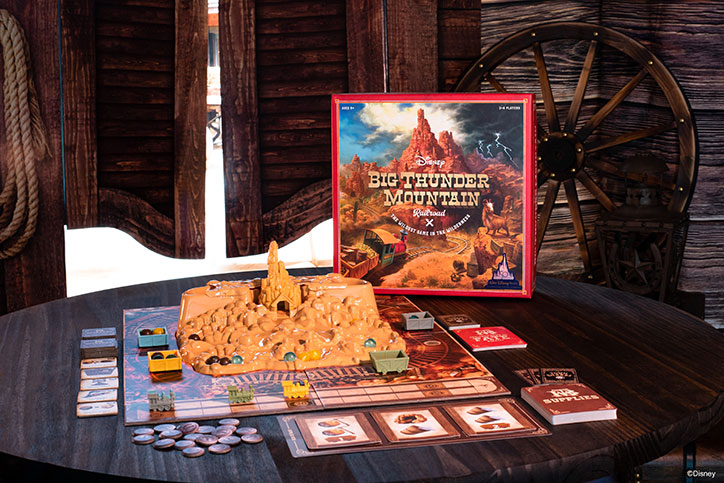 Disney Big Thunder Mountain Railroad Game:
THE VIBE: Big Thunder Mountain Railroad is one of the fastest, wildest rides in the Disney Parks, and this game brings those wild west vibes to life! This simple deck-building strategy game is a great intro to the genre and a must-have collectible for Disney fans.
GAME DEETS: Step off the stagecoach into a cursed mining town filled with gold and fortune – but watch out for landslides and dynamite. See the towering mountain peak? Each player will have a chance to give it a twist and watch as the gold, ore, water, and fate marbles roll down the mountain. When the marbles have settled, sort through your supply cards to decide which action to take. Will you pick and pan for gold and ore, or will you make a strategic move that might help you later in the game?
WHAT WE LOVE: This game FEELS like summer. Dusty desert vibes you can enjoy in the air conditioning? Who could resist? Plus, it's FULL of surprises and feels different each time you play and learn to strategize better.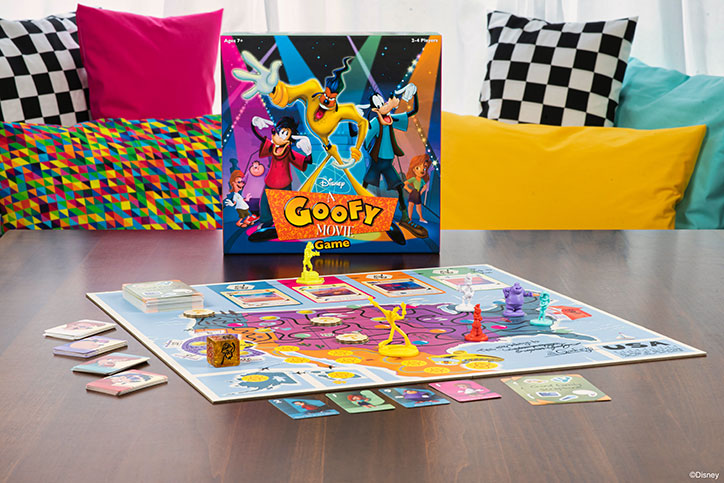 Disney A Goofy Movie Game:
THE VIBE: Aesthetic galore! If you're all about those '90s vibes, you'll love piling into the car with Max and his friends for an epic trek across the US to California for the Powerline concert!
GAME DEETS: Inspired by the events in A Goofy Movie, you'll play cards and road trip across the map, collecting fun memory pages for your scrapbook. As Max and the gang head out on their unforgettable adventure, they'll be racing to make it to the concert in time – but with a twisty-turvy route, a roll of the dice could send Goofy on a wacky detour at any time!
WHAT WE LOVE: The sightseeing! We love a good road trip, and we're totally GOOFY for the pit stops and movie references galore!
PS: A Goofy Movie is legit iconic, and if you haven't seen it, it's time to pop some popcorn, grab some spray cheese, and cuddle up on the couch to see how many game moments you can spot in the flick!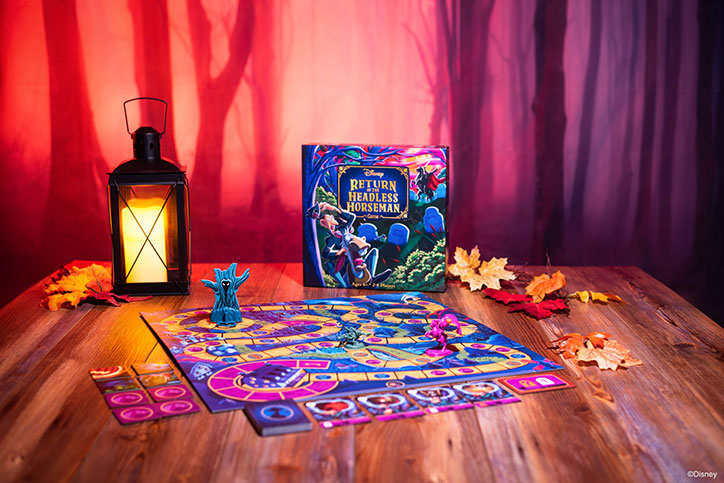 Disney Return of the Headless Horseman Game:
THE VIBE: The Legend of Sleepy Hollow is a must-watch at Halloween, but the Return of the Headless Horseman game lets you visit Sleepy Hollow any time of year!
GAME DEETS: Ichabod is frightened, and he needs your help to make it to the covered bridge without a run-in with the Headless Horseman. With strategy elements and spooky vibes, you'll love
WHAT WE LOVE: Our favorite part? The 15-minute gameplay! A quick, breezy game means you can squeeze in a play sesh before dinner or while waiting for cupcakes to bake at a sleepover.
Funko Games Disney Adventure Giveaway: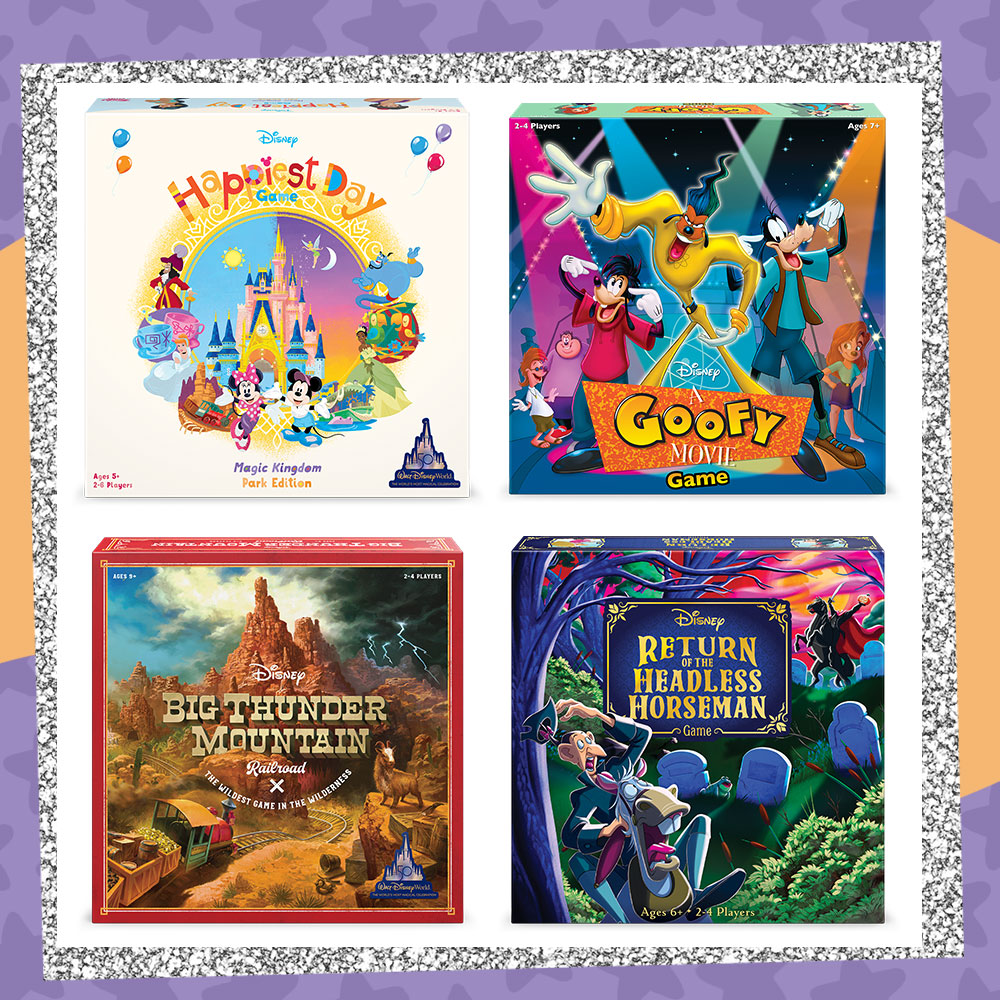 WHAT DO I WIN?:
ONE lucky winner will receive a Funko Games Disney Adventure Prize Pack that includes:
– ONE (1) copy of the Disney Happiest Day game
– ONE (1) copy of the Disney Big Thunder Mountain Railroad game
– ONE (1) copy of the Disney A Goofy Movie game
– ONE (1) copy of the Disney Return of the Headless Horseman game
*Prizes generously provided by Funko Games.
HOW DO I ENTER?:
Grab a parent or guardian and have them fill out the form below by July 29, 2022 at 11:59pm ET.
Giveaway runs from 07/15/22 at 12:30 pm ET through 07/29/22 at 11:59 pm. Open to US residents ONLY. Be sure to read the fully detailed rules HERE before entering.
THIS GIVEAWAY HAS ENDED AND THE WINNER HAS BEEN CONTACTED.
You must be 18 or older to enter. Please, only ONE entry per person. If selected as a winner, we will provide your parent/guardian with an affidavit to confirm that you are a valid winner who has permission to win. They will be REQUIRED to sign and return the affidavit to YAYOMG! to claim your prize. Prizes will not be mailed out without signed parental consent.
Need more fun things to do this summer? Check out these posts:
✨QUIZ TIME: Pick Your Throwback Favs & We'll Tell You Your Turning Red Bestie!
?SISTER VIBES: 3 Ways to Bond With Your Sister This Summer
✨SUMMERTIME SWEETS: Make Your Next Party Sparkle With These Gelatin Gems