FIERCELY FICTIONAL: Lasagna Means I Love You
FIERCELY FICTIONAL is all about celebrating fierce, inspiring fictional girls we know you'll love. To us, "fierce" isn't just about slaying dragons or solving mysteries. It's about breaking free from your comfort zone, discovering your confidence, fighting for what you believe in, & discovering your emotional strength. Any girl can shine bright & be fierce, & in this series, we'll connect you with a new fiercely fictional character every month!
Good news, readers! FIERCELY FICTIONAL is back, and this month we're spotlighting Mo from Lasagna Means I Love You by Kate O'Shaughnessy!
Mo's life is turned upside down when her Nan passes away, and she suddenly finds herself in foster care. Not only were they super close, but Mo's grandmother was her sole guardian, and now all that's left of her is a notebook and the memories they've shared. Nan's final request? For Mo to find a hobby that'll help her through the grief.
Mo uses the notebook as a journal where she writes letters to her grandmother, confiding her feelings about everything she's going through, even though she's hiding it all from her new guardians – and her best friend. Mo isn't convinced that a new hobby will make her feel better, but when she discovers an old homemade cookbook filled with someone else's family recipes and stories, she can't seem to put it down.
Lasagna Means I Love You: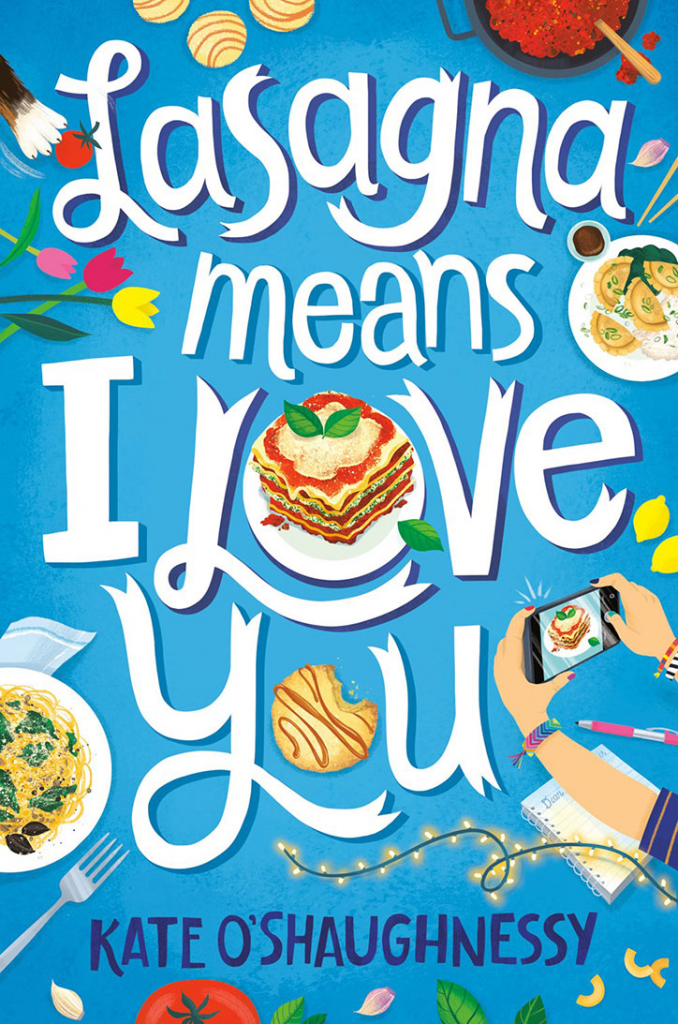 What are the essential ingredients that make a family? Eleven-year-old Mo is making up her own recipe in this unforgettable story that's a little sweet, a little sour, and totally delicious.
Nan was all the family Mo ever needed. But suddenly she's gone, and Mo finds herself in foster care after her uncle decides she's not worth sticking around for.

Nan left her a notebook and advised her to get a hobby, like ferret racing or palm reading.
But how could a hobby fix anything in her newly topsy-turvy life?
Then Mo finds a handmade cookbook filled with someone else's family recipes. Even though Nan never cooked, Mo can't tear her eyes away. Not so much from the recipes, but the stories attached to them. Though, when she makes herself a pot of soup, it is every bit as comforting as the recipe notes said.

Soon Mo finds herself asking everyone she meets for their family recipes. Teaching herself to make them. Collecting the stories behind them. Building a website to share them. And, okay, secretly hoping that a long-lost relative will find her and give her a family recipe all her own.

But when everything starts to unravel again, Mo realizes that if she wants a family recipe—or a real family—she's going to have to make it up herself.
Lasagna Means I Love You
AUTHOR: Kate O'Shaughnessy
PUBLISHER: Alfred A. Knopf Books for Young Readers
DATE: February 21, 2023
Hoping that it will help, Mo starts cooking the recipes in the book and quickly discovers that not only does she enjoy cooking, she adores the stories and memories attached to the recipes. Despite some kitchen mishaps and a visit from the fire department, she's determined to keep trying and starts asking everyone she meets to share their family recipes and stories. As she cooks her way through each one and documents the entire thing on a website, she secretly hopes it will lead her to a long-lost relative who'll have their own family recipe to share with her. Just as things seem like they're finally going her way, a new bump in the road leaves Mo feeling like she'll never have a family recipe of her own, and she'll have to discover the essential ingredients that truly make up a family!
Mo is the true definition of fierce. She's a bit messy and imperfect, but she does her best with what she has and never loses hope. When things don't go her way, she's determined to take charge, apologizing for her mistakes and finding a passion and a group of people that make her feel whole again.
We're excited to share that author Kate O'Shaughnessy is here, giving you a glimpse into Mo's life in Lasagna Means I Love You and all the reasons we think she's totally fierce!
Five Reasons We Think Mo is Totally Fierce:

She's a force to be reckoned with in the kitchen:
No cooking experience? For Mo Gallagher, that's no problem!
After Mo's grandmother—and sole guardian—passes away, she leaves Mo with one request: that Mo find herself a hobby to help with her grief. So when Mo finds a dusty old family cookbook filled with love, stories, and photographs, she decides cooking is going to be her jam. Mo has never cooked once in her life, and her grandma's idea of a homecooked meal was heating up a can of SpaghettiOs, but that's not going to stop Mo.
As she teaches herself to cook, she makes some big messes and burns a loaf of bread so badly the fire department has to come. But that doesn't stop her from continuing to try. And through every mess and mismeasured recipe, she becomes a better and better and better cook, until she's whipping up some truly tasty creations!

She makes mistakes, but isn't afraid to say I'm sorry:
The kitchen isn't the only place Mo makes some serious mistakes. When she first learns that she'll be going into foster care instead of going to live with her uncle, Mo doesn't say anything to her best friend, Crystal, because she's worried she'll ruin Crystal's summer if she does. And Mo keeps not saying anything. Longer and longer—until they haven't talked all summer, despite Crystal calling, texting, and emailing.
When things get more stable for Mo, she realizes the error of her ways, and makes sure to apologize to Crystal in the most sincere, meaningful way she can. (Hint: there's chocolate involved. Lots of it!)

She's got strong BFF game:
Even though she isn't always the perfect friend, Mo knows that her BFF, Crystal Wang, is someone special. And she is. Whether it's dressing up in matching silly outfits for the first day of school, traipsing around Crystal's Brooklyn neighborhood to get Boba tea and chicken nuggets, or practicing kissing their hands and swooning over their crushes, they always have fun together.
But Crystal and Mo are also there for each other when things get hard and no fun at all—which is exactly when you need your BFF the most!

She lets her passions shine:
Whether it's her undying love of the Jets (go Jets!), her mega-crush on her classmate Travis, or her growing foodie obsession, Mo isn't embarrassed to let the world know that she loves what she loves. (Okay, maybe not when it comes to her crush on Travis. That one can stay on the DL.)
Mo is loud and enthusiastic about her passions, and never worries about seeming uncool for loving something so much. And the best thing about geeking out on your passions and your dreams is that it ends up inspiring other people, too—and that's maybe the coolest thing of all.

She's a serious go-getter:
Sure, things might seem occasionally impossible or difficult, but that doesn't stop Mo from pursuing what she wants.
Whether it's stopping strangers on the streets to ask them whether they have beloved family recipes she can share on her website or her TikTok, or daydreaming about launching her own pop-up restaurant, Mo is willing to get after it.
And you know what? That willingness to just GO FOR IT—no matter how hard or scary it seems—ends up working out for Mo in more ways than one.
?Want some new fictional favs? Catch up on our FIERCELY FICTIONAL series and get to know even more fierce fictional characters!