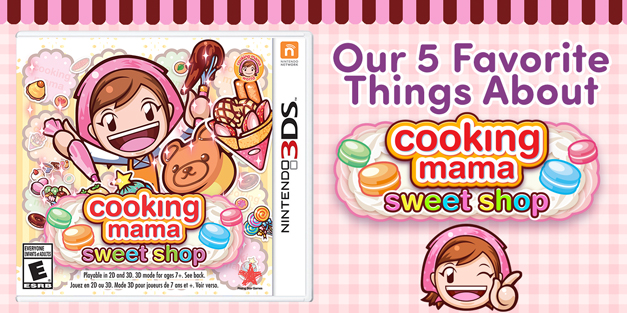 Our 5 Favorite Things About Cooking Mama: Sweet Shop
Cooking Mama: Sweet Shop has finally arrived for Nintendo 3DS! The latest addition to the Cooking Mama series focuses on desserts for the very first time. That's right, with over 10 years of gaming under her belt, Mama has never starred in a game based solely on sweets. Our friends at Rising Star Games were sweet enough to share a review copy with us, so we're ready to dish on this super fun new game we know you guys are going to love.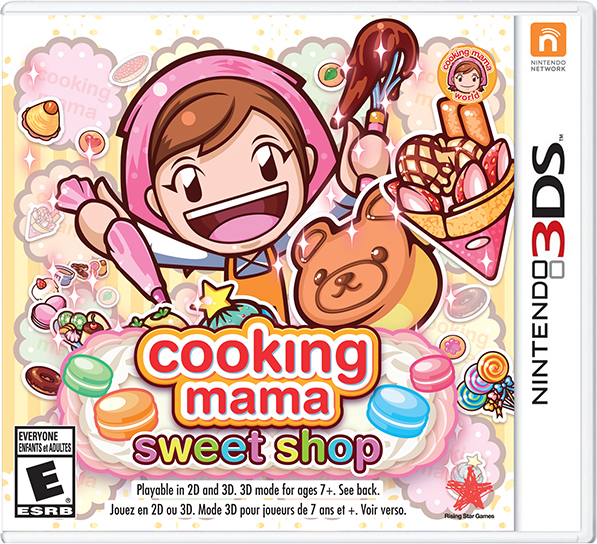 First off, here's what you need to know about the game. In Cooking Mama: Sweet Shop, you'll work alongside Mama in the kitchen to whip up deliciously sweet treats. Being the first dessert-focused game in the series, all the recipes will feel fresh to both Cooking Mama lovers and newcomers to the series. Cooking with Mama in the kitchen will feel familiar to anyone who's played before, as the gameplay style hasn't changed too much. Choose a recipe, and then follow the steps to complete it.
In Cooking Mama: Sweet Shop, you'll get to decorate, plate, and photograph your creation when you're done like a true foodie. You'll also get the opportunity to sell your creations in the bakeshop. When you've finished a recipe, place your dessert in the shop and watch as customers come pouring in to buy your goods. This can get a little bland at times, since there's not too much interaction involved other than tapping a customer to wrap up their dessert when they choose one, but the tickets they provide are your currency to buy new decorations for your shop/kitchen, new accessories for Mama, and most importantly – new frames and stickers for your photos. There's also a fun World Challenge with even more minigames, but we'll get to that later.
The 5 Sweetest Things About Cooking Mama: Sweet Shop: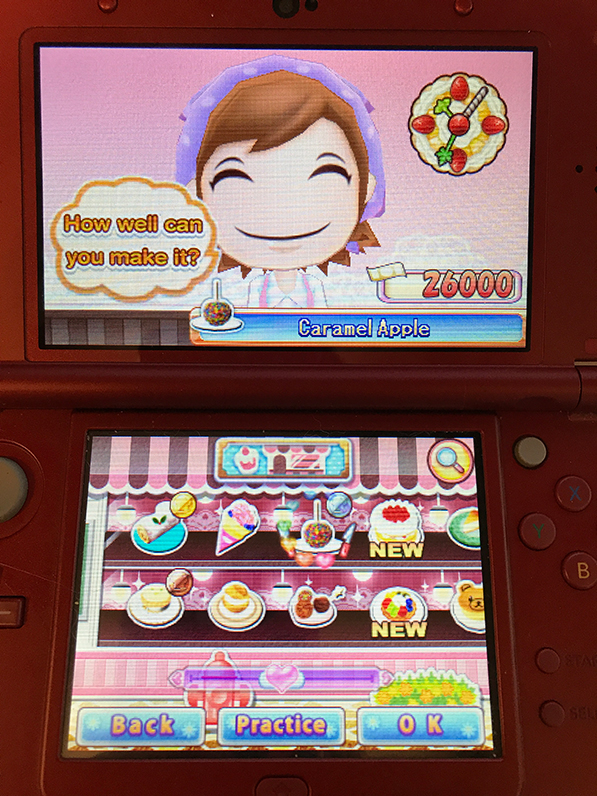 1. Baking all the sweets:
Okay, this seems a little obvious being a baking-focused game, but hear us out. As Cooking Mama fans who've played all the games, being able to whip up things like crépes, pancakes, puddings, cookies, and chocolate truffles was like a dream come true. Other Cooking Mama games have featured a dessert here and there, but this game really appealed to our sweet tooth. Plus the switch to sweets means the game boasts a ton of new mini-games and techniques that you've used before, even if you're a fan of the series. We loved whipping, sifting, and frosting our way through each recipe, hoping to do be even better than Mama. Cooking Mama: Sweet Shop contains over 160 mini-games, so you'll be busy for quite a while!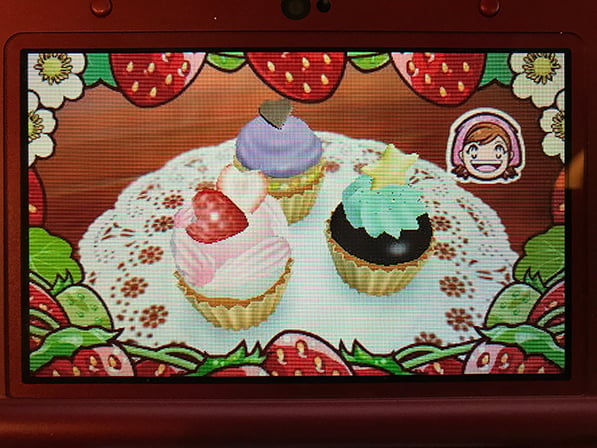 2. Snapping lots of photos:
Our inner Instagrammer really loved decorating our desserts and laying them out for the perfect photo. Being able to unlock additional frames, stickers, and locations to snap perfect photos of our desserts really kept us motivated to keep playing, even more so than decorating our kitchen or shop. We're not usually ones to use the photo feature on our 3DS too often (other than to snap the perfect moment in Animal Crossing: New Leaf) but we really loved using this feature while playing Cooking Mama: Sweet Shop. Just look at those picture perfect cupcakes!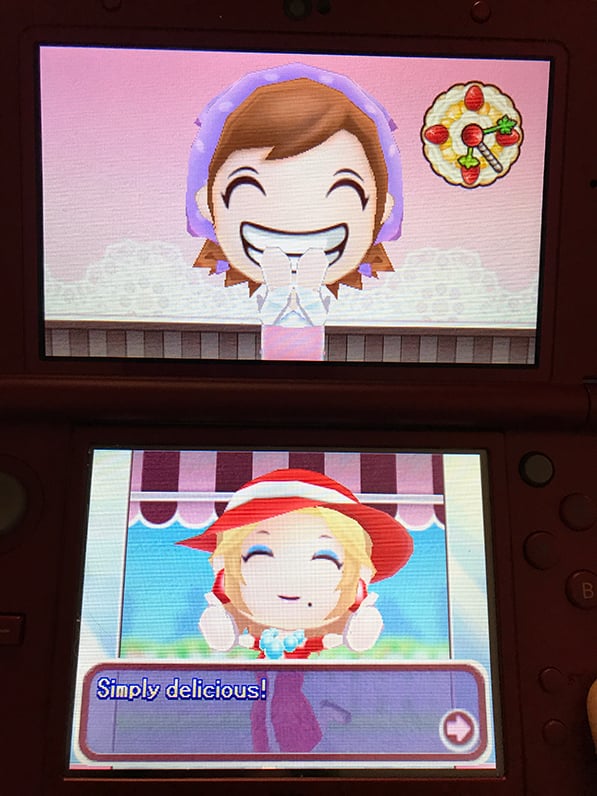 3. The Sweets Madam and World Challenge:
If you're familiar with customer service style games, you know that part of the fun is catering to those extra picky VIPs that visit your shop in the hopes that you'll impress them. That's where Sweets Madam comes in. After adding a few desserts to your shop, you'll get a visit from the Sweets Madam. She'll come looking for the perfect treat, realize you don't have it, and give you the recipe. Whip up that dessert with extra special care and place it in your shop. Once you do, the Sweets Madam will come back once more. If she's impressed with what you've made, she'll take your dessert worldwide and give you your very own shop somewhere else in the country.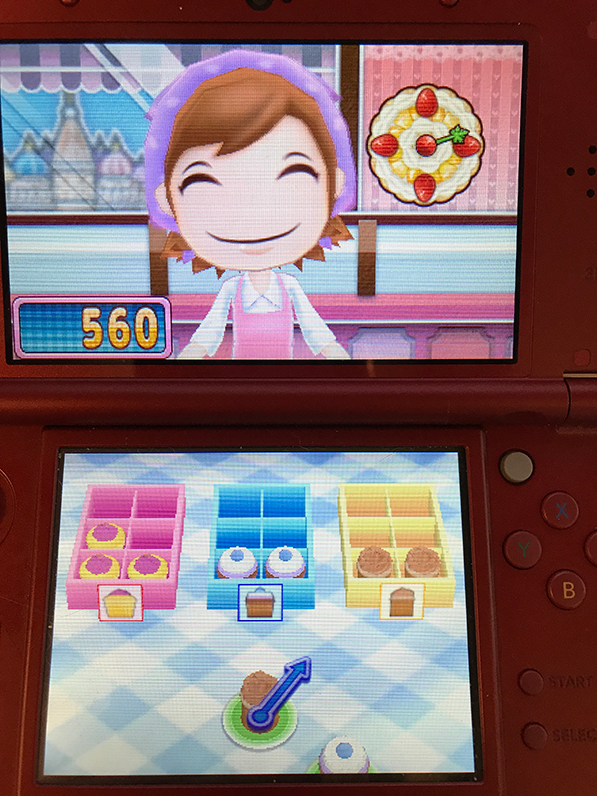 These special shops can be found in the World Challenge area, and they unlock additional fast paced mini-games that'll challenge you. The World Challenge mini-games are some of our favorite in the entire game, we loved racing the clock to sort cupcakes by flavor into their proper boxes and flinging stained-glass cookies all around the screen.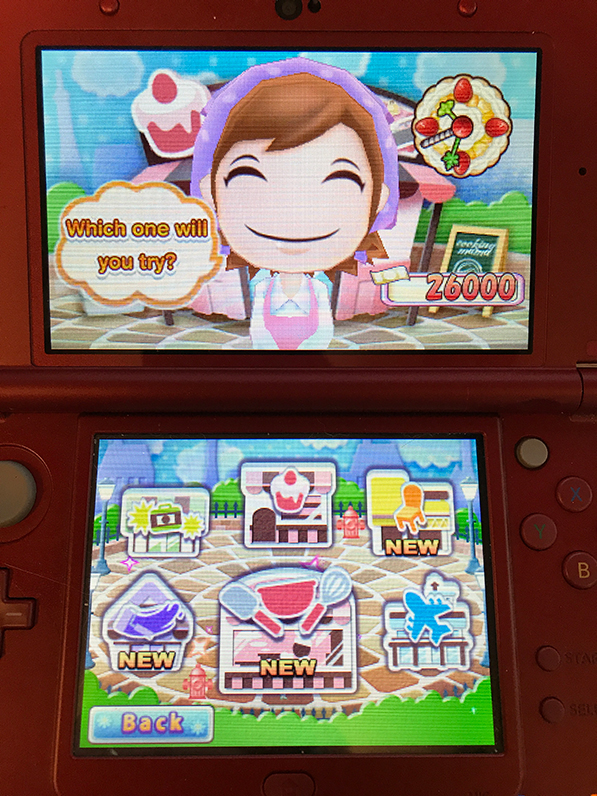 4. Playing with friends:
We didn't get a chance to play around with this feature too much, but just the fact that it exists makes us happy. We love competing against our friends in games, especially ones we're good at. We're Cooking Mama experts (okay, not really. We still mess up and need Mama's help all the time) so it's fun to challenge friends to a cooking battle. Plus it makes us feel like we're competing on Master Chef Jr. The multiplayer feature uses Nintendo 3DS Download Play, only one person needs to have the game in order for you to compete against them, which is awesome.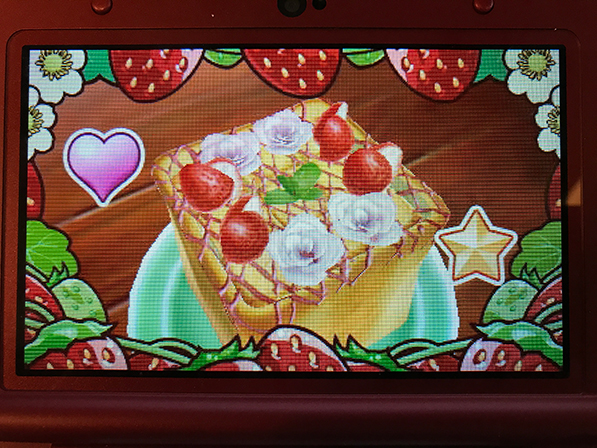 5. Learning about new desserts:
We thought we knew a lot about desserts. We're constantly cramming cupcakes in our faces, we live for macarons, and we can never get enough cookies. Playing Cooking Mama: Sweet Shop proved us wrong. We thought we were dessert experts, but it turns out we're basically dessert noobs. Like the other Cooking Mama games, part of the fun is preparing all new dishes you've never heard of. The sweets in this game range from your go-to favs like Cupcakes and Cheesecake to international delights, like Créme Caramel or Sakuramochi. There's even classic desserts like Cream Puffs and Pear Charlotte. No matter what your taste, there's a sweet in this game that you'll love, in fact, there's over 60 of them. Speaking of which, want to know what your favorite Cooking Mama: Sweet Shop dessert says about you? Click here to find out!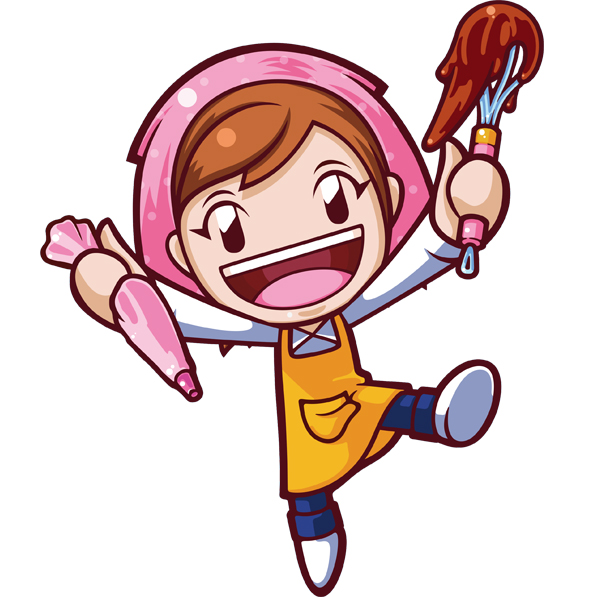 All in all, Cooking: Mama Sweet Shop is definitely a fun game for budding bakers or anyone who's looking for some cute fun. Did we mention how adorable this game is? It's adorable. You can even make a bear shaped pancake. It's THAT cute. Cooking Mama: Sweet Shop is now available at most retailers and on Amazon. If you prefer a digital copy, you can grab one from the Nintendo 3DS eShop starting May 18th. Until then, why not learn even more about Cooking Mama? Check out these 20 totally fascinating facts about Mama!
Note: We received this product for free from Rising Star Games in exchange for a fair and honest review. We were under no obligation to write a positive review.