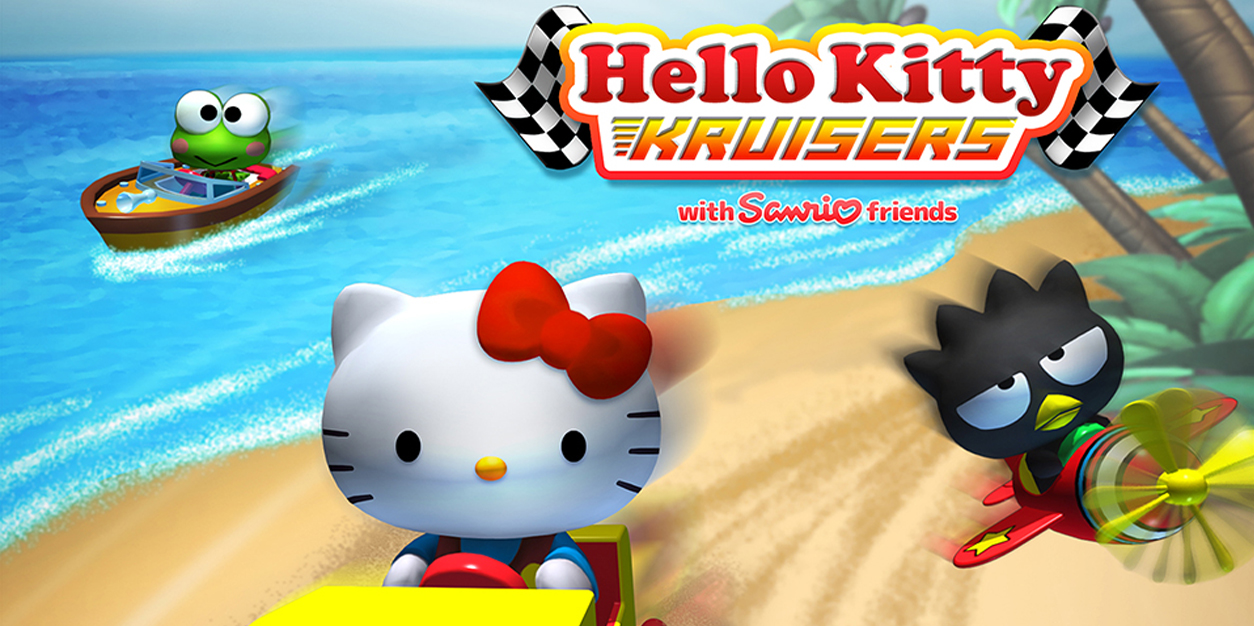 Hello Kitty Kruisers is Adorable Kart Racing Goodness
Note: We received this a review code for Hello Kitty Kruisers from Rising Star Games in exchange for a fair and honest review. We were under no obligation to write a positive review.
Start your engines! Hello Kitty Kruisers is a super cute new arcade kart racing game for Nintendo Switch from Rising Star Games and Maestro Interactive. Hop in the driver's seat and race to the finish line! Choose your favorite Sanrio character and make your way through adorable settings and exciting race tracks.
Thanks so much to our friends at Rising Star Games for giving us a review code so we could get hands-on with this adorable new racing game!
Our Hello Kitty Kruisers Review:
Characters and Customization:
In Hello Kitty Kruisers, you'll get to race alongside some of the most iconic Sanrio characters. Before you start a race, you'll get to select which character you want to race as, including Hello Kitty, Badtz Maru, Keroppi, Choco Cat, My Melody, and more. There are a total of 10 characters to choose from, six of which you can play right away and four you'll need to unlock by completing races in the game. Once you've selected your character, you'll choose from a variety of super cute vehicles to race with. The selection of vehicles changes based on which type of level you're about to race on. As you play through the game, you'll unlock lots of different character outfits and vehicle customizations.
Race on Land, Air, and Sea:
Like most racing games, Hello Kitty Kruisers is packed with lots of colorful tracks for you to race on. Each track takes place in an imaginative Hello Kitty themed setting, which makes driving around lots of fun! It's always fun to spot hidden Hello Kittys and other Sanrio references in the background as you drive by. We loved how Hello Kitty Kruisers switches things up a bit by including air and sea courses along with the typical driving tracks. When you race on an air course, you'll get to pilot airplane rather than a car! And for the water tracks, you'll get to race in a boat. It was lots of fun being able to soar through the air and float through water! Each type of vehicle handles differently, which added some variety to the gameplay.
Be on the lookout for the Hello Kitty inspired Death Star hidden in the Cosmic Way tracks. We've played these tracks like 20 times now, and it still makes us smile everytime we see it! We're also kind of obsessed with the Sanrio Mt. Rushmore.
Lots of Different Ways to Play:
Quick Play:
Quick Play allows you to select from any of the courses in each of the four cups that you have already unlocked. This mode is great for getting familiar with a track or re-playing favorites without having to complete an entire cup in Adventure Mode.
Tournament:
In Tournament mode, you'll race against the clock and compete in a variety of challenges. Each challenge is a bit different, sometimes you'll have to collect all the cupcakes before time runs out, other times you'll have to race through hoops. You're still racing on those familiar levels, but you'll need to switch up your strategy to collect all the items while racing against the clock. We actually really enjoyed this mode, we felt it helped keep the game fresh. Plus, it's great practice to nail down the controls of all the different types of vehicles before taking on an actual race against friends.
Adventure:
Adventure Mode is similar to Quick Play, except you'll have to race through all four levels in a cup. This is the most like other kart racing games you might be familiar with. The only thing we felt was missing was that there isn't an award ceremony at the end like there are in some other kart racers, but that doesn't really take away from the gameplay at all, so we won't deduct points.
Race Against Your Friends:
You can always play Adventure mode or Tournament mode solo, but up to three friends can join you so you can turn up the heat and make the race even more fun! We definitely preferred racing against our friends more than the computers since it added a bit more unpredictability and a competitive edge to each race. It also makes the power-up items even more fun to use, since flinging cream pies at a friend or sibling or blocking their path with a traffic cone is just so much more satisfying than doing it to an AI character.
In the end, we'd recommend Hello Kitty Kruisers for gamers just starting out or Sanrio fans who love all things cute. The racing isn't quite as fast paced as what you might be used to, but it's a cute and colorful experience that we had a lot of fun with and think you will too.
Hello Kitty Kruisers is now available in the Nintendo Switch eShop for $29.95, and the physical release hits shelves on May 15th. If you're in the UK, your physical copy of the game will come with a set of super cute Hello Kitty iron-on patches!
Looking for even more games you can play with friends and family? Check out our review of Emoji Charades!