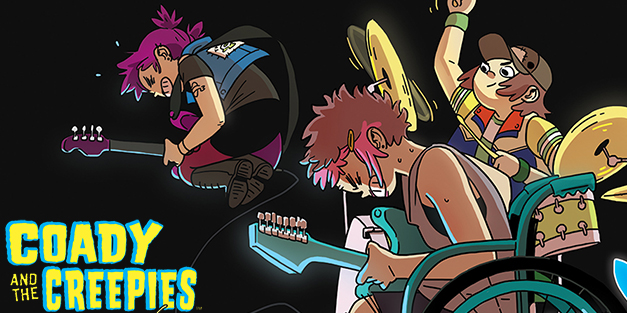 Coady and the Creepies #3 Packs a Punch of Laughs and Drama
Let's go! Be a Creepie, start the show! Coady and the Creepies #3 is out today from BOOM! Studios. If you're anything like us, you're asking yourself how it's possible this book is already on Issue #3. It feels like just yesterday that we met these punky sisters and their adventure is almost coming to a close. But let's not get all weepy about it – Coady, Criss, and Corey are here to shred and bring the noise at their final Pinmaggedon show. Well, as long as they can figure out how to handle the venue being wheelchair-unfriendly and lame VJs threatening to expose Coady's biggest secret! Will the girls get to rock and claim their final pin and all the glory that comes along with it?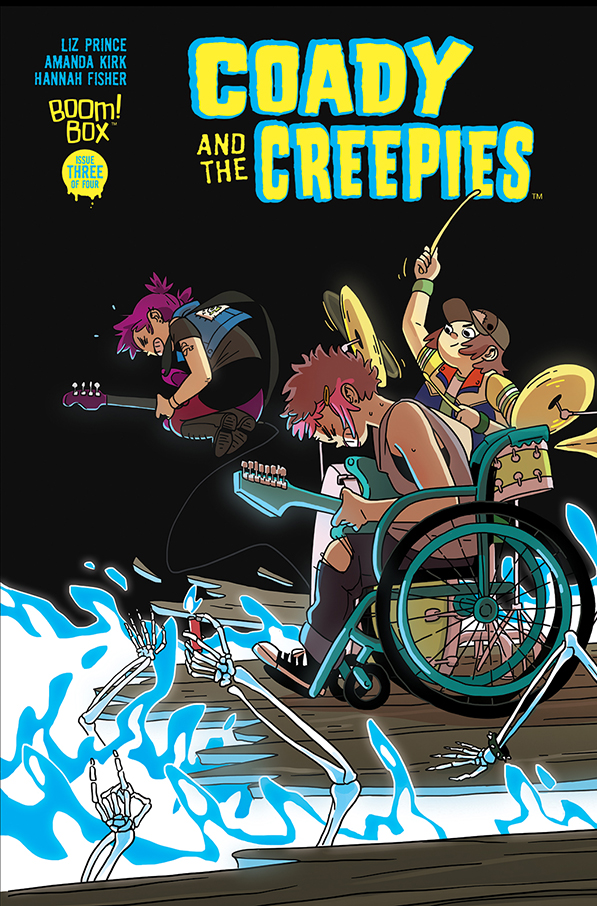 This third issue packs the biggest punch of drama we've seen in the series so far. (As well as our favorite cover yet. Look how rad that cover is!) The story is starting to unfold and tensions are building in a big way. There's even a super exciting cliffhanger at the end that leads us to the final issue, due out next month. (We're seriously ready to beg Liz Prince and Amanda Kirk for spoilers because we can't possibly wait another moment to find out what happens!)
It's not all drama though – as always, there's some laugh out loud funny moments and clever puns sprinkled throughout the issue. As former irresponsible punks, we're really feeling the nostalgia of our teen years in this issue. An all couch venue? Do those even exist anymore? Sorry, our age is showing.
How about those preview pages we promised? Unlike total doofuses like Devin Danger, we'd never leave you guys hanging or make weird demands in order to share them with you.
PREVIEW: Coady and the Creepies #3:
Click the images to make them larger.
Need another reason to pick up Coady and the Creepies #3? There's some killer Creepies lyrics in this issue! We know you guys are living for Creepies songs. Speaking of which, did you know there's a lyric video for "Creepies R Go?" Check it out here!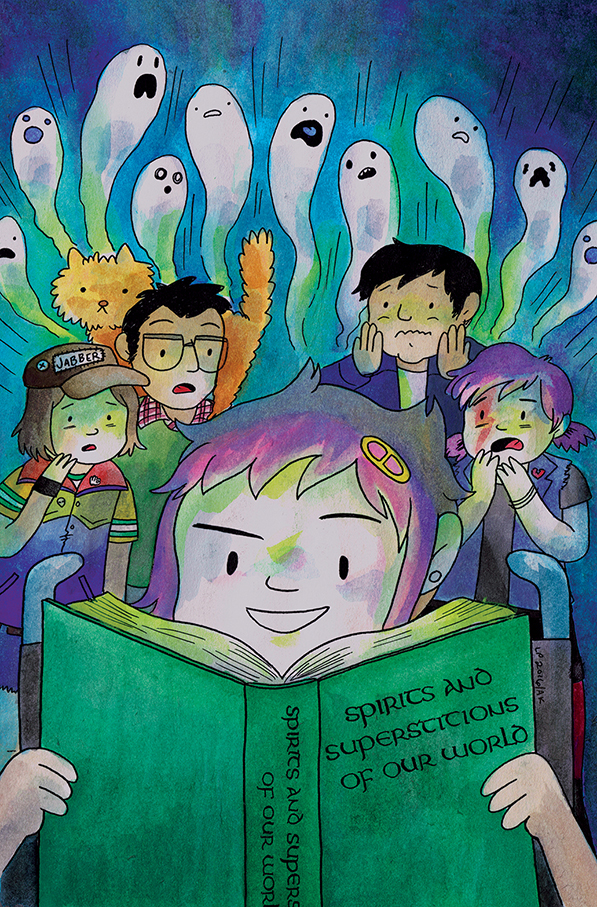 Coady and the Creepies #3 (of 4)
Publisher: BOOM! Box, an imprint of BOOM! Studios
Writer: Liz Prince
Artist: Amanda Kirk
Cover Artists:
Main Cover: Kat Leyh
Variant Cover: Liz Prince
Price: $3.99
Synopsis: Coady and the Creepies are playing their final Pinmaggedon show, and they're not about to let anything—a wheelchair-unfriendly venue, a boneheaded rival band, or even the actual afterlife—get between them and Punk legend!
BOO TO THE BONEHEADS! We love the Creepies! Loving Coady and the Creepies? We think you'll totally love Raina Telgemeier's graphic novel, Ghosts.