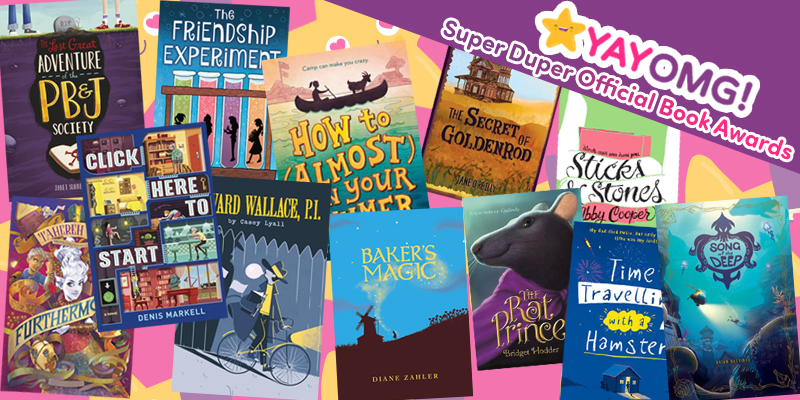 YAYOMG's Super Duper Official Book Awards 2016
It's that time of year again, kiddos! We don't mean holiday shopping time. Or cookie baking time. Or put on an extra layer because it's so cold out time (though it IS all of those things). We mean 2016 wrap-up time! The time of year where every site on the entire internet tells you which stuff they loved most in 2016.
Since Top 10 Lists can be a bit dull, we decided to spice it up with some Super Duper Official Book Awards! These 13 books are the ones that slayed our souls, made us LOL, and kept us up reading all night. We hope you love them as much as we did. *Drumroll Please….*
YAYOMG's 2016 Super Duper Official Book Awards: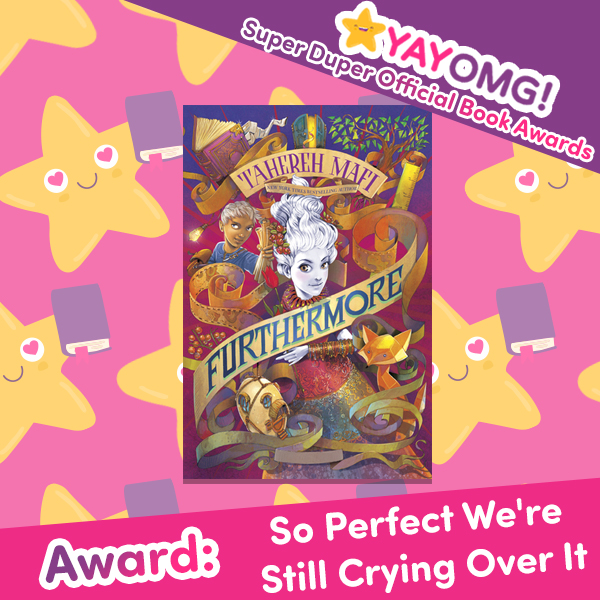 "Furthermore" by Tahereh Mafi
Award: So Perfect We're Still Crying Over It
Reasons:
1. The writing in "Futhermore" is so beautiful and the settings are so lush it will make you weep. If you're like us, you'll want to tear up everything you've ever written because you'll never write anything as beautiful as Tahereh Mafi in your entire life. (Don't rip up your writing, please. We know it's great!)
2. This book is so perfect your heart will literally ache while you're reading it. Remember the feeling you got the first time you read "Harry Potter" and were like THISISTHEGREATESTTHINGMYEYEBALLSHAVEEVERCONSUMED before you even finished it? That's "Furthermore".
3. The main character, Alice, is so vivid, fierce, and independent. Even when she struggles or whines or nearly gives up, she's able to find the strength to keep on going. We're completely obsessed with her.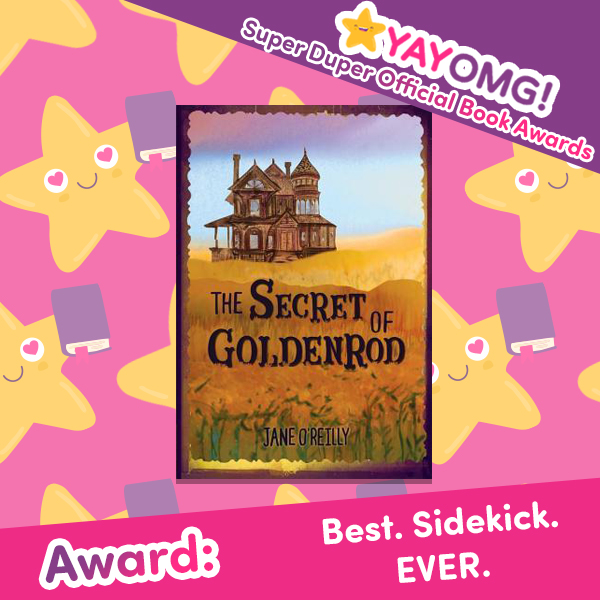 "The Secret of Goldenrod" by Jane O'Reilly
Award: Best. Sidekick. Ever.
Reasons:
1. Augustine (the sidekick we're referring to) is a sassy porcelain doll who can TALK. But she's so much more than that. She's a great friend to Trina and together they really teach each other so much about life.
2. "The Secret of Goldenrod" isn't just talking dolls. It's eerie haunted houses, awkward middle school struggles, and a young girl who's trying to grow up while still grasping tightly to her childhood. Everything about it is charming and wonderful in so many ways.
3. We've described this book as a modern day fairytale before, and we stand by that. The writing is so whimsical and fantastic, it FEELS like a fairytale when you read it.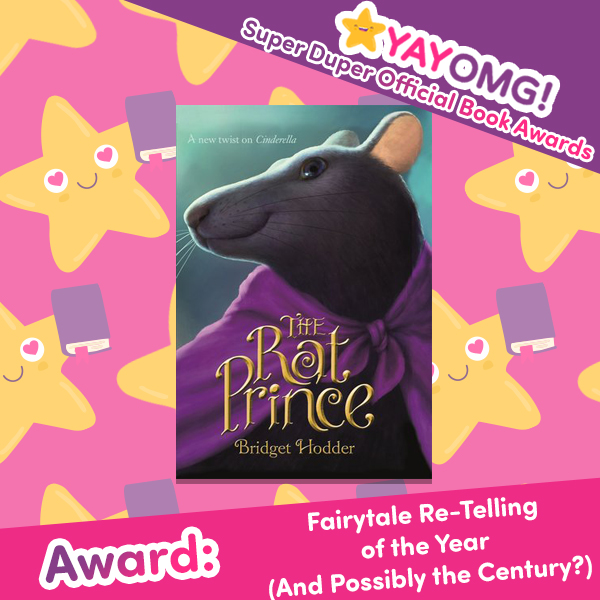 "The Rat Prince" by Bridget Hodder
Award: Fairytale Re-Telling of the Year (And Possibly the Century?)
Reasons:
1. Hot Take: "The Rat Prince" is even better than the classic "Cinderella" story. No, really. We're sticking by that opinion. We demolished and devoured "The Rat Prince" all in one sitting on day one, and there's a reason for that. IT'S. THE. BEST.
2. Cinderella isn't just a maid with a terrible life who's stuck with a horrible step-mother. There's a reason why she's there and a reason why she continues to stick around even when it's so difficult. She's actually graceful, smart, and resourceful. She's not just a rags to riches story, "The Rat Prince" gives her real purpose and shows us her struggles and how she sees them through.
3. CHAR. And all the rats from the Rat Kingdom. But CHAR. OMG. You really need to read the book to fully understand how charming he truly is.

"Howard Wallace, P.I." by Casey Lyall
Award: Most Adorable Detective Wearing a Bathrobe
Reasons:
1. If we could pick a fictional character from this year to join our squad, Howard Wallace would be our choice. He's a little quirky and rough around the edges and we love every gum-addicted thing about him.
2. Howard's (junior) partner, Ivy Mason, is a legit force to be reckoned with. 50% hair, 50% freckles, and 100% awesome. She's snarky, independent, and totally keeps Howard in check. Plus, she's a good friend.
3. This book is written like a true classic noir story, but for middle graders. It's clever and smart and funny and totally brilliant. We've got our fingers crossed this to become a looonggg series. 10 books at LEAST.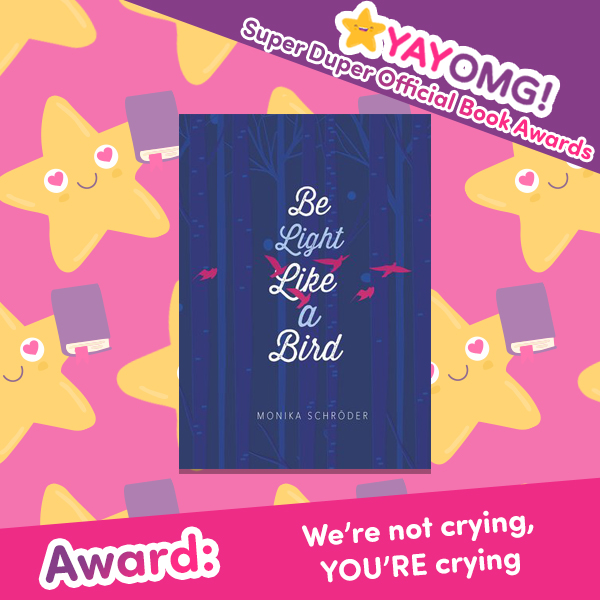 "Be Light Like a Bird" by Monika Schröder
Award: WE'RE NOT CRYING, YOU'RE CRYING!
Reasons:
1. If you like being punched right in the feels, "Be Light Like a Bird" is the book for you. It deals with death and the struggles of being the new kid at school with such grace. We sobbed through the entire thing. Twice.
2. The friendship between Wren and Theo is so sweet and beautiful it will make your heart smile. Best Friendship of 2016.
3. This may sound weird, but this book will make you want to get into bird watching. Not kidding. Wren just makes it sound so peaceful and relaxing. Plus, we love any kind of reason to document and journal things.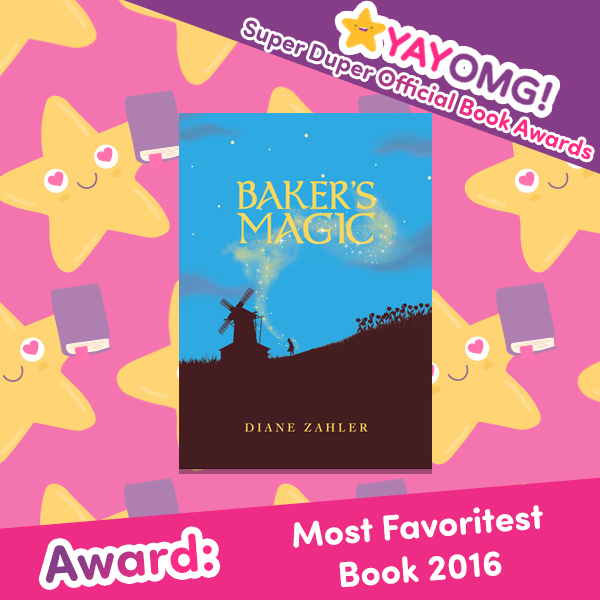 "Baker's Magic" by Diane Zahler
Award: Most Favoritest Book 2016
Reasons:
1. "Baker's Magic" is just so special. SO. SPECIAL. It doesn't even deserve to live with all the other books on your shelf. Put it on it's own shelf and build a shrine to it. Reading this book smells like pastries and feels like being wrapped in a giant fluffy blanket.
2. It's got everything you could ever want in a story – magic, pastries, pirates, adventure, princesses, hedgehogs, and a total underdog realizing she's so much more talented and strong than she ever dreamed possible.
3. These reasons aren't accurately describing how we feel, so read our full review here!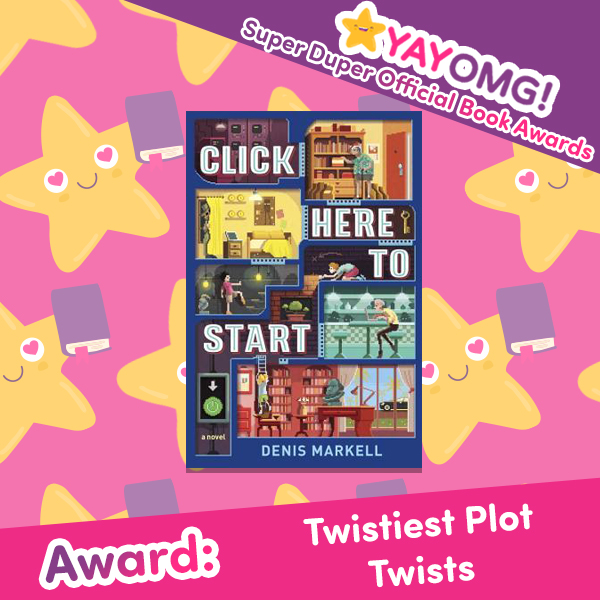 "Click Here to Start" by Denis Markell
Award: Twistiest Plot Twists
Reasons:
1. This book is an Escape the Room game come to life. If that doesn't make you want to read it, we're not sure what will. It's tricky, it's puzzly, and it's a really exciting read.
2. If we had to pick a second award for "Click Here to Start", it would be "Book That Most Needs to Be Turned into a DCOM". Seriously. This would be such a great movie or tv series on Nick or Disney.
3. We just love how Denis Markell crammed a bunch of history and literary references in here. Learning stuff without realizing you're learning stuff is the best way to learn stuff.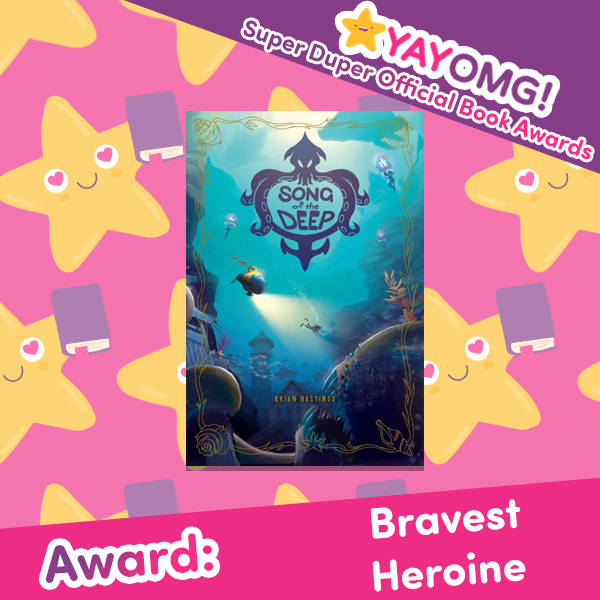 "Song of the Deep" by Brian Hastings
Award: Bravest Heroine
Reasons:
1. MERRYN. IS. EVERYTHING. She's only 12 years old, yet when she has a vision that her dad is attacked by a terrible sea monster, she immediately heads out to save him. She doesn't even think twice. Just builds herself a submarine and dives into the sea.
2. More Merryn gushing: She's brave and curious and resourceful. She's not fearless. She's not strong. But she pushes past all of that to rescue her dad, and we just love that about her.
3. This book looks simply beautiful when photographed next to shells and sea glass. That's allowed to be a reason, right? (Click here to see for yourself) We even made a craft tutorial based on Merryn's Zephyr Whelk.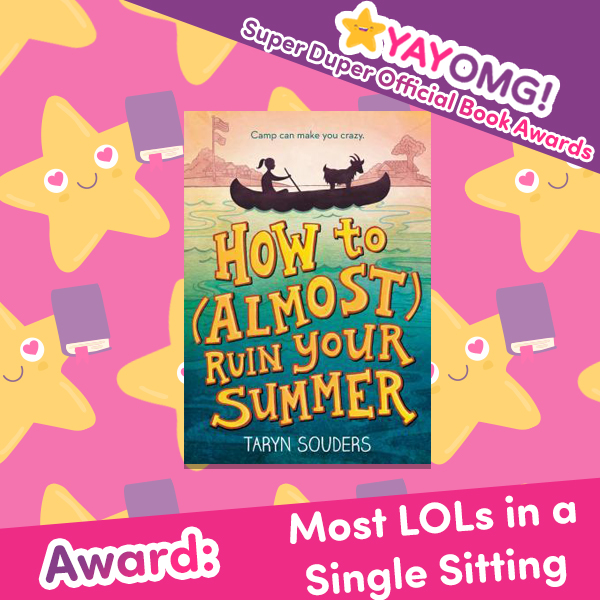 "How to (Almost) Ruin Your Summer" by Tayrn Souders
Awards: Most LOLs in a Single Sitting
Reasons:
1. WARNING: You WILL laugh out loud, snort, and cry from how funny this book is. Chloe's bad luck and wacky mishaps had us LOLing the whole way through.
2. "How to (Almost) Ruin Your Summer" is like if "Milo Murphy's Law" was set at "Camp Rock", minus the whole singing thing. (Though you could definitely make up some songs about this book if you really want to.) It totally follows that whole "anything that can go wrong will go wrong" thing in the funniest way.
3. Chloe McCorkle is the cutest character name of 2016. If we ever get an office pet, we're naming it Chloe McCorkle.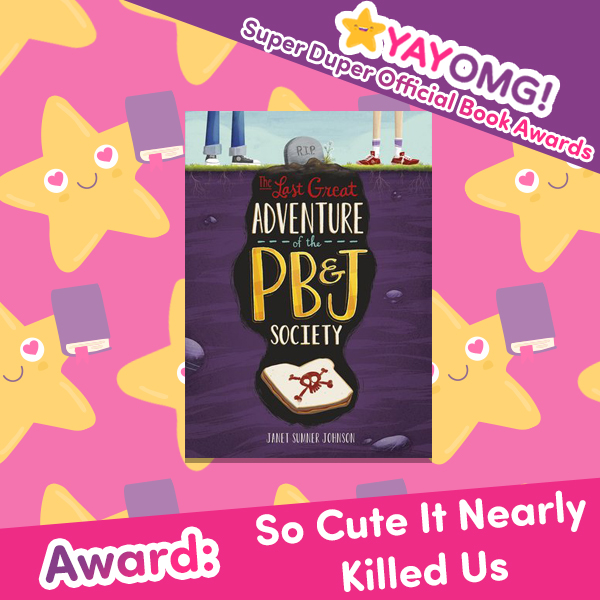 "The Last Great Adventure of the PB&J Society" by Janet Sumner Johnson
Award: So Cute it Nearly Killed Us
Reasons:
1. "So Cute it Nearly Killed Us" is short for "We Carry This Book Around in Our Backpack and Wave it at Strangers on the Street to Gush About it's Adorableness and People Think We're Pretty Weird But We Don't Even Care."
2. "PB&J Society" can most accurately be described as that feeling you get on the last day of school every year. The hope and promise that your summer break will be filled with long days full of adventure and tons of hangs with your bestie. (And pirates. And mystery. And peanut butter.)
3. New Rule: Any book that has such high standards for PBJ sandwiches and burials for the imperfect ones immediately gets added to our Best Book List each year. (These reasons didn't really describe the book very well, so read our review here.)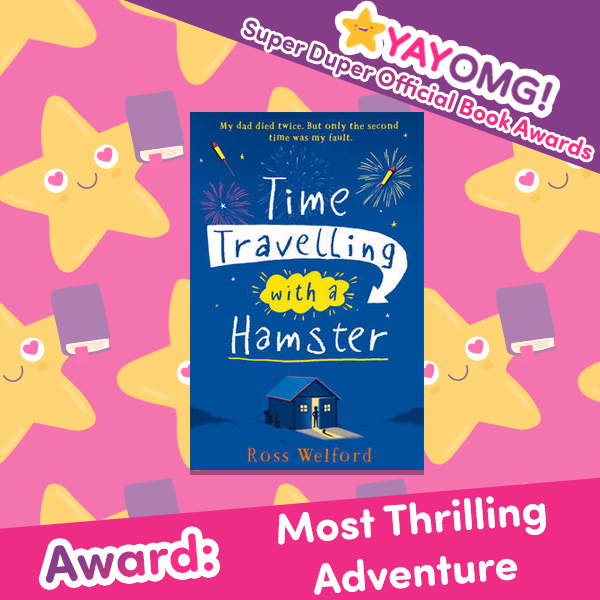 "Time Travelling with a Hamster" by Ross Welford
Award: Most Thrilling Adventure
Reasons:
1. "My dad died twice. But only the second time was my fault." Um, most compelling tagline of the year? How could you not want to read this book?
2. This book is like the outcast middle child of time travel stories in the absolute best way. (Weird middle children are the best and most interesting, afterall.) You'll be rooting for Al, rooting for his hamster, and rooting for Ross Welford to write another book ASAP.
3. Speaking of Ross Welford, we met him at the Book Expo this year. He was delightful. That's not why we put his book on the list, but we just thought you might want to know?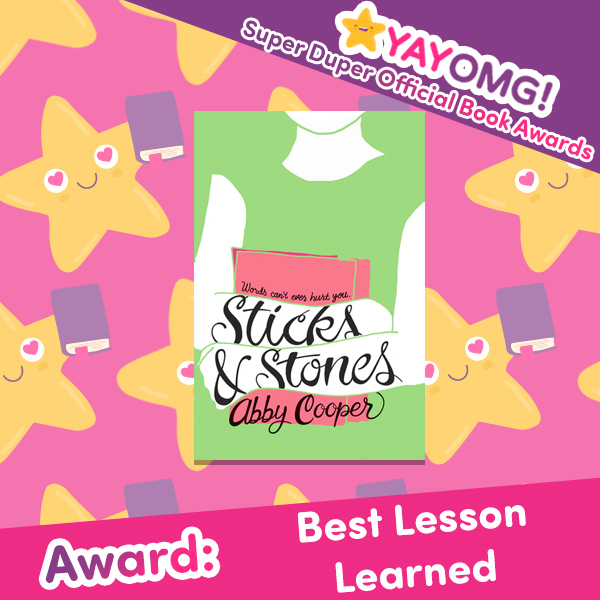 "Stick & Stones" by Abby Cooper
Award: Best Lesson Learned
Reasons:
1. "Sticks and Stones" tackles bullying in the most original and interesting way we've ever seen, which is why it's so deserving of this award. (And we read a LOT of books about bullying and coming of age.)
2. If we had millions of dollars, we'd buy enough of these books to put them in the hand of every soon-to-be middle schooler on the planet. The lessons of kindness, growing up, and accepting yourself for who you are are so important and powerful.
3. Elyse is a character who you'll absolutely be able to relate to, and you'll be cheering for throughout the entire book. Oh, and it's not all serious, this book brings the laughs in a big way!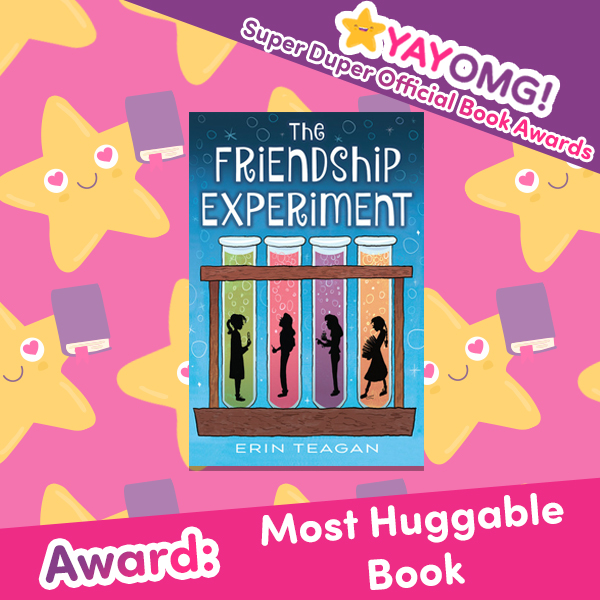 "The Friendship Experiment" by Erin Teagan
Award: Most Huggable Book
Reasons:
1. We literally hugged this book multiple times while reading it. And after. Anytime we notice it sitting on the shelf we pick it up and hug it. Not even kidding a little.
2. We want to be Madeline Little when we grow up. She's the absolute cutest ever. SO MANY HUGS.
3. IT'S ABOUT A GIRL WHO LOVES SCIENCE. MORE BOOKS ABOUT GIRLS WHO LOVE SCIENCE, PLEASE.
Once you've plowed through all of these incredible reads, check out our book section for even more great suggestions! We'll be posting up a list of books we're looking forward to in 2017 soon, so definitely check back soon!