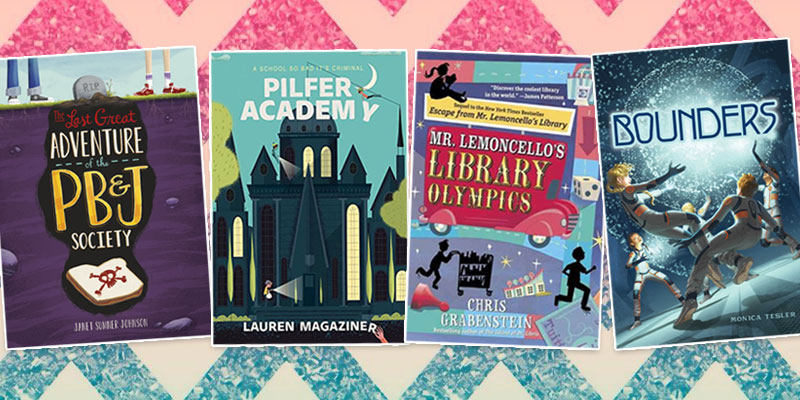 10 Completely Awesome Reads for 2016
One of the best things about a brand new year isn't that you get the chance to start fresh to better yourself or get better grades or even to make this upcoming year the best year you've ever had. The very best thing is that a new year means an entire year of new books to read!
There's a ton of awesome reads coming out in 2016, but here's a list of the 10 we're most excited about (and think you will be too!)
10 Completely Awesome Reads for 2016:

Bounders by Monica Tesler
Release Date: January 5th
It shouldn't surprise anyone that "Bounders" is on this list, as it's on pretty much everyone's must-read list for 2016. Thankfully, there's only a few more days until this book is finally released, and what's even better? It's the first in the series, which means if you love it, there will many more adventures to come!
The Bounders are part of a team of young cadets who are being trained as high-level astronauts. Twelve year old Jasper is excited to be a part of this team being sent into space, seeing as he used to be bullied at his old school. He's excited to bond with these new kids who are more like him and learn about new technologies, including mobility – which is basically flying around with jetpacks. Jasper finally feels like he belongs and that he's exactly where he's supposed to be in the world.
Unfortunately, Jasper and his new friends find out that they haven't been told everything about the mission that they've been sent on. They weren't brought to space for astronaut training – but to learn a highly classified brain-sync technology that was actually stolen from an alien society. As Jasper and his friends discover the truth, they are faced with a choice. Do they rebel against the academy that brought them all together, or fulfill their duties and protect the planet at all costs?

Mr. Lemoncello's Library Olympics by Chris Grabenstein
Release Date: January 5th
If you haven't already read "Escape From Mr. Lemoncello's Library", not only are you totally missing out – you'd better go read it fast! The sequel, "Mr. Lemoncello's Library Olympics" comes out on in a few days, and you're not going to want to miss it.
Luigi Lemoncello is a world famous game maker. In the first book, Mr. Lemoncello builds a curious new town library that is often described as part "Charlie and the Chocolate Factory", part "Night at the Museum". Twelve lucky kids are invited to the library for a sleepover where they're faced with riddles, puzzles, and other games. They must solve them all in order to escape.
In the sequel, "Library Olympics", teams from all across America have been invited to compete – not just kids from the town. Not only will the contestant be faced with even more mind-boggling puzzles and riddles this time around, they'll have to band together in order to solve a huge mystery.

The Only Girl in School by Natalie Standiford
Release Date: January 26th
What would you do if your best friend moved away, and you became the only girl left in your school? That's what you'll find out in "The Only Girl in School".
When Claire's best friend Bess moves away, she thinks she can handle being the only girl in school. There are perks, afterall, like ruling the girls bathroom and turning into her own little headquarters. She's sporty and spunky and able to stand up to the boys and even beat them in most regards. That's not the real problem. The problem is that Claire's other best friend, Henry, has started to ignore her and a yucky boy and a bully won't leave her alone. Will she be able to handle this alone?

The Pages Between Us by Lindsey Leavitt
Release Date: February 9th
We picked this tale of two best friends, Piper and Olivia, because of it's unique concept. These two middle school besties aren't getting enough time together at school, so this story is told via letters, blog posts, home work assignments, posters, and more.
When Piper finds a sparkly notebook that she disguises as her french homework allows the girls to communicate back and forth easily without getting caught. Unfortunately, as they grow up and face the 6th grade, they realize that the notebook becomes a bit of a burden and they'll have to figure out other ways to grow up together before they grow apart.

Pilfer Academy: A School So Bad It's Criminal by Lauren Magaziner
Release Date: February 16th
Have you ever read the back cover of a book and been like "this desperately needs to be a movie?" That's exactly how we felt when we first found out about "Pilfer Academy." The clever concept will have your attention from the first page and you won't be able to put down this quirky adventure!
Pilfer Academy is a top-secret school for training young crooks and criminals. When troublemaking George is kidnapped as the schools' newest student, he learns that the teachers are cooky, the students are naughty, and that he's in for even more trouble than he ever expected. He no longer takes boring English and History classes. Instead, there's classes on cracking safes, creating gadgets, and becoming an expert bandit.
The only problem? George begins to realize that he's actually too good-hearted to be a thief and wants to go back to his old life. But not thieving is considered "misbehaving" at Pilfer Academy, and he's headed straight for the Whirlyblerg. In order to gain their freedom, George and his best friend Tabitha pull the biggest heist the school has ever seen in order to reveal their true identities as normal, yet slightly mischievous kids.

The Key to Extraordinary by Natalie Lloyd
Release Date: February 23rd
"The Key to Extraordinary" is clever, funny, and a great story that helps inspire us all to be the very best we can be, even if we think we're not good enough to be extraordinary. Oh, and there's a singing ghost. Who wouldn't want to read about that?
Everyone in Emma's family is special and they all learned about their destinies through a dream. From genius scientists to famous musicians and even Revolutionary War spies, everyone in Emma's family is absolutely extraordinary.
Emma can't wait for her own dream to come, as right before her mother died she promised her that she'd do whatever it took to fulfill her destiny. Unfortunately, when Emma's dream does finally arrive, it seems nearly impossible. She's destined to find a legendary treasure hidden in her town's cemetery. Emma soon feels the pressure to succeed, because if she fails, she'll let down generations of her incredible ancestors, not to mention let down her mother. But how will Emma find something that's been missing for centuries all on her own?

The Classy Crooks Club by Alison Cherry
Release Date: March 29
It seems that 2016 is the year of books about kids becoming crooks, and that's okay with us, because "The Classy Crooks Club" is legit adorable fun.
AJ would much rather spend her summer vacation with her friends than her strict grandmother. Her Grandma is always telling her what to eat, how to walk, where to go, and she even forces her to sew. All she cares about is turning fun loving AJ into proper lady. It seems like she's in for a totally lame Summer, until of course, she's recruited to join her Grandma Jo's heist club!
AJ discovers that Grandma Jo's "bridge group" is actually a club full of crooks! Once AJ's Grandmother starts showing her how to pick locks instead of sewing lessons in exchange for her help on a few capers, AJ is thrilled to join this gaggle of old crooks who only steal "for ethical reasons". When she starts to uncover secrets about some of the people in the group, AJ must decide for herself what it means to be one of the good guys.

The Last Great Adventure of the PB&J Society by Janet Sumner Johnson
Release Date: April 1
Okay, we'll be honest with you. We picked this book solely for it's title and it's awesome cover. They say not to judge books only by their cover, but when there's a peanut butter sandwich with a skull and crossbones on it – how could you not?
When Annie Jenkin's best friends house is possibly going into foreclosure, she's full of ideas on how to help save it. Selling her appendix on eBay, winning the lottery, anything to stop Jason from having to move away. Jason's dad doesn't appreciate Annie's help and she always ends up getting everyone into even more trouble and making things worse.
One day, Annie makes an unlikely discovery – there might be Pirate treasure in Jason's backyard. Sure, it seems farfetched for a midwestern suburb, but if they can find the treasure, they might be able to save the house! As Annie and Jason hunt for treasure, they soon realize that maybe there are worse things than moving away.


A Clatter of Jars by Lisa Graff
Release Date: May 24
Speaking of books with interesting covers, "A Clatter of Jars" definitely wins for most intriguing. You can just tell this book is full of magic and adventure just by looking at it.
Before you read this, you'll definitely want to read the first book, "A Tangle of Knots", which is an equally fantastic read filled with puzzles, adventure, and extremely Talented kids.
In "A Clatter of Jars", it's summertime and everyone is heading off to Camp Atropos, a camp for Talented kids. At first glance, the camp seems like a place for your usual summer fun. Singing around the campfire, swimming in the lake, practicing for the talent show – but the kids soon discover that they've been gathered there for a reason, the camp's director wants to keep all the Talented kids hidden.
While this is all going on, a Talent jar that was at the bottom of the lake springs a leak, and all sorts of weirdness starts to happen. Memories and talents have been swapped between kids. Empty jars are washing up on shore, and no one can figure out why.

Sticks and Stones by Abby Cooper
Release Date: July 19
"Sticks and Stones" is an absolute must-read for everyone who's ever felt alone in the world, bullied, or left behind by their so-called friends.
Whenever someone uses a word to describe Elyse, those words instantly appear on her arms. When she was a baby, it was always words like "cute" and "adorable", but now that she's older, the kids around her aren't so nice. Words like "loser" and "pathetic" start appearing on Elyse's arms, and to make matters worse, the mean words bubble and itch. Sometimes people use words like "interesting", which should technically be good, but then why do they feel so wrong to her? All the kids she used to consider to be her friends have started drifting away, and she's starting to feel alone.
Elyse is now about to start middle school, and she receives a mysterious note that says "I know who you are, and I know what you're dealing with. I want to help." Elyse must try to figure out the mystery of who's behind these kind notes, and in the process, she'll learn ways to accept who she is and how she can become her best self.
You'll notice that the list covers mostly the first half of 2016. That's because we'll be back with 10 more releases later in the year that you can enjoy for the second half of 2016!
For even more reading recommendations to hold you over 'til then, click here! Happy Reading!