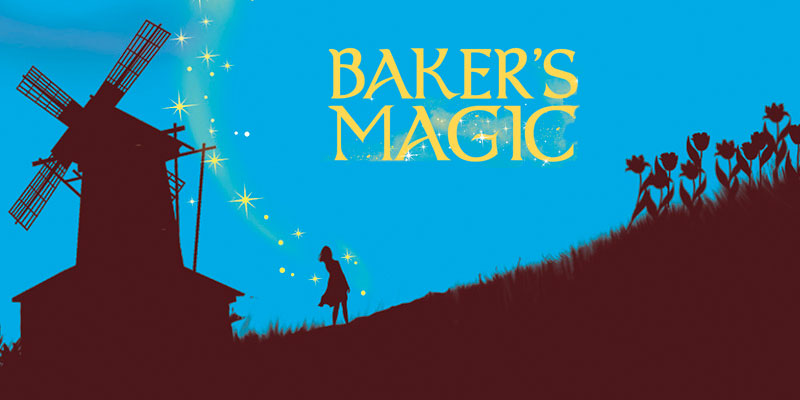 Baker's Magic is a Deliciously Whimsical Read
From the very first page, Baker's Magic lures you in with it's whimsical writing. The words are chosen so perfectly to bring wonder to every single page, making this read feel warm and fuzzy the entire way through. Written by Diane Zahler and Illustrated by Mina Price, this magical read sticks with you long after you've finished. It's fantasy enough to satisfy fantasy readers, but realistic enough to satisfy those less familiar with the genre. This is the kind of story that reminds you why you fell in love with books and reading in the first place.
Bee is an orphan who runs away from her foster family in search of a better life and while starved and exhausted, ends up stealing a bun from a bakery in the kingdom of Aradyn. (And she totally gets caught!) Master Bouts, the baker, realizes that she's not really a thief, but a hungry kid facing the world on her own and gives her clothes, a warm bed, and trains her to make his pastries, tarts, and famous Bouts Buns (which, BTW –  you get a recipe for in the book!) so that she can work off her debt in his shop. Bee quickly becomes a skilled baker and her and Master Bouts become fast friends. One day, while in a terrible mood, Bee realizes that she has a very special power surrounding her a baking. She's not just a skilled baker, she's actually a bit magic! At first she doesn't believe it, but after a little experimenting, Bee realizes she so much more than ordinary.
One day, Bee takes a basket of goodies over to the King, where she runs into Princess Anika, who is kept locked away in the kingdom. She has no friends her own age, so her and Bee become fast friends. Anika shows Bee a tree on the grounds of the castle, the only tree in all of Aradyn, and explains that the King got rid of all the trees to make room for the vast and beautiful tulip fields that the kingdom is famous for. The King is a collector of things – everything you can think of from snow globes to insects – and the tulips are one of his collections. As Bee and Anika become closer, they realize that the King has taken away more than just the trees from the kingdom dwellers, but that he's been intentionally making life harder for everyone who lives there. Anika and Bee team up (along with the blacksmith's son, Wil) and head out on a thrilling adventure where they face everything from pirates, mages, tree spirits, magic, surprises, and everything in between. We won't tell you more, so we don't spoil a story you truly need to read for yourself, but we can say this – giving Baker's Magic 5 stars is simply not enough.

The characters in this story are unique and interesting and you always find yourself wanting to know more about them and the kingdom they live in. Bee, the orphaned girl with short, messy hair who prefers pants to dresses. Anika, a princess with a kind heart and a pet hedgehog who isn't afraid of a challenge. Wil, the Blacksmith's son, who would much rather spend his time gardening. Everyone a Baker's Magic is the kind of book you simply can't put down, and leaves you absolutely charmed and starved for more.
Baker's Magic will be available on February 1st, which is in just a few days, so get your favorite reading spot all comfy, because you're not going to want to leave once you've plopped your butt down and started reading this story.