6 Summery Reads to Pack for Camp
School is ending and Summer is nearly upon us! That means it's time to head to the pool with your besties, head off on fabulous vacations, and for some of you – heading off to camp! Whether you're beaching it all Summer or have a few weeks of camp in your future, we've got a bunch of awesome books to add to your Summer reading lists.
Each of our choices take place at camp, but you don't need to be going to camp to enjoy them. As long as you like books that are filled with magic, humor, and/or fantastic characters, you can read these poolside, in a canoe, with your toes in the sand, or while enjoying a gooey s'more!
6 Summery Reads to Pack for Camp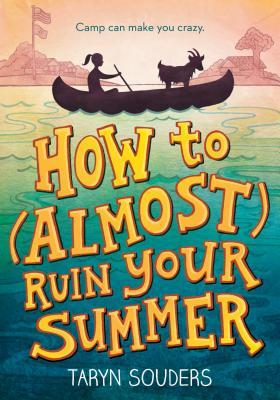 "How to (Almost) Ruin Your Summer" by Taryn Souders
This one doesn't come out for a few more days (June 7th), but the incredible humans at Sourcebooks were kind enough to provide us with an advanced copy. It's a super cute, funny, and heartwarming read that's perfect for snuggling up in your bunk or reading by the campfire while YOU'RE away at camp.
All Chloe McCorkle (cutest name ever) wants is to earn enough money over the summer to buy herself a new bike before Middle School starts in the Fall. Unfortunately, her parents are headed out on a two week trip to Alaska to celebrate their anniversary, so Chloe is being shipped off to Camp Minnehaha – a camp where kids learn career skills. On her very first day she has a run in with a spider, earns herself a demerit, and finds out she's stuck bunking with the camp mean girl, Victoria, who totally has it out for her. Oh, and did we mention there's a goat named King Arthur that just can't seem to leave Chloe alone? Nothing seems to be going right for Chloe and every day of camp just seems to be getting worse, despite her best intentions. Can Chloe make it through camp without being kicked out? You'll have to read the book to find out!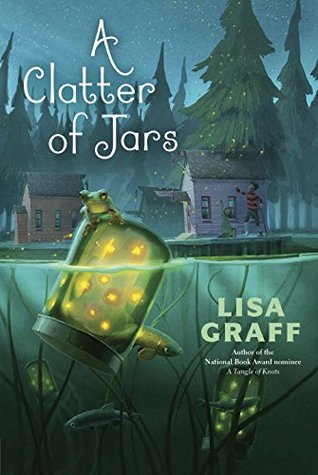 "A Clatter of Jars" by Lisa Graff
This mysterious, magical camp tale is the companion to "A Tangle of Knots", so you may want to pick that one up as well. Two books are always better than one!
"A Clatter of Jars" was actually on our list of 10 Completely Awesome Reads for 2016 (all of which would also make great Summer reads!), so you know it must be good. At first glance, Camp Atropos seems like your ordinary summer camp. There's campfire sing-a-longs, a lake to swim in, and bunks filled to the brim with campers. What makes Camp Atropos different is that it's filled with Talented kids. We're not just talking kids who are extra good at arts and crafts or have a talent for singing – these kids can talk to frogs and collect each other's memories. Unfortunately, it turns out that the camp director is using the camp as a way to keep all these Talented kids hidden from the rest of the world. When strange things start happening at the camp, the kids will need to figure out what's going on so they can stop it once and for all.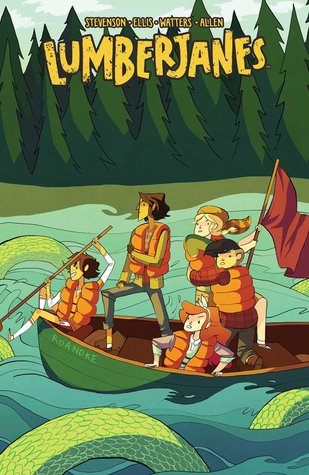 "Lumberjanes" by Shannon Watters, Grace Ellis, Noelle Stevenson, and Brooke A. Allen
If you somehow haven't already been reading "Lumberjanes" comic series from BOOM! Studios, now's your chance to get on that! There's 3 trades currently available and 2 more releasing later this year to help catch you up to date to the monthly comics.
"Lumberjanes" is the ultimate camp read for hardcore lady types. Girls (and boys) of all ages will laugh their butts off while reading about the wildly weird adventures of Mal, Ripley, April, Jo, and Molly! The supernatural creatures these five friends encounter are exactly the types of creatures you and your friends tell spooky stories about while huddled around the campfire. The difference is that while you're snuggled up and enjoying toasting a marshmallow, these awesome ladies are investigating weird happenings and kicking baddie butt. "Lumberjanes" is the perfect combination of girl power, summer fun, and friendship to the max!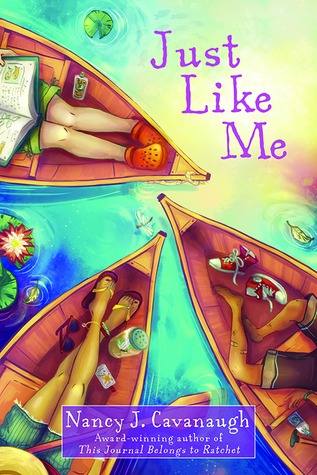 "Just Like Me" by Nancy J. Cavanaugh
This book is a must-read for anyone, not just campers. "Just Like Me" tackles adoption and coming to terms with your heritage and being yourself through a unique group of girls just trying to figure out who they are. It's the kind of book they should be giving out in schools to help everyone come to terms with their own insecurities and appreciate that everyone around them is different and that's totally okay. Even if you're not adopted and don't exactly understand Julia's struggles, you'll still find this book completely relatable.
We were anticipating this book since before it came out, but it wasn't until we grabbed a copy from the author at this year's Book Expo (Nancy J. Cavanaugh is super nice, btw) that we finally got a chance to dive in and read it. Julia and her "Chinese Sisters", Avery and Becca, all come from the same adoption agency in China and are being sent to Camp Little Big Woods in order to learn to bond with each other, as well as document all of their feelings in a journal. Avery and Becca are always finding ways to embrace their heritage, they love listening to Chinese music and using chopsticks when eating literally any food, even cupcakes. Having no real ties to her Chinese background, Julia finds it a little hard to relate to these girls, and would much rather be back at home with her BFFs. While struggling to fit in at Camp Little Big Woods, Julia realizes that she's not the only trying to come to terms who they are and that sometimes we're all a little bit quick to judge others. Through an adorable camp tale filled with funny bits, bittersweet moments, and lots of heart, Julia realizes that not fitting in and struggling with who you are is just a part of life.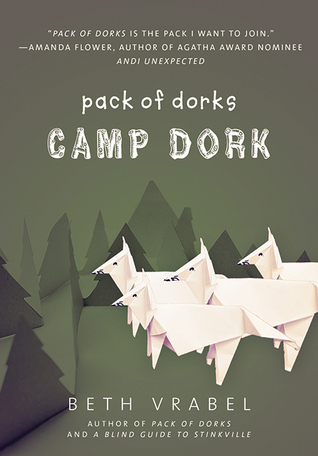 "Pack of Dorks: Camp Dork" by Beth Vrabel
This book is actually a sequel to "Pack of Dorks", so you'll definitely want to toss both of these reads in your beach bag so you can get to know all the characters. "Camp Dork" tackles friendship, rumors, crushes, and bullying in a heartfelt, yet humorous way. It's a really fun read that you'll definitely want to share with your own pack once you're done.
Sheldon is excited to head out on a week long trip to Camp Paleo, the camp where you live like a caveman – meaning you'll be digging for fossils instead of texting and spending the week air conditioning free. He's so excited that he convinces his friends Lucy, Sam, April, and Amanda to join him. His Grandma is even coming along for the ride, she's working as a lunch lady at the camp next door. Sam ends up backing out to go to gymnastics camp and Lucy can't quite figure out why she misses him so much. Sam isn't her boyfriend, but somehow, she can't stop blushing every time she thinks about it. To distract herself, Lucy decides to play matchmaker between Mr. Bosserman, the grump camp leader at Camp Paleo and Sheldon's Grandmother. After successfully pairing them up, Lucy realizes she has a knack for matchmaking and tries setting up even more couples at camp. Unfortunately, Lucy's matches don't always end up working out the way she planned and someone has been stealing from all the campers except Lucy, making her look super guilty. To make matters worse, all the camp drama is being documented via an anonymous blogger, who's doing more harm than good. Lucy finds herself as the outcast once again and must figure out how to repair her friendships before her pack is broken up for good.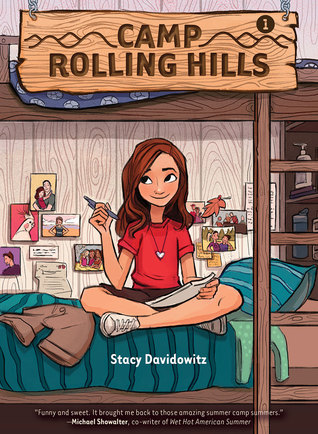 "Camp Rolling Hills" by Stacy Davidowitz
We recently gushed in a full review about the amazingness of "Camp Rolling Hills", which you can read if you'd like to know even more about the series. If you're not going to camp this Summer, this is the perfect read to make you feel like you're right there in the action, nickname and all!
The "Camp Rolling Hills" series takes your usual summer camp story and kicks it up a notch by tackling anxiety issues, divorcing parents, first crushes, and coming to terms with exactly who you are. In addition to tackling realistic struggles, "Camp Rolling Hills" will have you rolling with laughter and these tight knit group of kids will have you wishing you had a group of camp friends of your very own. With a cast of characters who are each dealing with personal issues of their own (Smiley is coming to terms with the death of her father. Smelly struggles from anxiety. Melman is wishing for the days her friends weren't so boy crazy.), the story is very relatable and you'll recognize yourself and your friends in these characters as the story unfolds.
Now that you know what to read this Summer, it's time to find out what your favorite characters are up to on their Summer vacation!