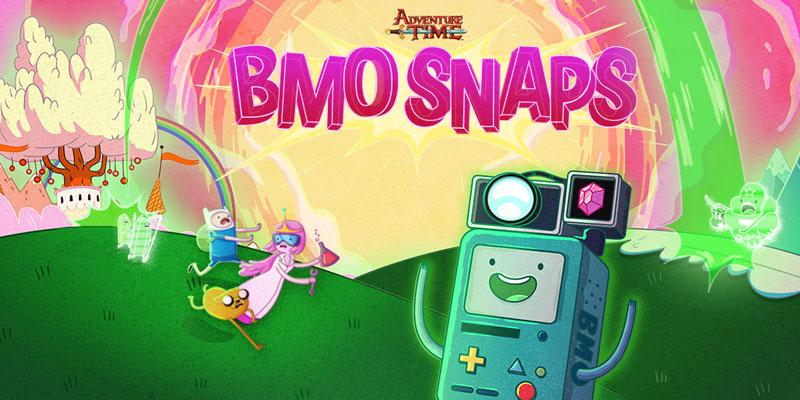 BMO Snaps
It seems like everyone is jumping on the photo safari game bandwagon these days. We've recently posted about two of our favs, Bigfoot Hunter and Snapimals that really stepped up the photo safari genre and took them to the next level with lots of new gameplay ideas that make it more than just a point and click camera game.
BMO Snaps does the same by adding an Adventure Time twist to the gameplay. The best part? It's actually made by The Tap Lab, the same devs who made Bigfoot Hunter. It's more than just a re-skin though, they've really brought the weird, silly fun of Adventure Time to life in BMO Snaps, and the game really stands on it's own.
Oh No! Princess Bubblegum accidentally got her hair stuck in the hologram machine and let an army of evil holograms loose in the Candy Kingdom! Now it's up to you to capture them using BMO's camera. Each photo you snap will be sucked out of the universe and trapped forever inside PB's Holopedia, which is actually just NEPTR. You can view the Holopedia at anytime to hear about the history of each character, like how Finn used to be a buff baby. Puncha Yo Buns!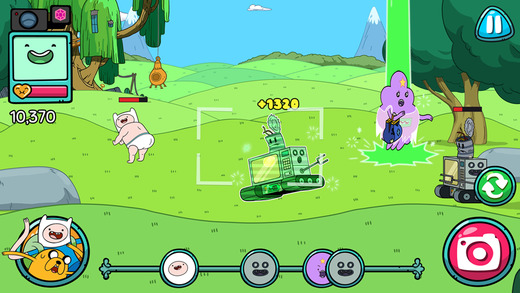 Each level contains hologram forms of your favorite Adventure Time characters (and their voices!) running wild and generally being a pain in the butt. When you see a character you want to take a picture of, move the camera over to them so they're in frame, and then tap the camera button to snap. You can move the camera by touching the screen OR by using your phone screen old school style as a camera viewfinder. Be quick though, some of the holograms require you to take multiple shots of them before they disappear, and others are super fast and don't stay in frame long.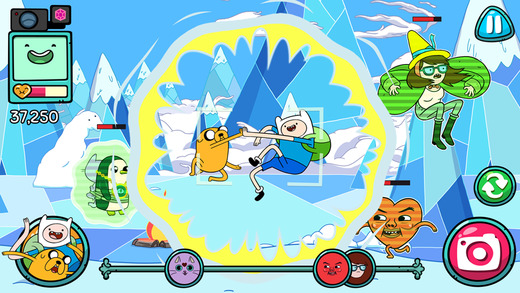 If you've played Bigfoot Hunter, you'll notice a few differences in BMO Snaps! There's a helpful radar at the bottom of the screen that lets you know where the holograms are hiding. Each character also has a life bar above their head, indicating how many more snapshots you'll need to take before they disappear. You also have a health meter, and if you don't shoot the pictures quickly enough, the holograms will explode and you'll lose health.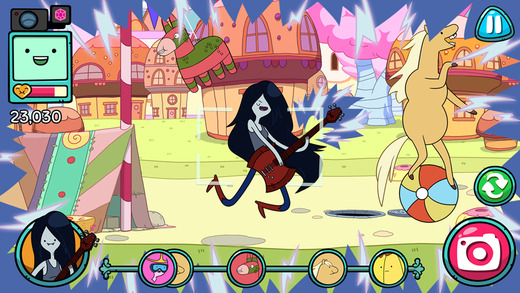 You'll get to explore lots of different areas of Ooo, like the Grass Lands (where Finn and Jake's treehouse is), the Ice Kingdom, and more! There's also awesome powerups you can purchase with the coins you collect in each level. You can hire Finn and Jake to come kick baddie butt for you, Marcy can shred her axe and help you take photos faster, and Ice King can freeze enemies, giving you more time to snap them. Camera upgrades are also available.
There's even an awesome photo booth where you can take pictures (or use pictures you've saved) and make them even more mathematical with AT themed character stickers.
You can pick up the game for $2.99 on iOS devices! It's well worth the cash, we promise!