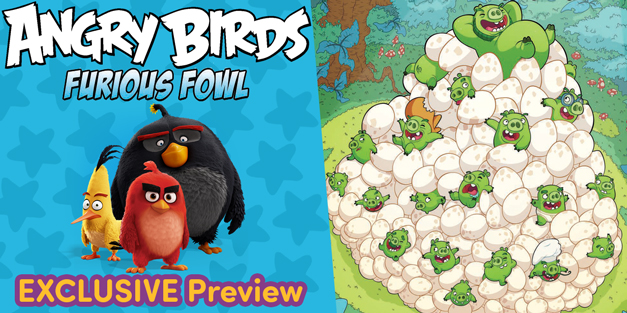 EXCLUSIVE PREVIEW: Angry Birds Comics: Furious Fowl
Angry Birds: Furious Fowl is the the latest quarterly Angry Birds comic from IDW Publishing. Featuring 4 hilarious stories spread over 80 full color pages, it's totally a must-read for fans of Red, Chuck, Matilda, Bomb, and of course, those no-good green pigs! Whether you love flinging birds and foiling piggy plans in the games or laughing your butt off at the Angry Birds Movie, you'll love this super silly comic!
This issue features 4 different adventures that bring the anger, the LOLs, and the crazy antics that can only stem from the Angry Birds! We've got an EXCLUSIVE preview of the issue below, so fling your way down the page to check it out!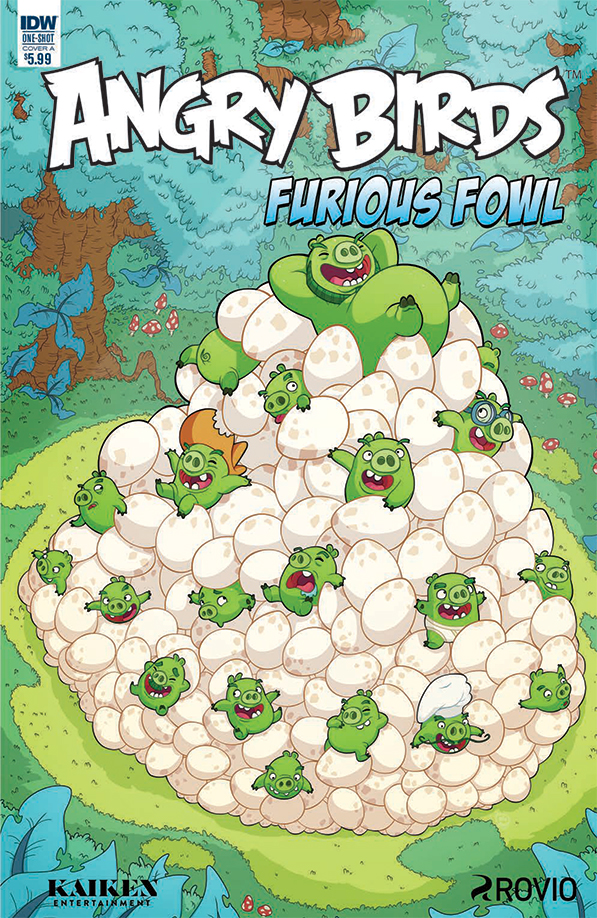 The Martian:
The issue begins with The Martian, as the legendary playwright Castanova comes to the island in search of the perfect lead character for his upcoming play. He's looking for someone resonates, detonates, and explodes, so obviously Red is the perfect choice for the role of the alien. Unfortunately, things get a bit out of hand as Red strolls through town looking for some lunch – some of the other birds mistake him for a real alien and think there's a real alien invasion!
Peace and Harmony:
Matilda discovers a dusty old book under the floorboards of her apartment written by her hero, Flimflam Featherstone. Flimflam is a guru of peace and harmony who she discovers used to live in her apartment before her. He hasn't been seen in many years, so Matilda sets out on a journey to find the iconic guru and learn from the master about how to find her own inner harmony.
Moby Pig:
The ever cynical Red stars in an Angry Birds re-telling of the classic whale of a tale, Moby Dick. Complete with Red's irritibility, piggy pirates, seafaring antics, and lots of laughs.
Art Appreciation:
Red hires Hal to create a scary work of art that will prevent the pigs from stealing the eggs that doesn't exactly go according to plan. The other birds chip in and create some of their own art as well, but nothing manages to scare quite as well as Red's self portrait.
Sounds awesome, right? Take an exclusive look at the first story, The Martian, below.
EXCLUSIVE PREVIEW: Angry Birds: Furious Fowl:
Like what you see? Be sure to pick up the issue when it hits comic shops on August 23rd! After all, you wouldn't want to annoy those birds!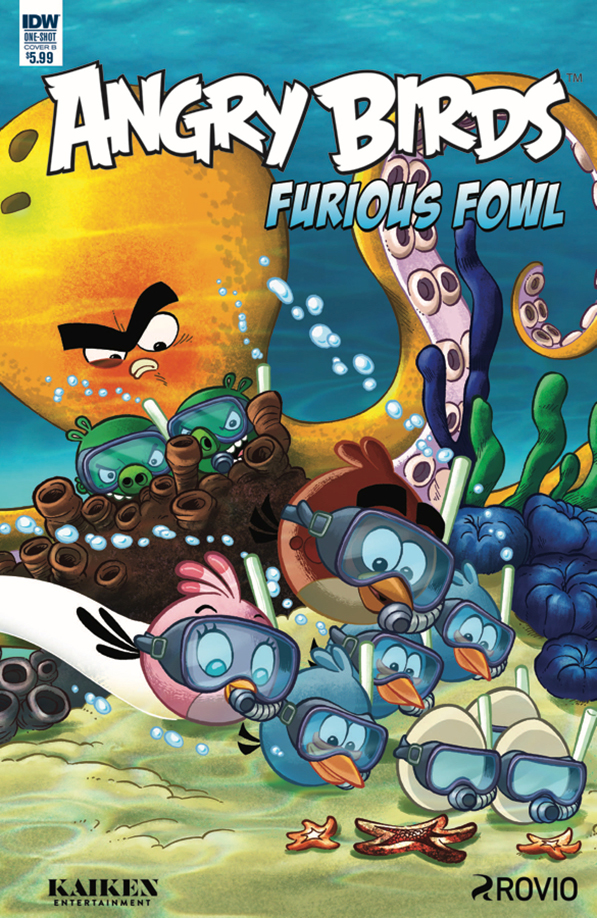 Angry Birds Comics: Furious Fowl!
Publisher: IDW
FC • 48 pages • $5.99
Writers: Paul Tobin & Various
Artists: David Baldeon & Various
Cover Artist: Philip Murphy
SYNOPSIS: The colorful adventures of everybody's favorite Angry Birds continue in this new quarterly comic! Jam-packed with silly misunderstandings, bungled plans, and high-flying fun, this collection of stories will have both longtime readers and new fans laughing until they fall down harder than a wooden tower filled with green pigs.
Love comic adventures based on your favorite gaming heroes? Check out the latest issue of Yo-Kai Watch or Spyro & Friends: FULL BLAST!