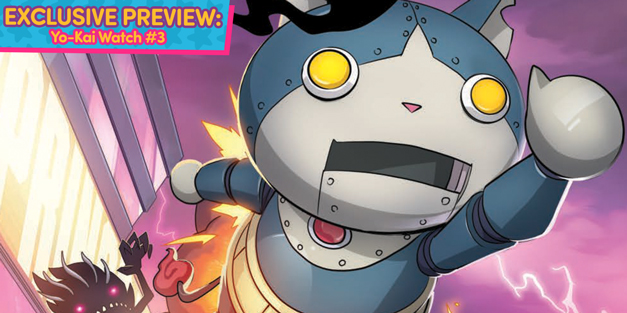 EXCLUSIVE Preview: Yo-Kai Watch #3
Hop into the DeLorean and head to a future version of Springdale as Whisper brings readers to the final battle and gripping conclusion of the Yo-Kai Watch comic miniseries. This awesome series has explored the past and present of the world of Yo-Kai, and now we're headed back to the future. No really, we weren't kidding about that DeLorean! Yo-Kai Watch #3 is out on August 23rd, but we've got an EXCLUSIVE peek into this month's big adventure thanks to our friends at IDW!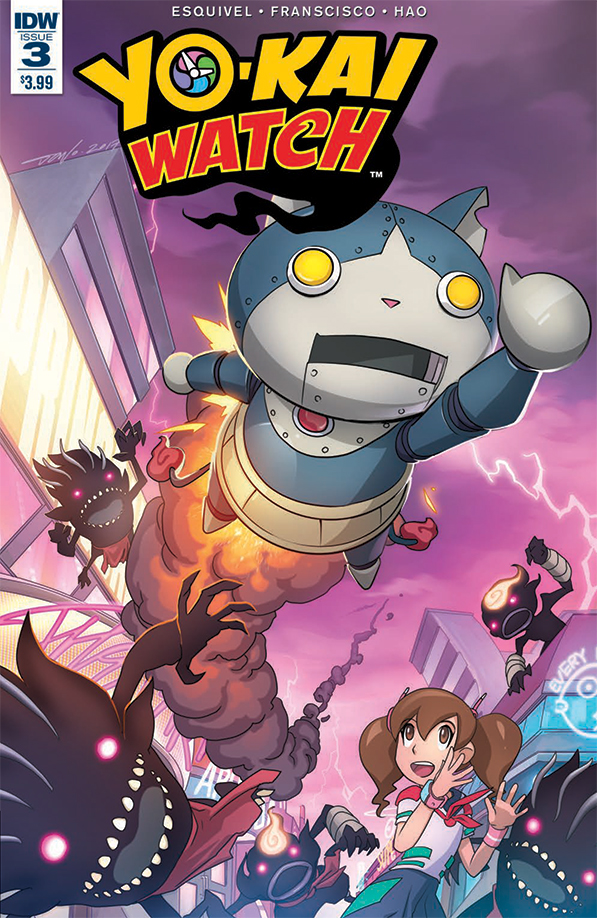 If you haven't been reading, here's what you've missed: Whisper takes readers on a legendary adventure into the past and present. Each battle and story is different, but one thing remains the same – Snartle is a troublemaker throughout every era. Shogunyan kicks-butt in the past and in modern times, Jibanyan is the hero we can count on.
In Yo-Kai Watch #3, things seem pretty chill in future Springdale. There's lots of awesome high-tech gear all around and everyone seems pretty excited about it. That is, until Snartle and his hoarde of evil Yo-Kai roll in and spook everything up! Thankfully, Robonyan drops in ready to defend and hopefully save the day. Sprinkled with hilarious commentary from the always snarky Whisper, it's an issue Yo-Kai fans won't want to miss. Check it out!
EXCLUSIVE PREVIEW: Yo-Kai Watch #3:
Click image to view larger.
Our favorite thing about about the issue? All the nostalgic references that writer Eric M. Esquivel sprinkled into the story. We caught Back to the Future and Power Rangers as we flipped through the issue, but we bet there's even more for readers to find. Also delightful is the very first panel of the comic. The story opens up with Whisper re-capping a bit in a comic shop full of parody issues of real IDW series, like Angry Birds Comics, My Little Pony, etc – all starring Whisper! Definitely take a second look, you're sure to LOL.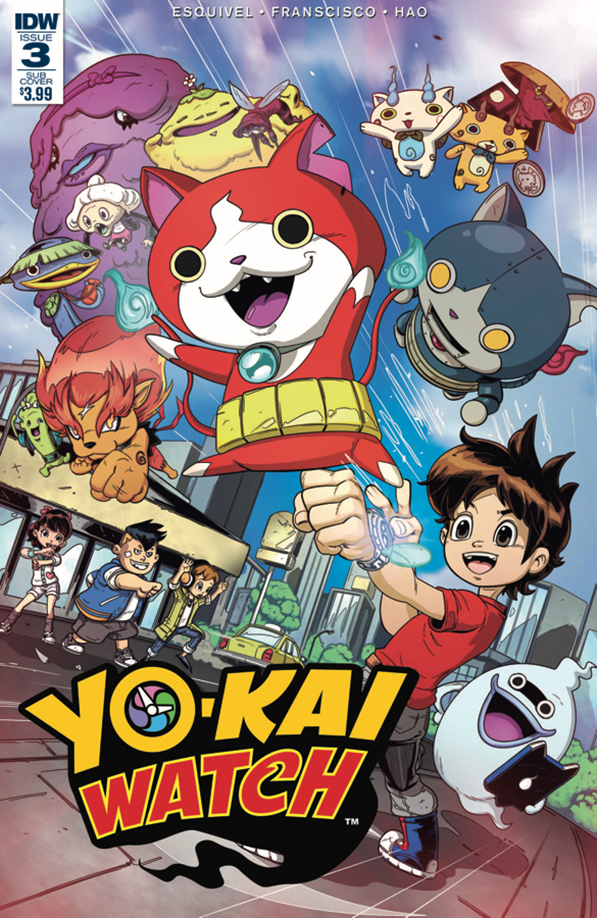 Yo-Kai Watch #3
Publisher: IDW
FC • 32 pages • $3.99
Writer: Eric M. Esquivel
Artist: Philip Murphy
Cover Artist: Dono Sanchez Almara
SYNOPSIS: You've played the videogames, watched the cartoons, chewed the bubblegum– now travel deeper into the Yo-Kai realm than ever before with this miniseries that explores the past, present, and future of the world of YO-KAI WATCH!
In this issue: ROBONYAN defends future Springdale from a horde of evil Yo-Kai!
If you loved this Yo-Kai Watch miniseries, we think you'll love Skylanders: Spyro & Friends quarterly series!