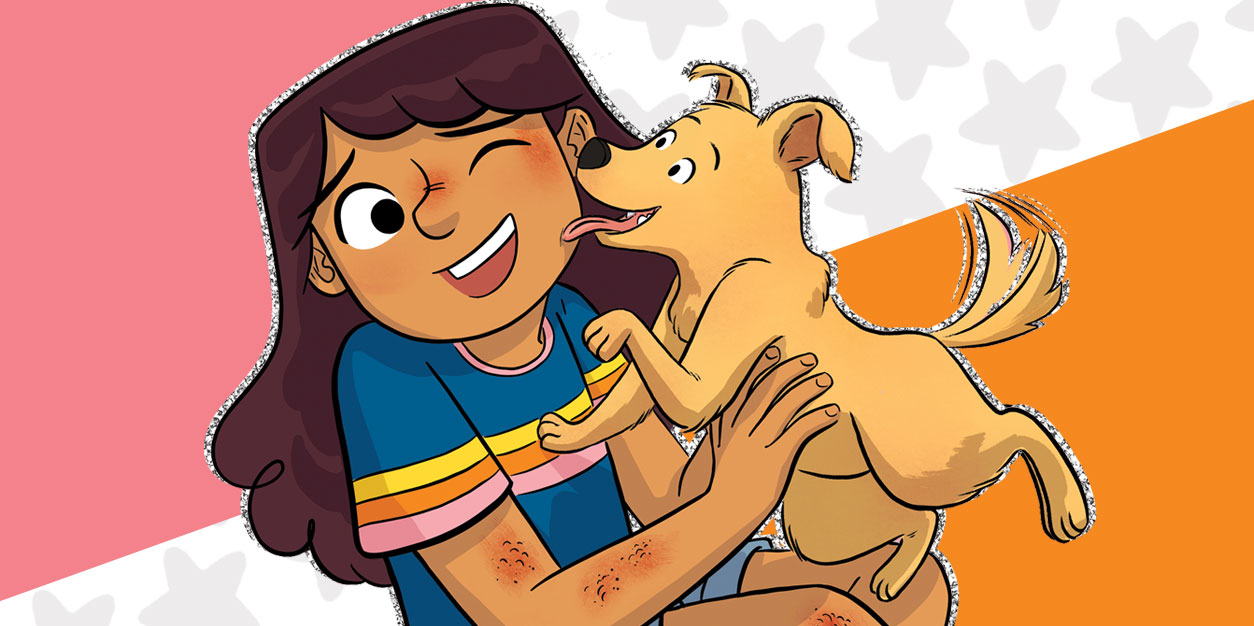 Allergic: EXCLUSIVE Minicomic & 5 Fun Facts About Dogs
Getting your first pet is super exciting and a big responsibility, but if you find out that you're allergic, it can be totally disappointing – and even a little bit scary! In Allergic, out today from Scholastic, Maggie is feeling completely alone. Her parents are expecting a new baby, her twin brothers spend all their time together, and due to an unexpected school zoning change, Maggie is being forced to leave her friends behind and start a new school in the fall. So much is changing!
Maggie thinks that adopting a dog would help her feel better, but when her family takes her to the shelter to pick out a puppy on her birthday, she breaks out in hives and rashes! The doctors at the hospital say that she's seriously allergic to everything with fur or feathers, meaning that Maggie's hunt for an animal companion just got even harder. Plus, she had dreams of becoming a veterinarian one day, and she has to start taking allergy shots. Feeling more alone than ever, will Maggie be able to outsmart her allergies, make new friends at her new school, and find her place within her family?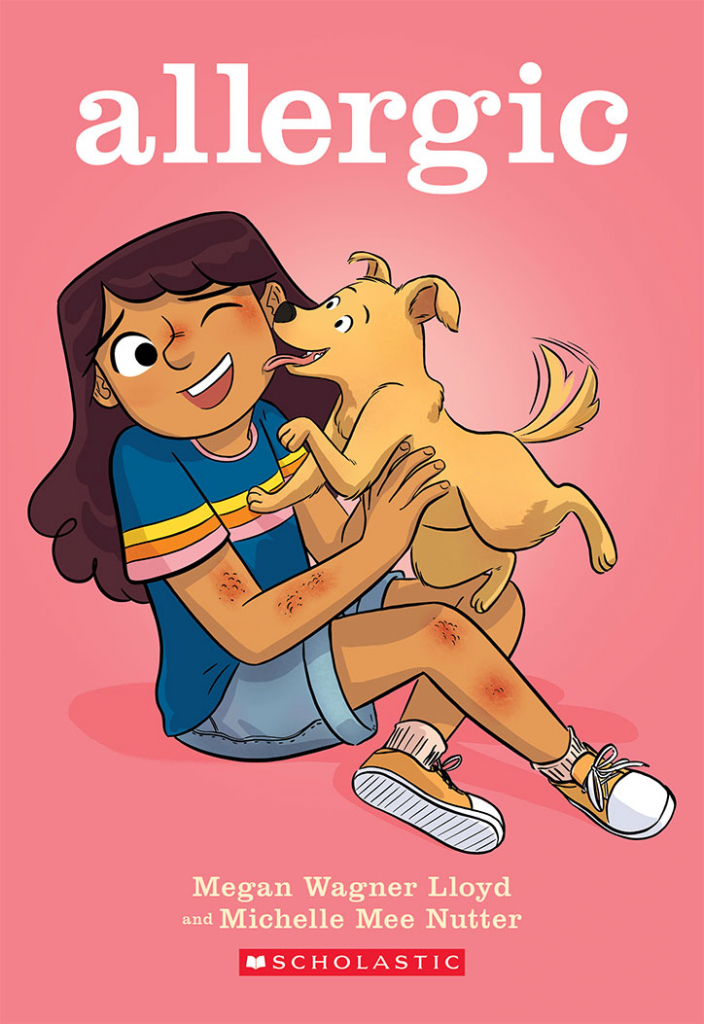 At home, Maggie is the odd one out. Her parents are preoccupied with the new baby they're expecting, and her younger brothers are twins and always in their own world. Maggie thinks a new puppy is the answer, but when she goes to select one on her birthday, she breaks out in hives and rashes. She's severely allergic to anything with fur!
Can Maggie outsmart her allergies and find the perfect pet? With illustrations by Michelle Mee Nutter, Megan Wagner Lloyd draws on her own childhood to tell a heartfelt story of family, friendship, and finding a place to belong.
Allergic
AUTHOR: Megan Wagner Lloyd
ILLUSTRATOR: Michelle Mee Nutter
PUBLISHER: Graphix
DATE: March 2, 2021
We think this heartwarming graphic novel is an absolute must-read for animal lovers and anyone who's ever felt a little out of place. Filled with surprising new friends, touching family moments, and relatable middle school drama, we think you'll totally love it, which is why we teamed up with author Megan Wagner Lloyd and illustrator Michelle Mee Nutter to give you an extra special peek into the world of Allergic!
They've created an EXCLUSIVE minicomic and shared 5 Fun Facts about dogs that any animal lover will find totally fascinating! Ready to get your read on? Keep scrolling!
EXCLUSIVE Allergic Minicomic:
Adopting a dog is a big decision. And Maggie finds out that she won't be able to give a dog the care it needs because she's allergic. But that doesn't mean that she can't find other ways to show her love for animals – and so can you! In this super cute minicomic by Allergic author Megan Wagner Lloyd and illustrator Michelle Mee Nutter, you'll learn a few ways you can be a friend to animals if you can't have a pet of your own!

5 Fun Facts About Dogs:
At the beginning of Allergic, Maggie—who LOVES animals—really wants to adopt a dog from her local shelter. Later in the book, she makes a new friend named Sebastian, who loves to collect trivia about everything. Megan Wagner Lloyd and Michelle Mee Nutter have put together some fun facts about dogs that Maggie and Sebastian would both find totally fascinating!
FACT #1:

Dogs have a much stronger sense of smell than humans…but a weaker sense of taste!
FACT #2:

Modern day dogs are descended from wolves, and they're related to other wild canines, like coyotes, foxes, dingoes, and racoon dogs.
FACT #3:

Humans have unique fingerprints…and dogs have unique nose prints!
FACT #4:

Dogs can be as small as one to six pounds (like Chihuahuas), as big as 230 pounds (like English Mastiffs), or many sizes in between.
FACT #5:

Just like humans can be allergic to dogs, dogs can be allergic to humans!
Want to read even more EXCLUSIVE minicomics inspired by your favorite books like Emmie & Friends and Baby-sitters Little Sister? Click here!