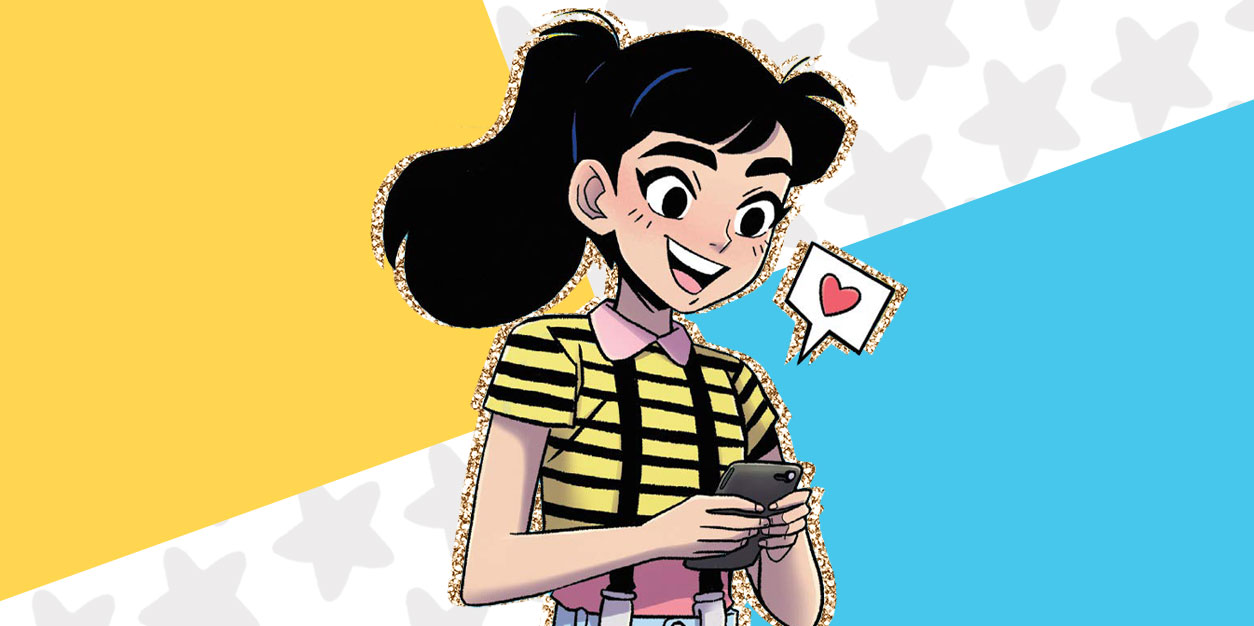 Lois Lane Shares 5 Insider Tips for Aspiring Reporters
Friendship betrayals, social media rivalries, and neighborhood mysteries collide in Lois Lane and the Friendship Challenge, an exciting new graphic novel from DC Kids!
Long before her days at the Daily Planet, Lois Lane was just an ordinary kid growing up in the small town of Liberty View. She's confident that the Friendship Challenge is the spark her channel needs to go viral and is eager to share the story of how she met her BFF Kristen. Looking forward to a perfect Summer, Lois ends up stumbling across her first big story. But as she investigates missing fireworks, blackmail notes, and seemingly suspicious new girls, her friendship with Kristen is left hanging in the balance.
We love this look at a young Lois Lane – she's whip-smart and seriously ambitious, but she's far from perfect. Lois makes plenty of mistakes throughout the story, reminding readers that messing up is a part of growing up and that mistakes are meant to be learned from!
From New York Times bestselling author Grace Ellis (Lumberjanes) and artist Brittney Williams (Goldie Vance) comes a new story about 13-year-old Lois Lane as she navigates the confusing worlds of social media and friendship.
It's the first day of summer break in the sleepy town of Liberty View, and young Lois Lane bursts onto the scene with what she knows is a sure-to-go-viral video channel. Okay, maybe her platform only receives two views a week (thanks, Mom), and maybe her best friend, Kristen, isn't quite as enthusiastic about social media, but when Lois sets her mind on something, there's no turning back.
At the end of the week, the big neighborhood barbecue and bike race will be the perfect backdrop to Lois and Kristen's #friendshipchallenge video. But when the girls find out the annual fireworks are missing, Lois doubles down on her efforts for fame, testing her friendship in ways she couldn't imagine.
With Kristen leaving for sleepaway camp after the barbeque and a new girl on the block taking all of Kristen's attention, will Lois be able to find the missing fireworks, celebrate the summer, and post the best #friendshipchallenge the internet has ever seen? Or will she have to face her challenges IRL?
Lois Lane and the Friendship Challenge
AUTHOR: Grace Ellis
ILLUSTRATOR: Brittney Williams
PUBLISHER: DC Kids
DATE: August 11, 2020
We're so excited to share that Grace Ellis and Brittney Williams, the superstar team behind Lois Lane and the Friendship Challenge are here sharing an exciting scoop. Here's what they had to say: "Before she was a big-shot reporter working alongside Clark Kent at the Daily Planet, Lois Lane was a kid reporter, and you can be a kid reporter too! It's a lot of fun tracking down news, so here are a few tips to keep in mind as you start pounding the pavement for scoops."
They've put together a list of insider tips to help you sharpen your skills as a reporter and follow in Lois Lane's iconic footsteps!
Lois Lane Shares 5 Insider Tips for Aspiring Reporters:

Be Curious:

Journalism is an important part of society because its goal is to tell people facts they might not otherwise know. As a journalist, your job is to find those facts, so a good place to start is by staying curious. Don't be afraid to ask questions or to admit that you don't know things, and take notes!

When Lois is on a story, she starts by investigating the basics: Who, what, when, where, why, and how.
Be Observant:

Sometimes, you can get information without even asking a question. In fact, sometimes you can find out more information by not saying anything at all!

Imagine you're walking through a park and you see a stranger sitting on a bench. Without talking to them, what can you observe that tells you about this person? What are they doing? How are they dressed? What's the tone of their voice? How do they smell? Those types of observations can be important when you're working on a journalistic story. Use your five senses like a detective would!

Write:

There are lots of different kinds of journalistic writing, but as a kid reporter, the best thing you can do is to develop your own style. (Lois has a lot of style, that's for sure!)

Maybe you want to put all your facts into short paragraphs. Maybe you want to tell the story of what happened as a fact-based narrative. Maybe you decide to write a review or opinion piece instead. The great thing about writing is that it can take whatever form you want! It's up to you!

Also, don't be afraid of being bad at writing. Like any skill, it takes time and practice to get better, so be kind to yourself and celebrate your improvements.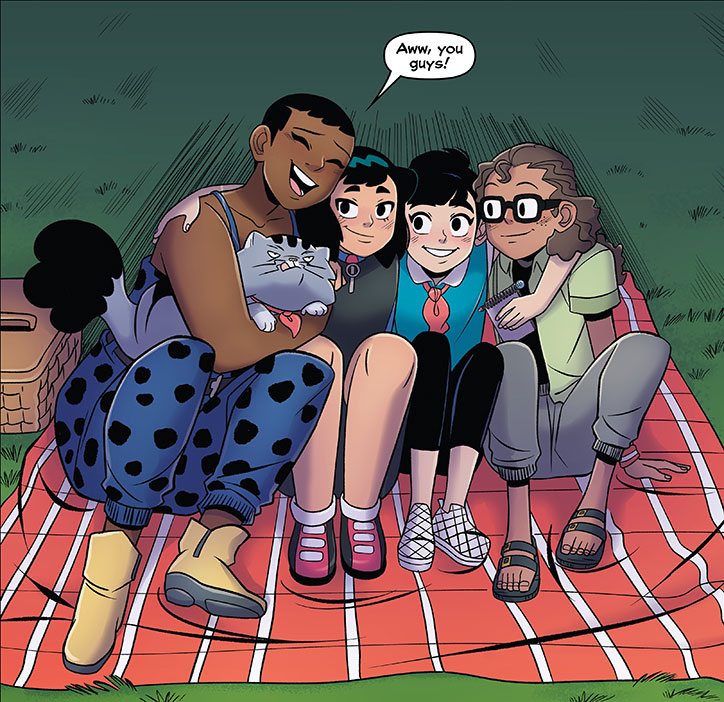 Work With Your Friends:

Now that you've written your story, you have to decide what you want to do with it. Lois and her friends decide to start a newspaper together, with everyone pitching in in their own way. It's a true team effort, and everyone has something to contribute. You don't have to do anything that complicated, but if you and a friend both enjoy writing, you could always swap stories and give each other feedback.

Letting other people read your writing is an essential part of journalism, and good friends make great readers. I've also heard that it helps if you have an adorable animal sidekick!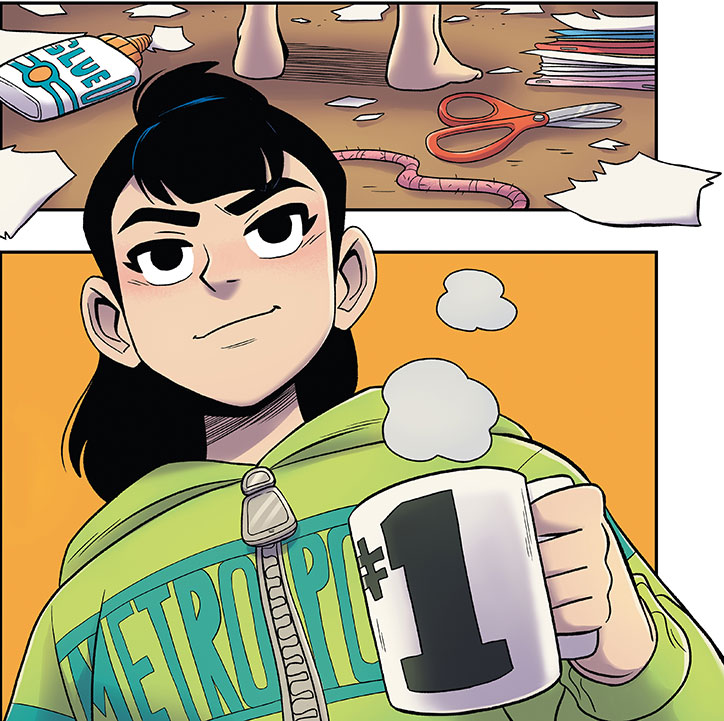 Read:

This might be the most important tip of all. Everything you read makes you a little bit smarter, no matter what kind of reading it is. Non-fiction, fiction, short stories, magazines, news journalism, even your friends' writing can all help you not only learn about the world but learn about writing as an art.

Pay attention not only to what the writing says but how the author said it. Why did they decide to say it that way? Why did they decide to write this story as, for example, a memoir instead of a prose non-fiction book? Asking yourself questions like these will help you become a better writer, a better journalist, and a more thoughtful person.

Oh, and of course, the best kind of book you can read is a comic book. Might I recommend Lois Lane and the Friendship Challenge?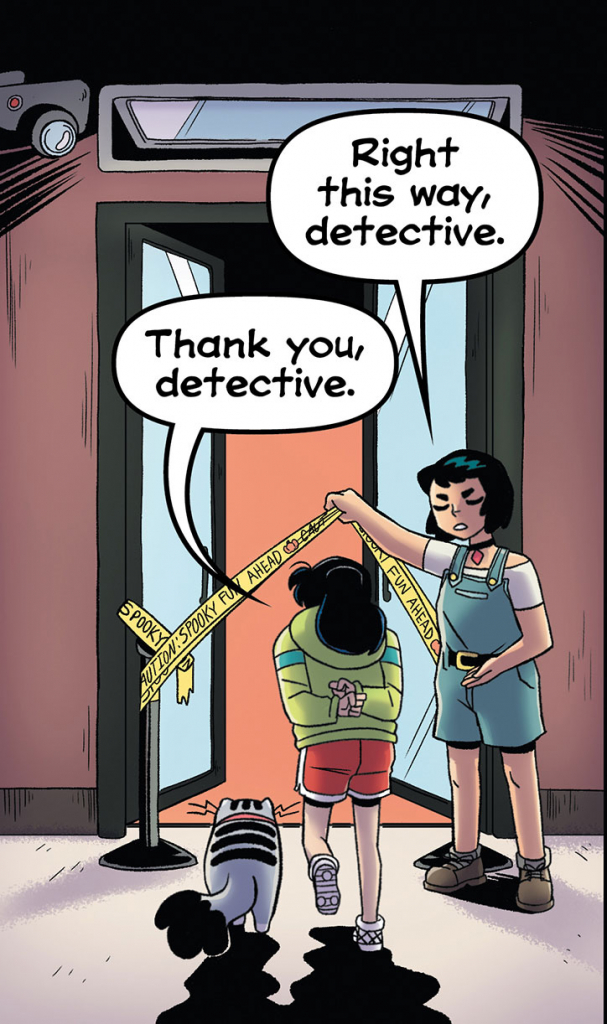 Before you go, Lois has a few final words of wisdom to share. A cool base of operations is a must, I'd personally recommend a treehouse. Also, make sure you have a great bike because you never know when you'll have to chase down a source!
Ready to get reading? Click here to enter to WIN a copy of Lois Lane and the Friendship Challenge and a stash of four other girl power-fueled DC Kids reads!