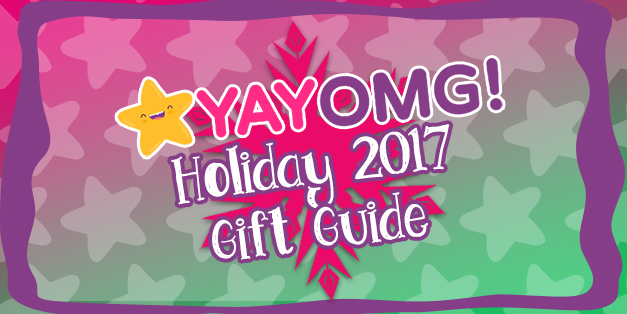 YAYOMG! Holiday 2017 Gift Guide
NOTE: All of the items on this list were hand-picked by the YAYOMG! Team, but some of our picks are items that we have received for free for past reviews. Our recommendations are based on items we loved and think our readers will love, and we received no compensation for featuring any of the items on this list. All opinions are our own.
There's nothing like the buzz of the holiday season to put you in a holly jolly mood. After hitting up those Black Friday sales, you've probably crossed mom and dad off your list, but you might be left searching for something to get your BFF or your siblings. Maybe you're still stuck for ideas on what to add to your holiday wishlist? Look no further!
Our YAYOMG! Holiday 2017 Gift Guide comes to the rescue with lots of ideas to help you spread holiday cheer for anyone in your life that might be hard to shop for or someone you truly want to impress with the perfect gift.
YAYOMG! Holiday 2017 Gift Guide: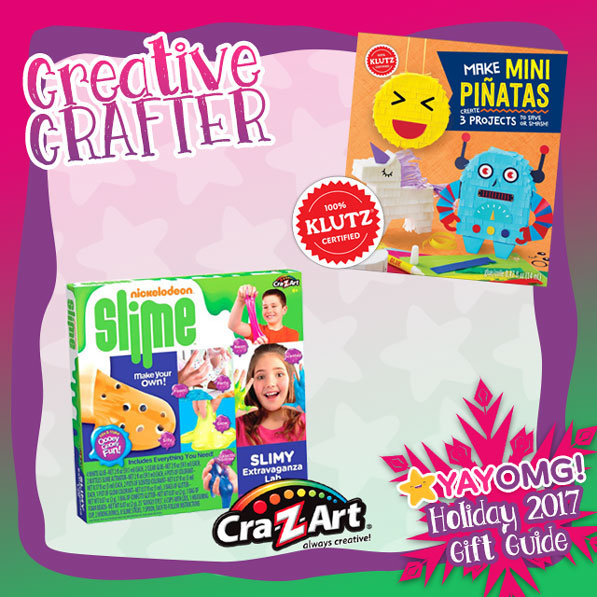 Creative Crafter:
These gift picks are for the person in your life who can always make something out of nothing. They're a creator, crafter, and DIY Queen. They've got an A in art class and are the master of turning a boring weekend afternoon into an epic craft sesh. Celebrate their creative soul by picking up one of these fun kits.
Nickelodeon Slime Extravaganza Lab by Cra-Z-Art – $14.99
We all have that one friend with jar after jar of slime stashed in their room or maybe that friend is you. The Nickelodeon Slime Kits from Cra-Z-Art pack everything you need into one box and offer up ways for you to create slime that's crunchy, sparkly, and even filled with eyeballs!
We're loving the Slime Extravaganza Lab, but there are lots of other awesome kits to choose from to make this holiday oozy, stretchy, and goopy for the slime obsessed person in your life.
Make Mini Piñatas by Klutz – $19.99
Who said piñatas were only for birthdays? Sure, they're fun to smash at a party, but they also make a super cute room decoration. If you're in search of a gift to give to someone who lives to craft or party, look no further than this Piñata DIY Kit.
We reviewed this one earlier this year, so we can vouch – it's a total blast and easy to craft up some ridiculously cute piñatas! Each kit comes with enough materials to create three mini piñatas and ten projects to choose from.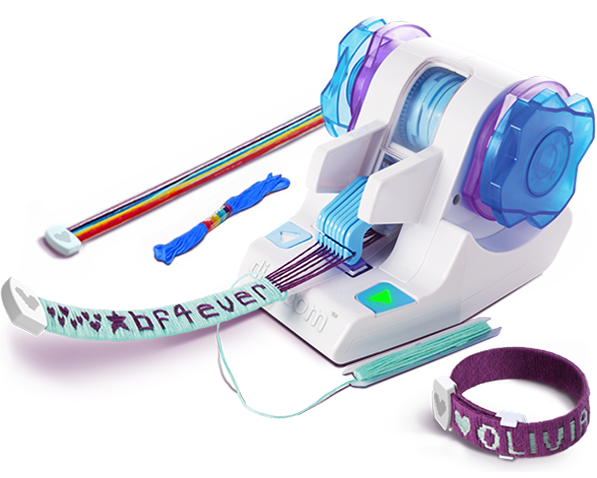 If you have a little more to spend, we're digging the Digiloom from WowWee! Master the art of friendship bracelet making and create detailed woven designs with ease using the interactive companion app. Design your creation on the Digiloom app, add the thread to the machine, and get to creating. ($34.99)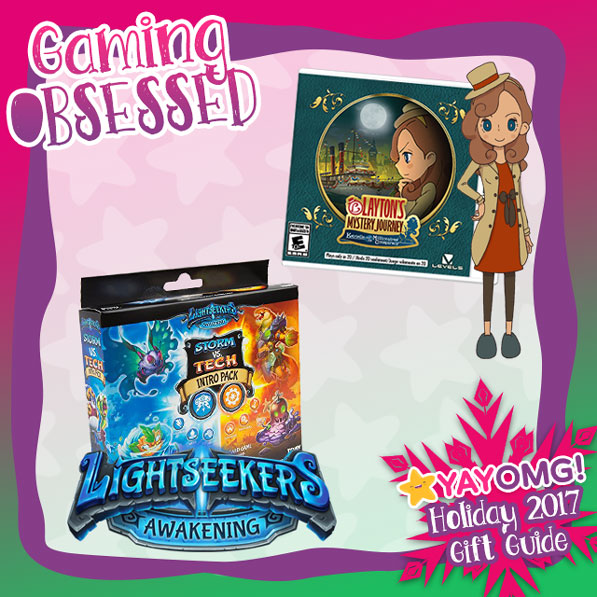 Gaming Obsessed:
Have a friend who's always playing the latest indie release or invites all their besties over for the Splatoon Turf War events? Do you and your buds have a tabletop gaming group like the kids in Stranger Things? Whatever their gaming passion, we've got a holiday gift idea in mind!
Layton's Mystery Journey: Katrielle and the Millionaires' Conspiracy from Nintendo – $39.99
The Layton Mystery series has always been a ton of fun. Don your detective coat and hat and whip out your Nintendo 3DS to start cracking cases, uncovering clues, and scouring scenes with a magnifying glass. Katrielle and the Millionaires' Conspiracy is the first in the series to have a female main character, so it brings the girl power in a big way. Katrielle is Professor Layton's daughter, and she's on the case to try and find him as he's gone missing!
This game is great for longtime fans of the series, gamers picking up the series for the first time, and even hesitant or more casual gamers.
Lightseekers Trading Card Game Intro Pack by PlayFusion – $29.99
Lightseekers are shaking up the gaming world by combining toys, tabletop card games, and mobile gaming into one seriously cool gaming experience. We haven't played the trading card game yet, but we tested out the mobile game and one of the toys at an event this Summer, and we were totally blown away. The Lightseekers Trading Card Game Intro Pack is the perfect way to get started in the Lightseekers universe. It comes with two prebuilt decks so you can get started collecting and playing right away as well as everything else you need – like deck boxes, playmats, etc.
Scan the cards into the free Lightseekers app and bring the game to life in a whole new way, including AR effects, in-game rewards and abilities, and more. It's a must-have for any gamer.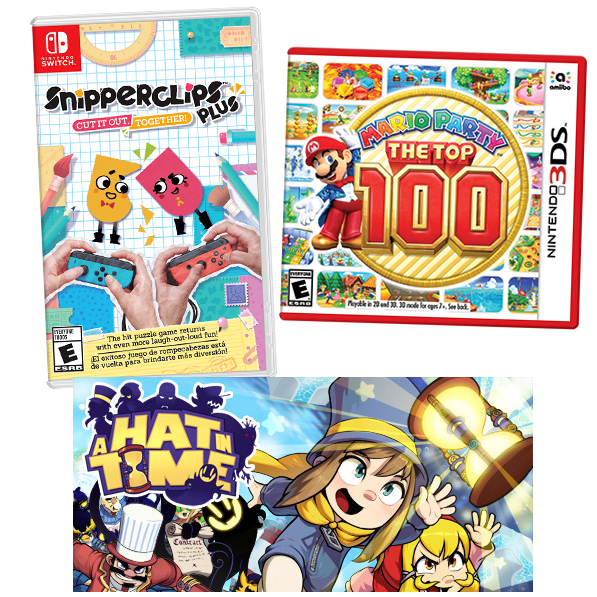 Already beat Super Mario Odyssey and need some games to add to your own holiday list? We suggest Snipperclips Plus: Cut it Out Together for Nintendo Switch ($29.99), A Hat in Time for Steam/PS4 ($29.99), and Mario Party: The Top 100 for Nintendo 3DS ($39.99).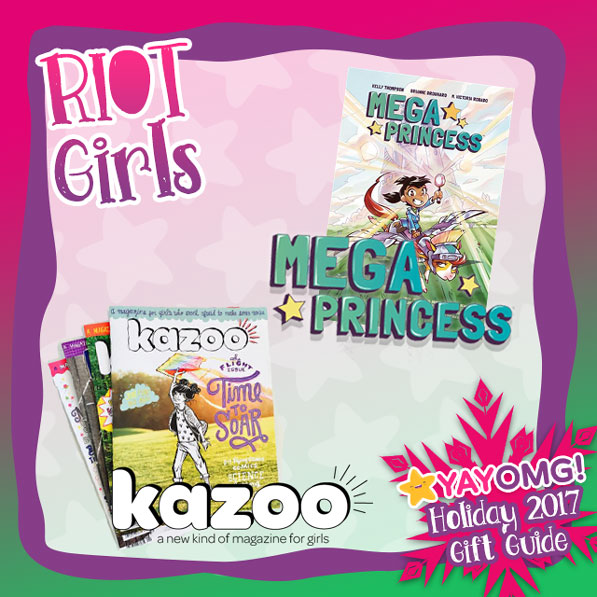 Riot Girls:
If you're a unique soul who's always playing by your own rules or have someone in your life that's always standing up for what's right, these are fierce picks to help inspire and empower you to always follow your heart.
Mega Princess by Kelly Thompson and Brianne Drouhard – $14.99
Published by: BOOM! Studios
If you're a YAYOMGer, you know that we're a little bit obsessed with Mega Princess. Princess Max is proof that princesses are more than just frilly dresses and sparkly tiaras. They're astute observation skills, a trusty old pair of sneakers, and an optimistic, occasionally snarky attitude. (Or whatever qualities make you, well, YOU!) Mega Princess shows us that you can be any kind of girl, even if you don't always fit into that perfectly defined idea that society has put in place. You're amazing just the way you are!
This paperback volume collects all 5 issues, so you'll get all the girl power in one place.
Kazoo Magazine – $15/each, $50/year
Kazoo is an independent quarterly magazine for dreamers, doers, and girls who live to make some noise. Every page is filled with activities, DIYs, articles, and interviews meant to inspire girls to be totally awesome. You'll never find beauty tips that make you feel bad about yourself or any content that gives you unrealistic expectations. Every page is designed to keep you motivated, dreaming big, and feeling confident. You can pick up the past issues for $15 each or get a yearly subscription for $50.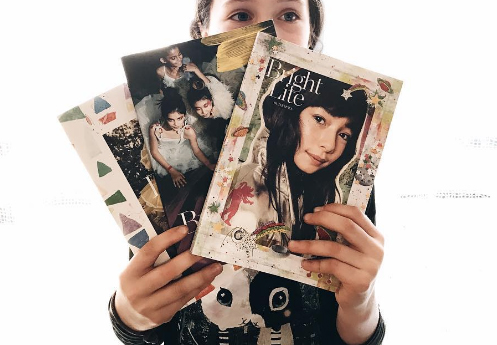 Looking to ignite and empower your best self? Our pick for you is Bright Lite Magazine. It's a zine filled with real girls, created by real girls. Nearly everything in each issue of Bright Lite is submitted by tween girls, from poetry to pictures, to essays about their lives and experiences. Every single page has a girl to ignite your soul and show you that you can make your mark on the world. ($19.99/back issue, $65/year)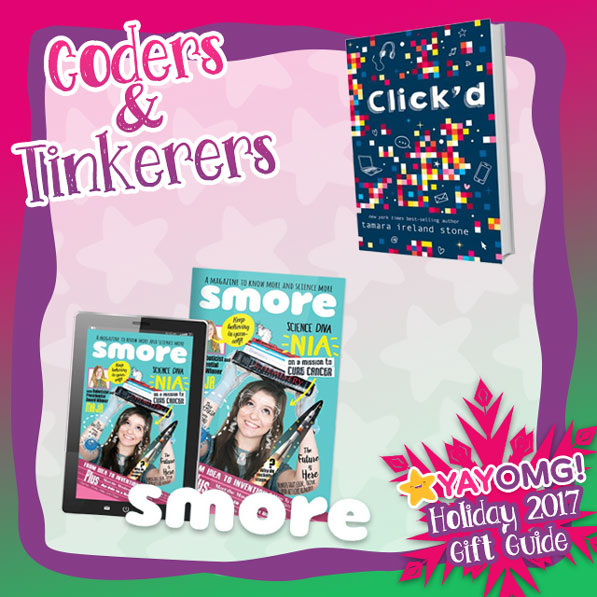 Coders and Tinkerers:
Aspiring coders, science lovers, and tinkerers in training will love these STEM-focused gift ideas. Inspire their love of tech, science, and creating with these awesome gifts.
Smore Magazine – $10/each, $50/year
We're all about the inspiring indie mags this year, can you tell? Your ever-curious science-loving friend, sister, or cousin will absolutely LOVE Smore Magazine. Each issue features a real teen scientist or inventor on the cover for you to admire and learn from. Between the covers, each page is beautifully designed and filled with science trivia, the latest cutting-edge research, a pull-out poster, and other ways to help ignite your brilliance. If your friend is a tablet user, you can snag the digital subscription for just $30.
Check out our interview with Smore founder, Sarita Menon.
Click'd by Tamara Ireland Stone – $12.99
Published by: Disney-Hyperion
Allie Navaro spent the summer at an all-girls coding camp she built a super cool new app that she can't wait to share with her friends when she heads back to school. Her app, Click'd, is designed to help pair you up with new friends based on your interests, but turns it into a scavenger hunt by making you get up and explore the world around you to find your friendship match. The app is a runaway success at her school, but with the Games For Good competition coming up and a rival coder competing against her, Allie will have to make some tough decisions as she builds out her app, re-builds her friendships, and learns that sometimes viral success comes with its downsides.
We chatted with author Tamara Ireland Stone! See what she had to say about empowering female coders and the middle school teacher who inspired her.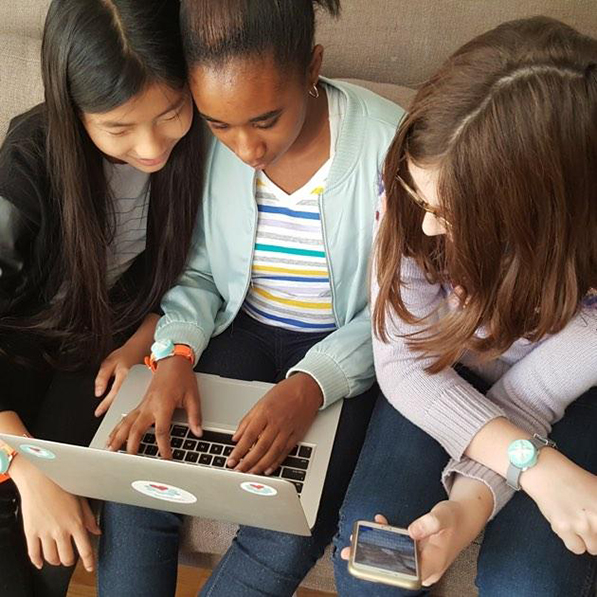 If you're an aspiring coder, something you can add to your wishlist is Jewelbots. They're programmable friendship bracelets that'll help you take your coding skills to the next level and keep you in touch with your besties. There's also a supportive community of young female coders and the occasional in-person even to help teach girls how to code and bring Jewelbots lovers together. We're a big fan! If you order them on Black Friday or Cyber Monday, you'll get two for the price of one! ($69.99)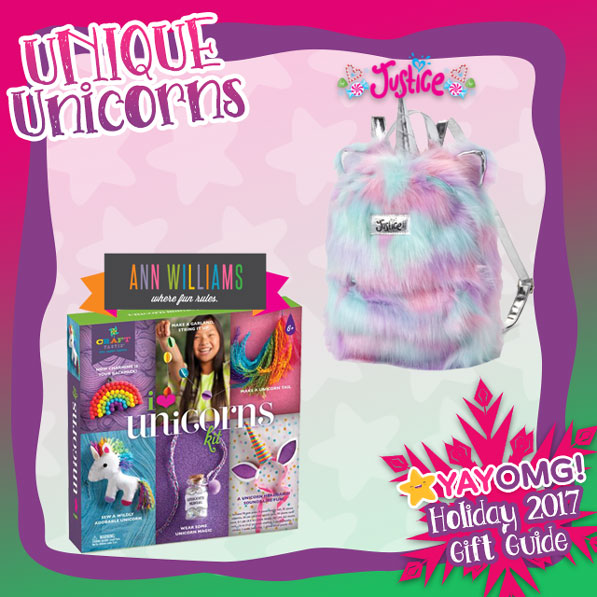 Unique Unicorns:
Unicorns are totally amazing but finding the perfect gift for a unicorn lover can be just as elusive as the fantastical beasts themselves. If you're on the hunt for a gift for someone who's unicorn obsessed, we've got you covered.
Craft-tastic I Love Unicorns Kit – Ann Williams – $19.99
You and your unicorn loving friends will love this magical I Love Unicorns craft kit. There are six unicorn inspired craft projects for you to bring to life including a unicorn plush, a rainbow backpack charm, and even a unicorn horn headband! Have a friend who's more of a mermaid? There's a similar I Heart Mermaids kit that's just as fun as splashing around at the bottom of the sea.
Unicorn Faux Fur Mini Backpack from Justice – $24.90
It's fluffy. It's pastel. AND it has a metallic horn! What unicorn lover could even resist this fabulous backpack? It's the most stylish way to stash all your stuff and to make all your magical unicorn dreams come true!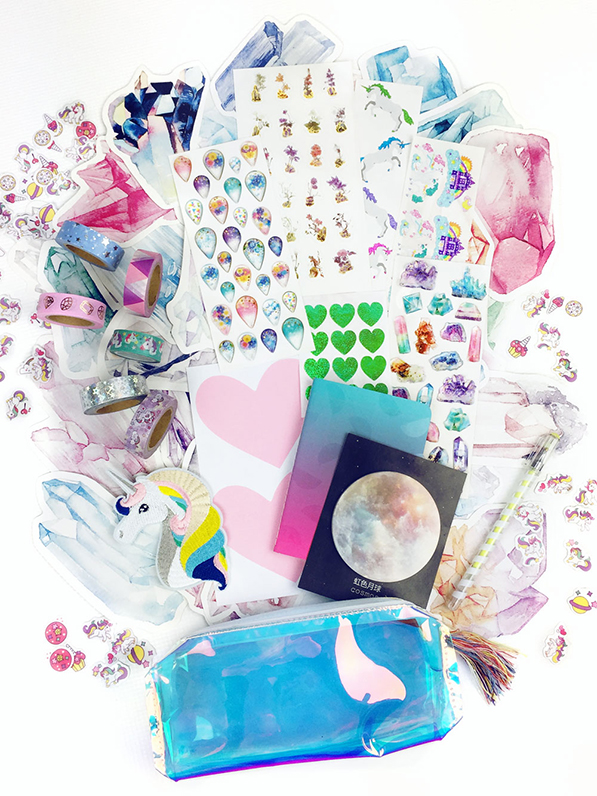 Are you the unicorn lover in your family? Add the Find Your Unicorn Sticker Box from Pipsticks to your list! This unicorn-inspired box comes with 7 sticker sheets, a memo pad, a mini notebook, 6 rolls of washi tape, a milky gel pen, unicorn sticker flakes, 30 die cut crystal postcards, an iron-on unicorn patch, and a super cute iridescent pouch to store it all in. It's a great way to add lots of sparkle to your life. ($64.95)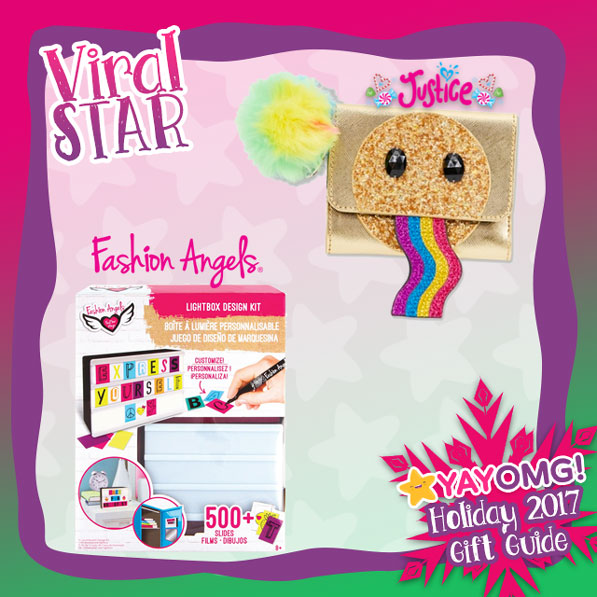 Viral Star:
If you know someone who's always curating the perfect Instagram moment or is totally obsessed with posting selfies using face filters, we have a feeling they'll love showing off these gifts both in their next story as well as IRL!
Sparkle Emoji Pom Wallet from Justice – $9.90
Take a moment to truly look at this glorious wallet. There's a sequined emoji rocking the rainbow barf filter. It's incredibly sparkly. AND there's a pastel pom poof! Does life even get any better than this? It does when it's less than $10, so you still have money to stash inside after you've bought it!
Lightbox Design Kit – Fashion Angels – $19.99
Fashion Angels sent us one of these awesome Lightbox Design Kits a few months ago, and we totally spaced on checking it out until now. We're glad we did though, because it's awesome, and it'll make a great gift for the social media star in your life. This lightbox stands out from the other ones we've seen because not only are the letter slides bright colors; there are blank ones for you to write or doodle anything you want!
If you're giving this as a gift, earn yourself a spot on the nice list and include a pack of 4 AA batteries so it can be used right away!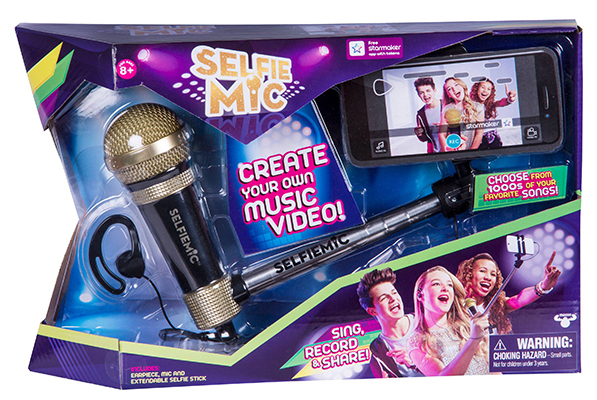 If the viral star in your life is all about posting covers on YouTube or Musical.ly, they need a SelfieMic! It's a golden microphone attached to a selfie stick that pairs with the StarMaker app that allows for you to sing karaoke, record music videos, and even become the next viral music sensation! It's great for doing solo covers as well as bringing along with you to liven up any party. ($24.99, but we've seen it as low as $10 during some holiday sales!)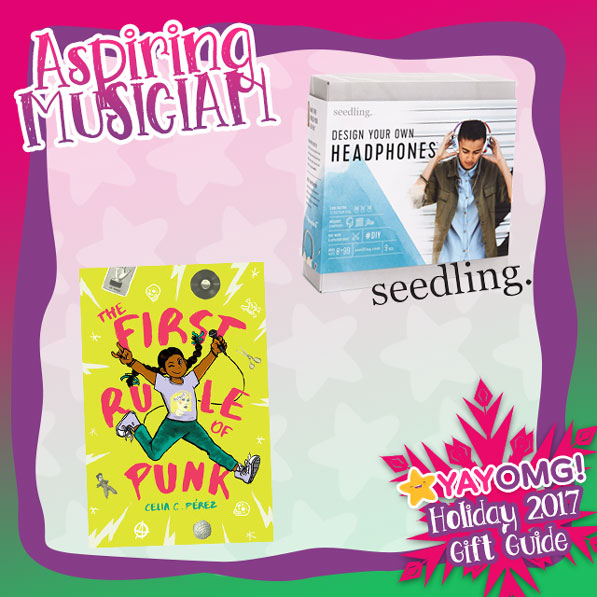 Aspiring Musician:
If you're on the hunt for a gift for the music lover or talented musician in your life, look no further. These gift ideas will fuel their musical passions without breaking the bank so you can still afford to see them on tour when they make it big!
The First Rule of Punk by Celia C. Pérez – $12.99
Published by: Viking Books for Young Readers
Malu is a 12-year-old girl who doesn't make any apologies for who she is. She sports punk rock style, attitude, and lives for making zines and rocking out to her favorite bands. On the first day at her new school, she manages to upset the popular girl, violate the dress code, and disappoint her mom in the process – all just by being herself. Malu's missteps make her second guess herself, but once she finds a like-minded group of kids at her school and starts a band, she's more fired up than ever to inspire the students to express themselves and take down their anti-punk school administration.
It's a kick-butt story of friendship, punk rock, and staying true to who you are.
Design Your Own Headphones from seedling. – $23.99
You can't work on your editing your music mixes or assemble the perfect playlist without a solid pair of headphones. Even better are a pair that you can create yourself! This Design Your Own Headphones Kit from seedling. comes with a pair of blank headphones and craft materials so you can design a pair of headphones that's totally you. These have been revamped a bit since the set we reviewed, but as far as we can tell, they're even better than ever and will make an excellent gift for the music lover in your life.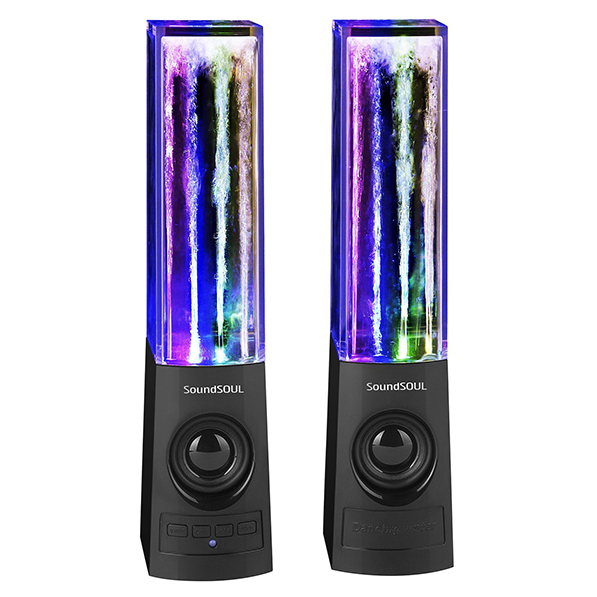 Want to really bring the beat to life? Pair up the latest bop with these SoundSOUL Dancing Water Speakers! These awesome speakers sync up with your phone, tablet, or laptop via Bluetooth and keep the party going all night long by lighting up and shooting water bursts to the beat. ($31.99)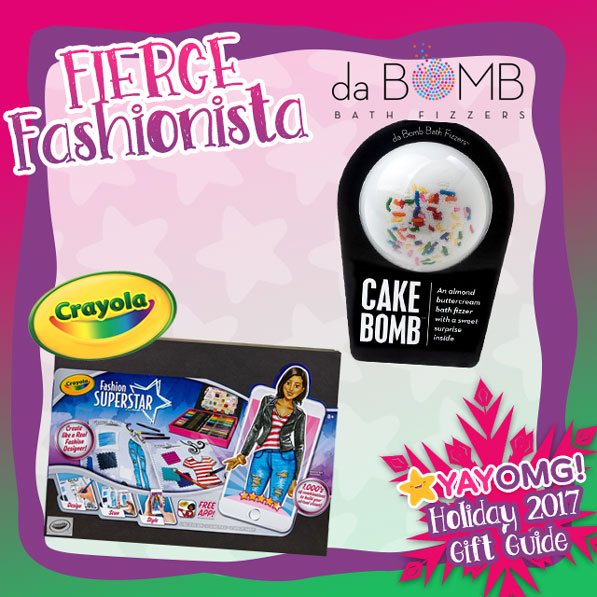 Fierce Fashionista:
Shopping for that one friend who's isn't just on trend, but seems to always know what's hot before everyone else. Someone who takes bold fashion risks and always dishes out great outfit advice. If you know someone who makes superb style seem totally effortless, these gift ideas are sure to be a hit!
Cake Bomb from daBomb Bath Fizzers – $7.50
This one is less fashion, more beauty, but who doesn't love a good bath bomb? These bath bombs are amazing quality, are deliciously scented, and have a surprise hiding inside! Grab a few different bombs and make a cute holiday gift bag. Plus, the company is created and run by two teen girls, which is the perfect way to encourage your friend to dream big and never give up on her goals.
Crayola Fashion Superstar from Crayola – $19.99
The Crayola Fashion Superstar kit will help the fashion obsessed person in your life take their designs to the next level. This kit comes complete with everything they need to kickstart their fashion design dreams – colored pencils and markers, a fashion sketchbook, and an app to help bring it all to life.
They'll be able to design amazing looks, build a virtual closet, and work alongside the story in the app as a student attending a prestigious design school in NYC. Complete design challenges by creating designs in the sketchbook and scanning them into the app to show off your fashion chops. As your friend completes each mission, she'll level up, unlock new outfits, and earn fun bonuses.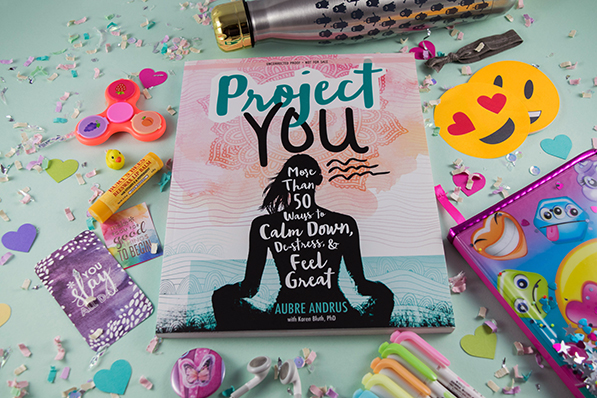 This one is less fashion, more self-care, but we can't live without Project You: More Than 50 Ways to Calm Down, De-Stress, and Feel Great by Aubre Andrus.
This book is a must-have for anyone juggling a ton of after-school activities, a busy schedule, or that stressed out friend who totally deserves a break. It's filled with a ton of ideas on how you can relax, clear your head, and keep yourself happy and healthy. Take a peek at our review to see how we worked Project You into our daily routine.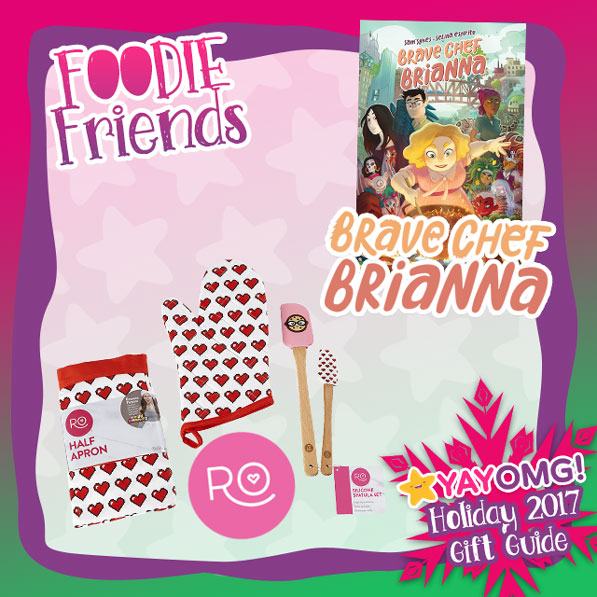 Foodie Friends:
For your friends who never stop baking, could easily win the next MasterChef Jr. competition, and never eat a meal without snapping a pic of it first.
Brave Chef Brianna by Sam Sykes and Selina Espiritu – $10.99
Published by: BOOM! Studios
Brave Chef Brianna is a comic series featuring girl power, monsters, food, and being able to overcome your anxieties and any challenges life throws your way. It's a great story to read while you wait for your lastest culinary creation to finish up in the oven or just to keep your foodie friend inspired. Each issue of the comic comes complete with a real recipe your friend can whip up in the kitchen. Intrigued? Check out our interview with the creators, Sam Sykes and Selina Espiritu!

*The collected volume isn't out until December 12th, but that's still plenty of time to give this as a Christmas or Hanukkah gift!
Rosanna Pansino Nerdy Nummies Beginning Baker Set by Wilton – $24
Every budding chef/baker needs a good set of kitchen supplies, so why not one designed by the internet's favorite baker, Rosanna Pansino? Show your friend how much you support their cooking dreams and talents by gifting them something that'll help them in the kitchen. Plus, they're super cute!
This set comes with a half apron, oven mitt, and two spatulas, all rocking a cute pixel heart pattern or Nerdy Nummies logo, but there are lots of other useful and super adorable kitchen supplies in her new baking line.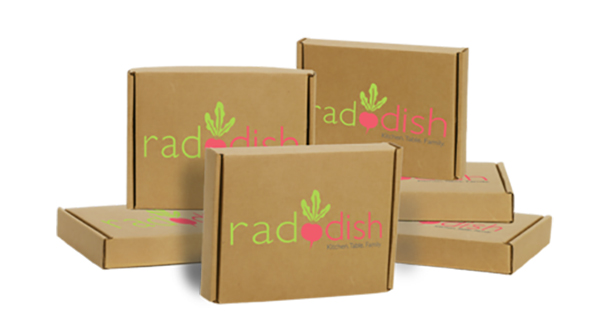 If you love cooking yourself, we think a subscription to Raddish Kids is a great pick to add to your own holiday wishlist this year. It's a super cool cooking club subscription made for kids, tweens, and young adults who love to cook!
Need even more holiday gift inspiration? Check out some of our other reviews and find out what else we loved this year!