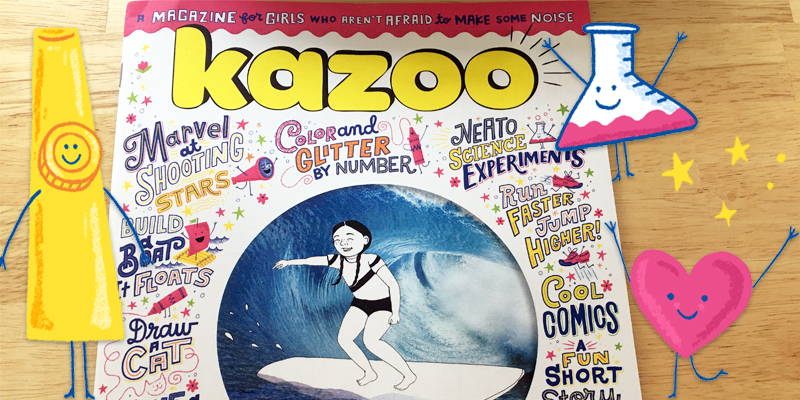 Hands On With Kazoo Magazine
Back in April, we posted about Kazoo Magazine, a Kickstarter for a completely kick-butt magazine for girls. Flash forward to now – the first issue is finally published and beginning to find it's way to girls everywhere. If you backed the mag on Kickstarter or bought a subscription online, you should already have a copy of your first issue in-hand. If not, they'll be hitting the newsstands August 1st, so you've only got a week of waiting left.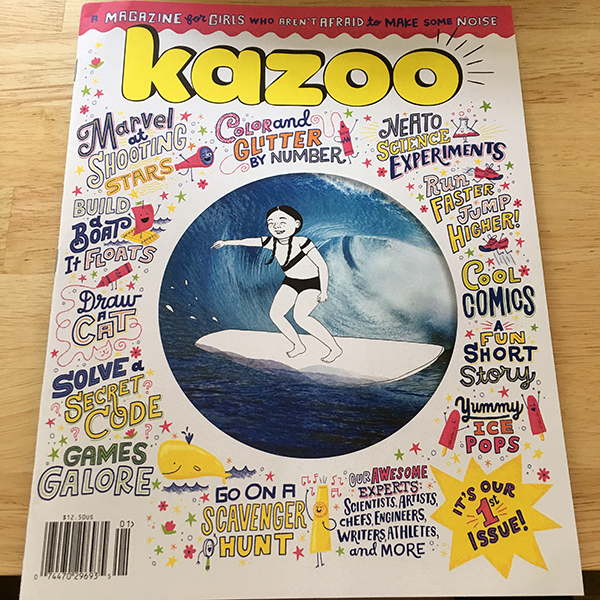 Kazoo Magazine is made for girls, by girls, and it's oozing with girl power from cover to cover. It's got the scrappy feel of a zine, and gives off that vibe that you're reading something really special (you are), but all the articles, crafts, puzzles, and content are completely top-notch. The best part? Kazoo promises to never include anything that makes girls feel bad about who they are – only content that helps empower girls and inspire them to follow their dreams, explore their interests, and be the smart, fierce ladies they were destined to be.
Here's the 5 Things We Totally Loved About Issue #1 of Kazoo Magazine: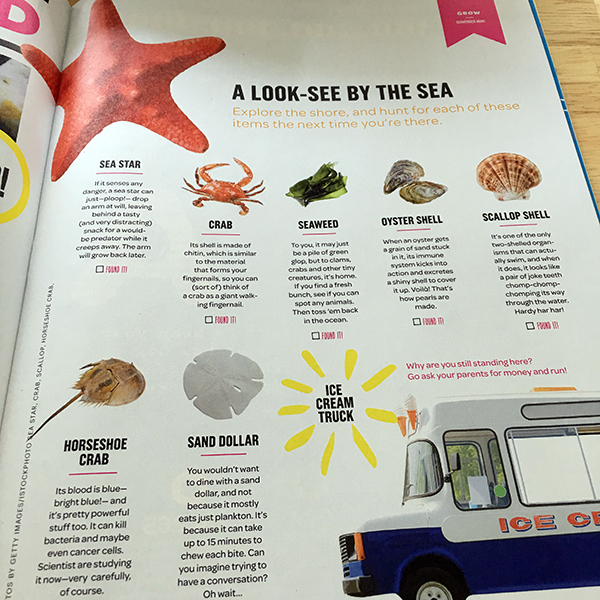 1. Ocean Scavenger Hunt:
Since it's Summer and there's still quite a few weeks of solid beach days left before school starts, we loved that Kazoo Mag included some great stuff about the beach and the ocean. The "Look-See By the Sea" scavenger hunt gives you a checklist and a mission – find all 8 shells/creatures before the end of Summer. As you find everything from sand dollars to seaweed, you check everything off your list and learn really interesting facts about each item.
It gives you something fun to do at the beach, some great knowledge to whip out in Science class, and a reason to hit up the ice cream truck. (Yes, chowing down on some ice cream is part of the Scavenger Hunt!)
In addition to the checklist, there's also a few other oceanic-features including a magnified look at sand (spoiler: it's incredible), some deep-sea facts, and even a fun maze!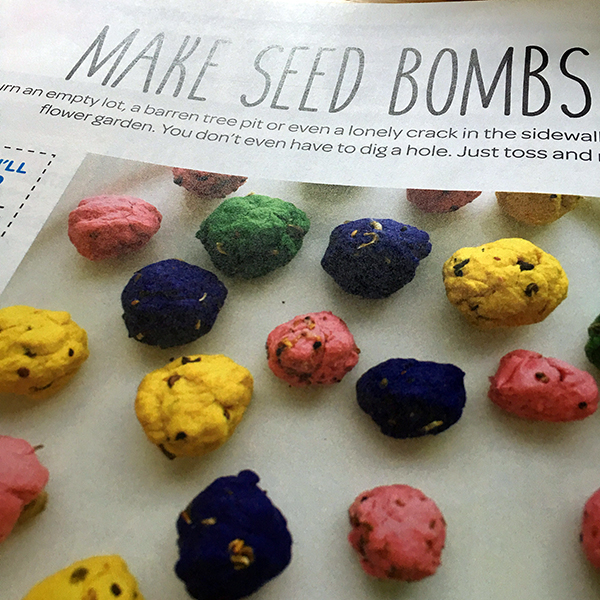 2. Seed Bombs and Seed Slingers:
This is quite possibly our favorite feature in the entire mag. We love how it encourages girls to get crafty and then get out there in the world to make it a more beautiful place, like a scrappy Girl Scout without the sash.
Bored on a hot day and need an excuse to hang in the air conditioning? Your parents won't be able to say no when you tell them you want to make Seed Bombs! They're really easy to make and only require 3 ingredients. Once you make your seed bombs, you can toss them around in empty lots, cracks in the sidewalk, or anywhere else around your city or town that you think needs a little beautification. BONUS: Make the Seed Slinger (a slingshot made out of sicks and rubber bands) so you can fling your seed bombs into hard to reach places!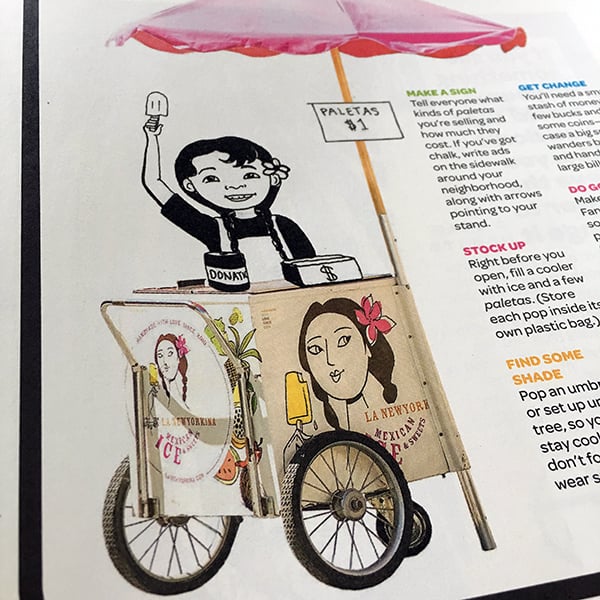 3. How to Set Up an Ice Pop Shop:
This feature doesn't just help you set up your own popsicle stand – it also teaches you about other cultures by introducing you to paletas, the Mexican version of popsicles and the inspiring story of Chef Fany Gerson, a woman who grew up in Mexico and now runs her very own popsicle shop in NYC.
In the mag you'll find a little history of paletas, Chef Fany Gerson's story, a recipe for Paletas de Zarzamora (Blackberry Popsicles), and a how-to so you can start up your own popsicle stand. We absolutely love the way this encourages girls to get out there and explore their entrepreneurial spirits, and we love how unique the idea of a popsicle stand is. Team up with the kids who have the local lemonade stand if you really want to be unstoppable!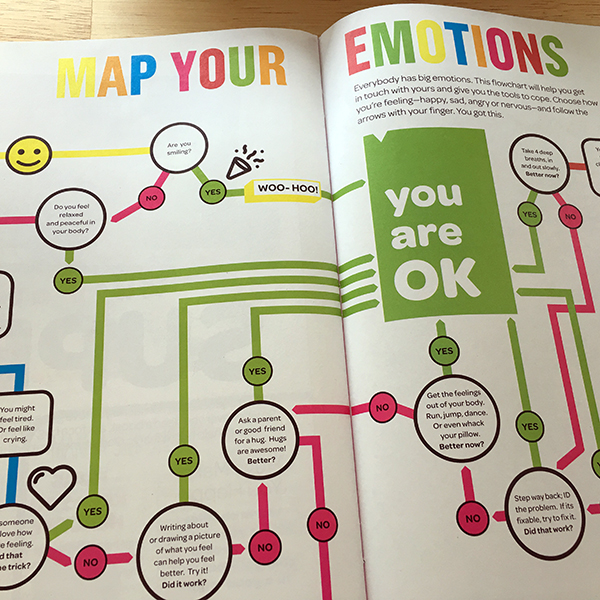 4. Map Your Emotions:
Having emotions isn't easy. Sometimes when you're feeling frustrated, it's hard to figure out if you're more angry, anxious, or sad. This super cool emotions map helps you work through how you're feeling and helps you get in touch with your emotions. Once you're able to pinpoint exactly how you're feeling, it's so much easier to express how you feel when you need to share with other people. It also helps you be really in-tune with yourself, the one person in the world who truly needs to understand YOU. There's even some great tips on how to feel better when you're feeling down, like getting a hug from your bestie, drawing a picture about how you feel, or just punching your pillow.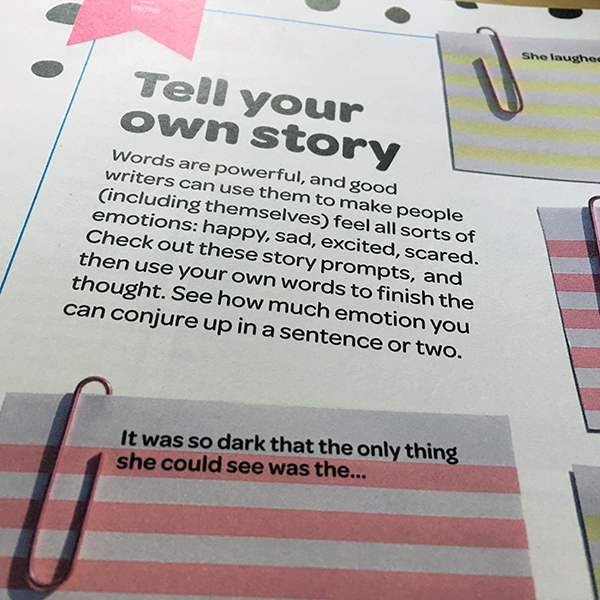 5. Tell Your Own Story:
If you're a reader of YAYOMG, you likely already know how we feel about writing prompts and unique journals. (Spoiler: We're obsessed!) If you're also a fan of creative writing, you'll love the "Tell Your Own Story" feature in Kazoo Magazine. Inside the mag, you'll find four great story-starters. Whether you write just a line or two or use these prompts to inspire your next big novel, aspiring writers will love the practice and free ideas to get them going. As a fantastic bonus, the gang at Kazoo Mag interviewed Jacqueline Woodson, a real life award winning author!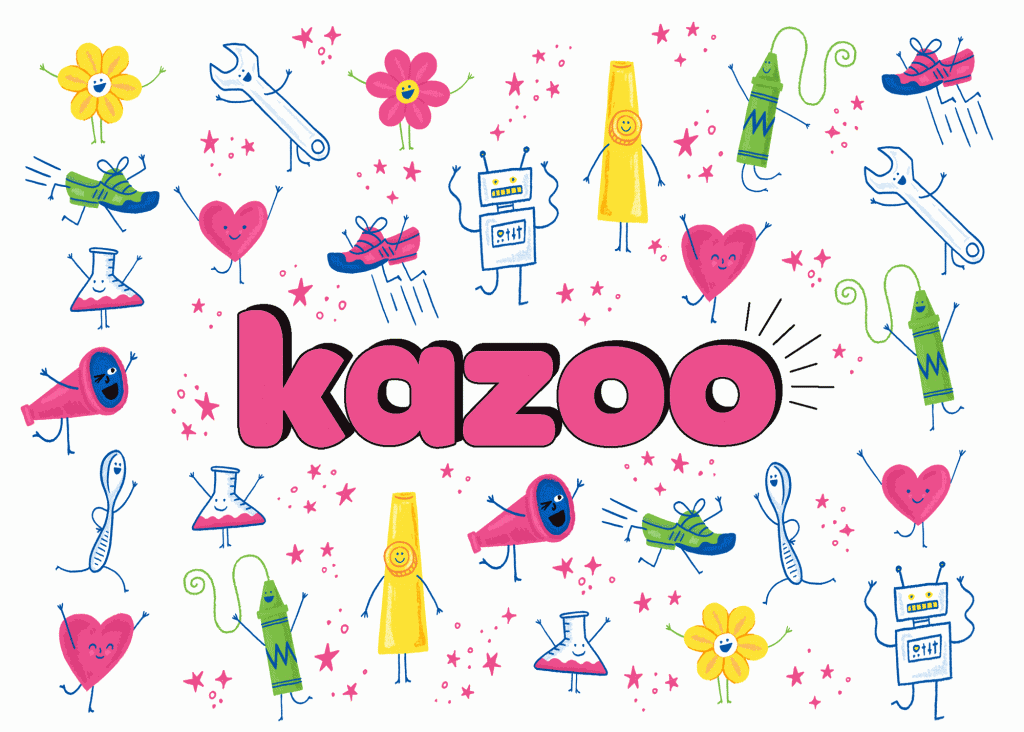 The best thing about Kazoo Mag is how inclusive it is. There's something for inventive girls, something for sporty girls, something for girls who love to learn. Each page of the magazine gives you something to do, something to consider, or something new to branch out and try – there's something for every type of girl to love. It's filled with puzzles, crafts, stories, jokes, and everything else a girl might want to see in a magazine made especially for them.
Issue #1 covers everything from the Olympics to Science to Drawing and everything in between. (Did we mention it's printed on recycled paper and filled to the brim with amazing illustrations and doodles?)
We think you're going to love it, and we can't wait for our next issue to arrive in a few months. If you're looking to get your hands on a copy, click here!