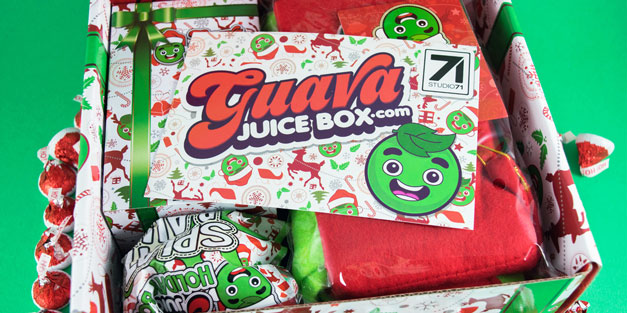 Take a Peek Inside the Holiday Guava Juice Box
Note: We received this product for free in exchange for a fair and honest review. We were under no obligation to write a positive review.

If you haven't heard of Guava Juice, you're totally missing out. No, we're not talking about some fancy, gross tasting detox juice. We're talking about hilarious YouTuber, Roi, from the Guava Juice channel.
For those of you that know him, you know that his over the top sense of humor and willingness to try anything makes for some seriously awesome videos including crazy experiments, silly DIYs, and all sorts of wacky challenges. If you haven't heard of him, it's time for a YouTube binge session. Pull up the Guava Juice channel on your phone right now, we'll wait.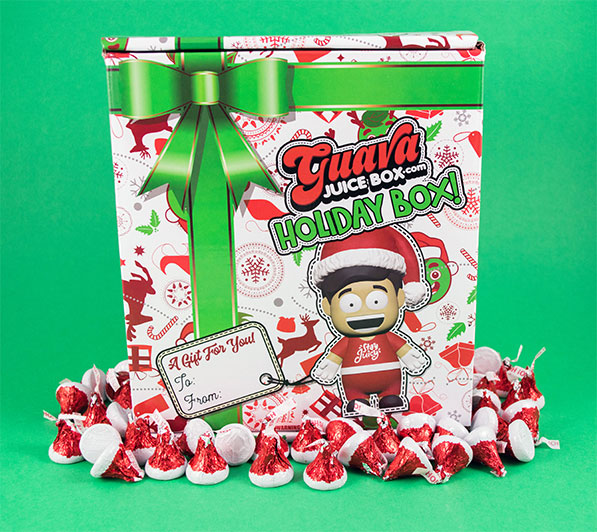 Now that everyone is familiar with the amazingness of Roi, we can introduce to you the Guava Juice Holiday Box! It's the 5th Guava Juice subscription box and it's filled with super fun toys and holiday-themed items. The first thing you'll notice when this box hits your doorstep is that box itself is a Guava Juice holiday extravaganza, and it only gets more fun as you open it up. In addition to all the cool Guav swag, there's also a game printed on the inside of the box. Here's what you'll find inside.
Unboxing the Holiday Guava Juice Box: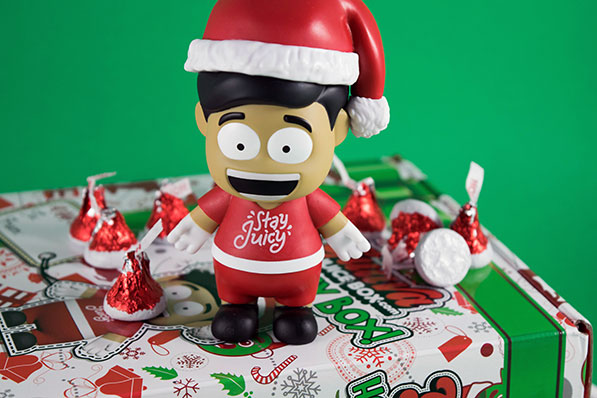 Holiday Roi Figure:
First, and most importantly, is the Santa Roi vinyl figure. It's the second ever Roi figure, but even better than the original because he's sporting a Santa suit and his iconic crazy facial expression.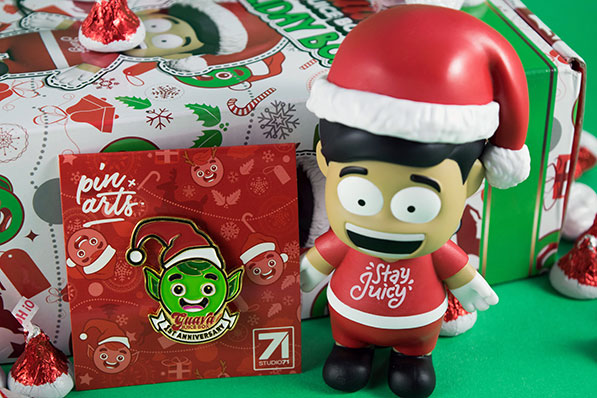 1st Anniversary Pin:
The Guava Juice Box is celebrating it's 1st anniversary! Whether this is your first box or you've been collecting them all year, you can stay juicy with this awesome enamel pin.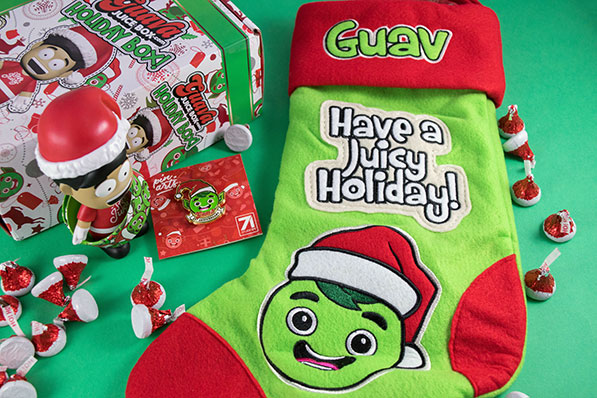 Holiday Stocking:
Hang Roi's face by the chimney with care! Just make sure to leave out a crazy food combination for when Santa Roi comes down the chimney this Christmas.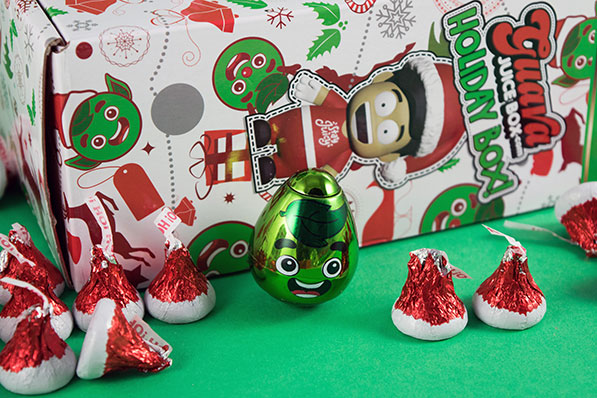 Guava Juice Egg Spinner:
Who needs a fidget spinner when you can have an egg spinner? Spin that bad boy around and see how long you can keep it going.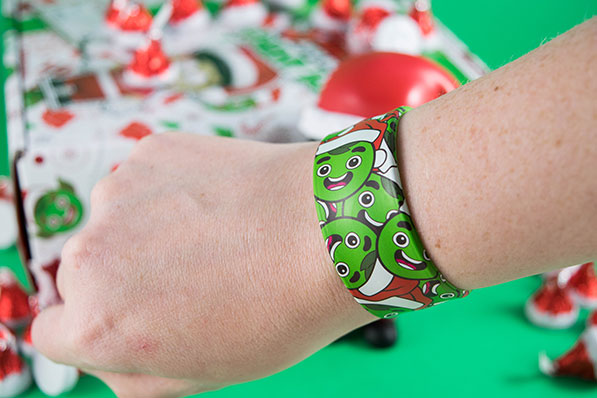 Slap Bracelet:
Re-live an era you weren't even alive for with this 90's inspired slap bracelet. Rock it anytime you want to show off your Guava Juice pride!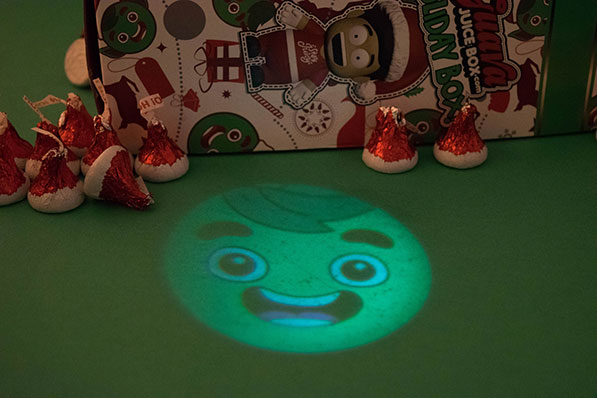 Finger LED Projector:
Project that glowing Guav face on any surface using the mini finger projector.
Guava Juice Splat Ball:
Throw this against any wall, floor, or other hard surface and watch it SPLAT! and then rise back to it's original shape. Splat Balls are basically what you'd get if you combined your slime stash with a slow rise squishy.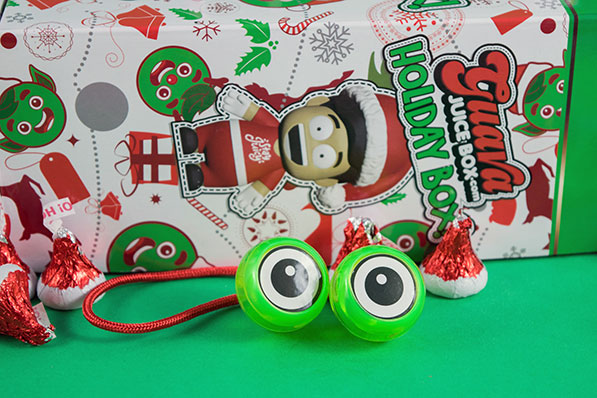 Finger YoYo:
If you're like us, you're terrible at yo-yos. That's not really an issue when you use a finger yo-yo. Flipping it around is easy, but mastering tricks is hard!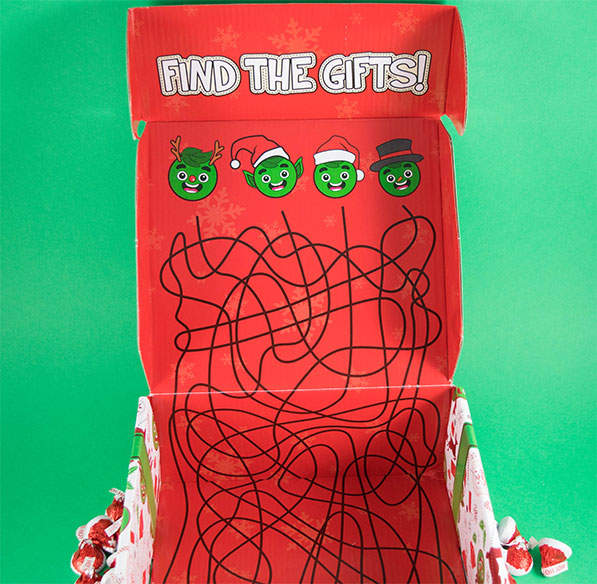 Each Guava Juice Box has over $50 value inside, but you can pick them up for just $19.99 ($14.99 if you sign up for a 3-month subscription). The last day to order this box in time for the holidays is December 8th, just enough time to add one to your holiday list!