Smore is an Inspiring New Magazine for Girls who Love Science
Smore Magazine is unlike any magazine you've ever seen. It's all about helping girls embrace their passion and interest in Science. Smore wants to take STEM beyond the classroom and bring it to girls (and boys) in a way that's relatable for them. The magazine is made with girls in mind, but it's filled with activities and information that's fun and interesting for anyone with an always-on curiosity, whether that be girls, boys, adults, cats, dogs, or your pet turtle. The issues will showcase every aspect of Science in a visually appealing, accessible, and fun way for anyone who wants to learn.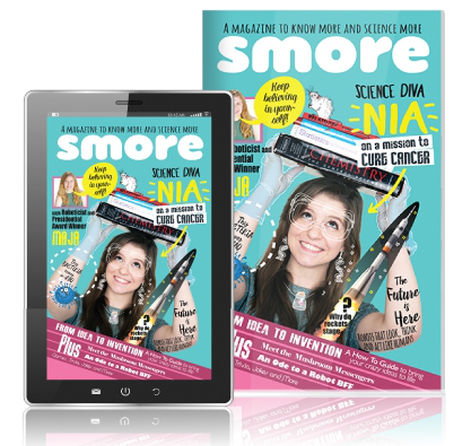 Smore will celebrate teen scientists and inventors the way that ordinary magazines celebrate singers, actresses, and YouTubers and show you how Science is the basis for everything, even something like dancing, gaming, sports – whatever your interests may be. The goal of Smore is to encourage your curiosities, your confidence, and your brilliance and remind you that you can do anything you set your mind to. Ready to shatter some stereotypes? Keep reading for a little more about the mag and our interview with founder Sarita Menon.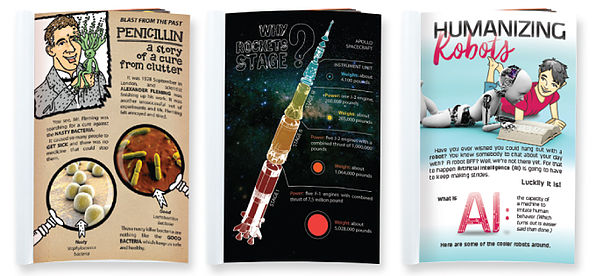 First, let us tell you more of what you can expect from your Smore Magazine subscription. Smore is a science magazine created with tween girls in mind. It will be published bi-monthly, which means that there will be 6 issues per year, and the first issue is set to launch in August. Every issue will contain a pull-out poster, be printed on recycled paper, and dish out the Science love in the way of engaging features, news, puzzles, cartoons, trivia, jokes, and more. Using a super cute design and fun section breakdown, Smore will be easy to read and all the information will be presented in bite-sized, easy to understand ways. This isn't your Science textbook, this is Smore Magazine and it's made just for you!
So…why's it called Smore?
"I wanted to create a fun and unintimidating magazine. A magazine that would make science learning an enjoyable and unforgettable experience. And I couldn't think of a better word than Smore to associate with that experience. Plus Smore also can be interpreted as Science-more. Win-Win." – Sarita Menon
Enough from us though, we're sure you guys are dying to learn more about the mag directly from the source. We interviewed the wildly impressive Sarita Menon, the creator and driving force behind Smore to get her take on what inspired her to create this amazing new magazine.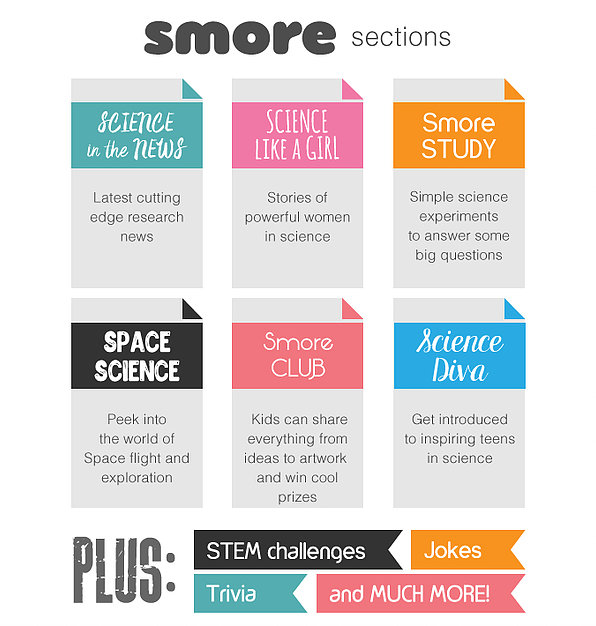 Interview with Sarita Menon, Founder of Smore Magazine:
YAYOMG: What inspired you to create Smore Magazine?
SARITA: I am a woman in science (I have a BS in Chemistry, Masters in Biotechnology and a PhD in Cancer Biology). And I love explaining and breaking down complex Science into easily understandable and relatable information. So I really enjoyed teaching undergraduates at the University and the elementary aged kids (through my Science enrichment business).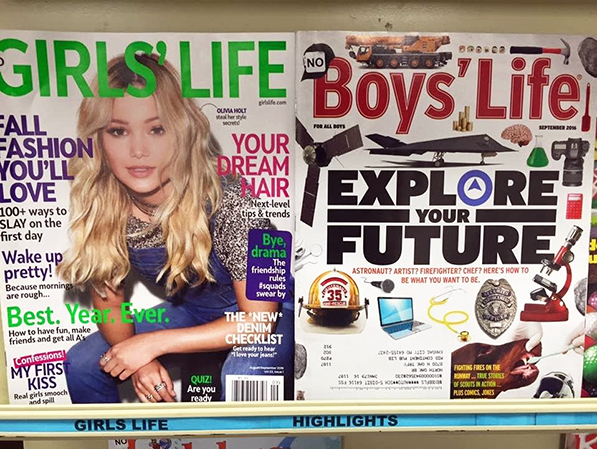 Some time back there was a story I came across where a picture was taken by a dad that showed a Boys Life and Girls Life magazine right next to each other. The picture clearly showed how we are sending completely different messages to our boys and our girls in terms of what they should aspire to. (See above) What stuck with me long after I read that piece was the statement "There are girls out there who will never see themselves … in the media, no matter what science fair they win."
This seemed so unfair to me especially considering so many people being idolized and treated as celebrities for no reason other than being famous. And on the other hand, there is this reality that our girls are losing interest in Science and Technology fields that is contributing to embarrassingly low numbers of women in Technology and Engineering. And right away I could see where the problem was. Ask any young girl today to name someone famous and inspiring and chances are most likely they will name an actress, singer or even a Disney character! But almost never a scientist or an inventor. Why? Because they are never talked about or seen in the way celebrities are seen in every possible media outlet constantly.

That is when I decided I was going to glamourize Science and the people behind it. They could prove to be such powerful and positive role models for our children. And the idea for Smore was born.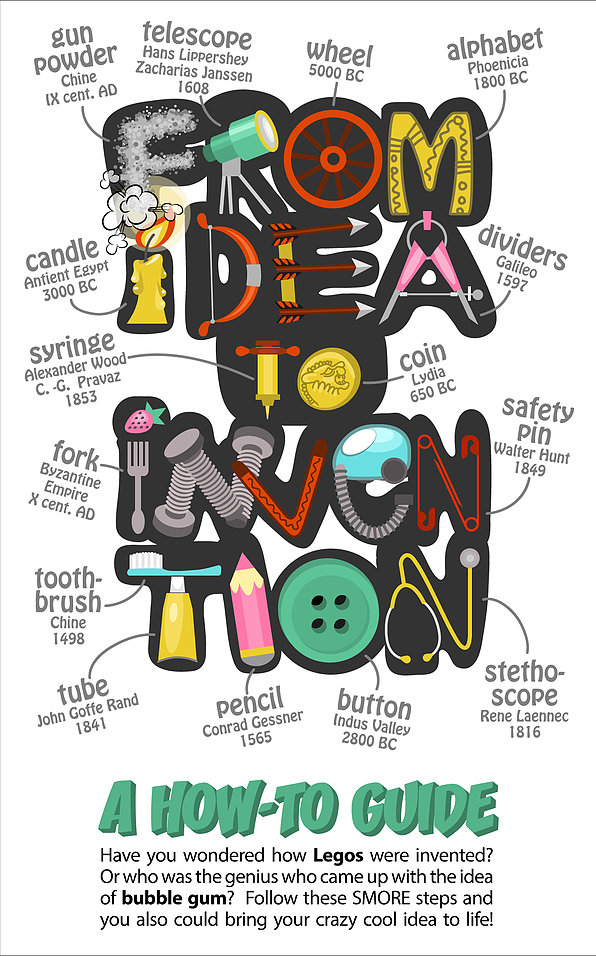 YAYOMG: What can girls expect from the first issue of Smore? What's your favorite feature and why?
SARITA: Smore is all about "Science through storytelling". Because stories are the best way to retain and recollect any piece of information, not to mention they are so much more fun to read. The mission of Smore is to take Science beyond the classroom and the text-laden books and make it a way of thinking and being curious about the world around us so that it inspires our children to be creative, innovative, and passionate about facing the challenges of their times. So the magazine has a very easy to read feel written in a fun manner along with illustrations and a comic style look. Topics are bite sized so they are just enough to pique interests and curiosities without overwhelming the young readers with information overload.
Readers can enjoy a wide buffet of topics covering latest science news, articles on space and technology, stories of past scientists and inventors, inspiring interviews with amazing teen Science divas who wow us with their passion and drive towards making a difference in the world. There are stories about successful women in Science who have achieved remarkable success through their STEM education. We will talk about their struggles and their victories. We have trivia, fun facts, puzzles, cartoons…the works to keep this magazine a delightful and inspirational reading experience.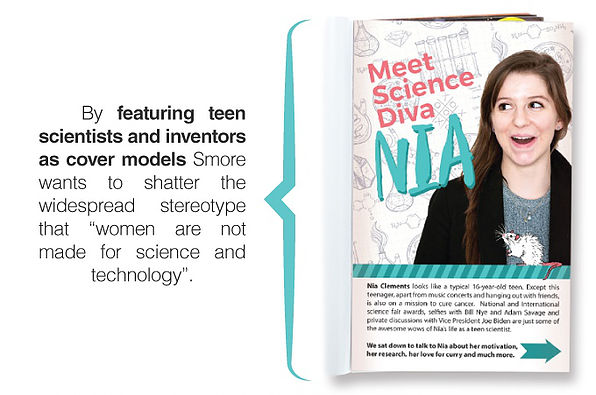 My favorite feature has to be the Teen Science Divas section and our Science Like a Girl section where we talk to established successful women in Science. These sections not only spotlight the superwomen in Science as the celebrities they truly are but also provide the visible role models for empowering young girls to follow their dreams with confidence. Sometimes all it takes is one powerful image or a story to inspire a girl to believe in herself and her dreams. So in a sense, Smore is going where no magazine has gone before and I truly hope Smore is able to change perceptions about Science from boring to fascinating, from uncool to inspiring.
YAYOMG: As the founder of Smore, a scientist, and a woman, do you have any advice for young girls who are interested in the STEM fields?
SARITA: From a young age, Science has always been a subject I was good at because it satisfied my inherent curiosity. Anytime I wondered about how something worked all I had to do was read up about it or ask my Science teachers (of course now kids have the luxury of Google). I was fascinated with genetics and how parents pass on their unique traits to their children and how using Science, it is possible to predict such inheritances even before the kid is born!
So my advice to young girls is to never let go of your curiosity. Science is not just a subject in school, it is a way of thinking and asking the right questions and learning where to look for the answers. And once you have figured that out, you can use science to pursue any field that you are passionate about; from scientific research to fashion design, even ballet!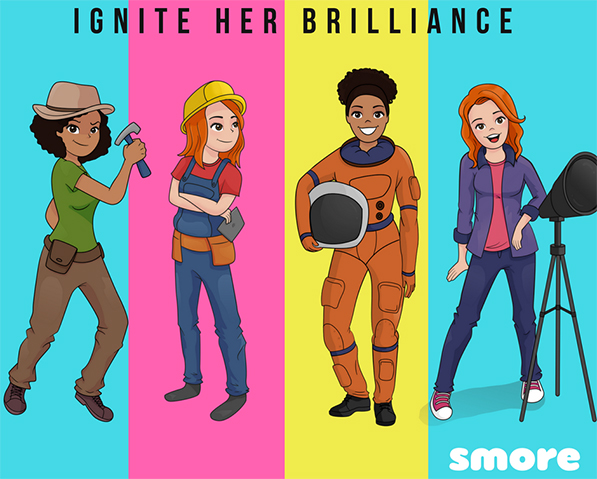 Sounds like Smore is going to be the best magazine ever! Need a copy? Smore Magazine launches in August and will be available in both print and digital versions that you can order from their website. ($30/yr for digital, $50/yr for print – be sure to ask a parent before ordering!) In the future, Smore also hopes to hit retail shelves so you can easily find a copy anywhere and start plastering your favorite scientists all over your walls right next to your favorite bands.
Totally inspired by all of this Science infused lady power? Here's 8 Ways You Can Embrace Your Inner Girl Power!