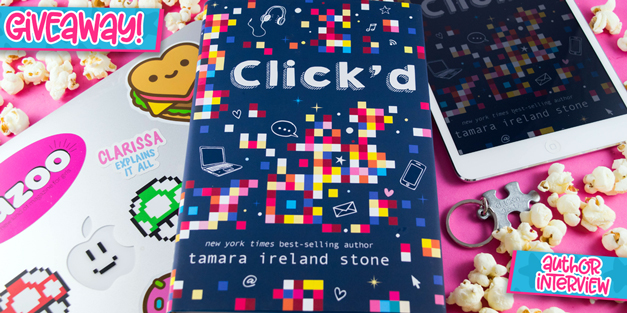 CLICK'D: Interview with Author Tamara Ireland Stone + GIVEAWAY!
NOTE: An advanced copy of CLICK'D was provided to us by Disney-Hyperion and they are partnering with YAYOMG! for a giveaway. Giveaway details below.
Allie Navaro spent her Summer coding a friendship app at CodeGirls summer camp. She just can't wait to head home and show off her app, Click'd, to all of her besties. She's also about to start her first year at middle school. Allie's friendship-focused app allows users to find new friends based on their interests and turns it into a super fun scavenger hunt.
In order to play, users fill out a personality quiz. Then, they're paired up with other kids who have similar interests, but in order to find out who it is – you'll have to find them IRL! Your phone will give you colored code clues and bloops to let you know you're getting close. Once you find the person, you snap a picture together and share to Click'd network to celebrate your brand new friendship and share it with the world!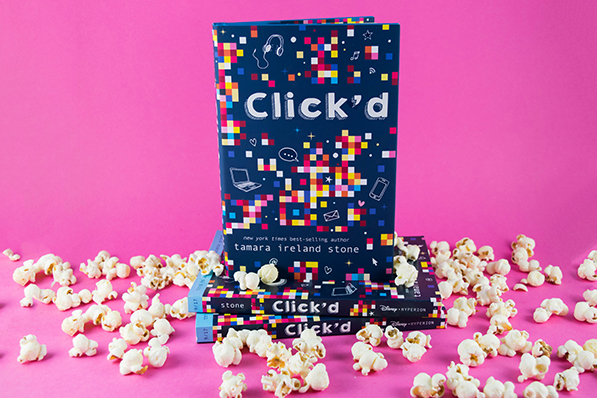 Sounds super fun, right? Well, Allie's teacher, Ms. Slade agreed as well and recommended her app for Games for Good, a competition where kids can show off their apps that inspire real change and good in the real world. The only problem? Allie's archenemy, Nathan, has been selected as well. Feeling competitive and a little insecure, Allie takes the app from a beta to a full fledged live version and releases it at school. She originally just wanted a few test cases from her and her friends to show off at the Games for Good showcase, but with so much on the line, she knows she needs to impress the judges in order to win the competition.
The good news? Click'd is a viral hit! The leaderboards start filling up and the kids at school can't stop talking about it. Unfortunately for Allie, things get a little crazy and out of control, but you'll have to read about that for yourselves.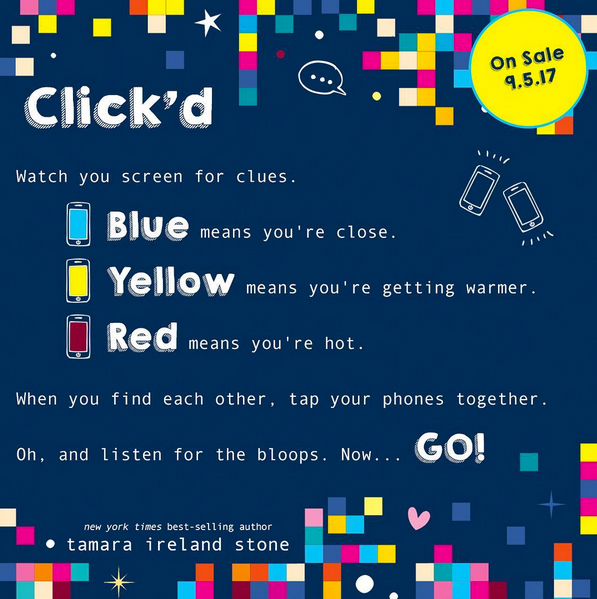 CLICK'D is one of the most genuine, empowering stories we've read in quite a while. The story focuses on the importance of friendship and learning from your mistakes. Woven in-between all that, readers are given realistic glimpse into what it's like to create, test, and market an app. There's lots that can go wrong, but if you've got great friends by your side, everything will work out in the end. We absolutely loved reading Allie's journey of building her app, re-building her friendships, and tackling the struggles of middle school.
Thankfully, our friends at Disney-Hyperion put us in touch with the author of the book, the amazing Tamara Ireland Stone, and we got a chance to chat with her about CLICK'D.
CLICK'D – Interview with Author Tamara Ireland Stone: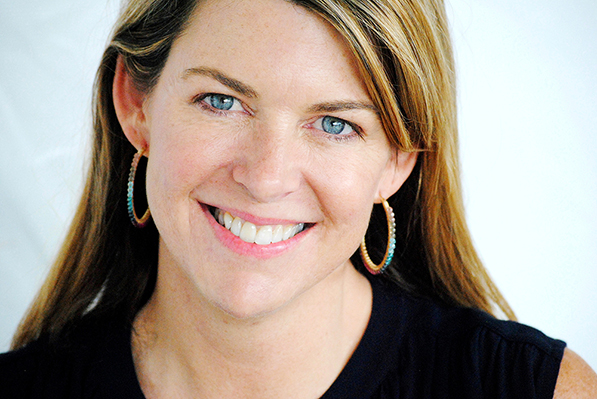 YAYOMG!: CLICK'D is a both realistic glimpse into middle school life and an empowering story for girls everywhere. Can you share what inspired you to write this story?
TAMARA IRELAND STONE: Thank you! I'm so happy to hear you use the words "realistic" and "empowering." I was hoping to achieve both with this story.
The idea for CLICK'D came from my sixth-grade daughter. We'd been talking about her worries around starting middle school, most of which centered around friendships—tricky things like making new friends while holding on to the ones she'd known all her life. Separately, and seemingly unrelated, she was interested in doing the coding camp that summer, so I began researching camps designed specifically for girls. One day, the two ideas merged in my head and CLICK'D was born.
I thought it would be fun to write about a girl who goes to coding camp and creates an app that she thinks will strengthen her friendships, but instead, the opposite happens: Allie discovers the joys and pitfalls of newfound popularity, her long-time friendships are tested, and a glitch not only threatens to ruin everything, but also forces her to check her moral compass.
YAYOMG!: How did your tech-focused background help shape CLICK'D?
TAMARA: I've been fascinated with technology all my life. I grew up in Silicon Valley and worked as a marketing executive in the software industry for nearly twenty years before I begin writing fiction for children and teens.
In my former tech world, my job was to make complex technology easy for everyday people to understand. My job wasn't to explain how products worked, but how they could change your business, your life, or the world-at-large. I applied that experience to the way I approached CLICK'D.
And honestly, I also applied what appealed to me as a kid. I was a voracious reader when I was young, but if you told me a book was supposed to teach me something, that was the kiss of death. I didn't read to learn, I read to be entertained. Of course, looking back, the books I loved most also taught me something important along the way. Their authors, like my literary hero, Judy Blume, just did it subtly.
That's what's so wonderful about fiction. It gives us an opportunity to pass information along to young people in a way that inherently respects their ability to process and learn from it on their own. I want my readers to take something of lasting value away from my books, but I also want to keep them turning pages, connecting with characters, and relating to the tale that's unfolding. As much as I love technology, I never wanted to let it get in the way of the story. Whenever I started getting too geeky (because I am a huge geek!), I'd stop and ask myself, "What would Judy do?"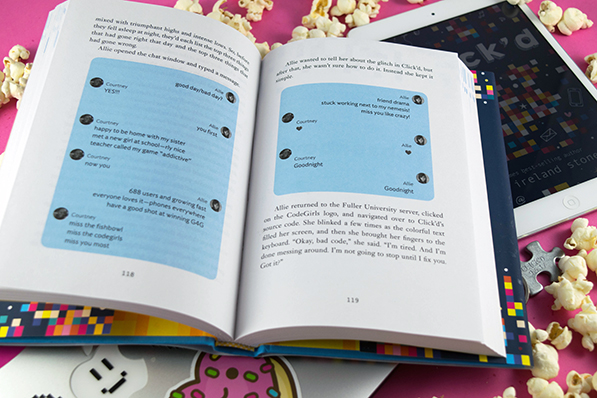 YAYOMG!: Ms. Slade is a great teacher and influence (with totally amazing earrings!). Did you have a teacher or mentor in your life who encouraged you the way Ms. Slade encourages Allie and Nathan?
TAMARA: Ms. Slade's character is based on a real person—my sixth-grade teacher, Ms. Slade. She was the first of two teachers who had a profound impact on my life.
The real Ms. Slade was loud and goofy and whip-smart. She was totally herself, always, subtly giving us permission to be ourselves in the same unabashed way. She was passionate about gender equality. She told us she had thirty young people in her class, not 15 boys and 15 girls. And she taught all of us that words have power; that we can use them to subtly change the way people think (Police officers, not policemen. Firefighters, not firemen. In her honor, I will forever refer to "penmanship" as "penpersonship." ☺)
Most importantly, at a time when girls didn't feel empowered to pursue careers, she told all of us that we could be anything we wanted to be. Scientists. Astronauts. Police officers. Pilots. Doctors. Authors. I'm sure I wasn't the only girl in the class who believed her.
P.S. I made up the earrings all on my own and I'm ridiculously proud of them, so thank you!
YAYOMG!: All the apps mentioned in the book are fun, but also have a positive effect on the real-world. Was it important to you to show kids that technology can be used in such a positive way?
TAMARA: Yes, but not because I think they need to be told that. Kids are already using technology in a positive way, all the time.
I came up with the fictional Games for Good competition because I was so inspired by what I'd seen kids doing in the real world. They've figured out that the viral and "sticky" nature of mobile games and apps can help make the world a better place.
I found inspiration everywhere, and specifically in teens. Even when I wasn't actively researching, I kept stumbling upon these incredible stories about kids using technology to encourage people to be kinder, to give their time and energy to others, to take action in their communities, to promote inclusion, to help people in need, and do something—no matter how small—to leave the planet better than they found it.
Here are just a few of the many teens who had a big impact on me:
16-year-old Natalie Hampton, who created the mobile app Sit With Us so no one would have to eat lunch alone. "I made kindness go viral," she says.
14-year-old Mercer Henderson, the founder of the nonprofit organization 4GirlsTech, which empowers girls to become entrepreneurs. She has also built two apps that contain a built-in mechanism for giving back to various charities.
16-year-old, Rayouf Alhumedhi, who created the new hijab emoji because, as she says, "I just wanted an emoji of me."
And the site DoSomething.Org, a global movement for good that has 5.5 million young people taking action both online and off.
It's easy for adults to get caught up in how technology is "ruining" our younger generation, but I don't see it that way. We're all missing out if we don't stop and look at all the good this generation is doing. Young people today are taking advantage of two things older generations didn't have: an inherent understanding of how technology works and a global worldview made possible by the internet.
Fourteen-year-old Mercer Henderson says it best: Her ultimate dream is to have her generation dubbed as "Generation G," or Generation Good, for the good work that they'll continue to do in their lifetime.
I believe she's on to something.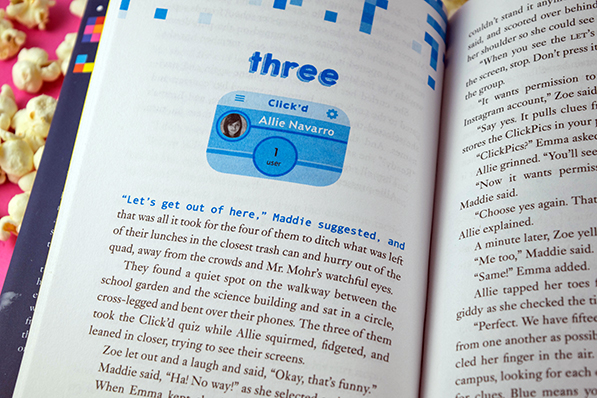 YAYOMG!: Just like how real apps and games go through many iterations when being concepted and created, we were curious if the CLICK'D app in the book was ever something different in your mind or an early draft than what kids will read in the published book?
TAMARA: Yes, like any app, it went through many iterations. It always had the BuzzFeed-like quiz in the beginning of the game, and the concept of the leaderboard didn't change, but the actual gameplay evolved a lot along the way.
Once I incorporated the idea of the Scavenger Hunt the kids had to go on to find each other, the game took off in such a fun direction. It became more interactive and physical, with flashing screens and blooping sounds, and clues pulled at random from Instagram.
I actually wrote most of the game-play scenes on my kids' middle school campus (usually during breaks while I was volunteering in the cafeteria!). I could see it all so clearly in my mind, kids running around with their phones in the air, desperately tiring to find their latest match so they could complete their leaderboards.
I had a blast writing this story, and writing the CLICK'D game might have been my favorite part.
YAYOMG!: You recently attended an event at GirlsMakeGames and shared CLICK'D with a room full of young female coders. Can you tell us a little about that experience? It must have been magical.
TAMARA: I had such an incredible day with those girls! Every group was so passionate about the game they were creating. And while each person was at a different stage of their development experience—some had been coding for years and some were coding for the first time—everyone was so supportive and inclusive.
Not all the girls were writing games. I was especially taken by a digital illustrator who had hand-drawn these stunning, detailed characters on a graphics tablet.
You can see how much fun we had in my pictures HERE.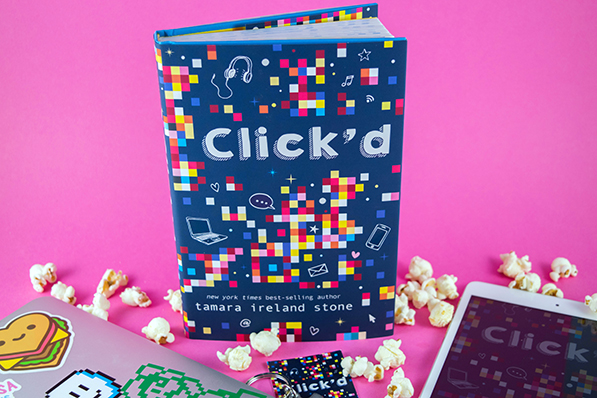 YAYOMG!: We don't get to see too much of it, but the CodeGirls camp seems like a lot of fun. Do you think you'll ever explore that world in CLICK'D sequel?
TAMARA: I think I'll have to! I want to spend a summer there. Don't you? 😉
YAYOMG!: Favorite MG read of the moment?
TAMARA: I'm currently devouring The Dreadful Tale of Prosper Redding by the amazing Alexandra Bracken. I have always admired Alex's beautiful prose and her talent for world building, and I'm in awe of the way she's translated those skills into her middle grade debut. Kids will be pulled into this urban fantasy from the start, and I think they'll truly connect with its message about facing inner demons and embracing who you are as an individual.
We're going to be out on book tour together from September 3-18, visiting schools and bookstores across the country, and talking about our books. They both come out on the same day, September 5th!
Now that you're all dying to get your hands on a copy of this amazing tech and friendship fueled story, we've got your chance below! We're giving away a copy of CLICK'D to a one lucky winner!
CLICK'D Book Giveaway: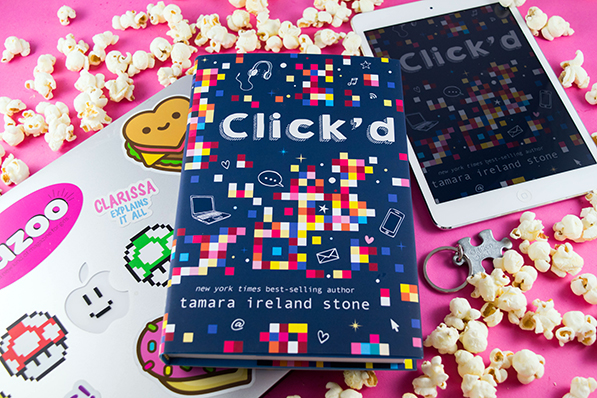 WHAT DO I WIN?:
– ONE (1) copy of CLICK'D by Tamara Ireland Stone, provided by Disney-Hyperion. CLICK'D is a middle grade novel, generally recommended for readers aged 9+. Find out more about the book and read an excerpt here.
HOW DO I ENTER?:
Just fill out the form below by September 12 at 11:59pm EST. Giveaway begins on 9/5/2017 at 10am ET and ends on 9/12/2017 at 11:59pm ET.
You must be 18 or older to enter. If you are under 18, you'll need to get permission from your parent/guardian to enter and again if you win. Please provide THEIR email address when entering below. If chosen as a winner, you'll need to provide contact info where we can reach your parent/guardian if you win. Be sure to read the fully detailed rules HERE before entering.
Giveaway open to US addresses only.
THIS GIVEAWAY HAS ENDED AND THE PRIZE HAS BEEN CLAIMED.
Good luck to everyone who enters! For more great reads, click here!