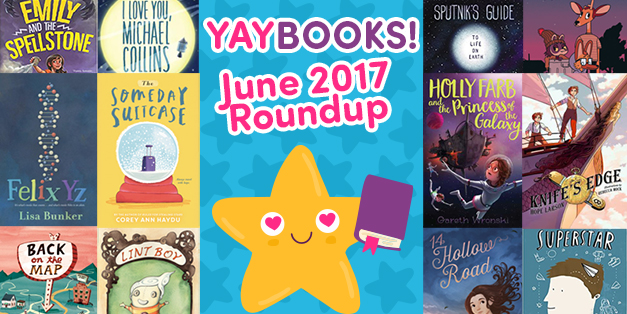 YAYBOOKS! June 2017 Roundup
Our YAYBOOKS! June 2017 Roundup is brimming with everything from fluffy Summer reads to super emotional stories with a few graphic novels sprinkled in. This list comes off the tails of our trip to BookExpo in NYC and we're just SO hyped on books right now. Tons of amazing new middle grade reads are headed your way between now and the end of the year that we can't wait to tell you all about, but for now, let's slow it down and take a peek at what's up and coming for June. Who knows, you might just find your new favorite book!
Our YAYBOOKS! Roundup is our way of making sure all our loyal YAYOMGers know which books are coming out each month so you can add them to your collections, your TBR piles, and your library wishlists. Most importantly, they'll help you mark some squares on your YAYOMG! Book Bingo card!
YAYBOOKS! June 2017 Roundup: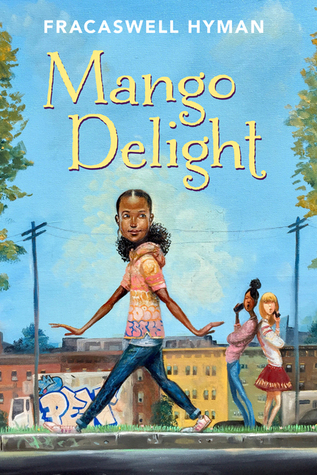 Mango Delight
Author: Fracaswell Hyman
Release Date: June 6
Publisher: Sterling Children's Books
YAYOMG!:
Mango Delight is the perfect escape for those days and weeks where nothing seems to go your way. Mango Delight Fuller accidentally broke her BFF's phone, lost her spot on the track team, and even cost her dad his job. Her best friend tries to get revenge by signing her up for the school play, but Mango ends up thrown into the spotlight when her performance becomes a YouTube hit. With all eyes on her, she's attracting the company of the most popular girl in school, which isn't all rainbows and sunshine. Can Mango figure out how to navigate her sticky situations and figure out who she wants to be?
SYNOPSIS:
What happens when your BFF becomes your EFF . . . EX-Friend-Forever?
When seventh-grader Mango Delight Fuller accidentally breaks her BFF Brooklyn's new cell phone, her life falls apart. She loses her friends and her spot on the track team, and even costs her father his job as a chef. But Brooklyn's planned revenge—sneakily signing up Mango to audition for the school musical—backfires when Mango not only wins the lead role, but becomes a YouTube sensation and attracts the attention of the school's queen bee, Hailey Jo. Hailey Jo is from a VERY wealthy family, and expects everyone to do her bidding. Soon Mango finds herself forced to make tough choices about the kind of friend she wants to have . . . and, just as important, the kind of friend she wants to be.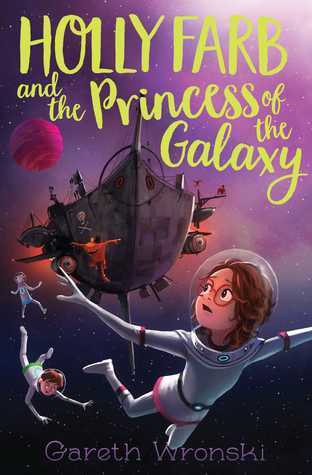 Holly Farb and the Princess of the Galaxy
Author: Gareth Wronski
Release Date: June 6
Publisher: Aladdin
YAYOMG!:
Holly Farb is your average awkward kid, until she's kidnapped by alien pirates and mistaken for a royal space princess. To make things worse, her teacher and the most annoying boy in class have also been kidnapped, and she's going to need their help to escape, find the missing princess, save the day, and somehow make it back to Earth so she doesn't miss her big test. Holly Farb and the Princess of the Galaxy is a hilarious, quick read for those of you who are clinging to your Summer vacation or are in dire need of adventure.
SYNOPSIS:
Holly Farb is not the Princess of the Galaxy. She may be top of the class in every subject, but she can't even win a school election, never mind rule the Milky Way. The aliens who kidnapped her have gotten it all wrong.
Unfortunately Holly's alien pirate kidnappers believe that she's the princess they've been looking for, and so she finds herself hurtling through space on an alien pirate ship together with her teacher, Mr. Mendez, and Chester, the most annoying boy in her class. Now all she has to do is escape the pirates, find the missing princess, and get back to Earth in time for her big test on Friday.
But it turns out that space is a pretty big place, and before they can go home, Holly, Chester, and Mr. Mendez must face down space cruise liners, bounty hunters, giant worms, perky holograms, cosmic board games, sinister insectoid librarians, and a robot who is learning how to lie.
Between running from space pirates, defying the President of the Universe, and meeting a host of rather unusual new friends, Holly starts to wonder if there might be more to life than being top of the class after all.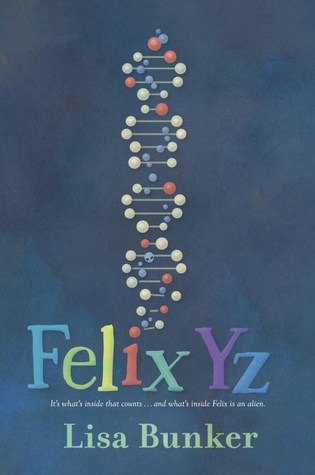 Felix Yz
Author: Lisa Bunker
Release Date: June 6
Publisher: Viking Books for Young Readers
YAYOMG!:
What can we even say about Felix Yz? This is one of those books you really need to read for yourself to truly appreciate, but we'll give it a shot. Felix is just like you. He's about to turn thirteen, he loves his family, and he's worried his crush doesn't like him back. Oh, and there's an alien living inside of him. After a lab accident gone wrong, Felix has spent his life with an alien name Zyx fused inside him. It causes some physical issues for Felix and a bit of bullying at school, so he's getting a procedure so the two can be separated. This strange, fantastic book is filled with train adventures, family secrets, lots of laughs, and the inner-workings of Felix's mind via his secret blog. This little book has so much heart and honesty packed into it and covers important topics like LGBTQ acceptance, diversity, and more. It's simply a book that can't be missed. If you're into books that give you a whirlwind of feels like See You in the Cosmos or Wonder, you'll definitely love Felix Yz.
SYNOPSIS:
"If it wasn't for the fused-with-Zyx thing, I suppose I would just be normal–whatever that means."
When Felix Yz was three years old, a hyperintelligent fourth-dimensional being became fused inside him after one of his father's science experiments went terribly wrong. The creature is friendly, but Felix–now thirteen–won't be able to grow to adulthood while they're still melded together. So a risky Procedure is planned to separate them . . . but it may end up killing them both instead.
This book is Felix's secret blog, a chronicle of the days leading up to the Procedure. Some days it's business as usual–time with his close-knit family, run-ins with a bully at school, anxiety about his crush. But life becomes more out of the ordinary with the arrival of an Estonian chess Grandmaster, the revelation of family secrets, and a train-hopping journey. When it all might be over in a few days, what matters most?
Told in an unforgettable voice full of heart and humor, Felix Yz is a groundbreaking story about how we are all separate, but all connected too.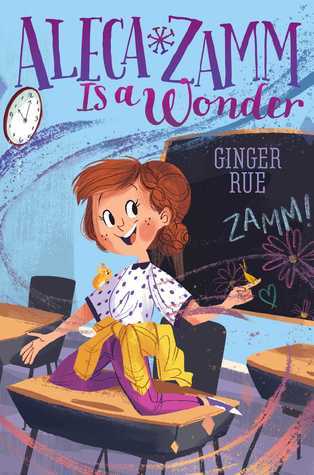 Aleca Zamm is a Wonder
Author: Ginger Rue
Date: June 6
Publisher: Aladdin
YAYOMG!:
Isn't this cover just adorable? It's definitely what drew us in to this super cute story. Aleca Zamm feels as if she hasn't found her "thing". Everyone in her life has something, whether it be singing, swimming, or soccer. But Aleca, like lots of you guys, is feeling like she'll never find the thing she's good at. That is, until her tenth birthday, when she discovers she has the ability to stop time. Aleca's life is about to get much more exciting and this is just the first book in the Aleca Zamm series. We think this is a great choice to pack in your beach bag, camp pack, or anywhere else you might need a light, easy read.
SYNOPSIS:
Meet the wonder-full Aleca Zamm, an ordinary ten-year-old with an extraordinary ability: she can stop time!
Aleca Zamm has finally reached double digits and she still doesn't have a "thing"—a special talent or ability that will make her stand out. Her best friend, Maria, has a thing (swim team); her sister, Dylan, has a thing (singing); and even her former BFF Madison has a thing (soccer). But Aleca? No. Thing.
Until the day of her tenth birthday when Aleca discovers she can stop time just by saying her name. Suddenly, Aleca has a thing…and life is about to get a lot more interesting!
It turns out that being a Wonder (as her eccentric Aunt Zephyr, who is also a Wonder, calls it) comes with a few caveats, and that stopping time doesn't go undetected by other Wonders or those who may be searching for them. With her new mentor Aunt Zephyr by her side, Aleca discovers that being special comes with special challenges she never expected.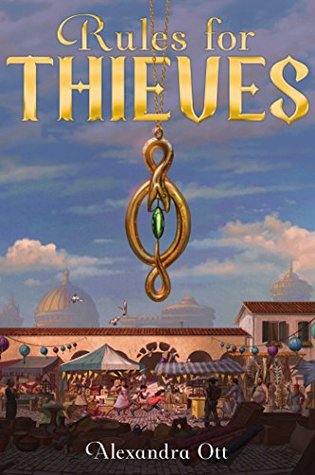 Rules for Thieves
Author: Alexandra Ott
Date: June 6
Publisher: Aladdin
YAYOMG!:
This captivating new novel comes complete with magic, adventure, and a quick-witted heroine named Alli we think you'll just love. Alli Rosco is an orphan who's been living in an orphanage for the past 9 years. She's ready to break free and try to make it on her own, but things don't quite go her way. Unfortunately, her go-to sass and resourceful attitude that's gotten her through life thus far just isn't enough when she encounters the city's Protectors who curse her with a deadly spell. There's a cure, but it's incredibly expensive and totally unattainable. That is, until she meets a magical thief named Beck who tells her of the Thieves Guild. If she joins the guild and passes the trial that's assigned to her, she'll be able to afford the cure and maybe even find herself a real family. Rules for Thieves is a laugh out loud funny, thrilling fast-paced magical adventure that's not to be missed.
SYNOPSIS:
After twelve-year-old orphan, Alli Rosco, is cursed with a deadly spell, she must join the legendary Thieves Guild in order to try and save herself in this high-stakes debut.
Twelve-year-old Alli Rosco is smart, resourceful, and totally incapable of keeping her mouth shut. Some of these traits have served her well during her nine years in Azeland's orphanage, and others have proved more troublesome…but now that she's escaped to try her luck on the streets, she has bigger problems than extra chores to contend with. Surviving would be hard enough, but after a run-in with one of the city's Protectors, she's marked by a curse that's slowly working its way to her heart. There is a cure, but the cost is astronomical—and seems well out of her reach.
Enter Beck, a boy with a gift for theft and a touch of magic, who seems almost too good to be true. He tells Alli that the legendary Thieves Guild, long thought to be a myth, is real. Even better, Beck is a member and thinks she could be, too. All she has to do is pass the trial that the King of Thieves will assign to her. Join the Guild, collect her yearly reward and buy a cure. Plus, Alli hopes the Guild will be the home—the family—that Alli has always wanted. But when their trial goes wrong, innocent lives are put in danger, and Alli has to decide how much she can sacrifice in order to survive.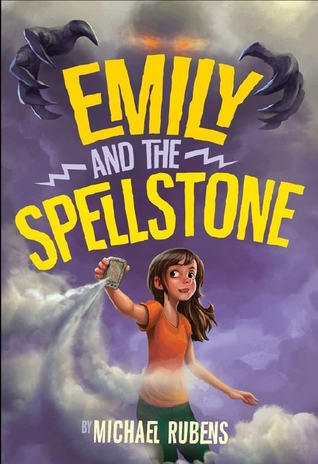 Emily and the Spellstone
Author: Michael Rubens
Release Date: June 13
Publisher: Clarion Books
YAYOMG!:
Emily Edelman is another awesome female heroine and we just know you guys are going to tear through this humorous, fantastical adventure. What would you do if you picked up a stone that looked like a cell phone but it was actually filled with magical powers fueled by the moon? That's exactly what happens to Emily and her life goes from ordinary to extraordinary as she learns what it means become a Stonemaster. This book is perfect for fans of Harry Potter, Series of Unfortunate Events, and the DreamWorks Trollhunters Netflix series. It combines wit, magic, high-stakes adventure, and even some scary fantasy bits in similar ways, but really stands out on it's own. We have a feeling that tons of you guys are about to become totally obsessed with Emily and the Spellstone.
SYNOPSIS:
Emily picks up a stone that looks like a cell phone but has unexpected magical powers. It's a Spellstone! Now that she has become an unwilling Stonemaster—one who wields the power of the Stone—she has to figure out Spellstone technology fast if she is to survive a hair-raising adventure among giant dogs, demons, clones, mean girls, and deeply wicked people who want the Stone. A witty tale of a quiet girl who discovers she's a hero when she needs to be. Stonemasters rule!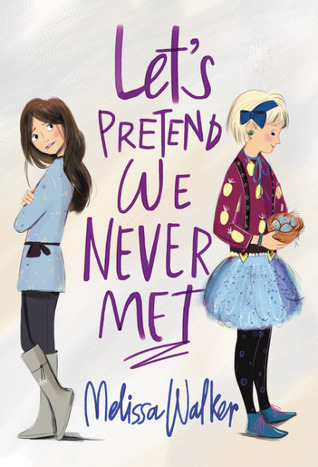 Let's Pretend We Never Met
Author: Melissa Walker
Release Date: June 13
Publisher: HarperCollins
YAYOMG!:
Let's Pretend We Never Met is for everyone who's ever been the new kid at school, the outcast, or has had to move away from their friends. This charming read totally nails how hard that all can be and is a great story we can all learn a lesson from. We love the way this book stay true to themselves, even if that means being best friends with the "weird" girl in class. It's a sweet, honest read that's extremely relatable and will have you totally ready to head back to school and make new friends with the kids you may have ignored before. Who knows, one of them might just be your new BFF.
SYNOPSIS:
If it were up to Mattie Markham, there would be a law that said your family wasn't allowed to move in the middle of the school year. After all, sixth grade is hard enough without wondering if you'll be able to make new friends or worrying that the kids in Pennsylvania won't like your North Carolina accent.
But when Mattie meets her next-door neighbor and classmate, she begins to think maybe she was silly to fear being the "new girl." Agnes is like no one Mattie has ever met—she's curious, hilarious, smart, and makes up the best games. If winter break is anything to go by, the rest of the school year should be a breeze.
Only it isn't, because when vacation ends and school starts, Mattie realizes something: At school Agnes is known as the weird girl who no one likes. All Mattie wants is to fit in (okay, and maybe be a little popular too), but is that worth ending her friendship with Agnes?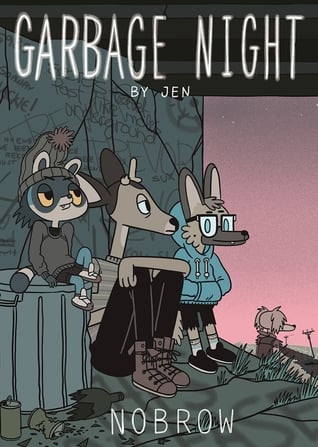 Garbage Night
Author: Jen Lee
Release Date: June 13
Publisher: Nobrow Press
YAYOMG!:
We promise you this – you've never read a graphic novel quite like Garbage Night. Three friends Simon (a dog), Reynard (a deer), and Cliff (a raccoon) spend their days scavenging through their abandoned town in hopes that they'll find food, but 'garbage night' hasn't come in quite awhile. While out one day, they meet Barnaby, an abandoned dog from another down where there's supposedly humans and more importantly, food. The gang is reluctant to follow Barnaby to Fallbridge, but the promise of food forces them to adventure into the unknown. This one is a definitely on the darker/sadder side, but if you're a kid who loves connecting with deeper stories, we know you'll be all over this. Plus, the art is seriously great and the book comes complete with the original story, Vacancy.
SYNOPSIS:
In a barren and ransacked backyard, a dog named Simon lives with his two best friends: a raccoon and a deer. The unlikely gang spends their days looting the desolate supermarket and waiting for the return of the hallowed 'garbage night' – but week after week, the bins remain empty. While scavenging one day, the trio meet Barnaby – another abandoned dog who tells them about the 'other town' where humans are still rumored to live. Spurred on by hunger and the promise of food, the trio joins up with Barnaby and set off into the unknown…
With echoes of post-war, derelict places, Garbage Night explores how animals may internalize their changing environment and express their thoughts, fears and hopes.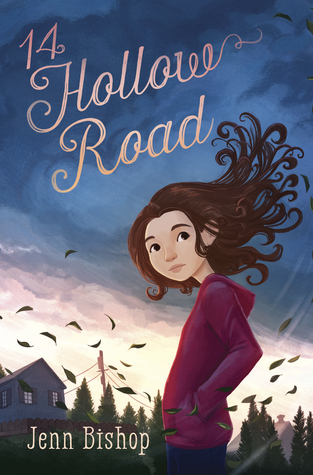 14 Hollow Road
Author: Jenn Bishop
Release Date: June 13
Publisher: Alfred A. Knopf
YAYOMG!:
We're so glad this book is finally releasing this month, because it's one we've been looking forward to all year. On the night of the sixth-grade dance, Maddie is beyond excited to wear her new dress, hang out with her friends, and hopefully dance with her crush. Sadly, as her opportunity to dance with Avery comes, it slips away just as fast. Just as he chooses to dance with someone else, the power goes out, and a tornado rips through their small town. As the town deals with the aftermath of the tornado, some neighbors invite Maddie and Avery's family to come live with them as their houses have been destroyed. Living under the same roof as her crush won't be easy, but neither will dealing with everything that comes with entering middle school, growing up, and dealing life post-tornado. While it sounds kind of sad, this story is actually really sweet and perfectly captures the magic of a first crush and growing up. It's charming heartfelt, and there's a reference to Taylor Swift and her cats, so who wouldn't want to read that?!
SYNOPSIS:
The night of the sixth-grade dance is supposed to be perfect for Maddie; she'll wear her beautiful new dress, she'll hit the dance floor with her friends, and her crush, Avery, will ask her to dance. Most importantly, she'll finally leave her tiny elementary school behind for junior high. But as the first slow song starts to play, her plans crumble. Avery asks someone else to dance instead–and then the power goes out. Huddled in the gym, Maddie and her friends are stunned to hear that a tornado has ripped through the other side of town, destroying both Maddie's and Avery's homes.
Kind neighbors open up their home to Maddie's and Avery's families, which both excites and horrifies Maddie. Sharing the same house . . . with Avery? For the entire summer? While it buys her some time to prove that Avery made the wrong choice at the dance, it also means he'll be there to witness her morning breath and her annoying little brother. Meanwhile, she must search for her beloved dog, who went missing during the tornado. At the dance, all she wanted was to be more grown-up. Now that she has no choice, is she ready for it?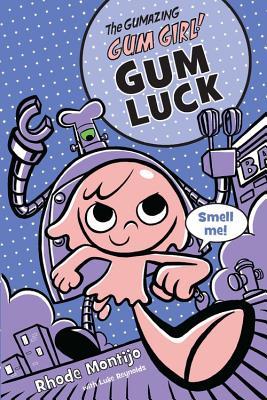 The Gumazing Gum Girl: Gum Luck
Author: Rhode Montijo
Release Date: June 13
Publisher: Disney Hyperion
YAYOMG!:
The sequel to The Gumazing Gum Girl is finally here, and we couldn't be more excited about it. To catch you up, Gabby Gomez loves to chew gum even though her mom doesn't allow it. It's not like she'll turn into gum, right? Wrong! That's exactly what happens and it transforms Gabby into The Gumazing Gum Girl! Using her stretchy, sticky powers, Gabby becomes an amazing hero who's always ready to save the day, but she must keep her identity secret, especially from her parents. In Gum Luck, Gabby has been struggling to balance her double life, but when an evil chef comes to town, she'll have to be ready to save the day! This series has super cute art, a smelly cover, and is an all around hilarious adventure you won't want to miss!
SYNOPSIS:
With her new powers, Gabby Gomez is living a dual life. Keeping her Gum Girl heroics a secret from her parents is not easy. Maybe it's time to come clean? But there's a new villain in town, and the city needs her!
Get ready for more flavored-packed action as Gum Girl takes on a devious chef who's cooking up evil plans. It's another exciting adventure with the ever-elastic, super-stretchy superhero, Gum Girl!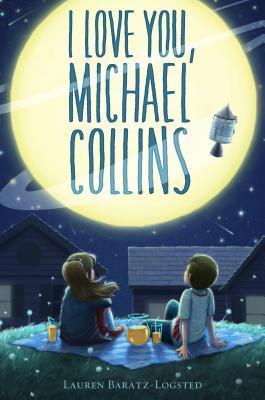 I Love You, Michael Collins
Author: Lauren Baratz-Logsted
Date: June 20
Publisher: Farrar, Straus and Giroux
YAYOMG!:
A middle grade novel about the moon landing? Count us in. We're all about these books that have been coming out about space, astronauts, and beloved astrophysicists. When Mamie's class is asked to write letters to the astronauts gearing up for the very first moon landing in 1969, most of them choose to write to Neil Armstrong or Buzz Aldrin. Mamie writes to Michael Collins, the man who won't get to step foot on the moon because he must stay with the ship. As Mamie's home life starts to crumble around her, she continues writing letters to Michael Collins, detailing her struggles kind of like a journal to help her deal with everything that's going on. We haven't read this one, but we've read some early reviews that describe this novel as authentic, amazing, and adorable. Can't wait to get lost in this one when it releases on June 20th.
SYNOPSIS:
It's 1969 and the country is gearing up for what looks to be the most exciting moment in U.S. history: men landing on the moon. Ten-year-old Mamie's class is given an assignment to write letters to the astronauts. All the girls write to Neil Armstrong ("So cute!") and all the boys write to Buzz Aldrin ("So cool!"). Only Mamie writes to Michael Collins, the astronaut who will come so close but never achieve everyone else's dream of walking on the moon, because he is the one who must stay with the ship. After school ends, Mamie keeps writing to Michael Collins, taking comfort in telling someone about what's going on with her family as, one by one, they leave the house thinking that someone else is taking care of her—until she is all alone except for her cat and her best friend, Buster. And as the date of the launch nears, Mamie can't help but wonder: Does no one stay with the ship anymore?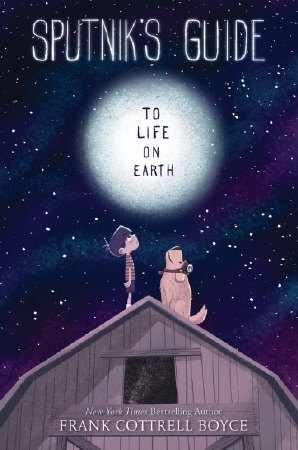 Sputnik's Guide to Life on Earth
Author: Frank Cottrell Boyce
Date: June 20
Publisher: Walden Pond Press
YAYOMG!:
Prez Mellows has been living with a foster family on their farm after his grandfather can no longer care for him. Things seem pretty okay until Prez meets Sputnik, a cigar smoking, bizarre extra terrestrial who shows up on his doorstep. In order to stop the planet from being destroyed, Prez and Sputnik must come up with a list of 10 reasons the Earth should be saved. This task ends up being a little harder than it seems, even for a kid who's no stranger to making lists. This wild, wacky, and eventful adventure is a great read for Summer or just anytime you need a reminder about your place in the universe.
SYNOPSIS:
Award-winning author Frank Cottrell Boyce returns with another one-of-a-kind story of heart, humor, and finding one's place in the universe.
Prez knows that the best way to keep track of things is to make a list. That's important when you have a grandfather who is constantly forgetting. And it's even more important when your grandfather can't care for you anymore and you have to go live with a foster family out in the country.
Prez is still learning to fit in at his new home when he answers the door to meet Sputnik—a kid who is more than a little strange. First, he can hear what Prez is thinking. Second, he looks like a dog to everyone except Prez. Third, he can manipulate the laws of space and time. Sputnik, it turns out is an alien, and he's got a mission that requires Prez's help: the Earth has been marked for destruction, and the only way they can stop it is to come up with ten reasons why the planet should be saved.
Thus begins one of the most fun and eventful summers of Prez's life, as he and Sputnik set out on a journey to compile the most important list Prez has ever made—and discover just what makes our world so remarkable.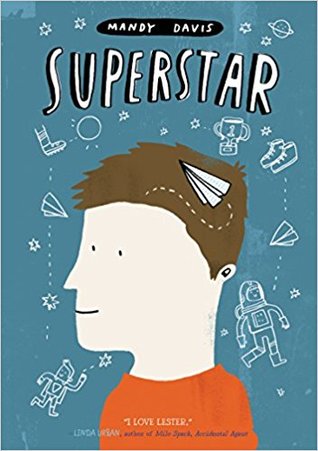 Superstar
Author: Mandy Davis
Date: June 20
Publisher: Katherine Tegen Books
YAYOMG!:
Surviving the fifth grade is tough, but it's even tougher when you're the new kid dealing with Asperger's Syndrome and attending public school for the first time after years of being homeschooled. Lester's first days at Quarry Elementary aren't exactly going his way. It feels a bit crowded, he's a bit overwhelmed, and he's not quite like the other kids. He gets bullied for his loud voice, his intensity, and his strange behavior. Lester Musselbaum is a standout character and this touching story is about to totally charm you in a way you didn't even realize you needed. It's a heartwarming tale of growing up and embracing the things who make you who you are, even when they make you different.
SYNOPSIS:
"Lester's first-person narrative is honest and pure." —Kirkus (starred review)
Perfect for fans of Fish in a Tree and Wonder, this uplifting debut novel from Mandy David follows space-obsessed Lester Musselbaum as he experiences the challenges of his first days of public school: making friends, facing bullies, finding his "thing," and accidentally learning of his autism-spectrum diagnosis.
Lester's first days as a fifth grader at Quarry Elementary School are not even a little bit like he thought they would be—the cafeteria is too loud for Lester's ears, there are too many kids, and then there's the bully.
Lester was always home-schooled, and now he's shocked to be stuck in a school where everything just seems wrong. That's until he hears about the science fair, which goes really well for Lester! This is it. The moment where I find out for 100 percent sure that I won.
But then things go a bit sideways, and Lester has to find his way back. A touching peek into the life of a sensitive autism-spectrum boy facing the everydayness of elementary school, Superstar testifies that what you can do isn't nearly as important as who you are.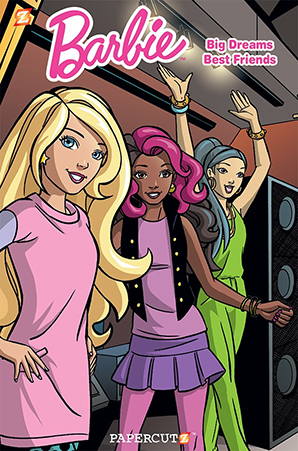 Barbie #2: Big Dreams, Best Friends
Author: Sarah Kuhn
Date: June 20
Publisher: Papercutz
YAYOMG!:
Barbie's graphic novel adventure continues with the second volume in Papercutz Barbie series. In the first volume, Barbie works to find out if she has what it takes to become a fashion designer. In this new book, Big Dreams, Best Friends, Barbie is tasked with designing original outfits for a rock star's tour, but it turns into so much more. Barbie must dream up amazing outfits, break through her designers block, and work with the band to help the drummer find her confidence. Will she be able to do it all before the curtain rises? You'll have to read it to find out.
SYNOPSIS:
This volume, written by Sarah Kuhn and illustrated by Yishan Li, finds Barbie living her dream, designing outfits for a rock star's big tour! But when Barbie experiences designer's block, and can't get in the stitch of things, the whole tour is threatened. She wanted to make some show-stopping designs, but she didn't think that would be taken literally!
To get back on track, Barbie partners up with the band's talented but shy drummer, who can't seem to perform as well in the costume given to her. She just doesn't feel like herself, and Barbie must design something that will help the drummer get back to rockin'. Will Barbie and the drummer be able to overcome their anxieties before the curtain goes up?
Big Dreams, Best Friends is a wonderful story about staying true to yourself and embracing your sense of individualism. Join Barbie as she navigates the glamorous, thrilling backstage world of fashion, music, and celebrity!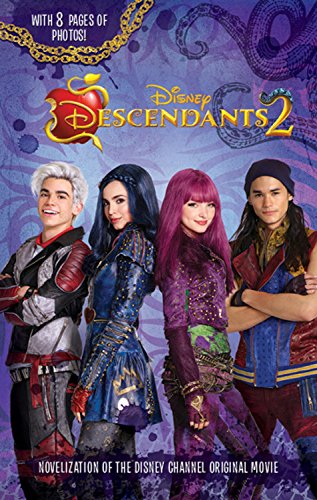 Descendants 2 Junior Novel
Author: Eric Geron
Date: June 20
Publisher: Disney Press
YAYOMG!:
Alright, so, we're not always in the habit of telling you guys every single time a novelization of a movie comes out. But in the case of Descendants 2, you guys would be super mad at us if we forgot to remind you that you can get your hands on a copy of this one. If you just can't wait until July 21st for Descendants 2 to release on the Disney Channel, you'll definitely want to snag a copy of this book and find out what happens. There's also lots of wicked images inside! This book tells the same story as the movie, so if you're not into spoilers, avoid this until you've watched the film!
If you like this, you'll definitely want to pick up Mal's Spell Book 2: More Wicked Magic, also out on June 20th for all new spells and inside info from Mal, Evie, Jay, Carlos, and Uma!
SYNOPSIS:
Mal, Evie, Carlos, and Jay may be the children of terrible villains, but they're fitting in amazingly well on Auradon. Well, at least most of them are.
For Mal, the pressure to be royally perfect is too intense, so she returns to her rotten roots on the Isle of the Lost. But Mal soon finds that her archenemy, Uma, the daughter of Ursula, has taken her spot as self-proclaimed Princess of Evil. Even worse, Uma has a plan to destroy Auradon-and a gnarly gang of pirates to back her up!
It's a classic battle between wicked and evil . . . and these kids are made for trouble.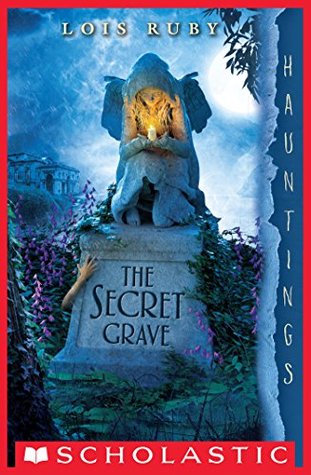 The Secret Grave: A Hauntings Novel
Author: Lois Ruby
Date: June 27
Publisher: Scholastic
YAYOMG!:
Ready for a spooky story that'll have you craving candy corn and pumpkin carving even though it's only June? The Secret Grave will definitely do that for you. Hannah and Scooter live in a large, old mansion named after Nightshade, the deadly plant that grows in the woods behind their house. The kids aren't supposed to go near the forest or Moonlight Lake, but Hannah craves adventure and heads out to explore. While she's there, she meets Cady, a strange girl who befriends Hannah, or so she thinks. Cady becomes nothing but trouble. She's always asking Hannah to break the rules and starts interfering with her friends and her brother's life-threatening asthma. Hannah knows she must put a stop to this, and the answer may just lie in the cemetery beyond the lake. A creepy, chill-inducing read for anyone who loves a good scary story!
SYNOPSIS:
Nightshade can be deadly.
Hannah and Scooter's sprawling, ramshackle house is named for the lethal plant that grows in the dark woods behind it. Hannah knows she's not supposed to explore the forest or nearby Moonlight Lake. But she's feeling lonely and desperate for an adventure. And there Hannah meets Cady, a mysterious girl who promises everything Hannah's been missing. Only Cady has a secret:
Cady wants Hannah all to herself.
Soon Cady is copying Hannah's style so they can be more alike. She lies to Hannah's friends, insults Scooter, and begs Hannah to break her parents' rules and sneak out for a midnight swim. Hannah wants to believe Cady's just a little insecure. But when she discovers a cemetery beyond the lake with an eerily familiar headstone, she must decide whether to trust her new friend or dig for answers that may lead her to a watery grave . . .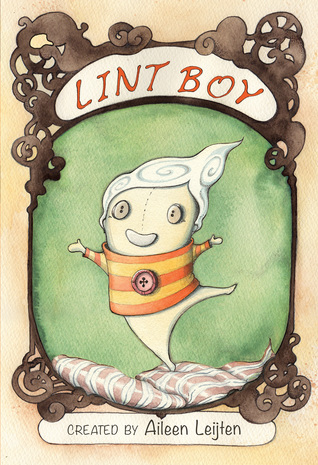 Lint Boy
Author: Aileen Leijten
Date: June 27
Publisher: Clarion Books
YAYOMG!:
LOOK AT THIS BOOK. Do we even need to write something to try and convince you to read this? It's called Lint Boy and it's about, well, a boy made of lint who lives inside a warm, cozy dryer with his brother, Lint Bear. This fairytale-esque graphic novel is oozing with charm, cute gothic inspired illustrations, and is perfect for fans of Coraline, Nightmare Before Christmas, and ParaNorman. Stop acting like you aren't going to read Lint Boy and just read it, okay? We promise you'll love it.
SYNOPSIS:
Lint Boy and Lint Bear live in their cozy dryer home, carefree and happy—until the day Lint Bear is snatched away by a cruel woman with a vendetta against dolls! Can Lint Boy unite a group of lost dolls to vanquish the villain and save his brother? This magical story is showcased in the stunning full-color art of this young graphic novel. A gently gothic, age-appropriate blend of Roald Dahl and Tim Burton, Lint Boy is a compelling tale of good vs. evil that will leave readers spellbound.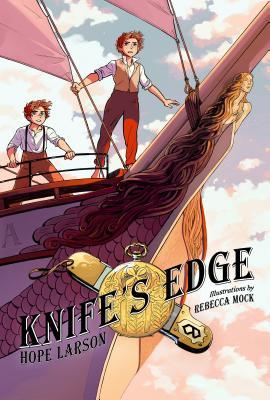 Knife's Edge
Author: Hope Larson
Date: June 27
Publisher: Farrar, Straus and Giroux
YAYOMG!:
Is June the official month for amazing graphic novels? It sure feels like it to us while putting together this list. We're kind of Hope Larson fangirls (have you READ Goldie Vance?!), so when we saw that she was putting out a follow-up to the fantastic Compass South, we knew we had to get our hands on it. In what looks to be an adventure even bigger than the first, twins Cleo and Alex Dodge set sail to uncover a treasure that belongs to them and along the way, discover that things that make them different might not be such a bad thing. There's sword fighting, seafaring, fierce ladypower, and tons of thrilling adventure aboard the ship and we surely can't wait to read it. Definitely a great read for when you're done doing some ocean exploring of your own this Summer.
SYNOPSIS:
Twelve-year-old twin adventurers Cleopatra and Alexander Dodge are reunited with their father and realize that two family heirlooms reveal the location of a treasure that is their birthright. When they set sail with Captain Tarboro on the Almira, they know they're heading into danger ―the ocean is filled with new and old enemies, including their nemesis, the infamous pirate Felix Worley. But like a coral reef that lurks below the surface of the waves, trouble is brewing between the siblings. Alex is determined to become a sailor and is happy with his role aboard the Almira, but Cleo―the only girl on the ship―is tired of washing dishes in the galley. In an effort to find her own purpose, she begins studying sword fighting with Tarboro, but neither Alex nor her father approves. Can the twins remain close as they pursue different goals and dreams, or will their growing differences tear the family apart before the treasure can be found? In this follow-up to the New York Times bestselling COMPASS SOUTH, Hope Larson and Rebecca Mock once again create an outstanding seafaring adventure with KNIFE'S EDGE.

Back on the Map
Author: Lisa Ann Scott
Date: June 27
Publisher: Sky Pony Press
YAYOMG!:
There's so many of you out there who are adopted or living with foster families and you need to see yourselves represented in the books you read, so it's truly incredible to see so many books this month featuring totally different types of foster, orphan, and adopted kid stories. Penny and Parker Porter have jumped from foster home to foster home for most of their lives. To cope with all the endless change, Penny finds comfort in imagining she's related to the historical figures in the books she reads. Their town population is dwindling and has been falling apart since the 70's, and has even been removed from the map. Penny decides that in order to save the town and put it back on the map, she'll clean up and sell the old run-down orphanage in town. Penny's creativity, go-getter attitude, and unique skill-set definitely make her the right girl for the job. We absolutely loved her character, and think you guys will too. Plus, it's got one our favorite covers of the month!
SYNOPSIS:
With their mother long dead and their father unknown, eleven-year-old Penny Porter and her twin brother Parker have been bouncing around foster homes for as long as they can remember. Inspired by the historical figures in her favorite book, Penny likes to imagine who she could be related to. Sacagawea? Her genes would be good ones to have. Or maybe Ghandi, or Harriet Tubman. There are endless possibilities!
But while Penny embraces the question marks in her family tree, she and Porter are both ready for a real home. Living with their aging, ornery Grauntie isn't easy, but it's better than other places they've been, and they don't want to get moved again—or worse, split up. Penny believes the key to keeping them from being bounced to another new home is getting their town of New Hope, North Carolina back on the state map. And what better way to do that than to spruce up and sell New Hope's Finest—an old orphanage that was supposed to reopen years ago as the best attraction ever, but never did.
She's got the creativity and the gumption to do it. And maybe knowing who you are doesn't matter so much as knowing what you can do. But will that be enough to finally keep her and Parker in one place for good?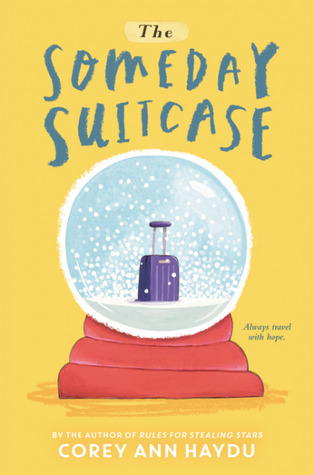 The Someday Suitcase
Author: Corey Ann Haydu
Date: June 27
Publisher: Katherine Tegen Books
YAYOMG!:
We've mentioned The Someday Suitcase to you guys before on our list of 13 Books We're Dying to Read in 2017, and the sentiment hasn't changed at all. Corey Ann Haydu is the master of writing beautifully written, heartbreaking, incredible stories that you didn't know you needed in your life until you've read them. While we haven't had a chance to read this one yet, it's one of our most anticipated books of the month and the reviews we've read make it seem just as wonderful as we hoped. We'll be reading this one alongside you guys we'll definitely have a review coming shortly after it releases this month.
SYNOPSIS:
The science of magic
Clover and Danny are the kind of best friends who make each other better: Clover makes lists, and Danny makes fun. Clover is thoughtful and quiet and loves science. Danny is chatty and funny and loves art. They're so important to each other that Clover believes they're symbiotic: her favorite science word, which describes two beings who can't function without the other.
But then Danny comes down with a mysterious illness that won't go away, and the doctors can't figure out what's wrong with him. So Clover decides to take matters into her own hands by making lists—lists of Danny's symptoms, his good days, his bad days, and his moods. As the evidence piles up, only one thing becomes clear: Danny is only better when Clover is around. When they're separated, he's in danger.
Clover knows they need to find a cure—together. Will science be able to save Danny, or is this the one time when magic can overcome the unthinkable? Corey Ann Haydu, the author of the critically acclaimed Rules for Stealing Stars, has written another dazzling, heart-tugging novel about the power of love.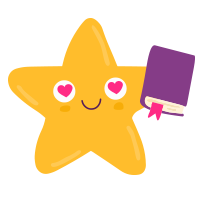 Well, that's our June roundup! We hope you guys are as excited to read all these fantastic books as we are. They'll for sure keep you busy over your Summer break and throughout the rest of the year. Missed our May roundup? Make sure to add these great books to your stack!
Are you an author or publisher of Middle Grade books/graphic novels? We do our best to scour every catalog, Goodreads list, and ARC mailing we're sent to compile these lists, but if we missed your book, be sure to contact us and keep us in the loop on your future releases!