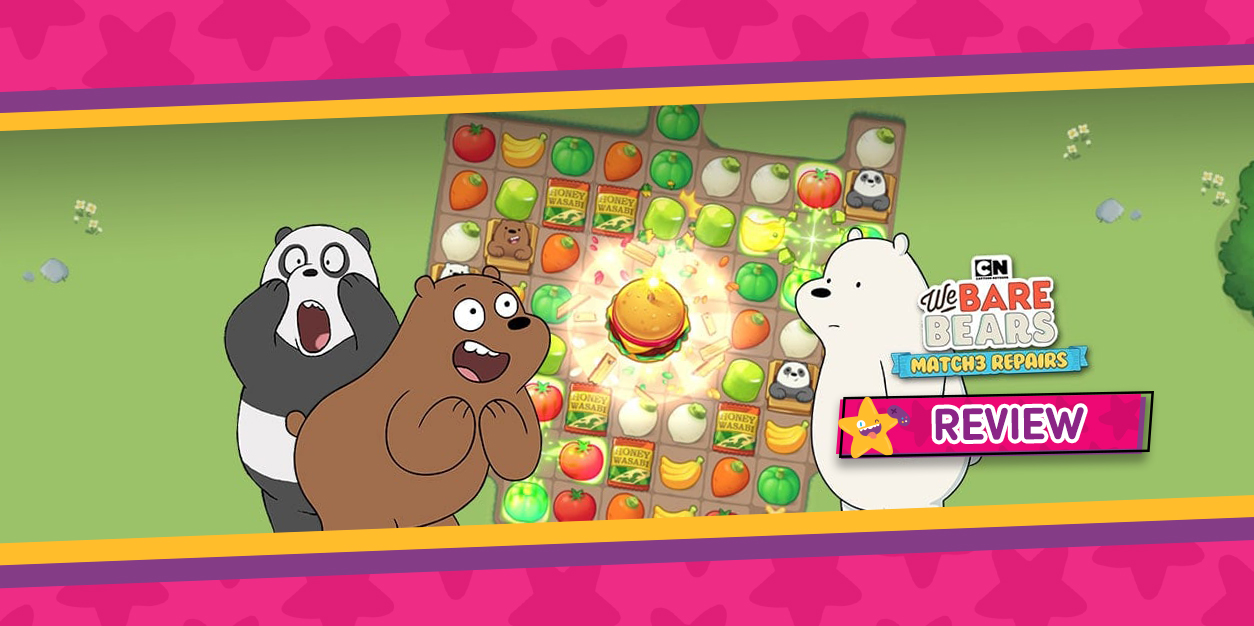 We Bare Bears Match3 Repairs: Our Hands-On Review
If you love Grizz, Pan Pan, and Ice Bear as much as we do, you're going to love We Bare Bears Match3 Repairs! It's a brand new mobile game from Cartoon Network and SundayToz that isn't just fun, but puts your favorite We Bare Bears moments right in the palm of your hand. Just don't let anyone steal your phone, your apps, and your soul!
We Bare Bears Match3 Repairs Review:

Charming Story and Immersive Setting:
If you're a fan of the show, We Bare Bears Match3 Repairs kicks off with a familiar scene. Remember that time a bunch of construction dudes showed up unannounced and started installing a cell tower on top of the bros cave? That's where the Match3 Repairs journey begins. Once Grizzly, Panda, and Ice Bear are able to convince the workers that the cave is their home, they leave, but they also leave things a total wreck. The cave, the yard, and the surrounding areas are a destroyed mess. Similar to successful Match 3 games like Homescapes and Gardenscapes, it's up to you to help the bear brothers restore their home to its former glory and make it better than ever.
We love the way they've weaved in the familiar setting of the bear's cave and tied in plot elements from the series. Rather than feeling like just another Match 3, We Bare Bears Match3 Repairs really feels like an extension of the show itself. The bears have funny one-liners that are very much in character, and everything from the music to the settings to the artwork is totally on point. Everything is super charming and authentic, it really feels like you're spending time with Grizz, Ice Bear, and Panda. We think Ice Bear would approve.

Super Fun Gameplay:
In order to help the bear bros get their life back together, you'll complete Match 3 missions to stars that can be used to complete repair tasks. Find your current tasks on Panda's phone and play through levels, matching vegetables, breaking crates, smashing through ice blocks, and more. Even the challenges suit the cartoon perfectly, as players often have to help rescue Charlie, make popcorn for Grizz, and every now and then, the bears will dance and shuffle the board. As you complete levels and challenges, you'll earn stars that can be used to help the bears clean up their cave. You'll fix up broken windows, create a garden area, restore the shed, and more. The game often lets you channel your creative side, allowing you to choose which design elements you like best so you can customize their world however you want.
Like most Match 3 games, there are powerups and special items that can help you along the way, like Captain Craboo, a farting skunk, and Ice Bear's trusty Axe. You'll also see familiar faces like Charlie, Num Nom, Chloe, and the woodland creatures. As you progress through the game, you'll unlock new areas to fix up, like the Campground and the Food Truck Park. Making specific types of matches also earns you burger bombs, tacos, butterflies, and access to Ice Bear's Vaccum Pal that help you clear out the board more quickly and help you make PANDASTIC combos!
As the levels become more challenging, the tasks you have to complete become more involved or take longer to finish, but the game is very well balanced. We made it to around Level 35 before really struggling more than once or twice to complete a level and around Level 40 before ever running out lives and having to wait for them to replenish. This is much farther than we've gotten in comparable Match 3 titles, which is great. You end up with more fun gameplay time, rather than sitting around waiting on timers or feeling tempted to use a power-up or spend money.

All That Other Stuff:
Something we noticed and enjoy about the game is that there are no ads and you're rarely ever asked to shell out cash. We love supporting our favorite mobile game developers with our dollars, and we always tell our readers to do the same if there's a game they enjoy. It's how they manage to keep the games consistently updated with new content and are able to create future games. But being constantly harassed for cash is bothersome and intrusive, so we like that this game focuses more on the fun!
You can earn plenty of in-game cash and items by playing through the game, and in the beginning, you're handed quite a bit pretty quickly. Unless you're someone who's always buying lives, using the cash to extend your turns at the end of levels, or buying powerups you'll very rarely ever run out. We aren't saying you shouldn't use those items, just use them wisely. It can be tempting to pay $1,000 to get those extra few moves at the end of a level, but unless you're actually close enough to beat it within 5 more moves, it's not worth it. In that case, it's just better to retry the level, lives are easy to come by as they are constantly replenishing. You get 5 to start, and as you use them up, they refill over time. You earn extra powerups through gameplay as well, or they can be purchased for in-game currency.
If you play every day, you'll get a chance to spin the Hot Time Roulette daily spinner which will give you the opportunity to win more cash, power-ups, and other prizes.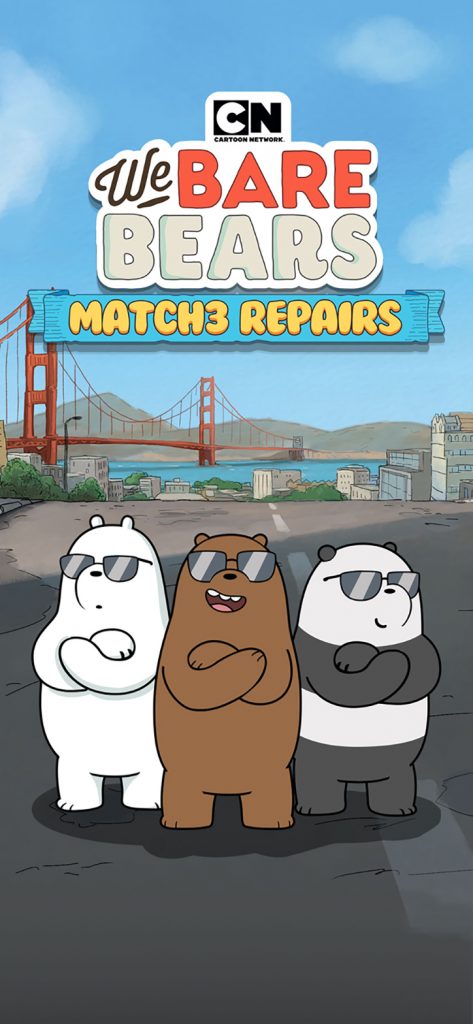 As huge We Bare Bears fans, we can safely say that We Bare Bears Match3 Repairs is super fun, addictive, and does a great job connecting you with the stories and characters you already love. We'll definitely be playing this one for a long time to come and have our fingers crossed for a Baby Bears related update in the future! We Bare Bears Match3 Repairs is now available to play on iOS and Android devices via the App Store and Google Play.
Looking for another super fun game to try out on your phone? We're currently obsessed with Emoji Charades!