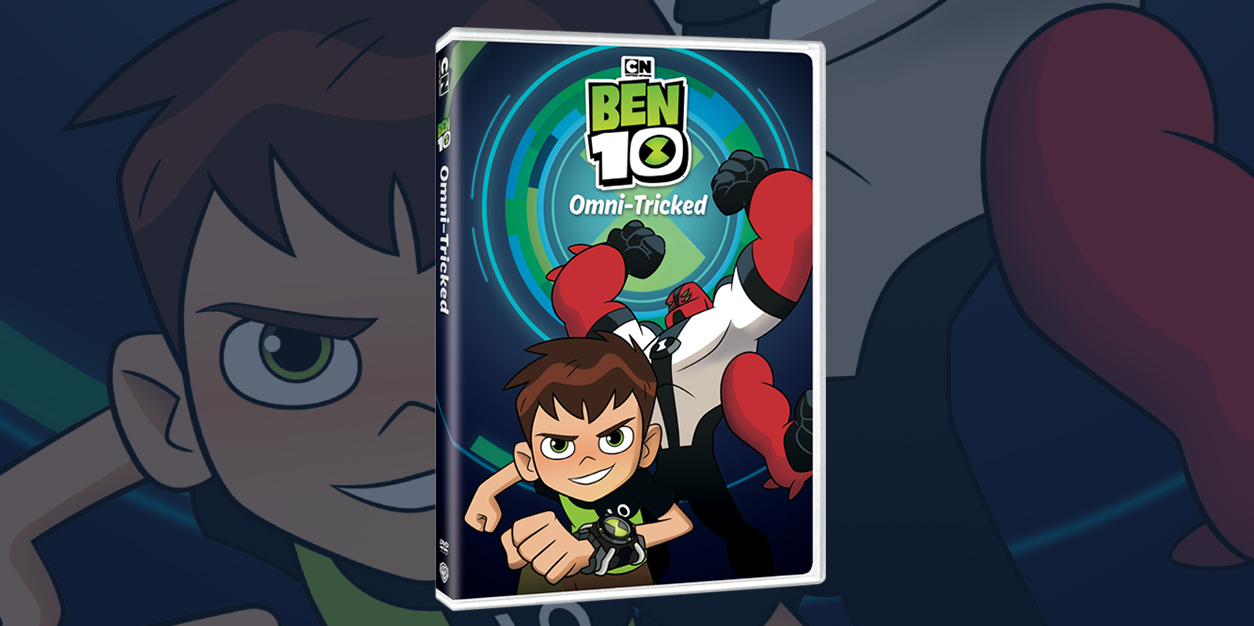 Ben 10: Omni-Tricked is Hitting DVD this Fall
Ben 10 fans, get ready to relive the battles, the transformations, and all of the exciting extra-terrestrial adventures alongside your favorite alien-powered kid hero! Cartoon Network just announced that Ben 10: Omni-Tricked will be hitting DVD this September. Pack your bags and hop in the Rust Bucket with Ben 10, Grandpa Max, and Cousin Gwen as they travel the country in 16 action-packed Season 1 episodes as well as the thrilling Ben 10: Omni-Tricked special. Now that Season 2 just ended and Season 3 is scheduled to air in 2019, it's never been a better time to catch up on the series or rewatch your favs.
If you've never seen Ben 10 Omni-Tricked, it aired for the first time last year on Cartoon Network as a 4-part special. We all know that Ben's Omnitrix watch gives him the ability to transform into ten mighty alien warriors that he uses to fight evil, but in Omni-Tricked, things are completely shaken up, and there is a twist lurking around every corner. While Ben is in Portland with his family, Dr. Amino sends one of his monsters to activate a dormant volcano. He jumps in and does what he does best, but quickly realizes that his usual roster of aliens isn't strong enough to save the day. Thankfully, he discovers that the Omnitrix somehow let him unlock an eleventh alien named Gax, who is unlike any alien he's ever had before. Gax is stronger, faster, and more powerful than Ben's usual roster.
Pretty cool, right? Unfortunately for Ben, the Omnitrix starts acting strangely and causes him to transform from one alien to another without being able to stop or revert back to his human form. To make matters worse, three bounty hunters named Sixsix, Textrax, and Kraab show up to cause trouble and Ben is forced to take them on even though he still isn't in control of the Omnitrix and can't control his transformations. To avoid causing further damage, Ben heads into the woods, but another alien named Vil shows up in a nearby area. He seem to be the same species as Gax and befriends and helps Ben attempt to sharpen and understand his new abilities. The only problem? He's been duped! Vil and Gax are two parts of the same, evil creature called Vilgax! Will this be the end for Ben? You'll have to watch this awesome 4-part special it to find out! Catch the trailer for Omni-Tricked here!
Here is the full list of episodes you'll find on the Ben 10: Omni-Tricked DVD:
6. Bright Lights, Black Hearts
8. Don't Let the Bass Drop
16. Need for Speed
17. Omni-Tricked (44-Minute Special)
We can't wait for it to release this Fall! Want to get your hands on the first 20 episodes of Season 1? The Ben 10: Villian Time DVD released earlier this year and features the first 20 episodes of Season 1. Pick up both to complete your collection! The Ben 10: Omni-Tricked DVD releases September 18th, 2018.
Love Cartoon Network? Here's how you can accessorize like the Powerpuff Girls!