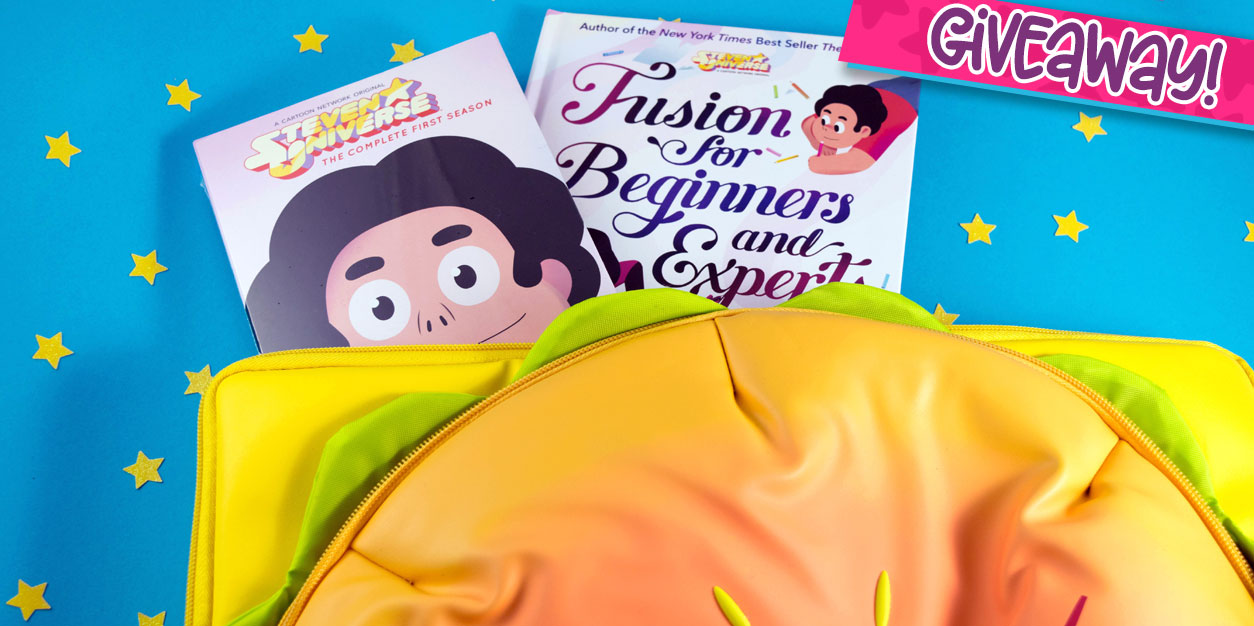 Steven Universe: The Complete First Season DVD + GIVEAWAY!
The first season of Steven Universe is FINALLY out on DVD! Even though the show is already in its fifth season, there has never been a complete collection released on DVD before, but that's all changed! Steven Universe: The Complete First Season DVD comes jam-packed with all 52 episodes of the first season, as well as a ton of awesome bonus features. We're giving away a Steven Universe Prize Pack to one lucky winner, complete with a copy of the DVD.
Steven Universe: The Complete First Season DVD: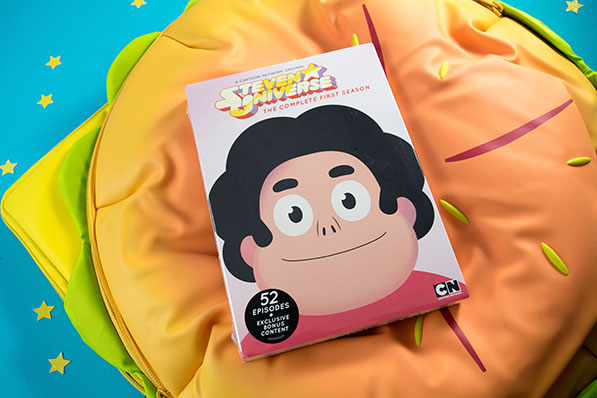 Never watched Steven Universe? This DVD is the perfect opportunity for you to fall in love with Steven, Pearl, Amethyst, and Garnet. Here's what you need to know about Season 1.
"Steven Universe is set in Beach City on the American East Coast, where the four Crystal Gems live in an ancient beachside temple, protecting the world from evil. As immortal alien warriors, they project female humanoid forms from magical gems that are the core of their being. The Crystal Gems are Garnet, Amethyst, Pearl and Steven, a young half-human, half-Gem boy who inherited the gem of his mother Rose Quartz, the former leader of the Crystal Gems. As Steven tries to figure out his powers, he spends his days with his human father Greg, his friend Connie or the other Gems, whether to help them save the world or just to hang out. He explores the abilities passed down to him by his mother, which include fusion – the ability of two Gems to temporarily merge their identities and bodies to form a distinct new personality."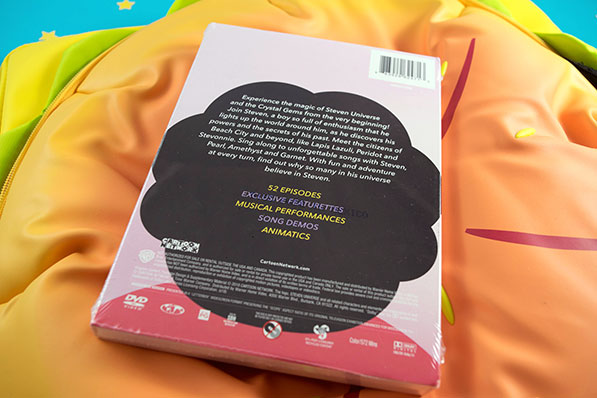 In addition to all 52 Season 1 episodes, the DVD includes a bunch of can't-miss bonus features.
– An EXCLUSIVE "Inside the Music" featurette, where show creator Rebecca Sugar and the song composers Aivi and Surasshu talk about the stories behind some of the best songs from the series and how they all came to life.
– Animatics for FIVE Season 1 episodes. This gives you a glimpse behind the scenes of the rough sketches, animations, and storyboarding that go into creating an episode.
– An inside look at a fan Listening Party from Los Angeles. There's a Q&A with Rebecca Sugar, musical performances, and an extremely fun fan sing-a-long to the show's theme song,
– Song Demos that give you a peek at what "Be Whatever You Are" and "Full Disclosure" sounded like before they were fully fleshed out songs.
Steven Universe: The Complete First Season DVD is now available for $24.98, so be sure to pick one up! This DVD has so much fantastic extra content to offer and so much to learn about the show and it's music, we know we'll definitely be watching it again and again.
The Big Event:
Because the show has such a fiercely dedicated fanbase, Cartoon Network celebrated the release of this iconic show in the best way possible – DONUTS! Have you seen some pictures of delicious looking Steven Universe donuts floating around the internet the past few days? That's because Cartoon Network teamed up with Voo Doo Doughnuts to throw AMAZING fan events this weekend! On February 3rd, fans in the Austin, Denver, Los Angeles, and Portland areas were able to drop by Voo Doo Doughnuts for Steven Universe themed donuts!

Fans in LA got to experience an even bigger event! Universal's CityWalk was decked with a huge Steven shaped donut wall and fans got to meet some of the voices behind the characters. Zach Callison (Steven Universe), Michaela Dietz (Amethyst), Deedee Magno Hall (Pearl), Shelby Rabara (Peridot), Jennifer Paz (Lapis) and Grace Rolek (Connie) were all there to party with their fans.
Steven Universe Prize Pack Giveaway: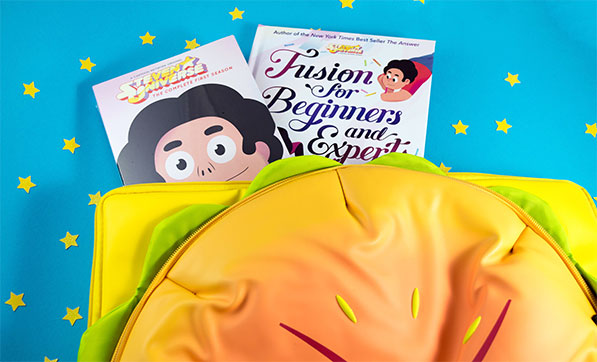 We're giving away a Steven Universe Prize Pack to celebrate the release of the Steven Universe: The Complete First Season DVD!
WHAT DO I WIN?:
One lucky winner will receive:
– A copy of the Steven Universe: The Complete First Season DVD. (Generously provided to us for this giveaway by Cartoon Network.)
– A Steven Universe Hamburger Backpack, just like the one Steven uses on the show.
– A copy of Fusion for Beginners and Experts by Rebecca Sugar and Angie Wang
HOW DO I ENTER?:
Get permission from your parent/guardian and fill out the form below by 02/19/18. Giveaway begins on February 5, 2018 at 4 pm ET and ends on February 19, 2018, at 11:59 pm ET.
You must be 18 or older to enter. If you are under 18, you'll need to get permission from your parent/guardian to enter and again if you win. Please provide THEIR email address when entering below. If chosen as a winner, you'll need to provide contact info where we can reach your parent/guardian if you win. They'll need to sign an affidavit permitting us to send your prize. Be sure to read the fully detailed rules HERE before entering.
THIS GIVEAWAY HAS ENDED AND THE PRIZE HAS BEEN CLAIMED.
Good luck to everyone who enters! Want to take your Steven Universe love to the next level? Check out our Crystal Gems Style Guides! We have one for Amethyst, Pearl, and Garnet!
*NOTE: Cartoon Network PR provided us with a complimentary copy of the Steven Universe DVD for this giveaway. Our giveaway is being run entirely by YAYOMG! and is in no way associated with Cartoon Network or Steven Universe.