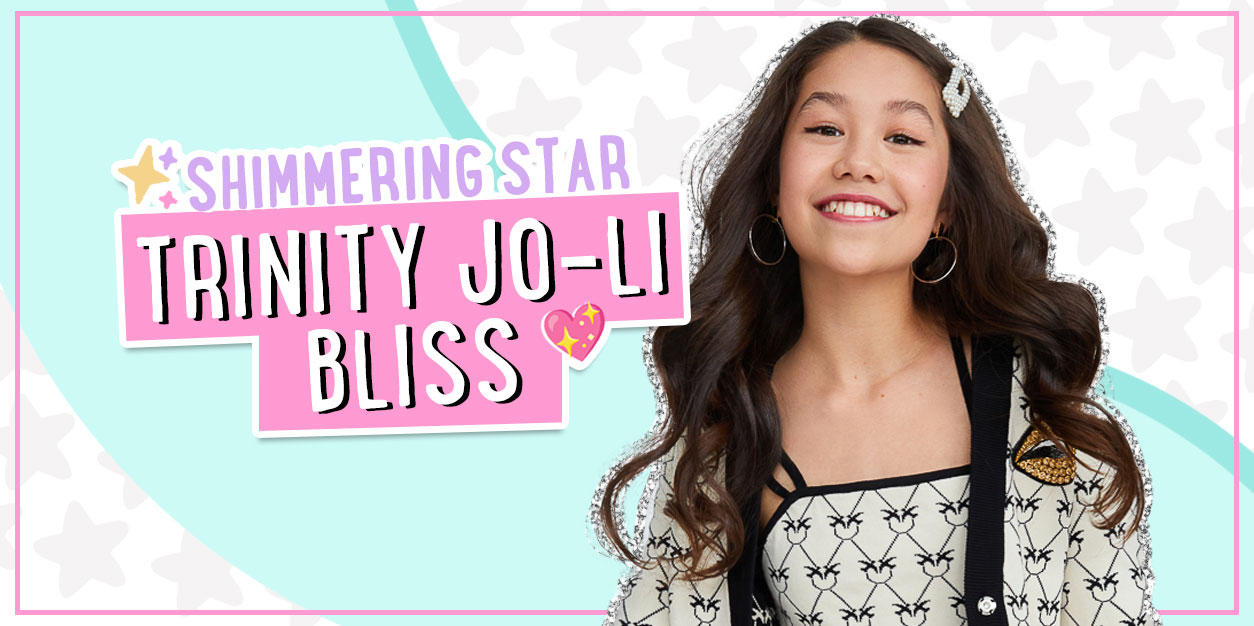 Shimmering Star Spotlight: Trinity Jo-Li Bliss
Each month YAYOMG! selects a Shimmering Star to spotlight. Follow along as we shine a light on girls who represent kindness, positivity, empowerment, philanthropy, drive, and confidence. They're sure to inspire you!
February is here! Grab something heart-shaped to snack on because we're about to introduce you to our newest Shimmering Star, actress and singer-songwriter, Trinity Jo-Li Bliss!
If you're an avid movie-goer, you likely spotted Trinity in the smash hit, Avatar: The Way of Water. She stars as Tuk, the daughter of Jake and Neytiri. As she channeled her inner Navi and explored the lush world of Pandora, she learned a lot about filmmaking which fueled her love of acting and inspired her to continue following her dreams.
You might also recognize her voice in the empowering new animated series Princess Power. "Princess Power has just been released on Netflix, and I'm delighted to play Rita Raspberry. It features exactly the sort of female empowerment and sisterhood I admire and strive to create.", Trinity shared with YAYOMG! You can also catch her as an elfling named Marzipan in Glisten and the Merry Mission, an enchanting animated holiday film releasing later this year!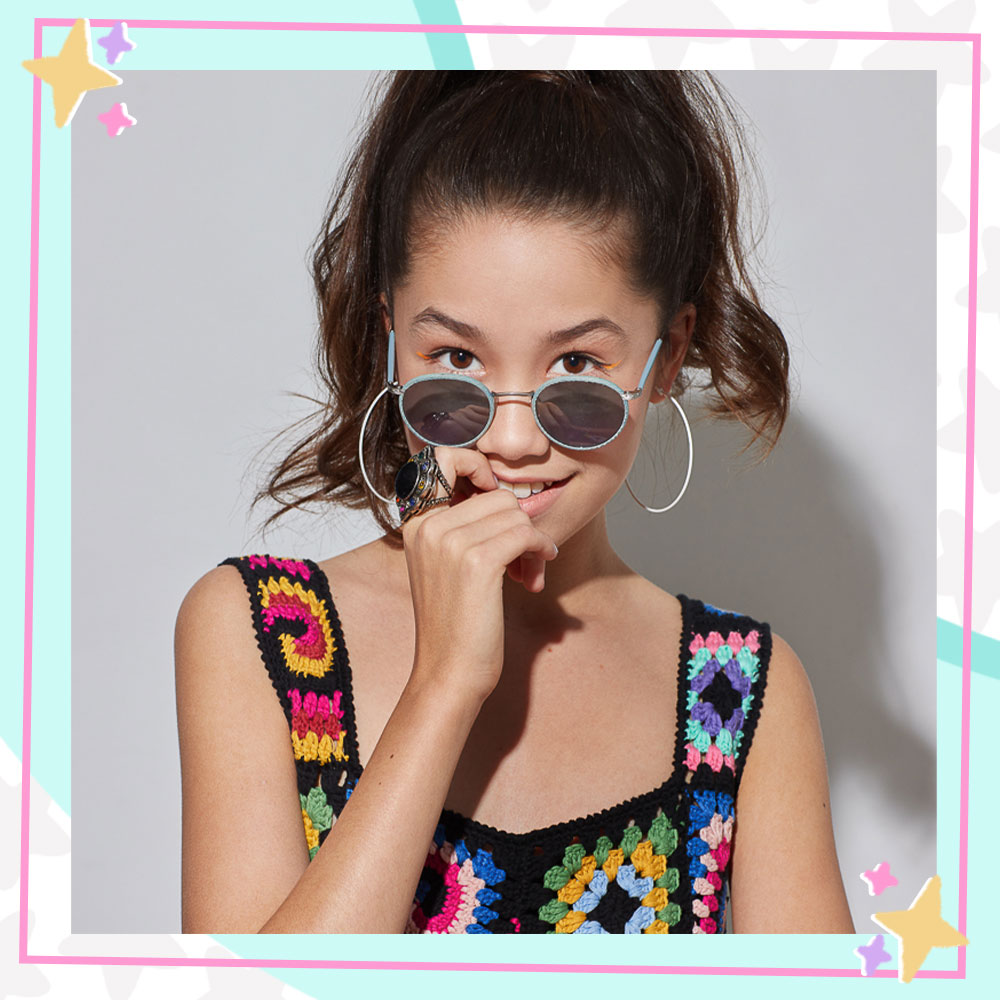 Outside of acting, Trinity is passionate about songwriting and just released her debut album, Confessions of a Preteen. Written during the early days of the pandemic, Trinity used songwriting as a way to express everything she was going through at the time. (You can listen HERE!)
She is passionate about the environment and supports "Keep Our Oceans Amazing," a global campaign launched by Disney and Avatar alongside the film to build awareness for the cause. Trinity shared, "The campaign supports The Nature Conservancy and its work to restore and protect 10% of our oceans' amazing animals and their habitats, connected to the beauty of Pandora. It is not only meaningful but also fun!"
Get to know Trinity Jo-Li Bliss as she dishes on Avatar: The Way of Water, expressing herself through songwriting, and her dreams of performing her music on stage!
Get to Know Trinity Jo-Li Bliss: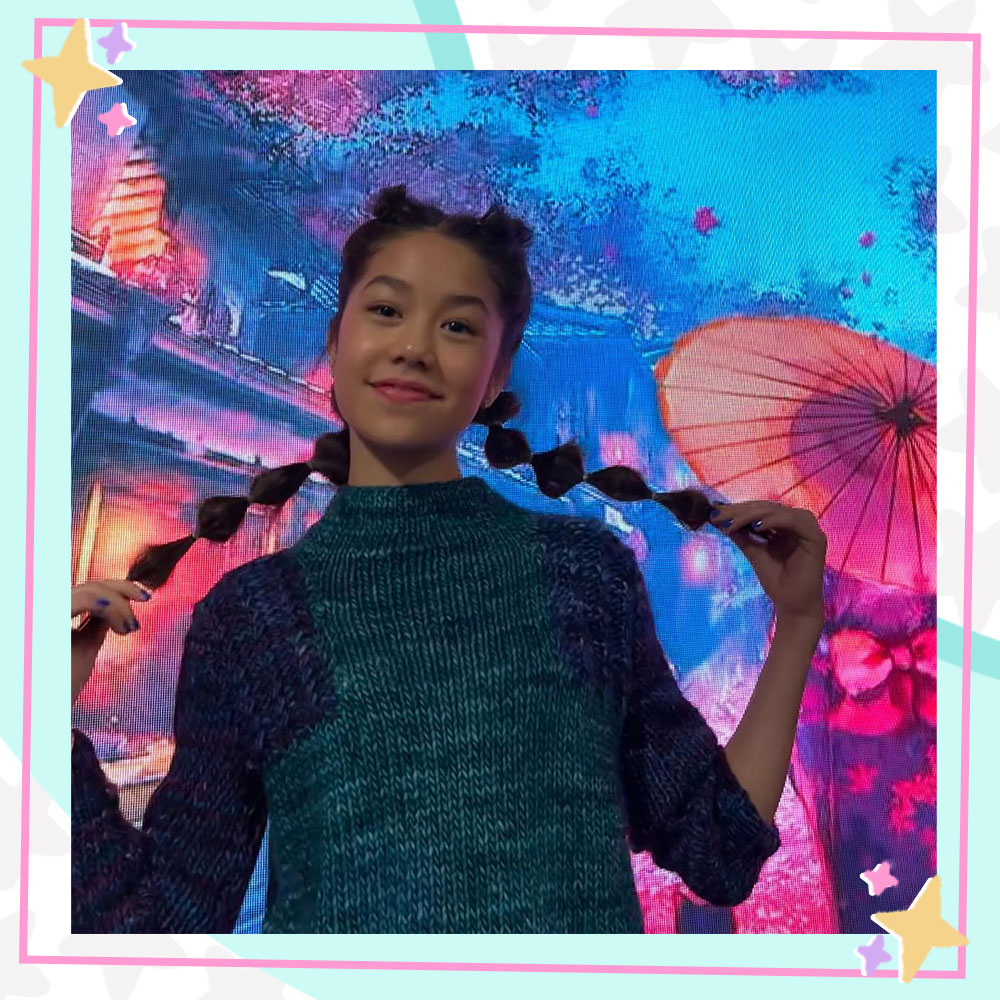 Tell us a little bit about YOU!
TRINITY JO-LI BLISS: My name is Trinity! It's great to meet you! I was born and raised in dry, sunny Southern California. Rainy and snowy days are more fun (and novel) to me than sunny days!
I love hanging out with my friends in sweats around mugs of hot chocolate. I love chocolate in any form, but chocolate does not like me. It gives me a blemish every single time!
I enjoy reading, and the Harry Potter series is my favorite. I am a Ravenclaw. Whenever I have time, I love going to the beach, looking for seashells, sand crabs and interesting pebbles, and maybe putting on my wetsuit and giving the waves a try.
You star as Tuk in Avatar: The Way of Water. What did you love most about being a part of this iconic film franchise?
TRINITY: On the Avatar set, I learned so much about the world of filmmaking!
There are so many incredible, hardworking, talented people, from every field and department, from different parts of the world, working together to overcome every single challenge, from impossible to possible, from possible to good, and from good to amazing! What a feeling to be a small part of this great team! They have brought us an unimaginably rich and beautiful planet and an emotional story to life.
It opened my eyes to what I can one day dream and work hard to be!
Alongside all the Avatar buzz, you just released your first album, Confessions of a Preteen! What can you share about the album and what it means to you?
TRINITY: I wrote this album in the thick of the pandemic when so many crazy things were happening in the world. Songwriting has always been my way of expressing and processing my feelings, so all ten tracks on the album were the confessions of my preteen heart and reflect how I saw everything happening in the world around me!
The ten tracks are: Outsider, Sad Self, California Sun, Crown, We Need Some Love, Paper Town, Polaroid, Paradise, Girl on the Moon, and their titles speak for themselves. Every song is so very dear to me for the moment it captures, and I hope, when you listen, you will feel connected to these songs and my little heart.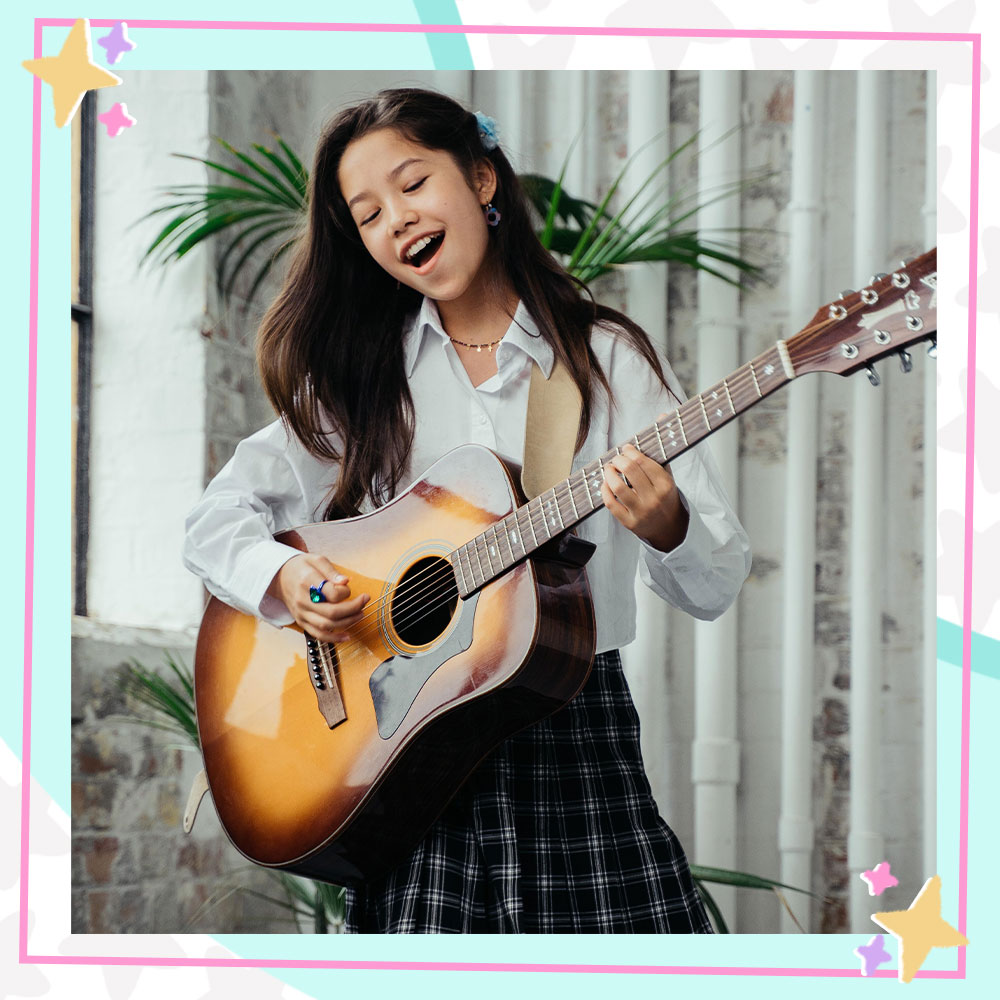 What are you looking forward to most in 2023?
TRINITY: I'm looking forward to making more music and getting the second album underway. I also want to continue to sharpen my skills as an actor.
If these allow me to keep learning and support and speak for good causes, especially environmental causes, that would be amazing.
How do you shine bright?
TRINITY: A quote that inspires me every day is Serena Williams saying, "The success of every woman should be an inspiration to another."
We are a sisterhood, and we need to root for each other! You can see that in my music, and I think this world needs so much love and kindness. It seems like the world needs us girls rooting for each other and giving our environment more love! Let's make this world a better place for women, starting with equal access to opportunity!
The women who inspire me are…
TRINITY: I'm grateful to be a teenager at this time because so many women have worked hard for so many things that my generation is able to take for granted. We have to build on their progress.
I adore Taylor Swift because I'm one of the hundreds of thousands of young girls who grabbed a guitar after listening to her. I am hugely inspired by my castmates, Zoe Saldana and Sigourney Weaver. Zoe is a lot like my own mama, a beautiful mixture of kind and independent. Sigourney has been like a genuine big sister to me from the moment we started filming. I love her so much.
What all these women have in common is that they have been trailblazing to create a better world for us, and they are always so strong, and even in the most challenging times, they speak out and bring positivity and the bright side of the world to us.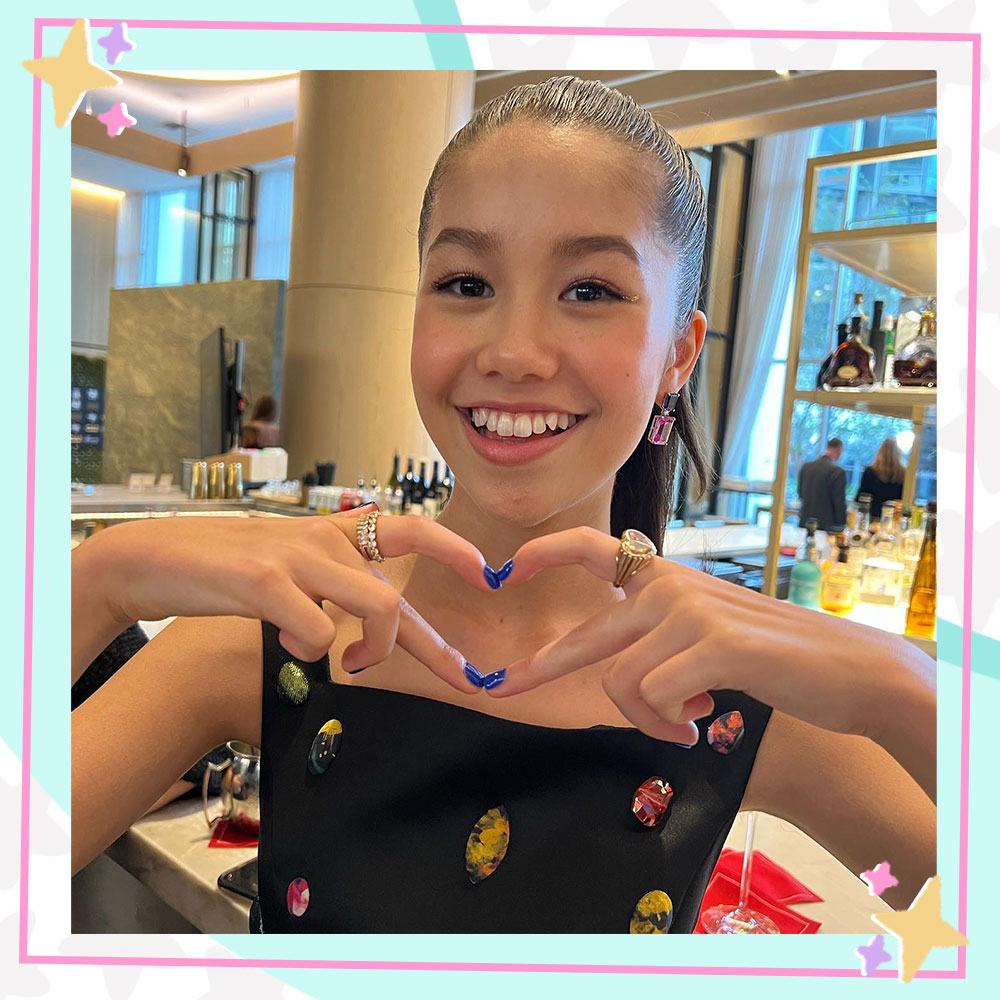 I am most passionate about…
TRINITY: I'm very passionate about environmental causes and anything we can do to help our planet. There is only one earth. This is our home.
I feel most confident when…
TRINITY: I feel most confident and empowered when I come out of a dance or workout sweat session or when I crack the code on a lyric or finish a song!
My biggest dream is…
TRINITY: … for my music to reach the hearts of many people and help them collectively realize that we are not alone in our feelings about ourselves and what's happening around us.
And I dream one day to be able to play on a live stage to all the people who love my music!
The advice I want to share with other girls is…
TRINITY: Support each other, root for each other, and lift each other up! We are a sisterhood, and we can do anything together if we treat each other with kindness!
HERE'S WHAT YOU MISSED:
✨AWESOME ADVICE: Feeling down? TikTok sensation Ms. Beanie is sharing confidence-boosting words of wisdom HERE!
?COOKIE QUEENS: Befriend a squad of cookie-selling scouts in Cookie Monsters, a fierce new read filled with girl power!
✨SWOON-WORTHY STUFF: Catch up on our HEART EYES series for the scoop on all the latest stuff you'll love!