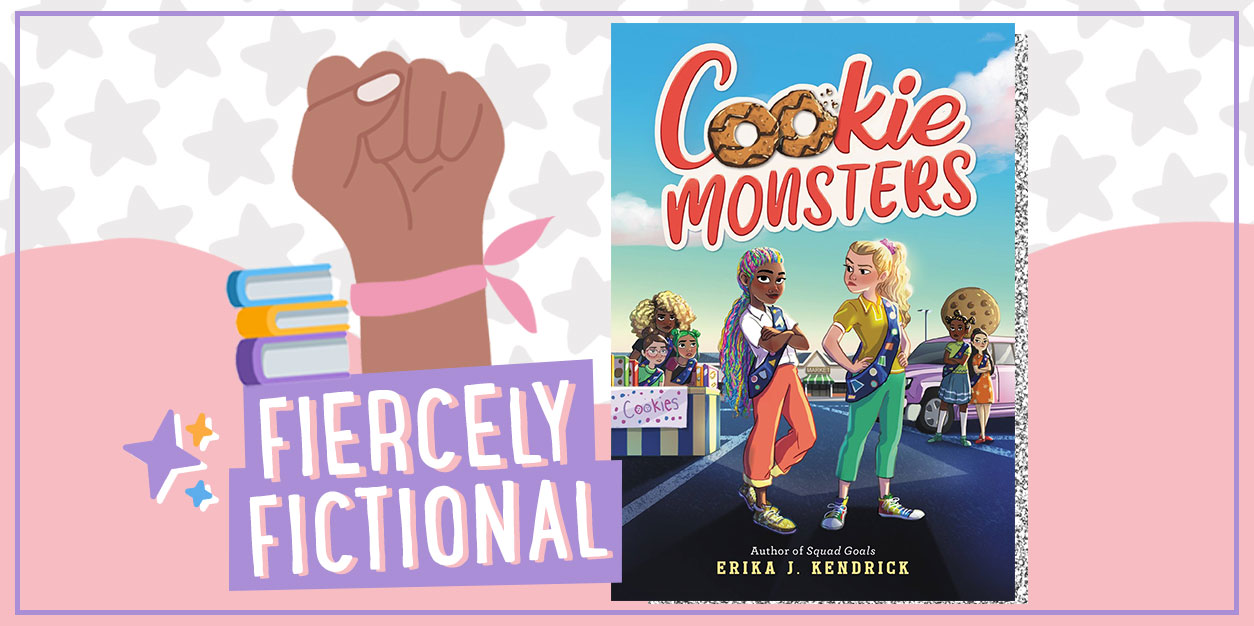 FIERCELY FICTIONAL: Cookie Monsters
FIERCELY FICTIONAL is all about celebrating fierce, inspiring fictional girls we know you'll love. To us, "fierce" isn't just about slaying dragons or solving mysteries. It's about breaking free from your comfort zone, discovering your confidence, fighting for what you believe in, & discovering your emotional strength. Any girl can shine bright & be fierce, & in this series, we'll be connecting you with a new fiercely fictional character every month!
FIERCELY FICTIONAL is back, and today we're shining a light on cookie queen Brooklyn Ace from Cookie Monsters by Erika J. Kendrick!
Brooklyn Ace is determined to build a cookie empire! Last year she came SO close, and this year, with the reigning champ headed to high school, she's ready to do whatever it takes to become the top seller and make her mom proud. Her mom recently passed away, and things have been tough, but she knows she can assemble a team of Valentine World Scouts with the creativity and entrepreneurial spirit that can help her take the cookie-selling world by storm.
That is until Piper Parker arrives and steals the spotlight – and all of Brooklyn's regular customers! Not only does she have a rich dad with connections, it seems like everyone at school is under her spell – and she's coming for Brooklyn's cookie-selling title.
As this cookie competition heats up, Brooklyn starts to melt down, realizing that her mom wasn't just her biggest supporter – but the secret mastermind behind her cookie sales. To come out on top, Brooklyn will have to call upon the help of her fabulous cookie squad, her therapist, and her supportive grandma to help her find her voice and redefine her definition of winning.
Cookie Monsters: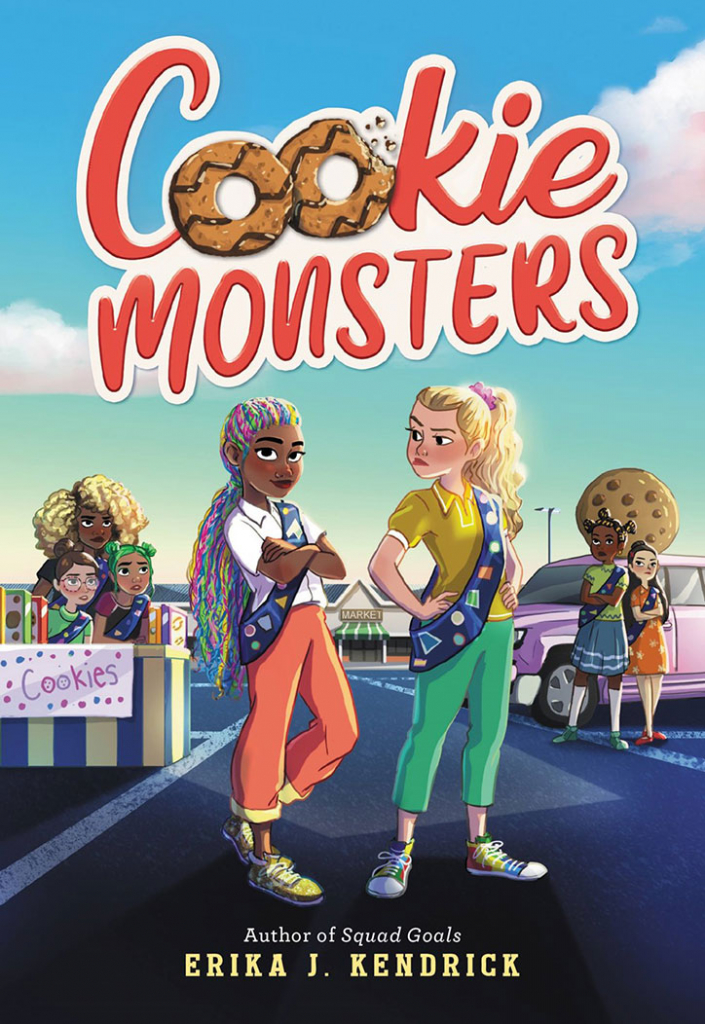 A fun, fast-paced novel about friendship, family, fighting for what's right, and standing out from the crowd while standing up for yourself.

Twelve-year-old Brooklyn Ace is ready to take the Valentine World Scouts by storm and build her own cookie empire. She nearly won the top cookie selling spot last year and is determined to make her mom—who recently passed away—proud by coming in first this time around. With her fabulous best friends by her side, Brooklyn knows she'll become Santa Monica's District Cookie Queen. The crown is practically in the bag.

Then Piper Parker arrives.

Piper has a rich dad, a fancy hotel, and a drive to steal the cookie crown right off Brooklyn's head. Before long, most of the seventh grade is under Piper's spell. But Brooklyn is in it to win the biggest cookie war the school has ever seen. With the help of her cookie squad, her rockstar grandmother, her super cool therapist, and a lot of self-love and inner growth, maybe—just maybe—Brooklyn can end up a winner after all.
Cookie Monsters
AUTHOR: Ericka J. Kendrick
PUBLISHER: Little, Brown Books for Young Readers
DATE: January 17, 2023
We can't think of a better character to spotlight in our first FIERCELY FICTIONAL post of the year. Brooklyn is passionate, confident, and always up for a challenge – not to mention those incredible rainbow braids! She's fierce from head to toe, but what truly makes her stand out for us is her emotional growth throughout the story. She's handling the loss of her mom not only by taking therapy seriously but by surrounding herself with supportive people AND paying it forward by sharing the tools she's learned in therapy with her friends!
Brooklyn embodies the true definition of fierce, and we're so excited to have author Erika J. Kendrick here giving us a closer look into the Cookie Monsters story and breaking down all the reasons Brooklyn truly shines!
Five Reasons We Think Brooklyn Ace is Totally Fierce:

She Faces Her Fears:
Brooklyn's mom was her silent partner in the delicious world of cookie sales. Every year, the dynamic duo hit the pavement and sold World Scout cookies to Brooklyn's "Old Faithfuls" – and they did it together. So much of their quality time was spent executing Brooklyn's cookie campaign and catching up with friendly neighbors, funny family members across the country, and old and new friends alike. But when Brooklyn's mom dies and isn't there to help her anymore, Brooklyn doesn't let her fear of not being able to pull off her cookie capers without her mom by her side stop her. Instead, she makes the brave choice to continue the legacy her mom started and shoot for the coveted Cookie Queen title. 
Brooklyn also looks fear in the face when she doesn't let Piper Parker snatch her cookie crown off her head, at least not without a fight. Brooklyn stands up to her biggest competitor by using her creativity, her talents, and a lot of extra mojo from her talented scout squad.

She's a Total Girl Boss:
There's no denying that Brooklyn has built an enviable cookie empire, selling one thousand boxes of cookies during last year's cookie season. This year, her goal is to sell a whopping five thousand, so she enlists her scout squad to help her shine. It doesn't take long for Brooklyn to realize that she has a serious cookie competitor in Piper Parker. So, she enlists her cookie crew to help boost sales. They each use their talents and think outside of the box to shoot a cool music video, set up a cookie drive thru at the market, and bring the Valentine Middle School band to perform as Brooklyn's band for the door-to-door sales around Santa Monica. True girl boss moves.
Brooklyn is also a girl boss because when things get hard, she never gives up – even when she wants to quit. Instead, she turns to social media and leans on her resources, including her best friend's rockstar mom, to get her cookie campaign trending. Brooklyn also decides to share her success by donating a percentage of her sales to the Grief Support Center. Helping others is the ultimate definition of Girl Boss.

She Slays Her Brain Pain:
When Brooklyn's mom passed away from cancer a year ago, Brooklyn showed up for one therapy session, hoping it would help her manage her painful grief. And while she liked the ultra-cool therapist with the matching socks and bowties, she wasn't the biggest fan of therapy. Now with cookie season in full swing, the time of year when Brooklyn and her mom really bonded, Brooklyn finds herself needing a little – and sometimes a lot – more support.
By giving therapy another chance, she's able to learn tools and strategies to manage both her grief and her anxiety. Because of the encouragement from her compassionate friends, Brooklyn is able to show up for therapy again – and even more important, to show up for herself.

She's Fashionably Fierce:
Brooklyn's style is fashionably fierce! She has a magnetic personality and is a pro at using fashion to express herself. She's a self-proclaimed sporty scout and rocks her favorite tracksuits, her striped tuxedo jeans, and her iconic sneaker collection with style. And there's no denying her hottest fashion statement: her extra-long, rainbow goddess braids. Swoon!

She's a Mental Health Ambassador:
Being twelve can be hard. And while Brooklyn is faced with new challenges, her scout squad is also dealing with their own life challenges too. Brooklyn is a fabulous friend and shares the tools and strategies she's learning in therapy with her besties so they can tackle their own brain pain and stay anchored in wellness.
Brooklyn teaches them how to handle stress, manage anxiety, and overcome fears. And in the end, her BFFs become mental fitness ambassadors just like her, capable of sharing that game-changing knowledge with others.
EVEN MORE ?FIERCE READS?:
✨SQUAD GOALS: Think Brooklyn is totally fierce? You'll love Magic Olive Poindexter from the author's cheerleading-inspired book, Squad Goals!
?FIERCE READS: Fill your bookshelf with even more fierce leading ladies – catch up on our FIERCELY FICTIONAL series HERE!
✨MIDDLE SCHOOL VIGILANTE: Inspire your inner mastermind & enter to WIN all three books in The Infamous Frankie Lorde series!