HEART EYES: Loud Librarians, Color-Changing Rubik's, & Pancake Cereal
HEART EYES is a monthly series on YAYOMG! where we keep you in the know about all the best new stuff that will have you twinning with your favorite emoji.?
*NOTE: Our HEART EYES roundup is hand-curated by the YAYOMG! Team. Some of our picks are items we have received for free for review, some are not. Our recommendations are based on items we love and think our readers will love. We do not use affiliate links.
New year, new stuff! HEART EYES is back, and we're SO excited to dish on all our fav swoon-worthy finds you can't live without.
Winter is great for ice skating and sipping hot chocolate in your cutest, fluffiest coat, but it also means more time spent inside. That's why we're sharing our picks to help you slay boredom and stay on trend during this chilly season. Get rowdy with a round of the newest Exploding Kittens game, Really Loud Librarians, or count down the days til warmer weather with a magical activity calendar. Running out of ideas? Let the Book of Things to Do Indoors inspire you to create, explore, and adventure through your house like never before!
From a horoscope fidget putty to a silly SpongeBob video game shaking things up, these are the 16 things we think will give you HEART EYES this month!
HEART EYES – January 2023: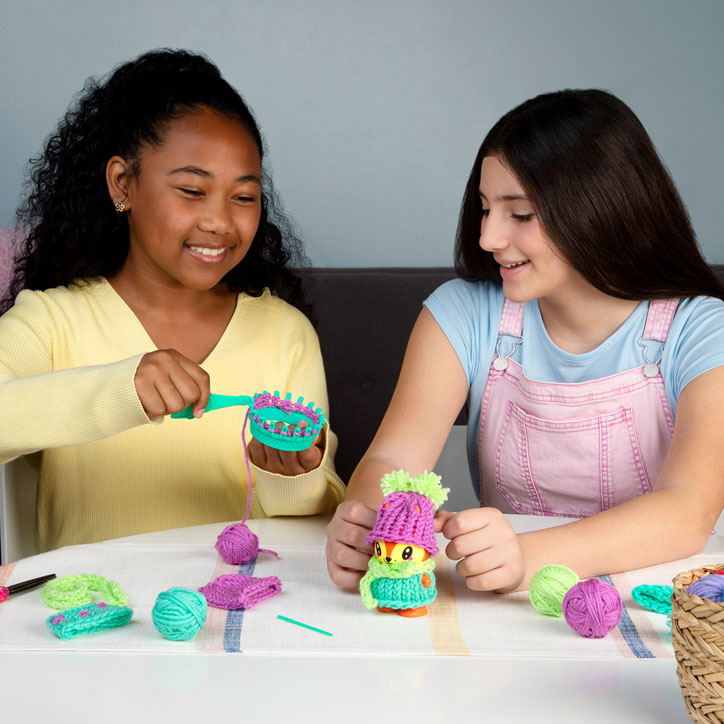 Little Knitty Bittys from Play Monster:
Bringing big cottagecore energy, the cozy & crafty Little Knitty Bittys are here to teach you how to knit!
Choose from a fox, a bear, or a bunny, and use the included loom and yarn to knit tiny outfits and accessories for these woodland critters to wear. Never knitted before? Don't worry! They come with easy-to-understand instructions for crafting each item and ideas on how to customize each piece to make it your own.
You'll love snuggling up with your collection on a gloomy day or trading your hand-made accessories with friends!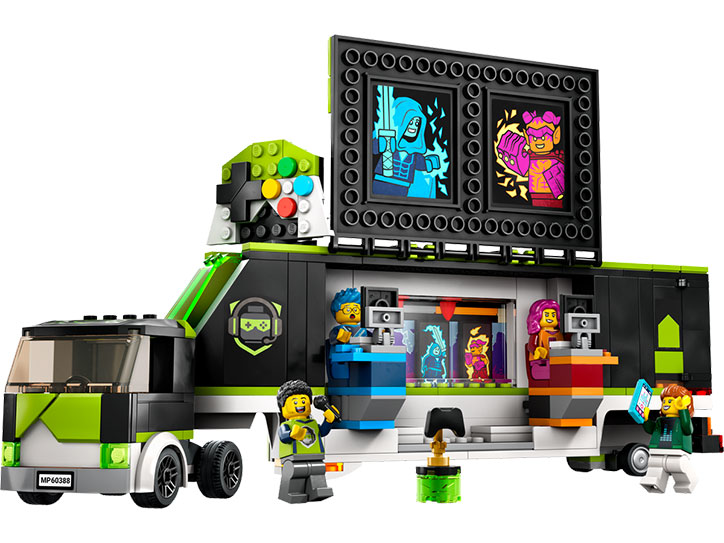 Gaming Tournament Truck from LEGO:
If you were planning on spending your winter weekends sitting around watching your favorite streamers, we've got a better idea! Whether you're an aspiring pro gamer or love an awesome build, this Gaming Tournament Truck is a legit must-have!
Pop open the trailer to reveal tournament-level gaming stations and a stadium screen where you can watch (and control) all the gaming action. Hand the mic to the presenter for colorful commentary, place the competing minifigs behind their gaming rigs and let the tournament begin!
There's even merch you can sell to adoring eSports fans and, of course, a big brag-worthy trophy for the champ! LEGO City is the place to be!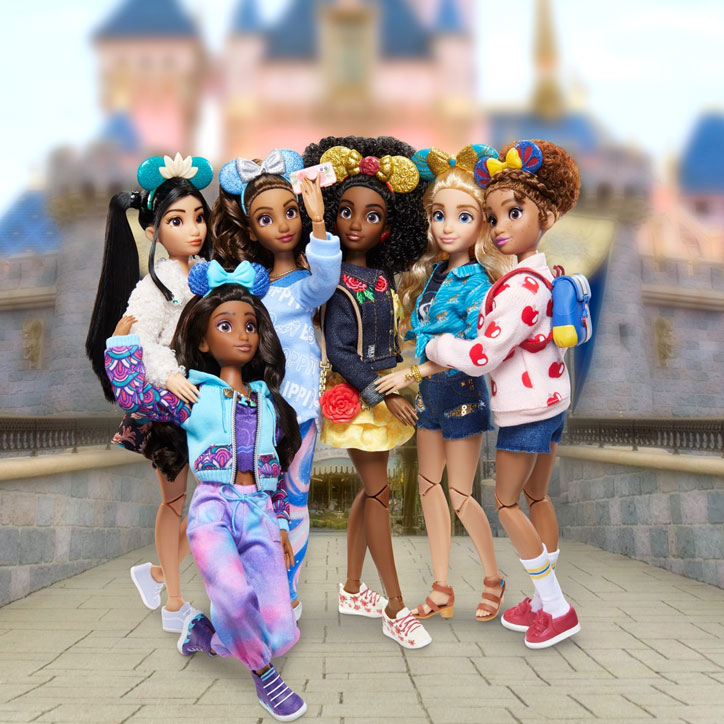 Disney ily 4EVER Dolls from Disney:
What do you get when you combine fashion dolls with DisneyBounding? The swoon-worthy Disney ily 4EVER squad!
Ready to make your room the trendiest place on earth, the six dolls in this collection are dressed in their Disney best! Each of their stylish outfits are inspired by their favorite princesses down to the tiniest detail – just like how you'd dress to head out to the Disney Parks! Did we mention each doll comes with an adorable pair of Minnie ears and a Mickey balloon with a surprise inside to help them accessorize? Adorbs.
Switch up their style anytime by snagging additional outfit and accessory packs. From comfy Elsa pajamas to Pocahontas hiking gear, they've thought of everything you need to make all your Disney dreams come true!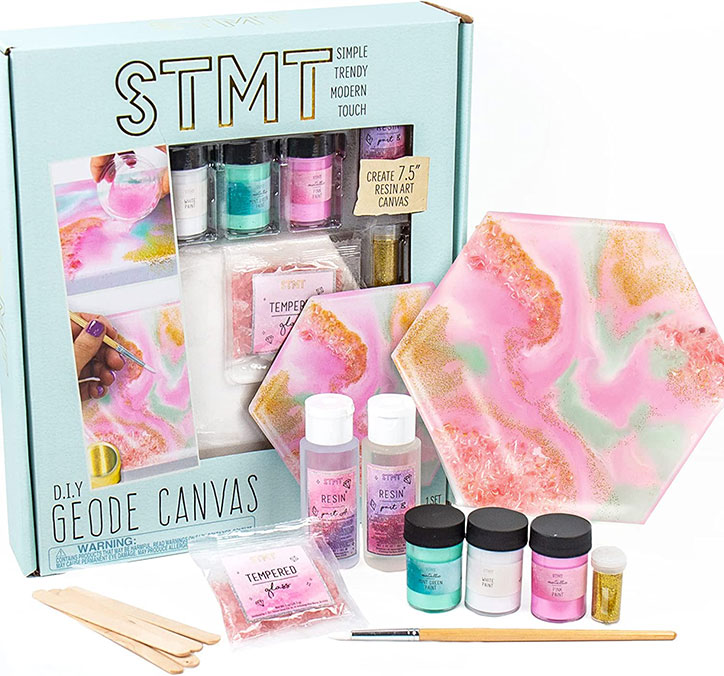 STMT DIY Geode Canvas from Horizon Group:
Is your room in need of some serious shimmer? This D.I.Y. Geode Canvas kit is the perfect way to upgrade your decor while making the most of a snowy Saturday.
Transform the included hexagonal canvas with metallic paints, liquid resin, glitter, and crushed tempera glass, adding sparkling swirls and patterns that mimic geodes. Use the included brush to make detailed designs or pour your paints for an abstract aesthetic. Once it's dry, hang it up to elevate your space and your vibe!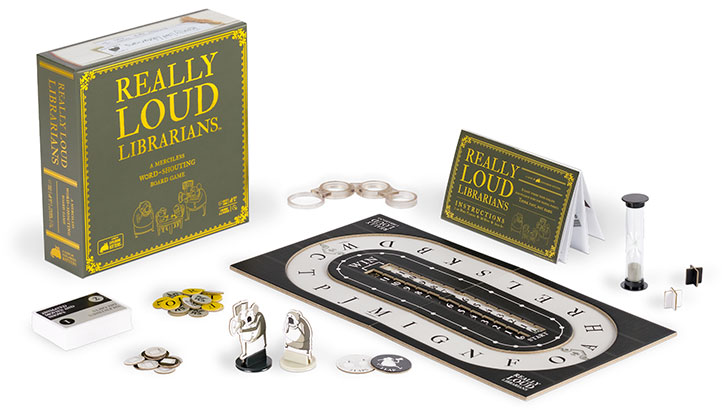 If you've been looking for a use for all the useless knowledge floating around in your head, Really Loud Librarians is game for you!
You'll have to think fast and get shouty as both teams race around the track. At the beginning of each round, a category card is drawn, like "breakfast cereals" or "musicals and plays." Each team will shout out words starting with the letter on the race track, moving along the path for every right answer.
That's it – it really is that simple! It's fun to play for a game night at home but even better at a party in a room filled with rowdy people ready to yell.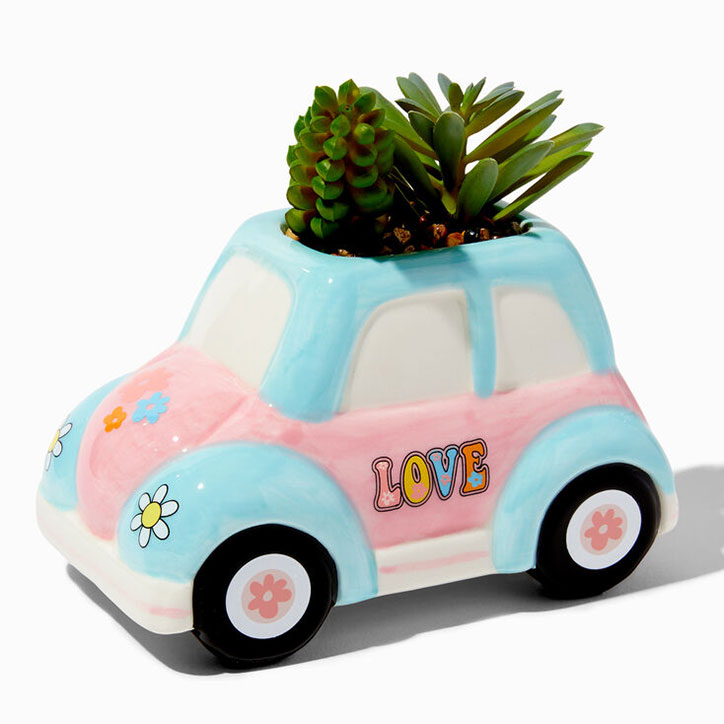 Love Bug Planter from Claire's:
This pastel Love Bug planter is a simple way to add retro flair and a splash of color to your room.
Use it as inspiring desk decor, place it on your end table, or give it a prized place on your favorite shelf to keep those positive vibes flowing during the gloomy winter season!
PS: Don't worry if you're not the world's best plant parent! This faux succulent is as cute as the real thing without any of the effort!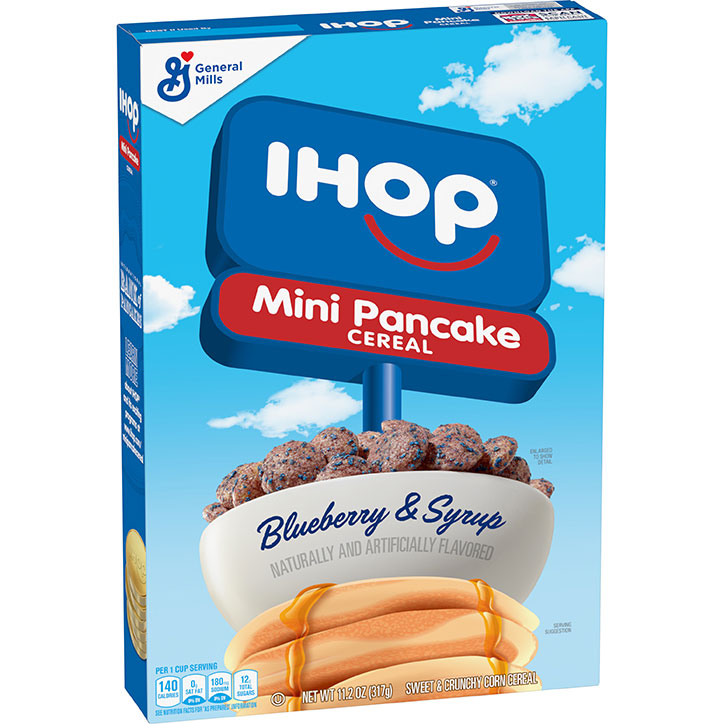 iHop Blueberry & Syrup Mini Pancake Cereal from General Mills:
Breakfast just went viral!
Inspired by the TikTok trend, the geniuses at iHop and General Mills have teamed up to make eating pancake cereal even easier by doing all the work for you. From the minute you tear open the box and pour deliciously tiny pancake-shaped cereal pieces into your bowl, you won't be able to resist the scent of blueberries and maple syrup. Just add a splash of milk and chow down!
Take our word for it – you def want to try this genius collab for yourself!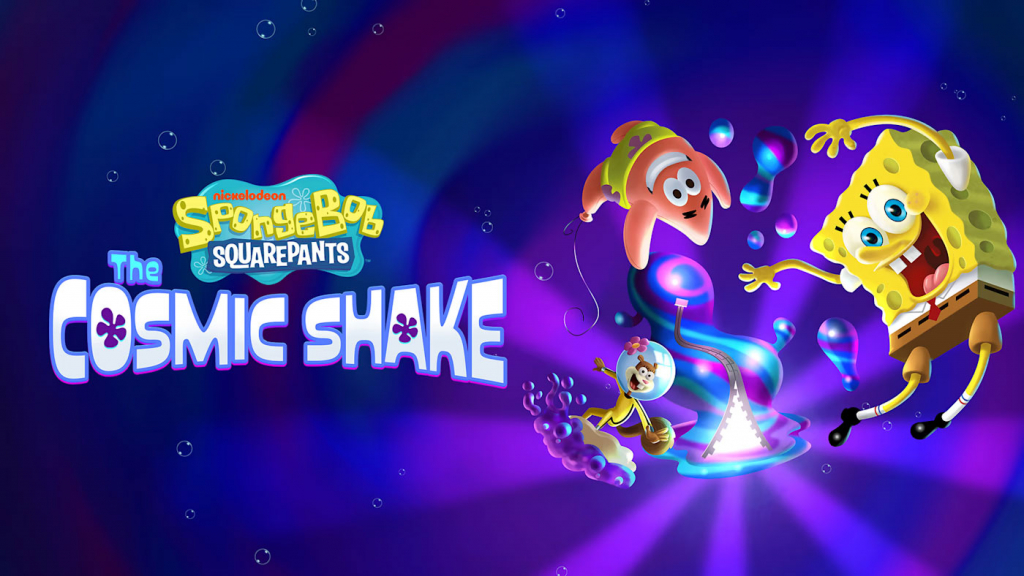 SpongeBob SquarePants: The Cosmic Shake from THQ Nordic:
If someone asked the question, "Would you trust SpongeBob and Patrick with magical wish-granting Bubble Soap?" then, The Cosmic Shake is the answer.
This new video game adventure is just as chaotic as it sounds! After SpongeBob and Patrick bubble up way too many wishes, the entire fabric of the universe starts to unravel, opening up WishWorlds everywhere! Join SpongeBob on his journey to rescue his friends from seven mixed-up worlds, like Wild West Jellyfish Fields and Halloween Rock Bottom, and restore Bikini Bottom to normal. There's nothing he can't do while wearing the right cosmic costume.
This is the ultimate game for SpongeBob fans, featuring iconic Bikini Bottom characters, locations, and over 100 songs from the series, and is an exciting romp through iconic mashed-up moments.
The game hits Nintendo Switch, PS4, Xbox One, & PC on January 31!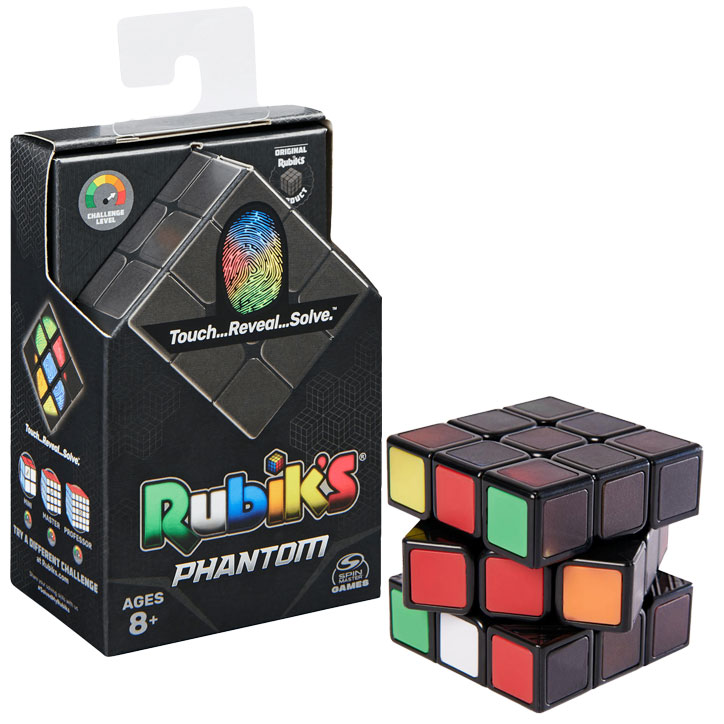 A new challenge has entered the chat in the form of Rubik's Phantom!
If you've already mastered the original Rubik's Cube, the Phantom is an amazing way to step up your skills and take on a new challenge. Starting out all black, you'll have to touch and reveal the colors on the Cube to solve it. As you feel and twist each section, the heat from your fingers will reveal the color underneath – but be quick. The goal is to solve the Cube before the colors fade back to black!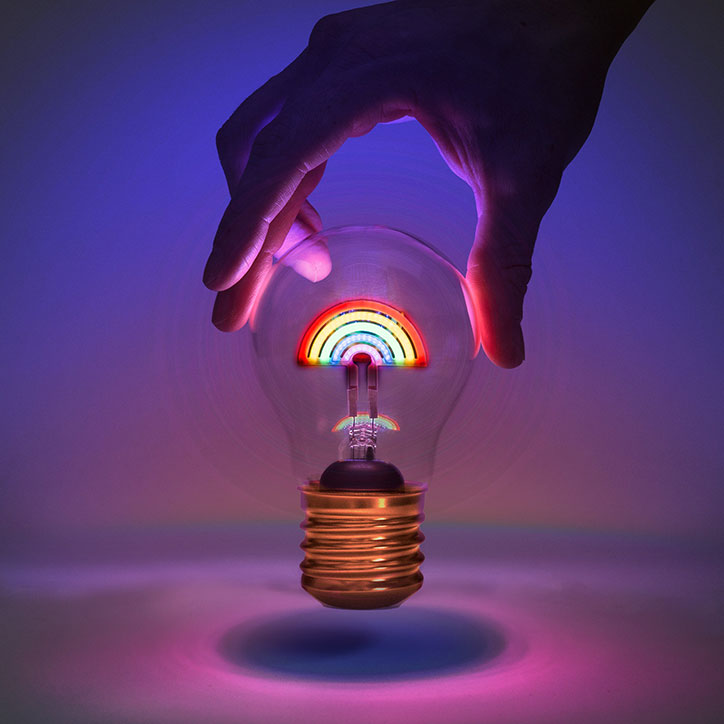 Rainbow-Shaped Cordless Magic Bulb Light from Urban Outfitters:
Illuminate your room with rainbow magic!
Shaped like a light bulb, this battery-operated light will bring major aesthetic to your space. When it's off, the rainbow-shaped filament adds cute color to your decor, but when it's on, it shines vibrant colors all over the room, adding dramatically dreamy mood with the flip of a switch.
We think it's a perfect side-table staple or as a nightlight for those up-all-night sleepover convos with your besties!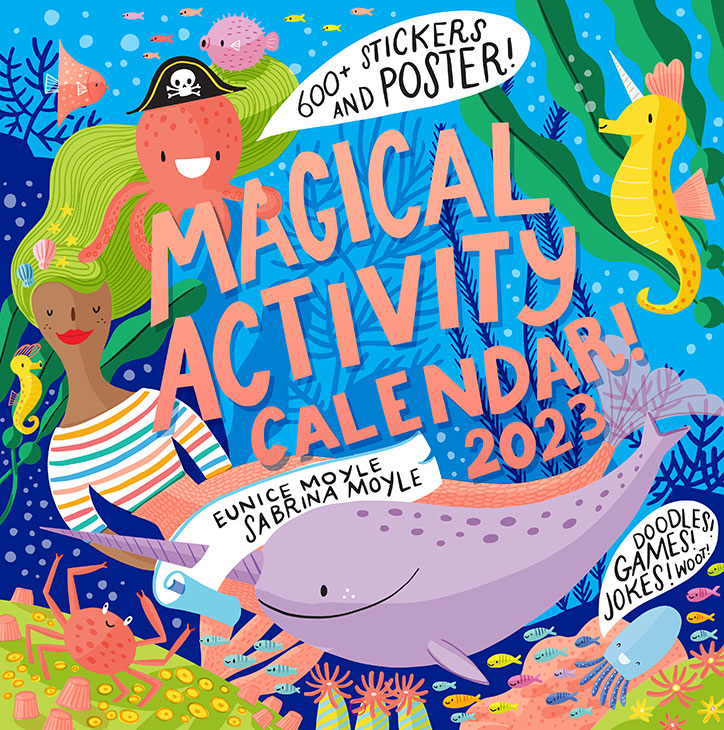 Magical Activity Wall Calendar from Workman Publishing:
Already behind on planning the new year? Us too – but it's not too late to catch up!
This calendar is filled with jokes, mazes, and other activities to inspire your creativity! Even the most ordinary events are something to look forward to when you add them to this colorful calendar. To keep things interesting, each month features fun holidays like Talk Like a Pirate Day and National Pizza Party Day and a new activity for you to try – like making a summer bucket list or drawing hats on hydras. Silly puns and cute doodles fill the pages, and the calendar also includes 300+ adorable hand-drawn stickers and a pull-out poster you can hang in your room.
Who said staying organized had to be boring?!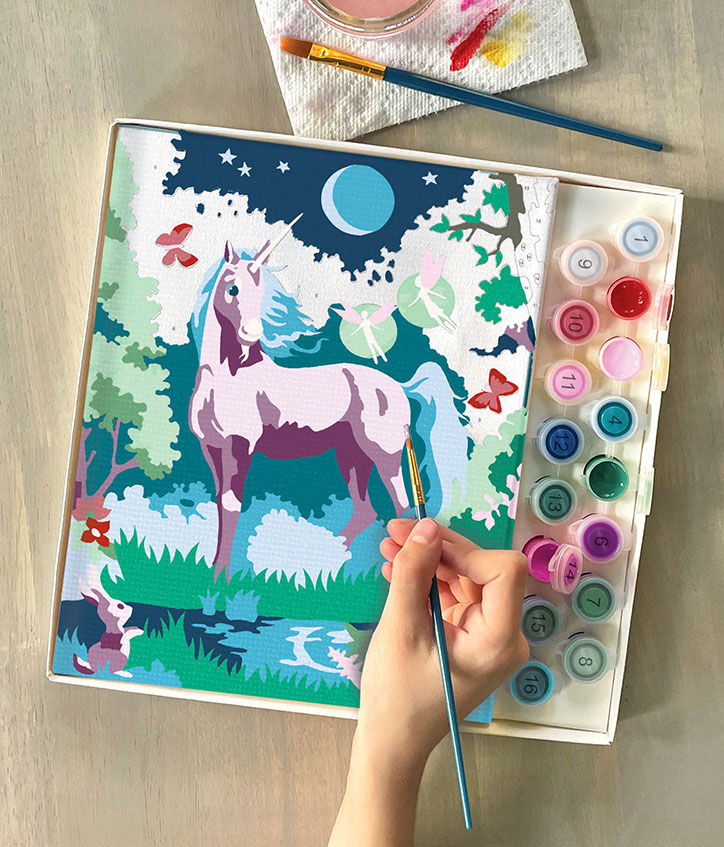 iHeartArt Paint by Numbers from Bright Stripes:
Need an instant cure for the winter blues? Escape into a moonlit forest and forget your worries by painting a gorgeous unicorn nighttime scene!
Each of these new iHeartArt Paint by Numbers kits comes with a deep stretched canvas that can hang or stand, 16 colors of paints, two brushes, and a storage tray that doubles as a workstation. Perfect for artistic beginners, the numbers on the canvas tell you what to do so you can focus on the fun part – getting your paint on!
The lovely Moonlit Unicorn kit features a beautiful unicorn and floating fairies in an enchanting moonscape. Painting these as gifts or for a room refresh? There's a kit for every aesthetic, including Butterflies & Blooms and Dogs' Day Out!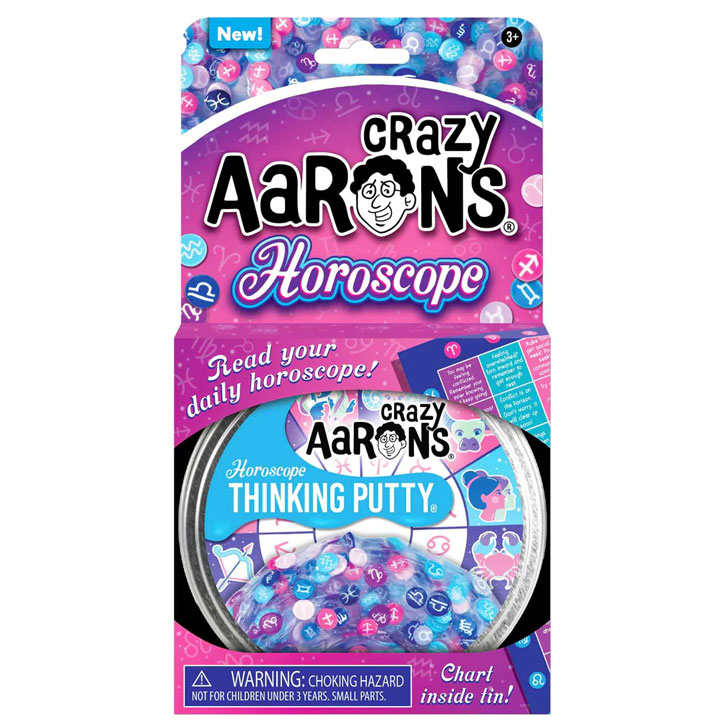 Horoscope Thinking Putty from Crazy Aaron's:
Astrologie girlies, assemble! Complete with an astrology chart filled with horoscopes for every sign, this new Thinking Putty is all about those zodiac vibes.
Stretch and shape this sparkly putty while manifesting your biggest dreams, writing in your dream journal, or when you need to channel the stars after a tough day. Filled with sparkles and zodiac-sign pieces, this clear putty is a calming fidget perfect for twisting before a test, squishing while you daydream, and stretching as the stars work their magic!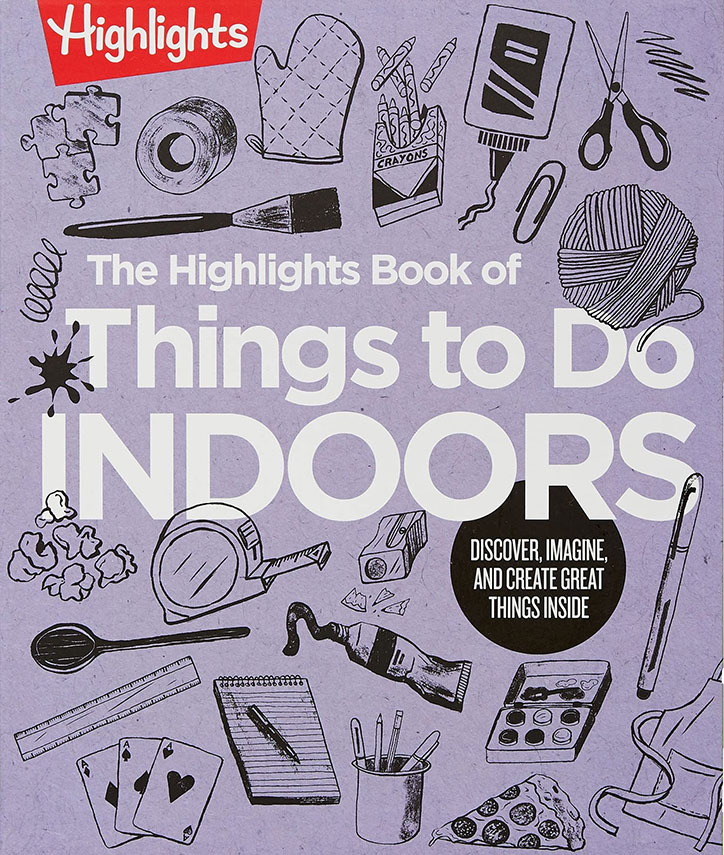 The Highlights Book of Things to Do Indoors: Discover, Imagine, and Create Great Things Inside From Highlights:
If you'd describe yourself as "indoorsy', first of all, SAME, but more importantly, Highlights is here to ensure those days spent inside are all about flexing your creativity!
This book is jam-packed with ideas, activities, experiments, and prompts to spark your creativity – all without leaving the house! Transform your living room into an obstacle course, craft your own sock puppet, write a letter to a leader about a cause you're passionate about, and more! Scattered throughout the pages, you'll also find prompts encouraging you to doodle, interesting fun facts to quench your curiosity, and ideas for quick challenges for those days when you're short on time.
Who knows, maybe you'll discover a new favorite hobby!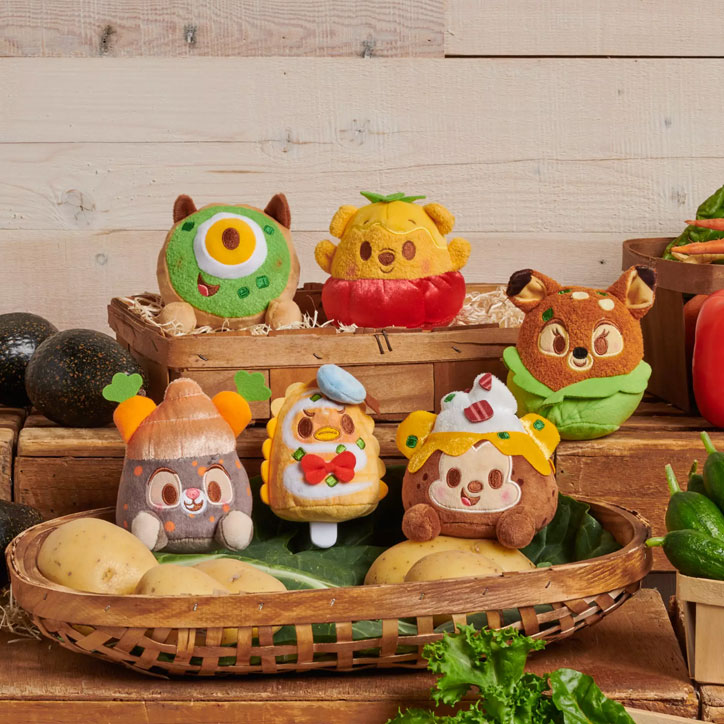 Disney Munchlings from Disney:
Yes, chef! Disney is serving up seconds of their food-inspired line of scented plush Disney Munchlings, and they're even cuter than the originals! What is it about foodie versions of literally anything that just hits different?!
Help yourself to their two newest collections, Garden Goodness, featuring veggie-fied versions of your favorite characters, and Fruity Finds, keeping it sweet with fruit-inspired dishes.
There are seven characters to collect in each mini-sized series, including Acai Bowl Angel and Blueberry Pancake Minnie in the Fruity Finds set, and Donald Duck Corn Elote and a Mike Wazowski Avocado Bagel from Garden Goodness, not to mention each series features a mystery character to chase!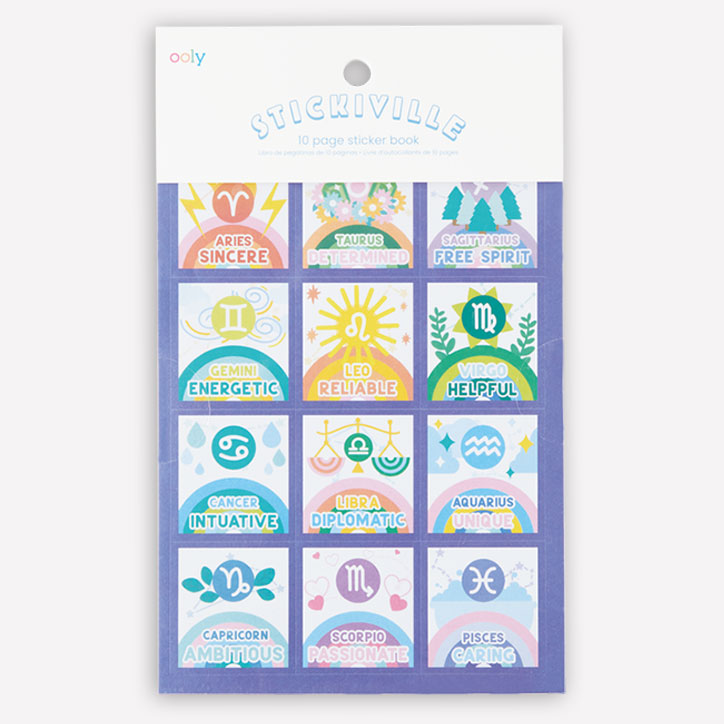 Stickiville Zodiac Sticker Book from OOLY:
Reveal your character traits and express yourself with this whimsical zodiac sticker book!
Are you a free spirit Sagittarius or a passionate Scorpio? Find your sign, learn your trait, and then use these super cute astrological stickers to decorate all your stuff! There are ten sheets of stickers featuring all 12 astrological signs, enough for you to stick them everywhere AND share with your bestie!
Add your star sign to your planner, stick your most inspiring trait to your water bottle, and manifest good vibes while the stars do the rest!
?Want to stay in the know about the newest of new stuff? Keep an eye on our HEART EYES series for fresh new releases every month!