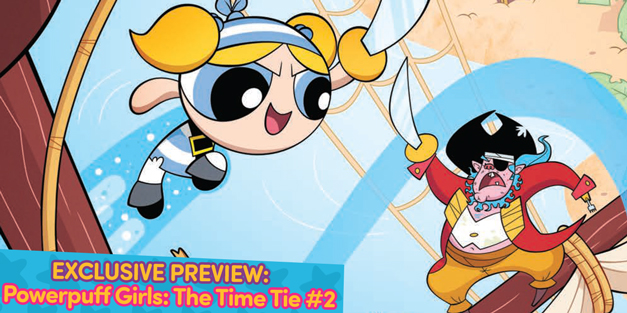 EXCLUSIVE PREVIEW – Powerpuff Girls: The Time Tie #2:
The Powerpuff Girls are the epitome of cute meets fierce, and they're bringing the punches and the girl power in this new three issue series from IDW. Powerpuff Girls: The Time Tie jumps out of the timeline of the usual Powerpuff Girls comic series to tell a really fun story involving time travel, neck bearded pirates, fancy old timey England, and wild west antics!
Each issue in the series sends one of the girls to a different era in time as they try to fight to uncover rare chronogems and take down Mojo Jojo.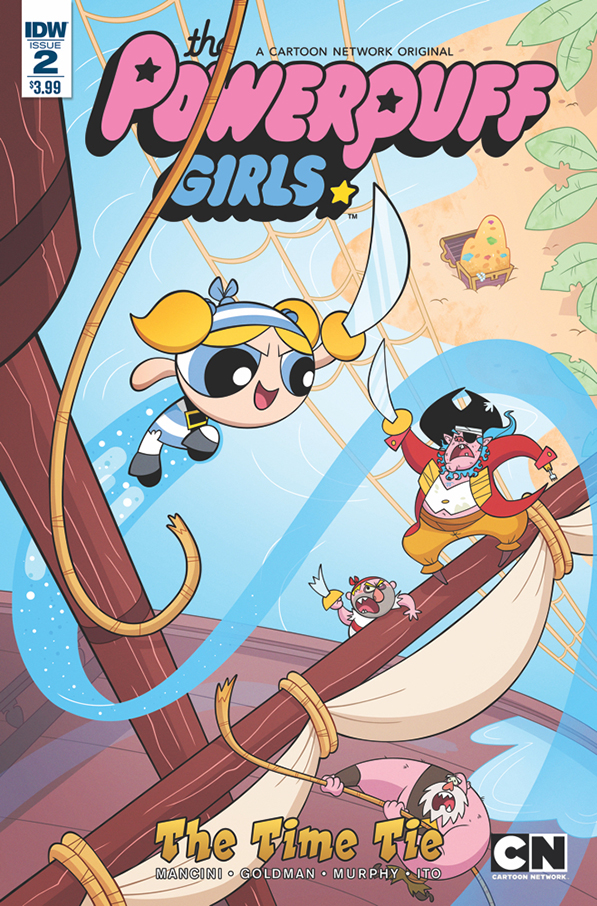 Since Mojo Jojo totally stinks at taking down the Powerpuff Girls, he decides that he's going to solve his problem once and for all – by zapping the girls back into a totally different era. Using his "Time Tie" (because of course Mojo would invent this ridiculous piece of fashion tech), he sends Blossom to the old West, Bubbles to the golden age of pirates, and Buttercup to old-timey 1800's England. In the first issue, we saw Mojo's evil scheme come to life and Blossom's battle in the West.
In Powerpuff Girls: The Time Tie #2, we head to Undeadman's Island as Bubbles races to beat the dreaded pirate Neckbeard to the treasure so she can nab the rare chronogem. Complete with an adorable pirate bandana and her band of Panda Pirates, Bubbles sets sail on the High Seas in the way only Bubbles knows how – with extreme cuteness, persistence, and awesome superpowers!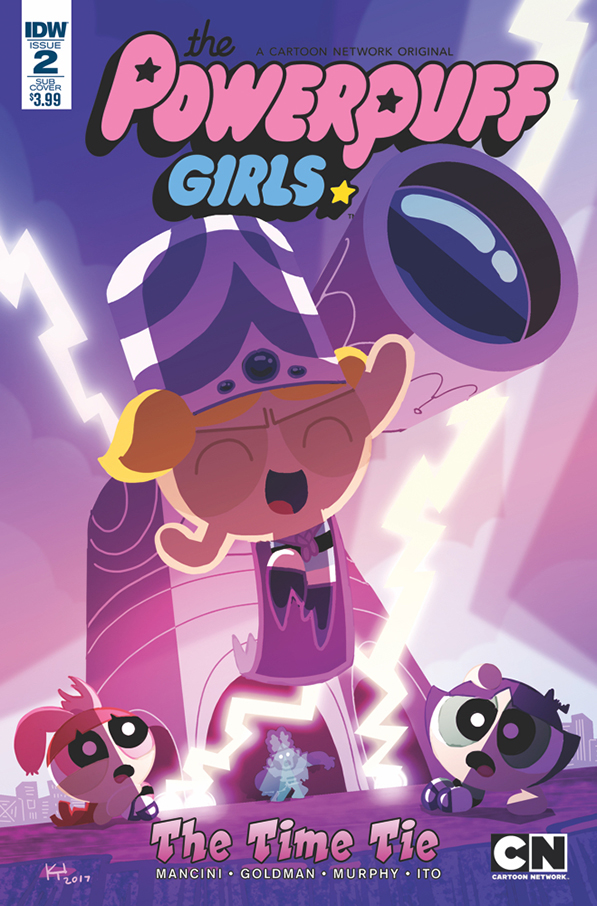 Writers Haley Mancini and Jake Goldman and artist Philip Murphy truly know how to capture the essence of the PPG! They bring this series to life with all the excitement, laughs, and cuteness you're used to from the Powerpuff Girls cartoon and ongoing comic. We're also extra excited to share this one with you guys because there's a variant cover by Ian McGinty, creator of Welcome to Showside, and all around nice guy. Check it out!
EXCLUSIVE PREVIEW – Powerpuff Girls: The Time Tie #2:
Click the image to view it larger
Powerpuff Girls: The Time Tie #2 (of 3)
Publisher: IDW
FC • 32 pages • $3.99
Writers: Haley Mancini & Jake Goldman
Art/Cover: Philip Murphy
Variant Cover: Ian McGinty
Synopsis: Bubbles finds herself swept up in a High Seas adventure as a swashbuckling pirate! In order to return to the present, she must recover a rare chronogem from a treasure chest buried on Unaliveman's Island. Can she beat the dreaded pirate Neckbeard to the treasure before time runs out?!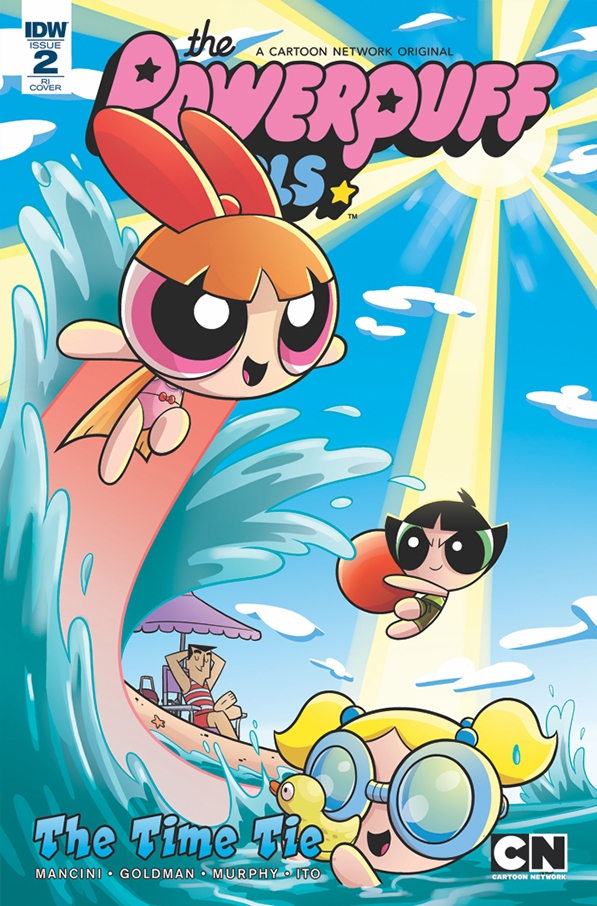 If you think that preview was fun, you'll definitely want to see how it all shakes out in the full issue. Powerpuff Girls: The Time Tie #2 hits shelves on June 28th! Make sure you also keep an eye out for the gripping conclusion next month, where Buttercup takes on an evil Dandy and the sisters head back home to defeat Mojo Jojo!
Need something else to read to hold you over? Here's our picks for books you should read based on your favorite Powerpuff Girl!