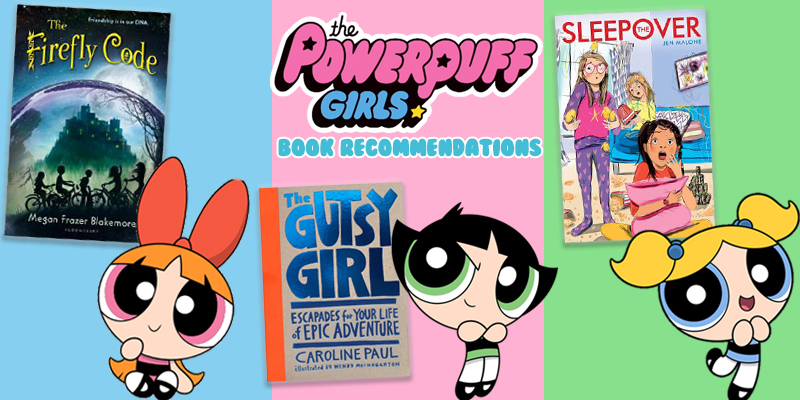 Which Book Should You Read Based on Your Favorite Powerpuff Girl?
Blossom, Butterup, and Bubbles are the most kick-butt crime fighting heroes in all of Townsville. When they're not at school or kicking bad guy butt, the girls love relaxing together at home. Bubbles loves hanging out with Octi and coding her own video games, Blossom loves cleaning and also working on science projects, and Buttercup loves being lazy and binge watching Space Towtruck.

Have you ever wondered what books the girls might read on their day off? We sure have, and we picked a few recommendations that we think you'll love reading just as much as they would! Pick your favorite Powerpuff Girl and find out which book you should be adding to the top of your TBR stack!

Bubbles – "The Sleepover" by Jen Malone
Since one of the new Powerpuff Girls episodes actually consists of the girls getting a hardcore sugar rush at their sleepover (so hardcore that Bubbles even ends up lost), we thought this would be the perfect book for her. It's cute, silly fun and we think Bubbles would be all about it.
In "The Sleepover" by Jen Malone, three best friends Meghan, Paige, and Anna Marie plan to have the most epic sleepover ever. Meghan has never actually made it through the night at a sleepover, but she's determined to make it happen this time. With piles of junk food, horror movies, and karaoke on the horizon, she thinks she's finally ready to face her fears. What seems like it will be the perfect night among besties turns into the ultimate disaster the next morning when the girls wake up and realize they don't remember anything that happened. Anna Marie is missing, there's baby chicks in the bathtub, and Meghan's left eyebrow is missing, for starters. Can the girls piece together what happened, find their friend, and clean up the messy basement before their parents come to pick them up? You'll have to read it to find out, but we promise you its a hilarious read that's definitely worthy of Powerpuff Girl. We absolutely LOVED reading it – it's silly, fast-faced, and laugh out loud funny the whole way through.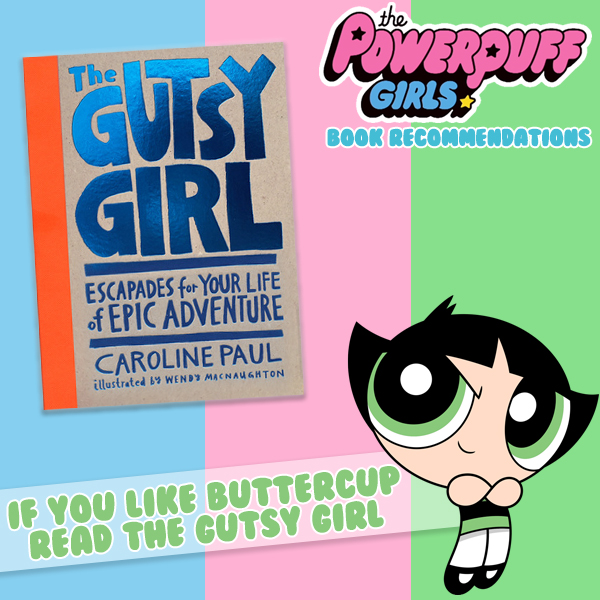 Buttercup – "The Gutsy Girl" by Caroline Paul
Unless there's a Space Towtruck novelization we don't know about, we think that Buttercup would much rather read a book that can help her improve her kick-butt status than read a story. That's okay, though, not everyone is into reading fiction, and maybe you're not either. That's what make "The Gutsy Girl" by Caroline Paul the perfect choice for a super tough fan of Buttercup. We've mentioned "The Gusty Girl" on the site before (Click here for our completely gushy review!), but here's a quick recap in case you don't know what it's all about.
The book is filled with stories about inspiring ladies throughout history, activities to help you break out of your comfort zone and explore the world, great quotes and words of encouragement to always keep you dreaming for something bigger, and more. It's the ultimate handbook for daring, kick-butt, hardcore ladies, just like Buttercup! Even if you're not quite as sassy and brave as she is, we think you'll love reading the passages about Caroline Paul's adventures as well as journaling with the writing prompts. Who knows – it may even inspire you to get out there and explore or even take down a few mean baddies in Townsville.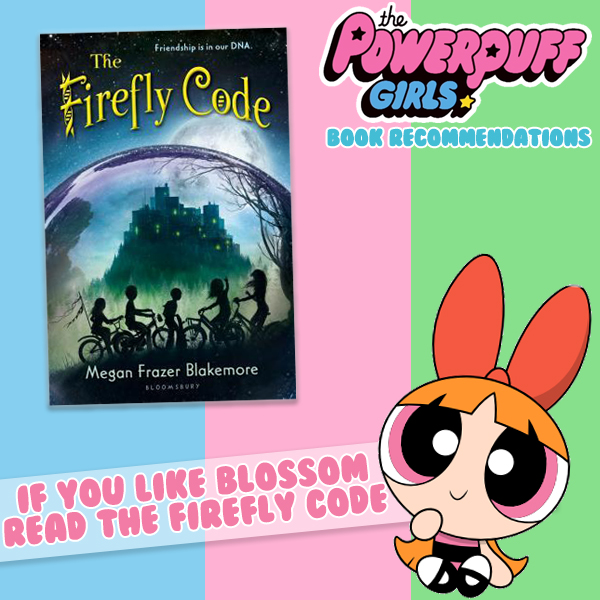 Blossom – "The Firefly Code" by Megan Frazer Blakemore
With her love of all things science, we think that Blossom (and fans of Bloss) would love reading this mysterious sci-fi story. It's got dystopian vibes, but it's not quite as violent and dark as some of the more popular dystopian titles these days, which is good for someone like Blossom who spends a lot of her time fighting crime.
Mori and her friends live in Old Harmonie, a futuristic utopian community right outside of Boston. Their community is one of many owned by Krita, a corporation who's in charge of all of the peaceful and perfect planned communities around the US. Mori and her friends have never had to question anything about who they are or where they live until a new girl named Ilana moves to town. She's overly perfect, sometimes to the point of being strange, and Mori and her friends are curious as to why. As the girls learn more about what's really going on in their perfect little town, they must come to terms with who they are and start questioning the only world they've ever known. The story is much deeper and mysterious than our vague description, but we can't go into too much more detail without giving away the big mysteries and secrets the girls discover. Good thing for Blossom and the rest of you future scientists – finding out all the facts is just part of the scientific process you know and love!


We hope you love our picks and run out to your local bookstore and read them immediately. Bonus points if you read all three! For even more book recommendations, click here!