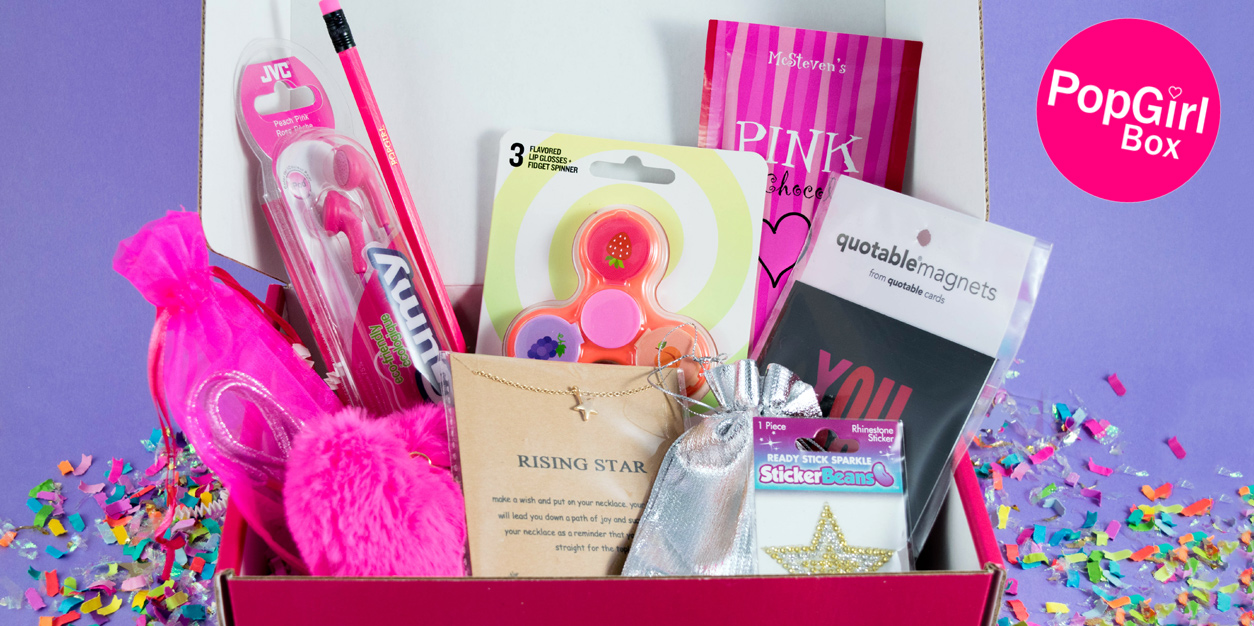 Celebrate the Amazing Girl You Are with PopGirl Box
Note: We received this box for free from PopGirl Box in exchange for a fair and honest review. All opinions are our own; we were under no obligation to give a positive review.
As you know, we're kinda crazy about subscription boxes. It's just so much fun to get a box of goodies delivered to your doorstep every single month. There's a new box making a name for itself in the subscription box game, and it's not only filled with a ton of really great items, it was created with girls like you in mind. It's called the PopGirl Box!
They just launched their first box this month, and it's already sold out! This first box had a "Pop Star" theme, and we think they did a great job of celebrating girls passions for music, pop culture, and all things glam and girl-power!
PopGirl Box was started by a mom named Pam and her daughter Annabel. Pam is a blogger who writes about parenting, pop culture, travel, and entertainment. Why did she start the PopGirl Box? She wanted a way to spend time with and celebrate her daughter!
Here's what Pam had to say: "I've always wanted to launch a PopGirl brand, and now that my daughter is a tween, it was the perfect time to create a fun and trendy product for this audience of young girls. My daughter and I are having a blast searching for the perfect box items."

Her daughter, Annabel is in the fourth grade and according to their website, loves Disney Channel, sushi, volleyball, and being in the Girl Scouts. Even though she's helped her mom launch a subscription box and a business, she's a totally relatable girl, just like a lot of you. That's kind of why the PopGirl Box exists – they wanted to celebrate the interests of girls who work hard, dream big, are up to date on the latest trends, and are always ready to change the world.
If you follow their Instagram, @thepopgirlbox, you can stay up to date with what's up and coming in future boxes and see behind the scenes peeks at how everything comes together. But first, let's take a look at what came inside the very first box!
PopGirl Box Unboxing – "Pop Star":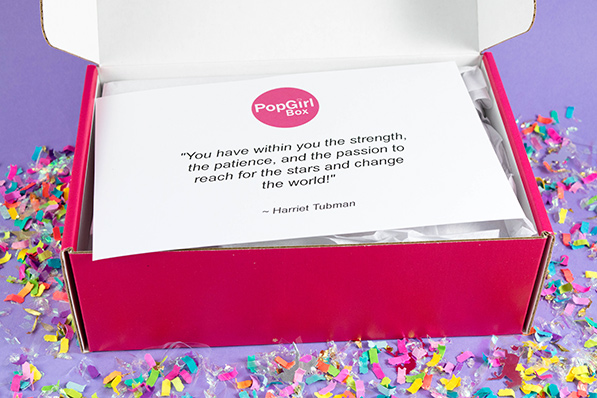 The experience begins when the bright pink box arrives on your doorstep. The first thing you'll see when you open it up? An inspiring quote to motivate you to follow your dreams and never give up.
The quote in this box was from Harriet Tubman, "You have within you the strength, the patience, and the passion to reach for the stars and change the world!". We're loving this quote card and think it would great to pin up on a dream board or hanging up in your locker.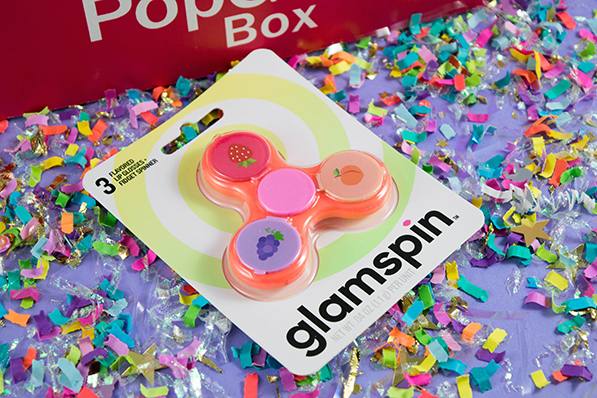 Glamspin:
We were so excited to see a Glamspin lipgloss spinner in this box. We reviewed it back when it first launched, and we just love how it turns fidget spinners from ordinary to extraordinary. Each Glamspin comes with three delicious lip gloss flavors – grape, peach, and strawberry. Stash it in your purse or backpack so you can always look fabulous on the go!
Gold Star Necklace:
Whether you're dreaming of being a pop star, a lawyer, or a scientist, this gold star necklace will remind you that anything is possible. The included card says: "Make a wish and put on your necklace. Your brilliance will lead you down a path of joy and success. Wear your necklace as a reminder that you're headed straight for the top!"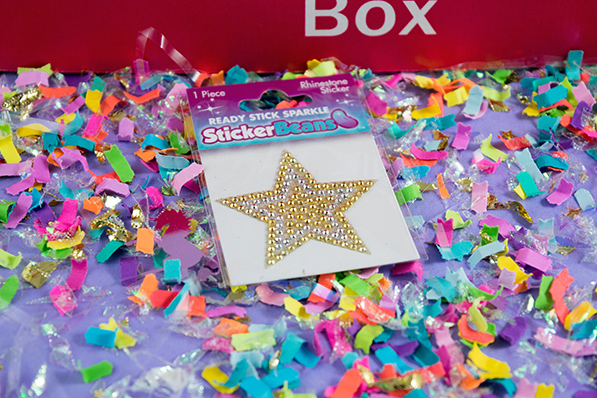 Rhinestone Star Sticker:
We keep seeing you guys sticking Sticker Beans all over your phone cases, laptops, notebooks, etc – but we somehow never got our hands on one til now. Consider us officially obsessed! This rhinestone star sticker will add sparkle and pizazz to anything you stick it to.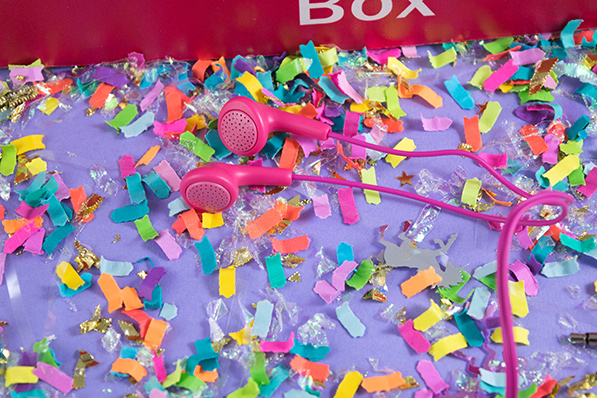 Pink Gumy Earbuds:
Look amazing while rocking out to your favorite playlist in your room, on the go, or while training for a big event. We personally love how the color matches our YAYOMG! aesthetic so perfectly.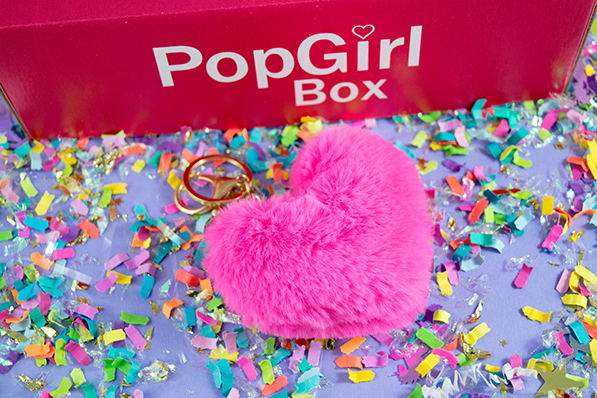 Soft Heart Pom Pom Keychain:
IT'S. SO. FLUFFY!!!! This super cute pink heart keychain is soft, fluffy, and will give fabulous life to your otherwise ordinary backpack. We could barely stop petting it long enough to snap a pic!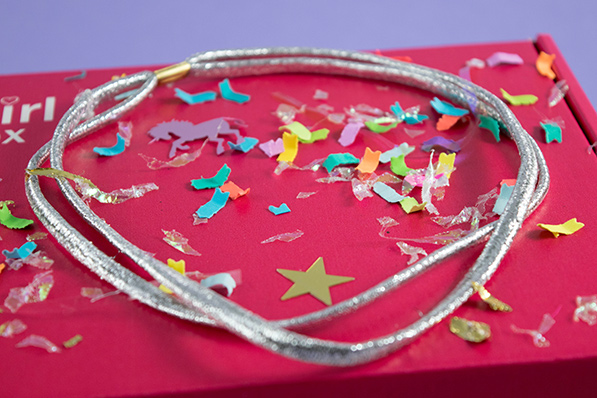 Silver Glitter Double Strand Headband:
This simple, yet bold headband can be worn to dress up any look or to hold your hair back while you slay on the court, the field, or during any other sport you love to play!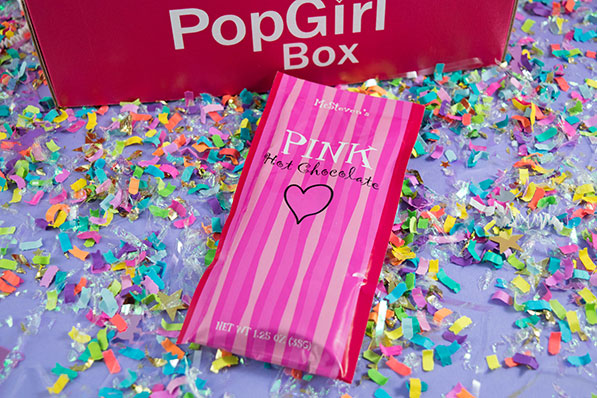 Pink Hot Chocolate:
Move over, Unicorn Frappuccino! There's a new star in town! Mix this hot chocolate packet with hot water for a deliciously pink cocoa that looks amazing and tastes even better!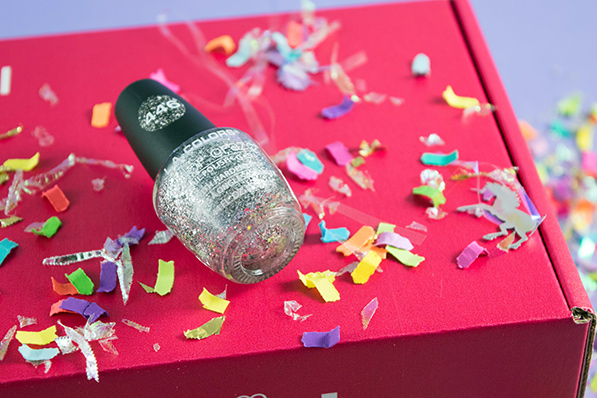 L.A. Colors Sparkling Diamond Nail Polish:
No pop star would be complete without a little sparkle! Wear this alone or over your favorite nail polish shade to add a little dazzle and glam to your look. Pair it with the headband included in the box for a double-dose of shimmer and shine!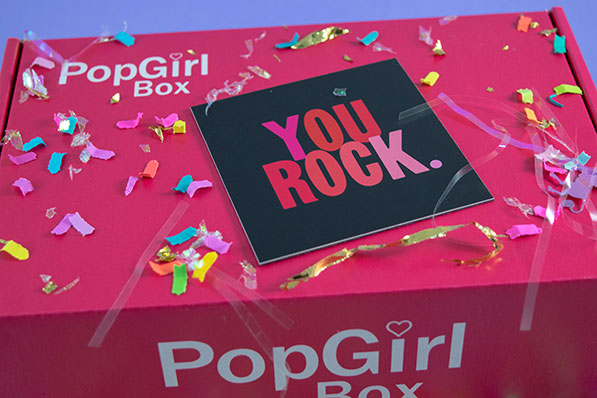 You Rock Magnet:
This awesome, over-sized magnet from Quotable Cards will give you a confidence boost every time you look at it. Stick somewhere you pass by often so you can always be reminded of how great you are.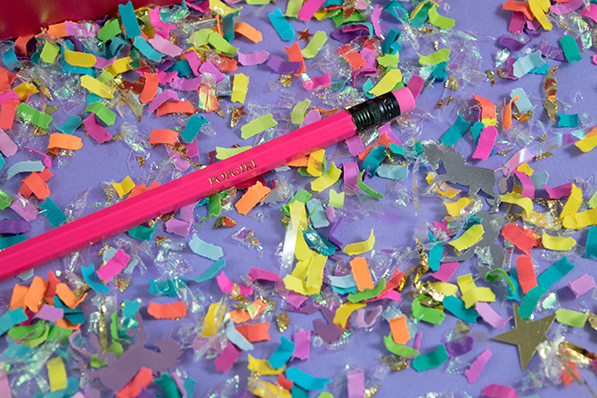 PopGirl Pencil:
A way to show your PopGirl pride while taking a test, doing your homework, or just kicking back and writing in your diary. Use it for all your most important assignments!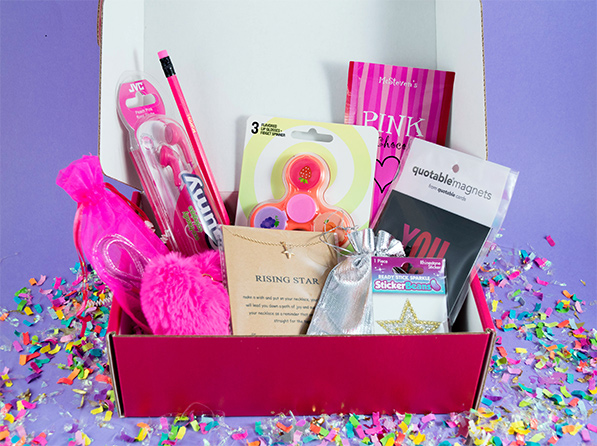 We've gotta say, we were pleasantly surprised by our PopGirl Box experience. Sometimes new subscription services need a few months to really find their footing, but from the very first box, this one is already kicking butt. The items inside are great quality and are things we think that girls like you will love using in your everyday life. We're really looking forward to seeing what's next from PopGirl Box!
How to Subscribe:
Grab an adult and head to popgirlbox.com
Use our code YAYOMG when you check out for $5 off your first box!
Cost Per Box: $29.00 + S/H. The boxes ship out monthly and you can cancel at any time.
What Do You Get?: Each month you'll receive a new box with a new theme. Each box contains 6-8 surprise items worth over $50 in value! According to the website, items can be anything including: "jewelry, hair accessories, beauty products, school supplies, sweet treats, and the latest swag for young girls!"
The theme for March is "Unicorn", so make sure to subscribe by February 25th to get your hands on this magical box. If the first box was this good, we can only imagine how fabulous a unicorn themed box will be!
Need another subscription to get excited about it? We recently reviewed the JoJo Siwa Box from CultureFly!