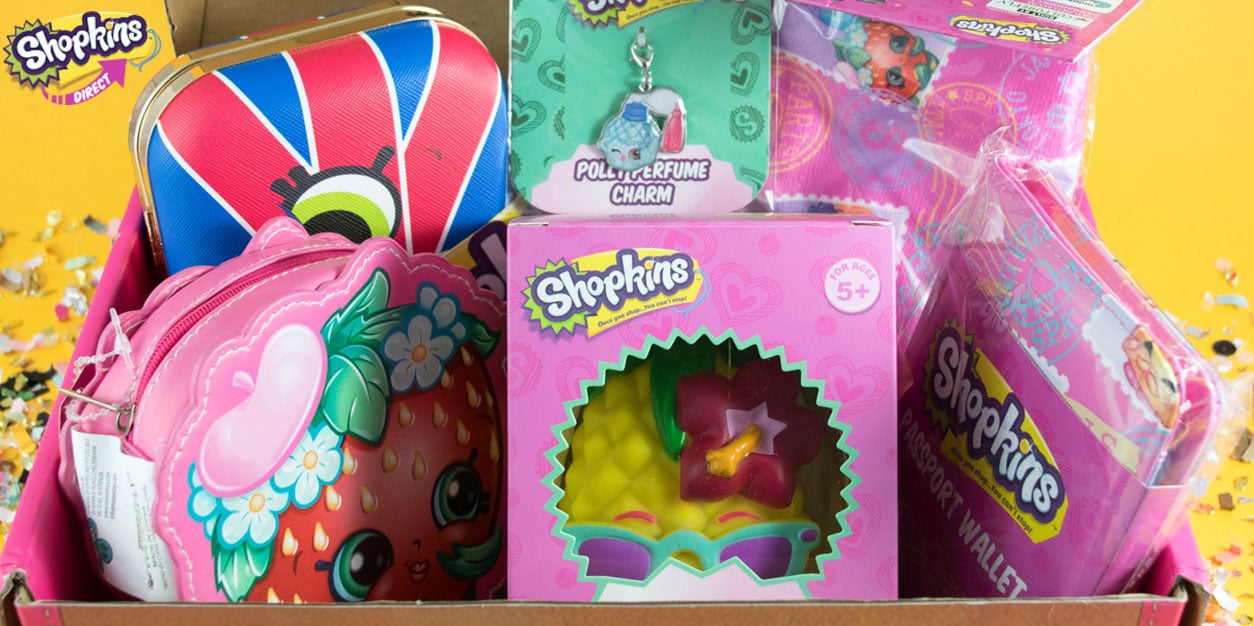 Travel the World with the Shopkins Direct Winter Box
NOTE: We received this product for free from CultureFly in exchange for a fair and honest review. We were under no obligation to write a positive review.
Shopkins Direct is a quarterly subscription box featuring exclusive Shopkins items you can't get anywhere else. The Winter box is the second box that shipped out from CultureFly, so if you haven't subscribed yet, you're haven't missed too much yet!
This box features a World Travel theme, much like the Season 8 World Vacation Shopkins. When the box arrived, we were so excited to see that it was an even cooler design than the first – it looks like a travel case! Covered in Shopkins stickers, stamps, and photos, it looks like a well-traveled Shopkins lover jet-setted around the world in search of the goodies you'll find inside.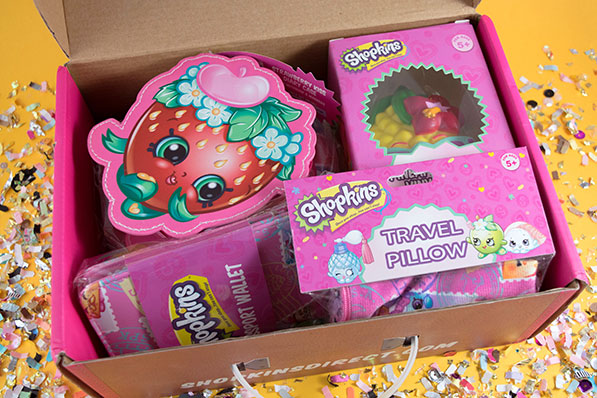 Ready to find out what was inside? Keep on scrolling as we unbox the surprises we found inside the Shopkins Direct box!
Shopkins Direct – Winter Unboxing: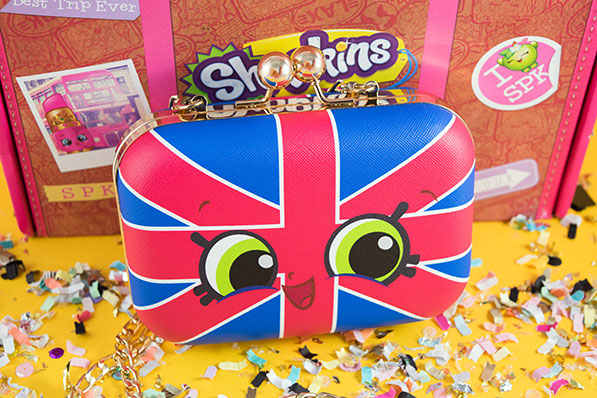 Britney Bag:
You may recognize Britney Bag from the UK Holiday series. Whether you're headed out on a vacation of your own or to a Shopkins trading event, you'll definitely want to stash your wallet and your favorite Shopkins inside this adorable bag. It's really well made and comes with a metal chain you can attach so you can rock it as a clutch or a purse.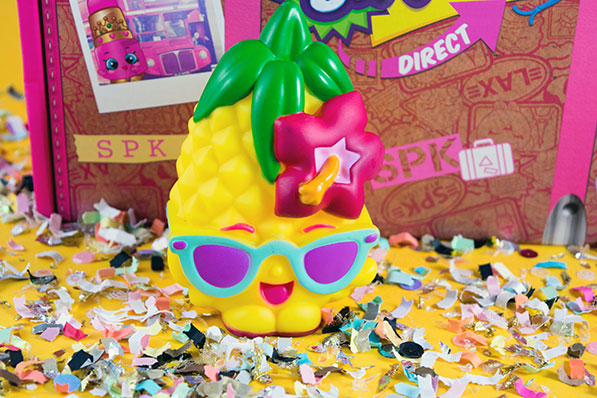 Pineapple Crush Vinyl Figure:
Each Shopkins Direct box features an exclusive vinyl figure of a fan-favorite Shopkin for you to add to your collection. These vinyl figures are much larger than an ordinary Shopkin at 4.5″ and look great displayed on your shelf! We love how this Pineapple Crush figure is totally ready to kick back somewhere tropical.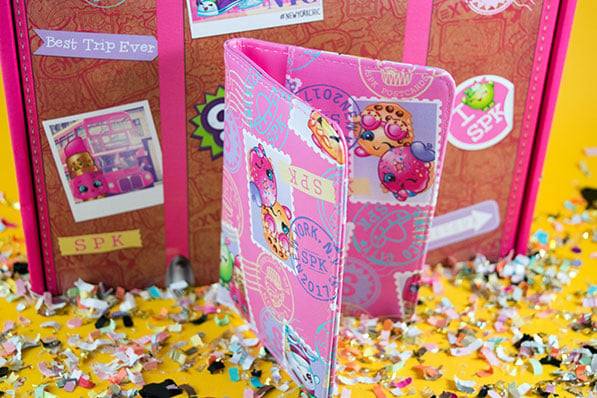 Shopkins Passport Cover:
Going along with the World Vacation theme, they've included a passport cover in this travel-themed box. Stash all your important travel documents in here for safe keeping, from your passport to your plane tickets, you'll have everything you need at the ready and in the most adorable way possible.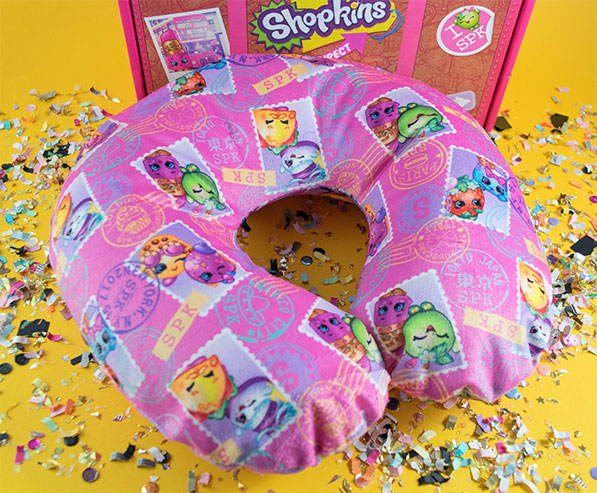 Shopkins Travel Pillow:
With all that traveling, you're sure to need a way to relax. This travel pillow will help you travel in style whether you're taking a flight, a family road trip, or a train to your favorite city. Plus, its covered in Shopkins travel photos so you can view all their travel memories while making some of your own.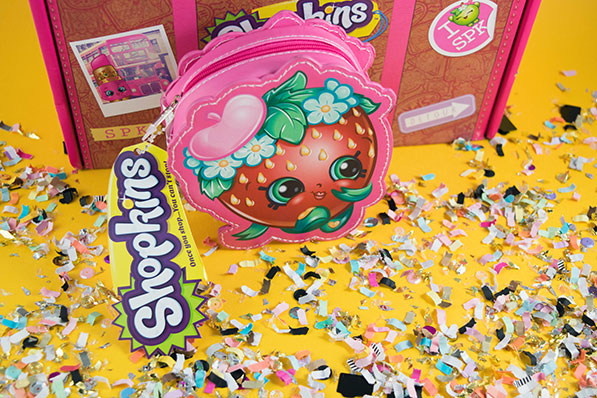 Strawberry Kiss Zip-Up Case with Notepad and Markers:
This adorable diary case is a great way to keep your secrets safe! It's a little small to use as a regular diary, but we think it would make for a great travel journal!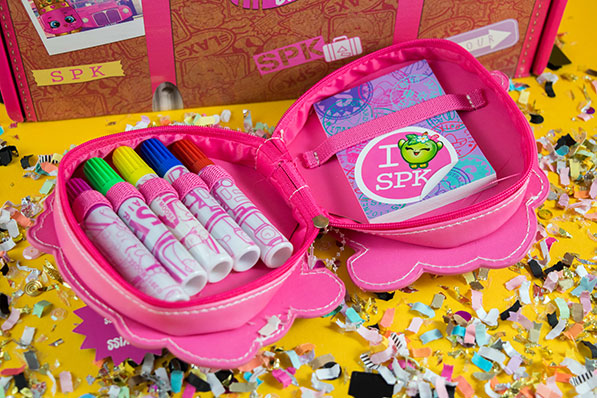 Jot down highlights from your travels so you have a place you can always look back and remember all the fun memories you made.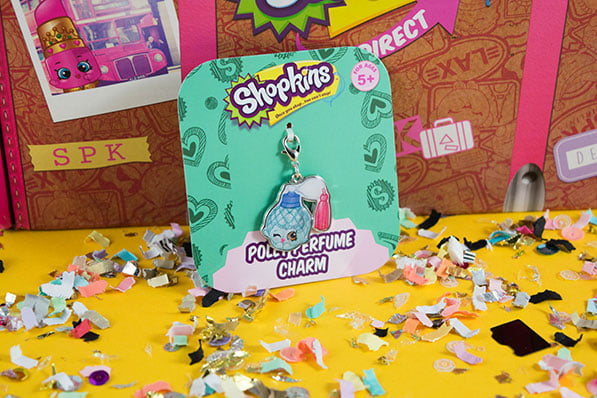 Petite Perfume Charm:
Keep your favorite Shopkins with you on the go by adding all the Shopkins Direct charms to your charm bracelet! If you missed the first box, you can order a bracelet on the website. The charm in this box is Petite Perfume, a rare Shopkin from the French Adventure set.
How to Subscribe: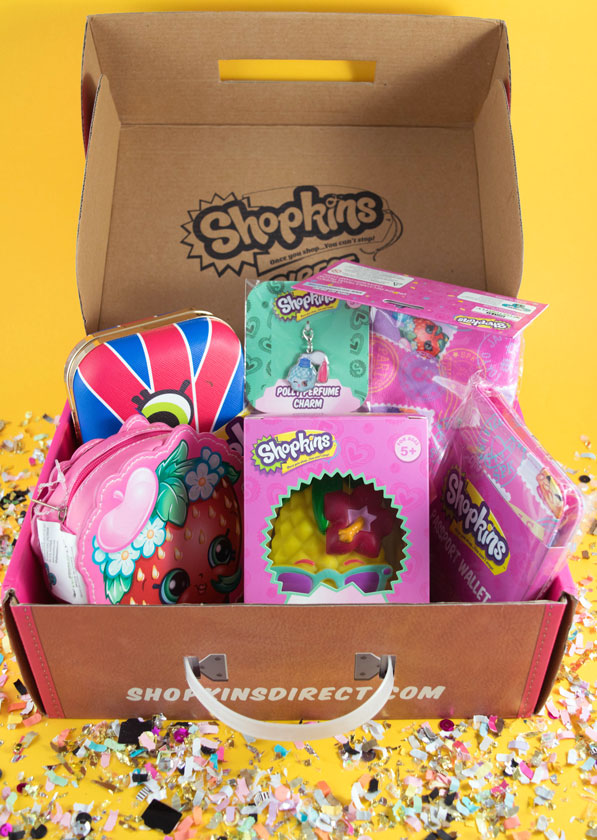 Grab an adult and head to shopkinsdirect.com
Cost Per Box: $30.00 + S/H. The boxes ship out seasonally (4 per year) and you can cancel at any time.
What Do You Get?: Each box has a different theme, and ships every 3 months. The items that come in each box are exclusive, limited edition items that can only be found in the Shopkins Direct subscription. They can't be found in stores. Every box comes with an extra special oversized vinyl Shopkins figure to collect.
The Winter box is still currently available, but it's been out for awhile, so they'll probably sell out soon. The next box will be shipping in the Spring, around mid-April.
Are you a Shopkins fanatic? Check out our interview with Patti Caplette, the writer and director of Shopkins Live! Shop It Up!