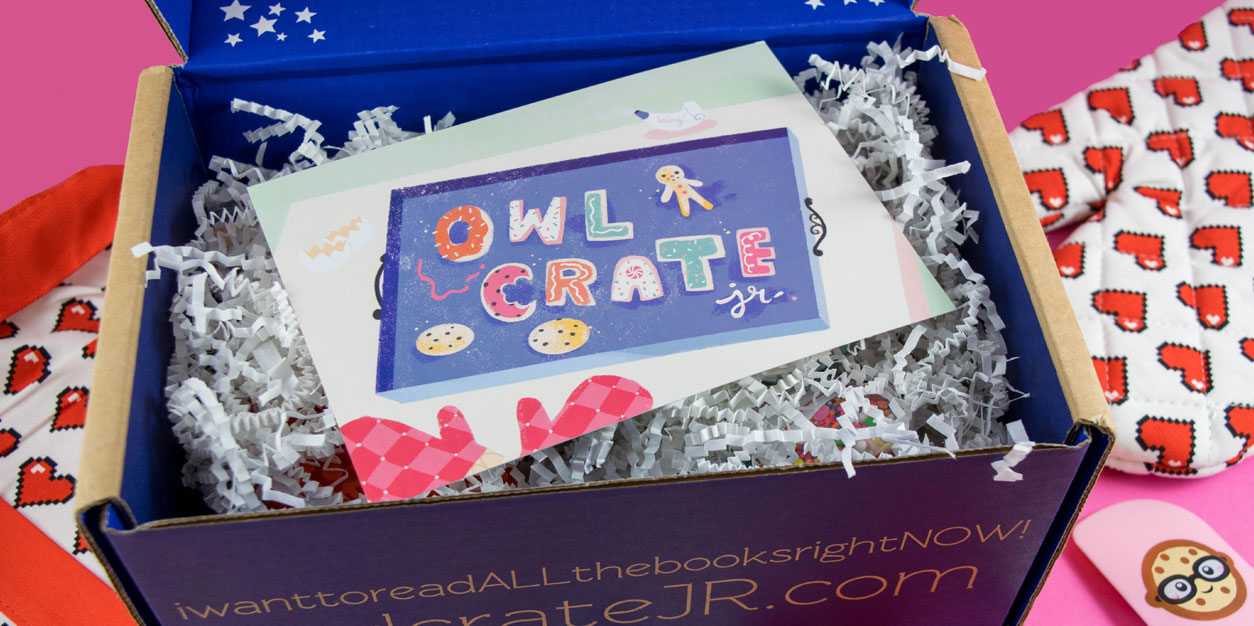 Bake Your Heart Out with the OwlCrate Jr. "Sugar and Spice" Box
Note: As OwlCrate Jr. Reps, we received this box for free in exchange for a fair and honest review. All opinions are our own; we were under no obligation to give a positive review.
Kicking off a whole new year of delicious bookish goodness is the Sugar and Spice box from OwlCrate Jr. We know we say this what feels like every single month, but this is one of our favorite boxes yet! OwlCrate Jr. is continuously stepping up their game in terms of the amazing stories they're sending out to readers each month and all the themed goodies that go along with them.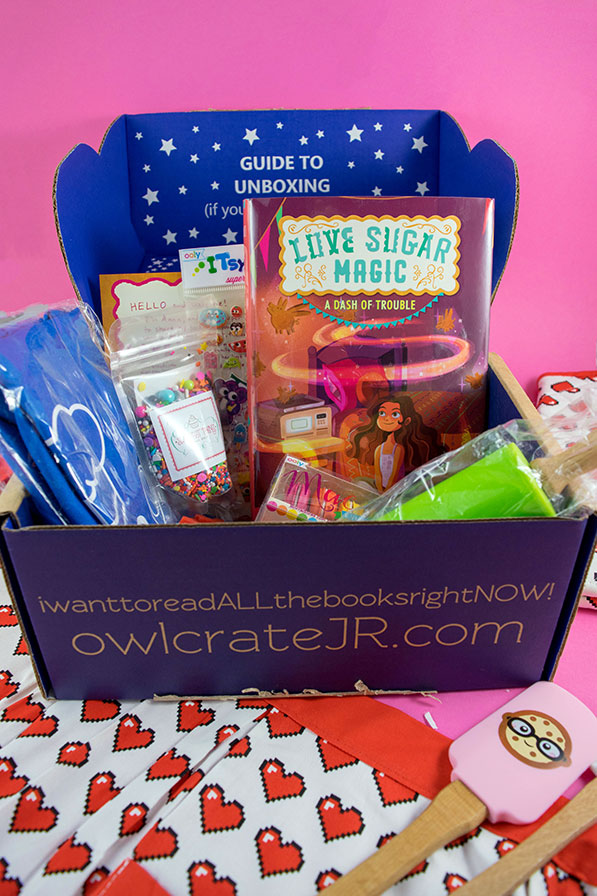 This month is one of the most perfectly themed as well as the most delicious. This month's read was one we've been looking forward to for quite awhile, so we were extremely excited to receive it in our box this month. Ready to find out what was in the first box of 2018? Keep on reading!
OwlCrate Jr Unboxing – Sugar and Spice – January 2018: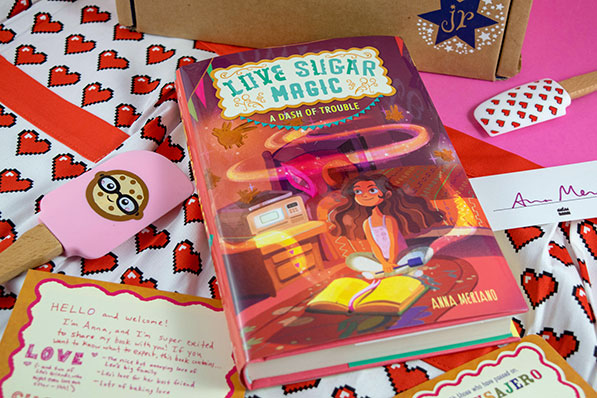 BOOK OF THE MONTH: Love, Sugar, Magic: A Dash of Trouble by Anna Meriano
This delectably magical read is the first in a series, so if you love it as much as we did, there's so much more to come! There's baking, magic, a sprinkle of mischief, and a generous helping of family. We just know you guys are going to love it. Plus, look at that irresistible cover!
About the Book:
Leonora Logroño's family owns the most beloved bakery in Rose Hill, Texas, spending their days conjuring delicious cookies and cakes for any occasion. And no occasion is more important than the annual Dia de los Muertos festival.
Leo hopes that this might be the year that she gets to help prepare for the big celebration—but, once again, she is told she's too young. Sneaking out of school and down to the bakery, she discovers that her mother, aunt, and four older sisters have in fact been keeping a big secret: they're brujas—witches of Mexican ancestry—who pour a little bit of sweet magic into everything that they bake.
Leo knows that she has magical ability as well and is more determined than ever to join the family business—even if she can't let her mama and hermanas know about it yet.
And when her best friend, Caroline, has a problem that needs solving, Leo has the perfect opportunity to try out her craft. It's just one little spell after all…what could possibly go wrong?
Also included with this mouthwatering read is some pretty awesome book swag. Subscribers received a handwritten letter from the author, a signed bookplate, and a recipe for the Dia de los Muertos specialty, Bread of the Dead. OwlCrate Jr. didn't just supply a recipe, they included a few useful items to help you in your baking adventures.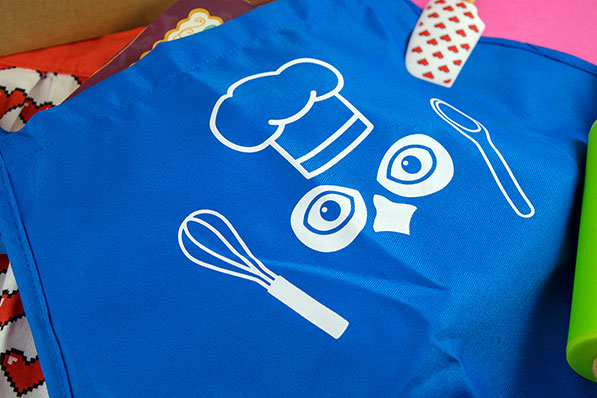 OwlCrate Jr. Apron from

OwlCrate

:
Stay clean in the kitchen and look fabulous while doing it! This bright blue apron comes complete with the face of the OwlCrate Jr. owl on it! Show off your OwlCrate pride every time you whip up something delicious. Plus, it has a handy pocket right in front to store recipe cards or cooking utensils you're using while you get your bake on!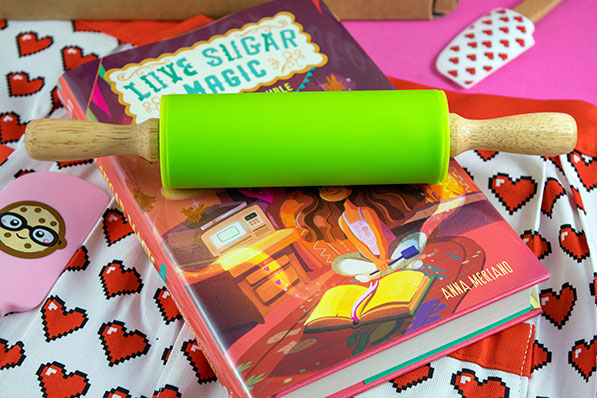 Rolling Pin:
This rolling pin is perfectly sized for tiny bakers! It's a little bit smaller than an ordinary rolling pin but just as useful. Use it to roll out cookie dough to make tasty cookies using the next item in the box. You can also use it to roll out clay!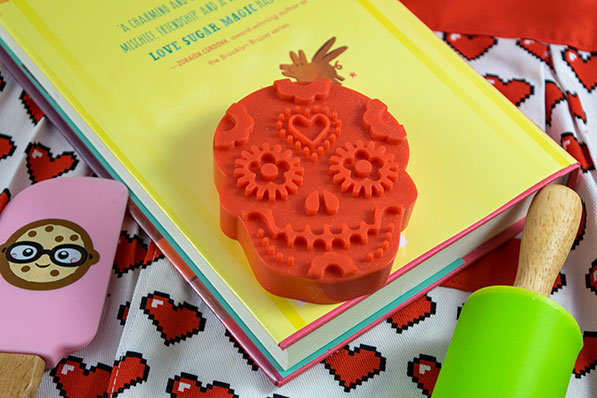 Sugar Skull Cookie Cutter from Fred & Friends:
Tying in with the theme of the book is this Sugar Skull Cookie Cutter. Sugar Skulls are an essential part of Dia de los Muertos, and now you can bake your very own anytime.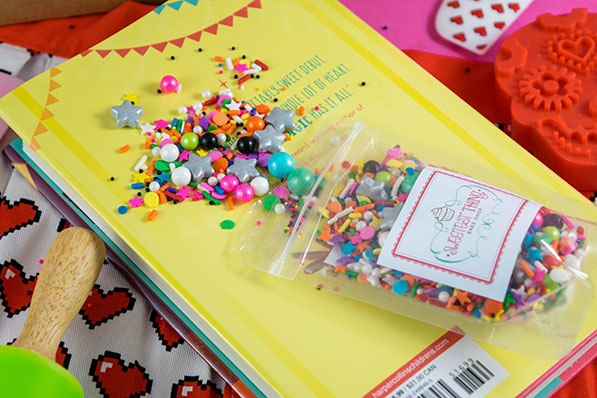 These amazing rainbow sprinkles are a custom sprinkle mix made exclusively for the Sugar and Spice box. You've got yourself a bag of extra special sprinkles here! Before you use them on a sweet treat, be sure to snap a super cute spill photo for your Instagram! We can't wait to sprinkle ours on cookies, cupcakes, or maybe even some unicorn toast.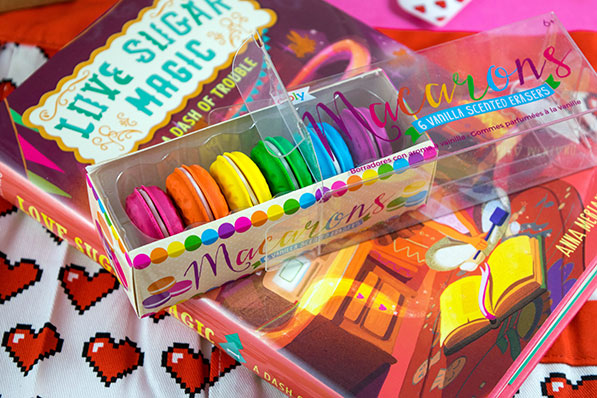 Vanilla Scented Macaron Erasers from Ooly:
These erasers aren't just exceptionally cute, they're vanilla scented! Stash them in your backpack to make any mistake so much more fun (and fragrant) to erase.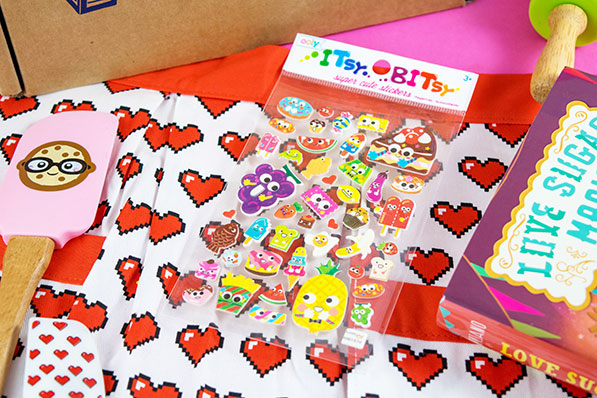 Food Stickers from Ooly:
Speaking of cute, these food stickers are seriously adorable. We'll definitely be sticking these all over our stuff ASAP.
OwlCrate Jr. really impressed us this month with this perfectly curated box. The items went along with the theme even better than usual, and we were really excited to receive items that can be used in the kitchen again and again. What's up next for OwlCrate Jr? Wild Magic!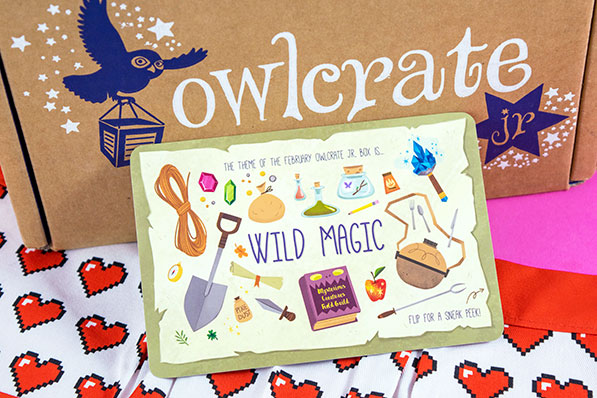 From the card insert:
"Are you prepared to survive the adventure of a lifetime? Our February book is a thrilling fantasy, full of courage, friendship, and otherworldly mystery. You're going to love it – scouts honor. This box is perfect for fans of The Wildwood Chronicles and Stranger Things!"
How to Subscribe:
Head on over to the OwlCrate Jr. website! They're still catching up from their insanely successful holiday season, so new subscriptions are still closed, but they've already started contacting people on the waitlist. If you're not on the waitlist, you'll have to wait a little while longer. If you miss out on the February box, don't fret – they'll be adding a TON more slots in March and for future boxes to accommodate lots and lots of new subscribers.
When you're able to subscribe, be sure to use our discount code, OMG10, for 10% off your purchase. This code is good for both OwlCrate and OwlCrate Jr. boxes, so be sure to share it with any and all young adult and middle-grade readers you know!
If you liked Love, Sugar, Magic, the book included in this month's OwlCrate Jr., we think you'll also love Smart Cookie by Elly Swartz. Check out our interview with the author!