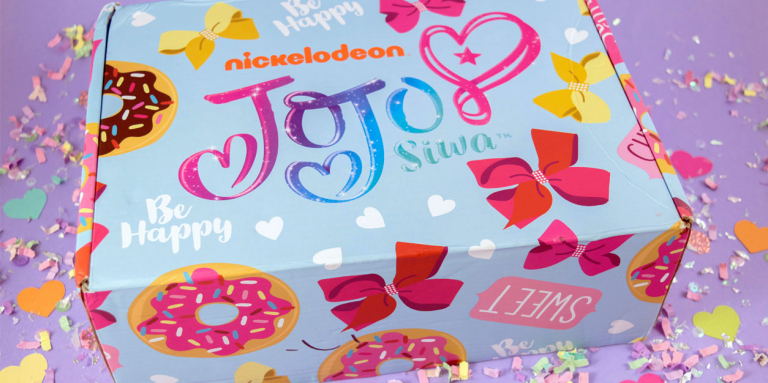 The Winter JoJo Siwa Box is an Explosion of Donuts, Hairbows, and Glitter
After endlessly gushing over the first JoJo Siwa Box a few months ago, we thought it couldn't possibly get any better. But the box that arrived on our doorstep in late December was even better (and cuter) than the first! The winter JoJo Siwa Box from CultureFly is crammed with exclusive JoJo themed goodies ranging from totally adorable to super useful. The fun starts right when the colorful box shows up at your door. It's covered in hairbows, hearts, and donuts and is just begging to be unboxed.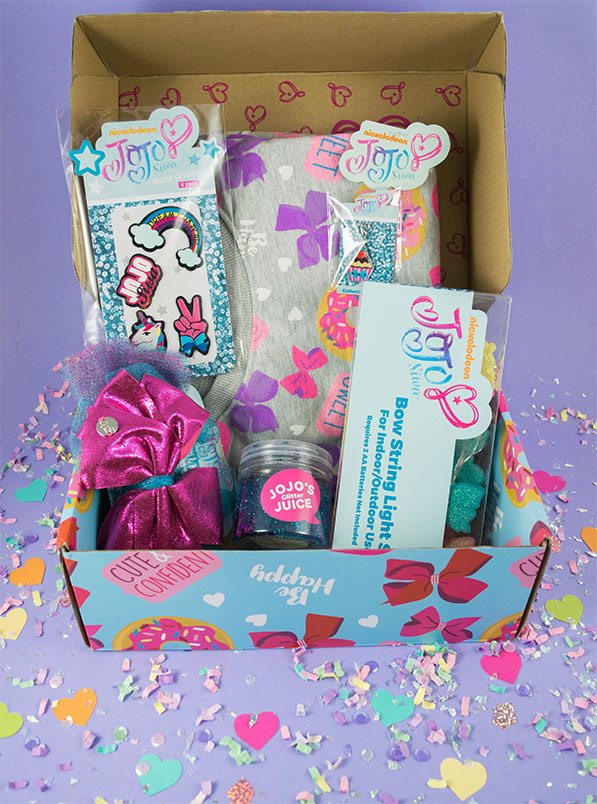 Want to know what found inside? Keep on reading and see what we unboxed this month!
JoJo Siwa Box – Winter Unboxing:




Exclusive Hairbow and Unicorn Brush:
This month's exclusive JoJo Bow is a shimmery metallic pink with bright blue tulle. The style of the bow is inspired by the shape of JoJo's first-ever bow. It's similar in style to the bow from the first box, but with a significant burst of color and sparkle. Plus, this one comes with a mini unicorn brush that you can stash in your bag.



Phone Patches:
Decorate your phone and dream crazy big with these adorable phone patches. Just peel 'em off and stick 'em to your phone, phone case, or even on your mirror. They've got the texture of patches, but the back is just a sticker so that you can stick them pretty much anywhere!



Super Sweet Sweatshirt:
We are completely OBSESSED with this sweatshirt! Covered in donuts, hearts, and hairbows, this plush sweatshirt reminds you that you're cute, confident, and totally sweet – just like JoJo herself!



JoJo's Glitter Juice:
Part slime, part sequins, all JoJo-licious! This jar of JoJo's Glitter Juice is perfect for poking, squishing, stretching, and makes a great addition to your ever-growing slime collection.



Bow String Lights:
We love these glittery bow lights so much, they're already hanging above the toy shelf in our office! We could barely wait to finish our unboxing to get these up on the wall and shining brightly. Equally cute both when turned on or off, these bow lights will look great in your bedroom, your locker, or at your next JoJo themed birthday party!



Collectible Cupcake Charm:
If you were lucky enough to snag the first box back in early November, you already have a bracelet ready to add your cupcake charm to! It also looks adorable as a zipper pull. Want a charm bracelet to display your charms on? They're selling blank ones on thejojobox.com. You won't be able to get the three charms that came inside the first box, but you'll at least have an awesome way to show off this charm.
Ready to subscribe? The Winter box is currently sold out, but they'll be taking subscriptions soon for the Spring box, shipping in mid-March. The quarterly plan costs $30+ S/H and is billed before the box ships each quarter. The annual plan is $27 + S/H and bills you for the entire year up front. (Be sure to always ask a parent for permission!) If you have some leftover money from the holidays that is just dying to be spent, we think the JoJo Siwa box is a great value (over $60 worth of stuff in each box!) and a must-have for any Siwanator.
Missed the first JoJo Siwa box? Check out our unboxing to see what bowtastic goodies were stashed inside.