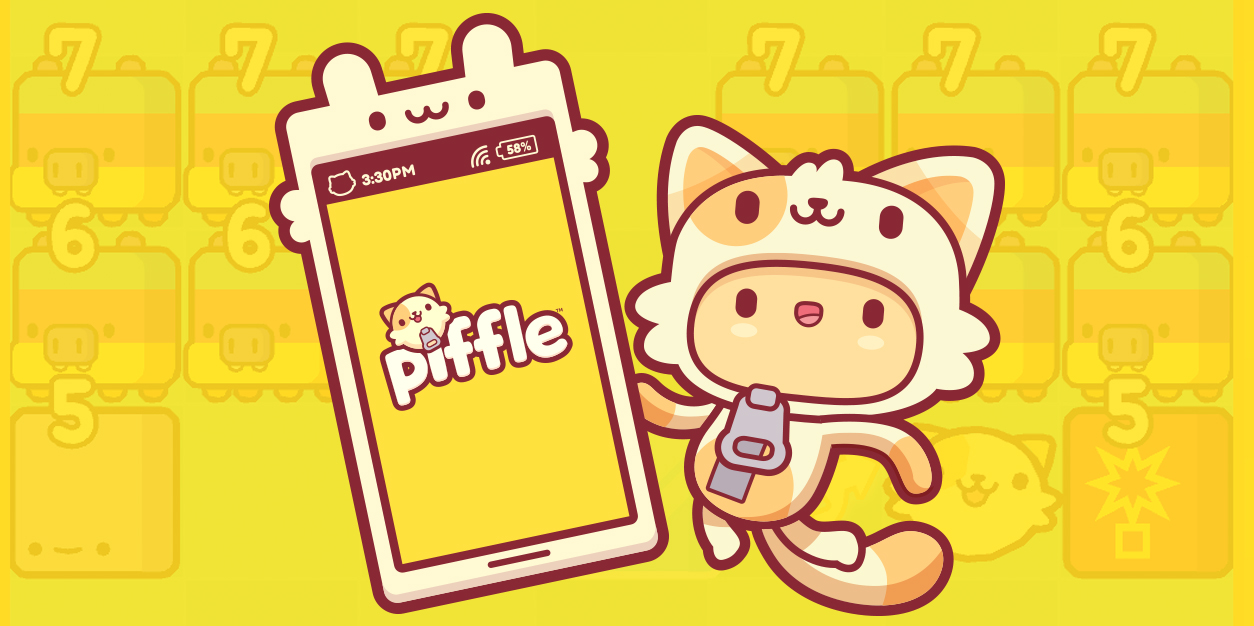 Piffle is a Adorably Charming Block Breaking Adventure
Piffle is an adorably charming new game that combines the fun of a brick breaker with the addictive qualities of a balloon popper, and sprinkles in a bit of adventure. Oh, and cats. Lots of adorable cats!
The latest release from Hipster Whale and Mighty Games, Piffle is filled with adorable graphics, fun powerups, and compelling puzzles really brings things to life in a super fun way. We've already sunk quite a few hours into playing, and it's safe to say we're totally hooked.
The game begins with you and your dog Waffles in matching cat and dog onesies as you head out to enjoy a delicious cup of coffee. Unfortunately, your fun is ruined as the nefarious Doc Block swoops in and kidnaps Waffles! In order to get him back, you'll have to break through all the block puzzles that Doc Block has left in your path and make your way through the many colorful worlds of Pifflandia in order to save Waffles – and the world!
Our Piffle Review: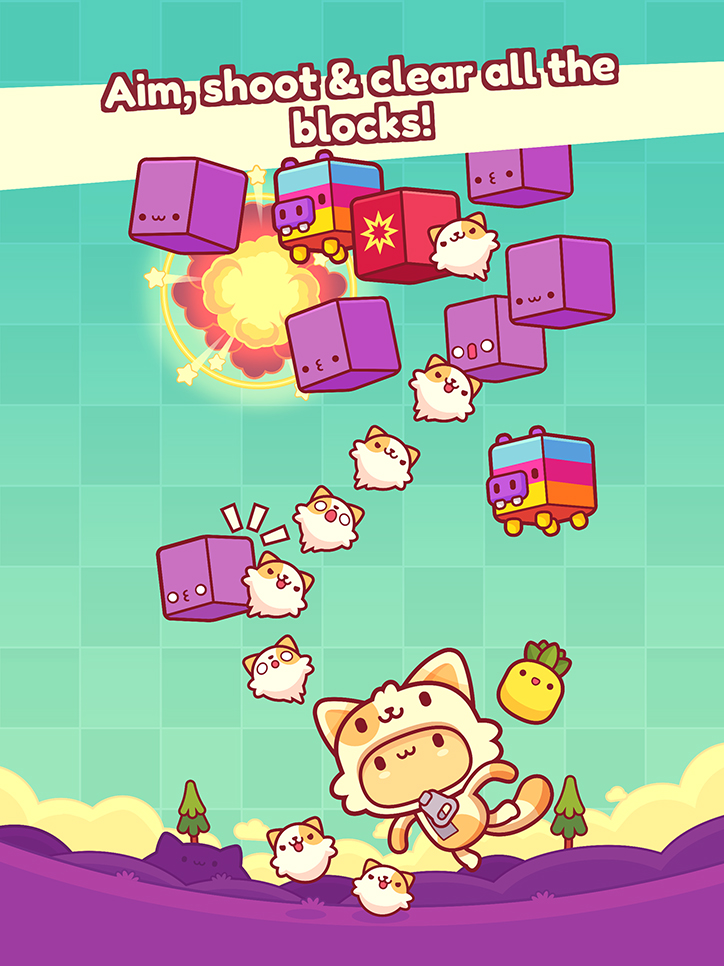 Block Breaking Adventure:
Piffle released earlier this month, launching with 225 levels to play and 10 worlds to explore. You'll start off with some easy levels that help you get a feel for the gameplay and how everything works. If you've ever played a brick breaker game, you'll feel pretty confident in your skills as Piffle is a fresh twist on the genre. They've made some refreshing changes to the playstyle, making Piffle really stand out on it's own – kind of how Hipster Whale's previous hit, Crossy Road is a super unique twist on Frogger.
For example, rather than having to hit each block once to destroy it, every individual block has a counter on it to let you know how many times you'll need to hit it in order to clear it away. Thankfully, rather than just one ball at a time, with every turn you're able to throw a stream of multiple Piffle balls. This helps you clear out bricks with high counters more quickly and is extremely satisfying to watch. Other welcome additions include quirky new block types that keep things interesting and force you to switch up your strategy, as well as a variety of helpful items.
With each new level and block type, you'll have to fine-tune your strategy in order to clear the board. Just make sure you don't let the blocks hit the bottom or Doc Block will get you! Pick up extra Piffle balls, electrifying lightning powers, and more to amplify your Piffle-power. If your Piffles ever get stuck in a long loop or a weird corner, press the fast-forward button to speed things up and bring them back to you. Did we mention that the balls are shaped like cats? This game is just too cute!

Adorable Graphics:
Has a cuter puzzle game ever existed? We think not! The graphics in Piffle left us absolutely charmed and full of happy vibes. The sound effects are particularly cute as well, filled with lots of ambiance and of course, kitty purrs, shrieks, and meows. Everything is colorful and the story and characters are super silly. Even when facing a super hard level that you have to play over and over, the game is just so cute you won't mind playing until you get it right. We also found that we got better as we went along, making it easier for us to go back and play old levels to knock out those 3 stars.
Powerups and Crafting:
As you complete each level, you'll earn 1, 2, or 3 stars based on your performance. The stars will fill up progress on a star meter on the map screen that will unlock a golden chest full of rewards and powerups when you have enough. You can also purchase power-ups for coins before each level and there is an in-game shop that allows you to buy coin and powerup packs for real money.
There are two types of powerup items, ones you equip before you begin that last for the duration of the level and one-off items. Super Piffles, Bounce Vision, and Piffle Cans can be equipped before a level, and typically one of them will have a thumbs up on it. This indicates which one is the preferred powerup for the level. Our favorite is the Bounce Vision, not just because you get to wear a trendy pair of sunglasses, but because it allows you to get a clear view of your Piffles path. Seeing exactly where your Piffles are headed and where they're going to bounce off of gives you a HUGE advantage and helps you play strategically. We recommend this one for beginners because it can help you start to learn all your angles and the way Piffle balls interact with their environment.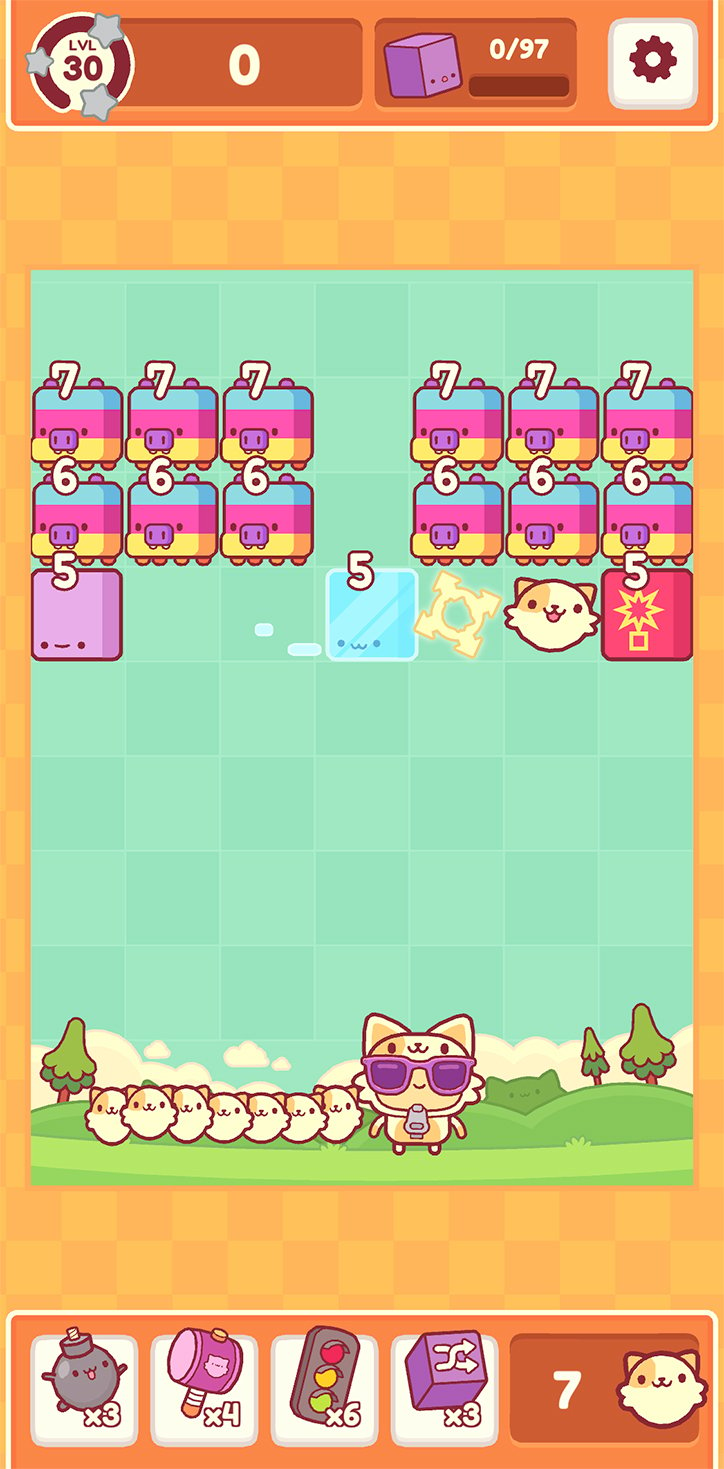 While you're playing you can also use one-off items like Bombs, Mallets, Stoplights, and Shufflers. Rather than lasting throughout your playtime on a level, these can be used once to help you out of a sticky situation. Mallets take out one specific block at a time, while bombs explode a small area of blocks. Stoplights pause the blocks from dropping for one turn, and Shufflers shuffle all the blocks on the board. You're able to use multiple if needed, but we recommend saving them for dire situations to make the most of your stash.
After you hit level 18, you'll unlock crafting and begin to discover crafting ingredients as you play. These items can be used to craft new Piffle ball styles like the ones above. The different styles don't offer any new abilities, but they're adorable and add a fun bit of collectability to the game. Other collectibles include in-game selfies with the adorably weird characters, unlockable stickers, and achievements to work towards as you play.

Challenges and Special Events:
Piffle offers a variety of different challenges and special events. There is the Daily Challenge, which brings a longer, more difficult level to complete each day. There are also special limited edition worlds to explore and puzzles to complete. For example, a Snowball Quest is about to begin, which opens up a short, but challenging 5 level mini map. If you complete the challenge in the available timeframe, you'll earn a special wintery Piffle ball. Looks like a Dance-Off event is headed to the game soon as well.
Piffle is now available for FREE on iOS and Android devices. The game does contain in-app purchases in the form of coin and item bundles. Always be sure to ask a parent before making an in-app purchase!
Looking for even more adorably addictive games to play? Check out Monkeynauts, a super cute new idle clicker about merging monkeys in space!