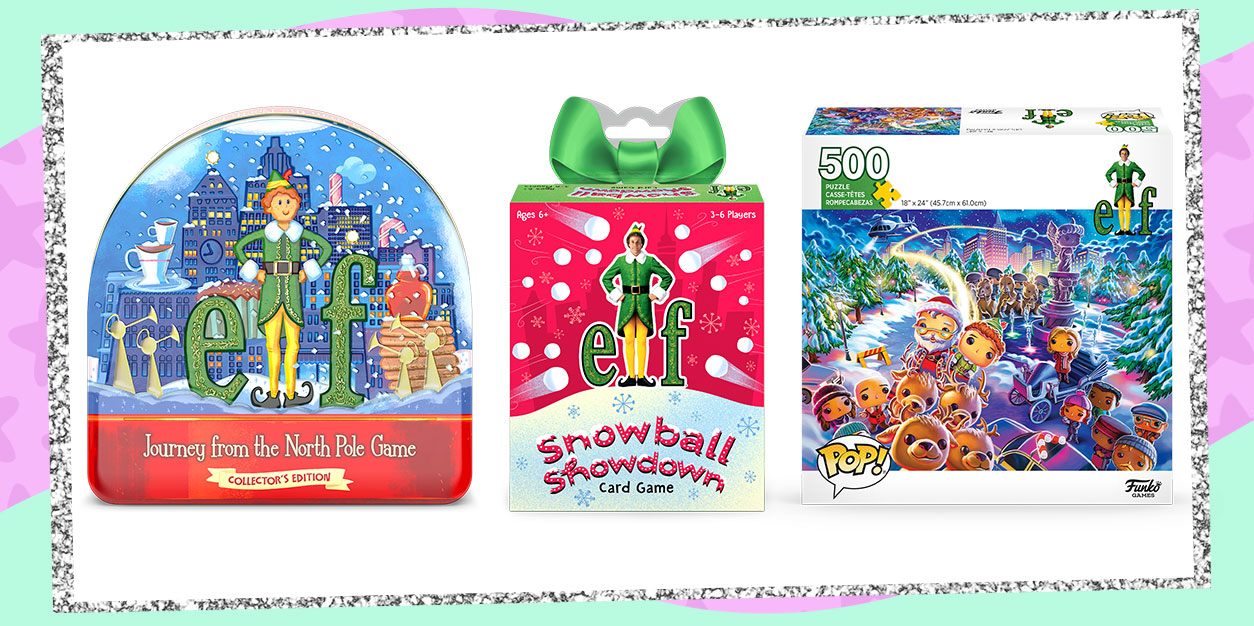 Spend Game Night With Buddy the Elf + GIVEAWAY!
NOTE: We teamed up with Funko Games for this Elf Game Night Giveaway. All opinions are our own; we were under no obligation to give a positive review. Giveaway prizes provided by Funko Games.
If your four main food groups are candy, candy canes, candy corn, and syrup, then you'll love spending the holiday season gaming with Buddy the Elf!
These Funko Games star everyone's favorite elf and are inspired by the hilarious holiday classic, Elf! Whether you spend your winter planning epic neighborhood snowball fights or singing loud for all to hear, these games will surely bring the holiday cheer to anyone who plays, even the angriest elf you know!
To help you host a game night inspired by your favorite holiday flick, we've paired iconic Elf quotes with each game so you can discover which one to play first! Plus, we teamed up with our friends at Funko Games to give YOU a chance to WIN all three!
Don't be a cotton-headed ninny muggins – grab your favorite adult and have them fill out the form below for your chance to WIN!
Host an Elf-Inspired Game Night With these Funko Games: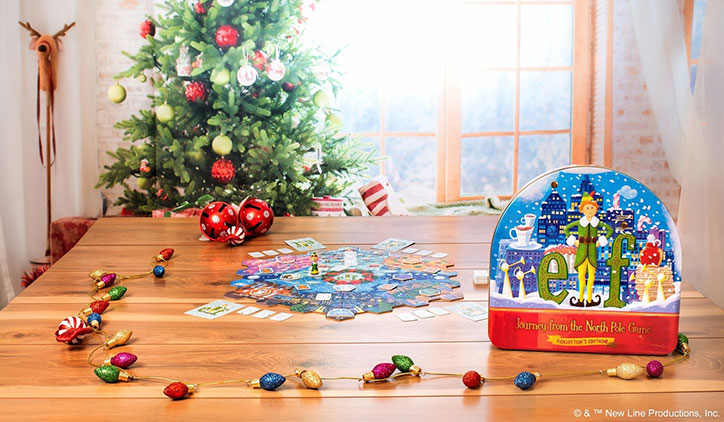 Elf: Journey From the North Pole Collector's Edition
ELF QUOTE: "I passed through the seven levels of the candy cane forest, through the sea of swirly-twirly gum drops, and then I walked through the Lincoln Tunnel."
GAME DEETS: This festive board game will bring all the holiday cheer as you join Buddy on his journey from the North Pole to NYC, just like in the movie!
Make your way through the candy cane forest, the sea of swirly-twirly gumdrops, and say hello to Mr. Narwhal as you make loopy paths and guide Buddy through the iconic locations in the film to earn points. Be careful not to make any stops that aren't on your goal card, though. If you're the first to make it to the New York City snow globe, you'll win the game! Don't forget to celebrate with a big helping of syrup-topped spaghetti!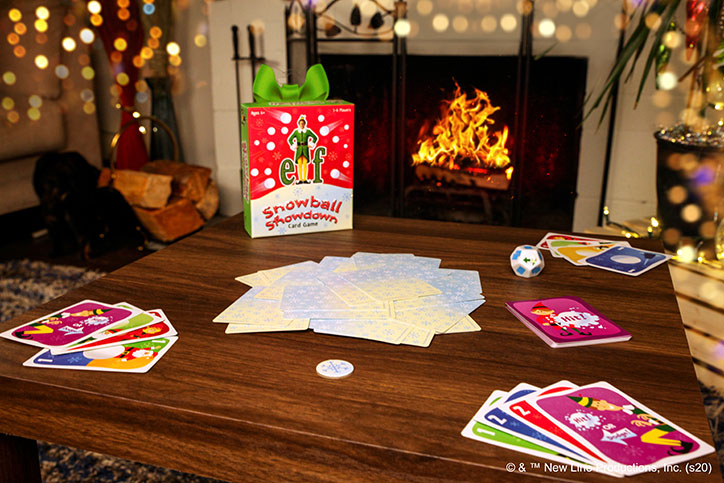 Elf: Snowball Showdown
ELF QUOTE: "I thought maybe we could make gingerbread houses, and eat cookie dough, and go ice skating, and maybe even hold hands."
GAME DEETS: Buddy the Elf loves smiling, eating whole rolls of cookie dough, and doing pretty much anything that feels like Christmas – including having snowball fights in Central Park! If you've seen the movie, you know Buddy's snowball skills are seriously top-tier, and in this card game, you'll get to join him!
Players will take turns throwing snowballs at each other and trying to knock each other out. On your turn, you're the thrower and everyone else is a defender. As the thrower, you'll play snowball cards in an attempt to score while the Defender rolls the dice to find out if they'll dodge, draw a card, or take a hit. After three hits, you're knocked out, and the last player left standing becomes the snowball champ!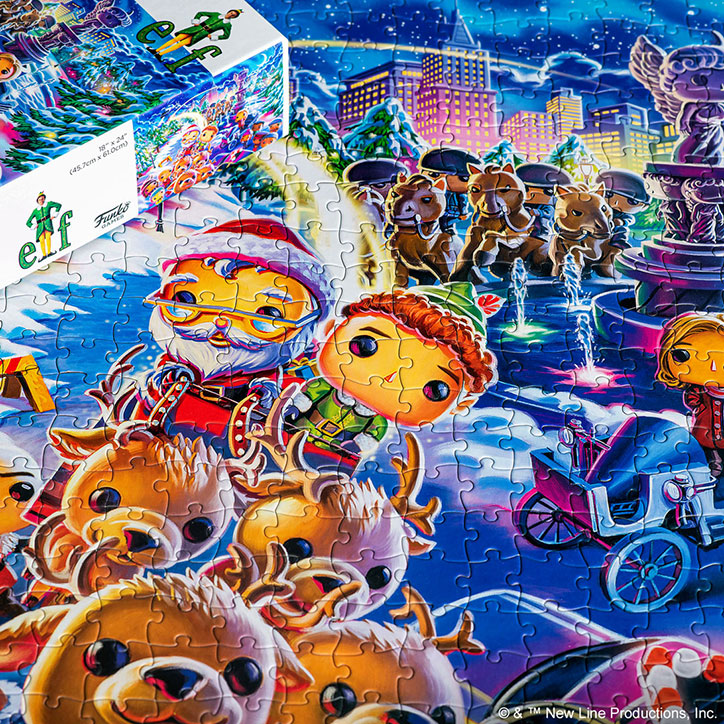 POP! Puzzle: Elf
ELF QUOTE: "The best way to spread Christmas cheer is singing loud for all to hear!"
WHAT WE LOVE: Nothing brings holiday cheer like doing a puzzle by the fire with your fam, especially when that puzzle is a snowy scene inspired by Elf!
The POP! Puzzles line features illustrated movie moments come to life in the iconic Funko POP! style. These 500-piece puzzles are the perfect activity to do in your cutest Christmas pajamas after a long morning of tearing open gifts, on a super snowy day, or while watching Elf for the millionth time.
No matter how you get your puzzle on, it's sure to make you smile – and smiling is Buddy's favorite!
Funko Games Elf Game Night Giveaway: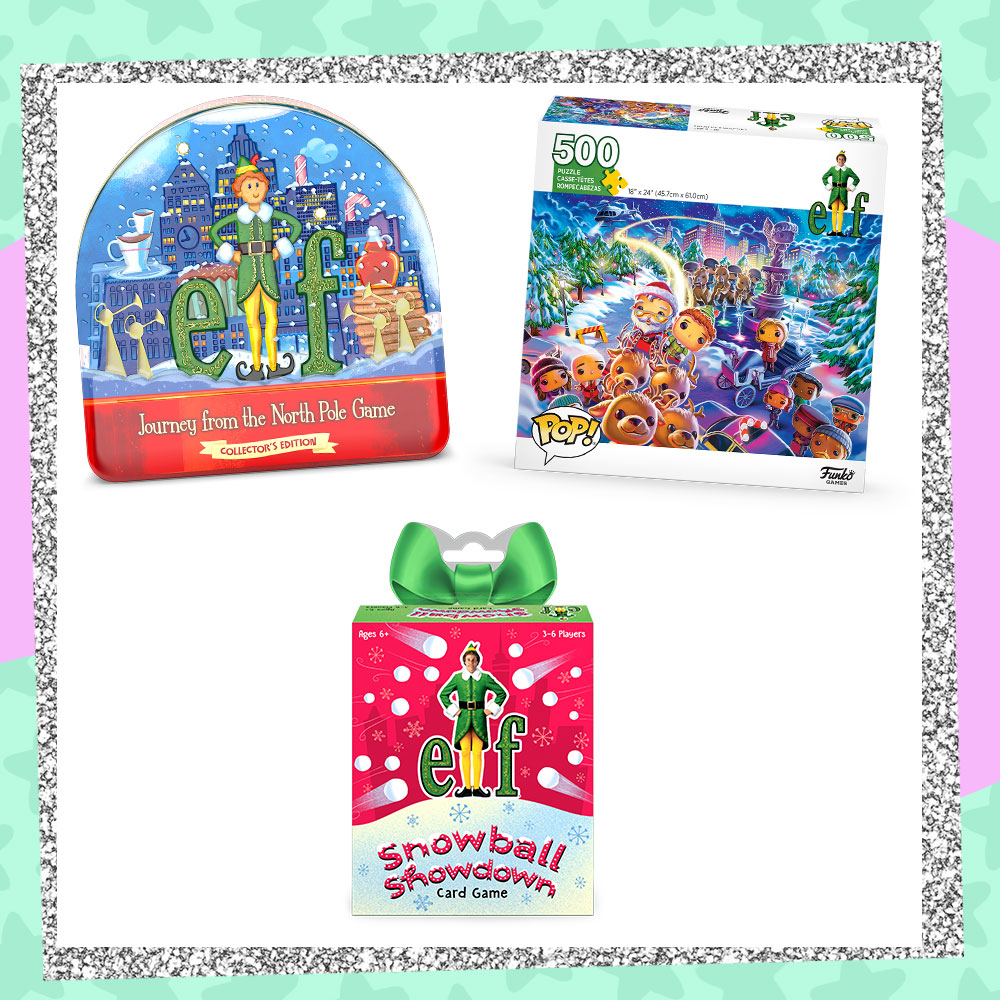 WHAT DO I WIN?:
ONE lucky winner will receive an Elf Game Night Prize Pack that includes:
– ONE (1) copy of Elf: Journey From the North Pole: Collectors Edition
– ONE (1) copy of Elf: Snowball Showdown
– ONE (1) copy of POP! Puzzles: Elf
*Prizes generously provided by Funko Games.
HOW DO I ENTER?:
Grab a parent or guardian and have them fill out the form below by December 6, 2022 at 11:59pm ET.
Giveaway runs from 12/06/22 at 03:00 pm ET through 12/20/22 at 11:59 pm. Open to US residents ONLY. Be sure to read the fully detailed rules HERE before entering.
THIS GIVEAWAY HAS ENDED AND THE WINNER HAS BEEN CONTACTED.
You must be 18 or older to enter. Please, only ONE entry per person. If selected as a winner, we will provide your parent/guardian with an affidavit to confirm that you are a valid winner who has permission to win. They will be REQUIRED to sign and return the affidavit to YAYOMG! to claim your prize. Prizes will not be mailed out without signed parental consent.
WE THINK YOU'LL ?HEART? THESE POSTS:
✨HOLIDAY CHEER: Want more free stuff? A few of our Holly Jolly Giveaways are still up for grabs! Click HERE!
?GAMER GIRL VIBES: Gamer, streamer, & podcaster FabuRocks is dishing out tips for how to become a pro streamer!
✨HOLIDAY ZODIAC: Find out which holiday character you are based on your zodiac sign HERE!