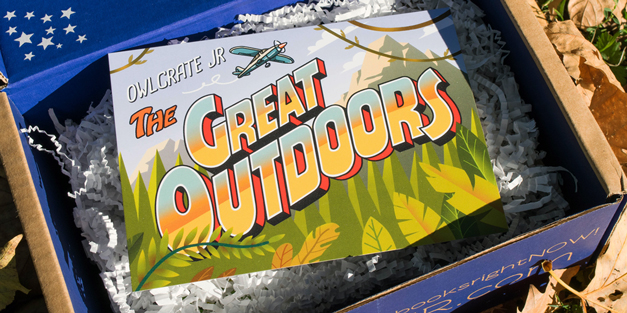 Explore the Great Outdoors with the OwlCrate Jr. Sept 2017 Box
Note: As OwlCrate Jr. Reps, we received this box for free in exchange for a fair and honest review. All opinions are our own.
Last month, OwlCrate Jr. took readers Into the Woods and this month we're headed to The Great Outdoors for a thrilling survival adventure in the Amazon. You'll also find some really fun goodies inside this month's box, a great mix of educational and just plain fun. Inspired by the theme, we headed outside to Independence National Park to snap our pics for the unboxing!
Ready to discover what we found inside the September box? Keep on scrolling!
OwlCrate Jr. Unboxing – The Great Outdoors – September 2017: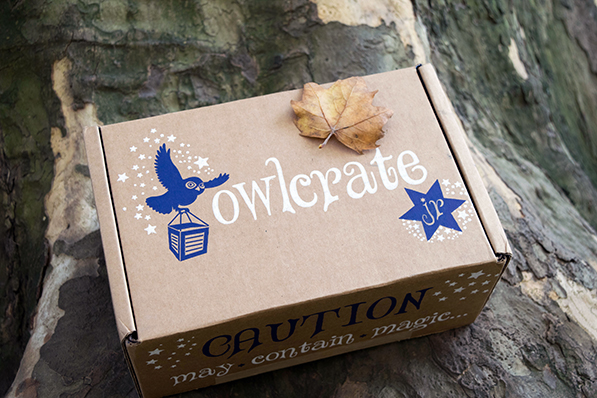 Book of the Month: The Explorer by Katherine Rundell
About the Book:
From Boston Globe–Horn Book Award winner Katherine Rundell comes an exciting new novel about a group of kids who must survive in the Amazon after their plane crashes.
Fred, Con, Lila, and Max are on their way back to England from Manaus when the plane they're on crashes and the pilot dies upon landing. For days they survive alone, until Fred finds a map that leads them to a ruined city, and to a secret.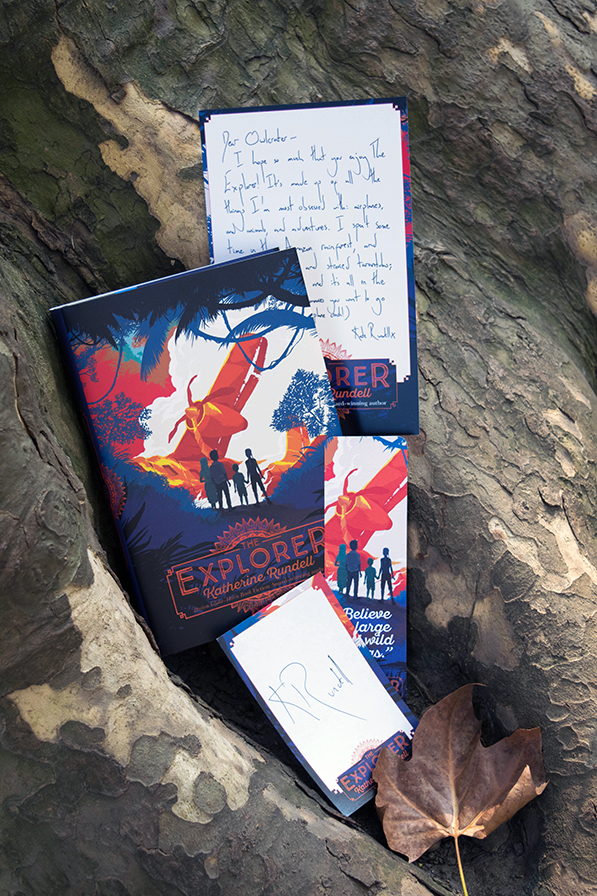 Doesn't this book have such a beautiful cover? It's even better in person, it's just so bold and colorful. It'll look great on your bookshelf and even better in your hands while reading. Along with your totally beautiful and very exciting new read, you'll find a letter from the author, an autograph, and a bookmark.
We've got to pat ourselves on the backs. Every month we like to speculate about which book OwlCrate Jr. will pick for the next box based on the theme and description, and this is the first time we got right! Go us! Now, onto the goodies.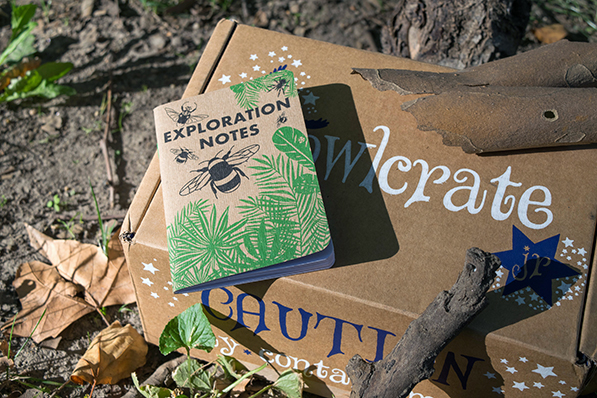 No adventurer or explorer is complete without a notebook to jot down their findings. Plus, if you're stranded in the rainforest like the kids in The Explorer, it's a great way to help you keep track of where you've been, what you've eaten, and other important survival notes. For most of you though, we have a feeling it'll be put to better use observing insects in your yard or bird watching on your next trip to the park.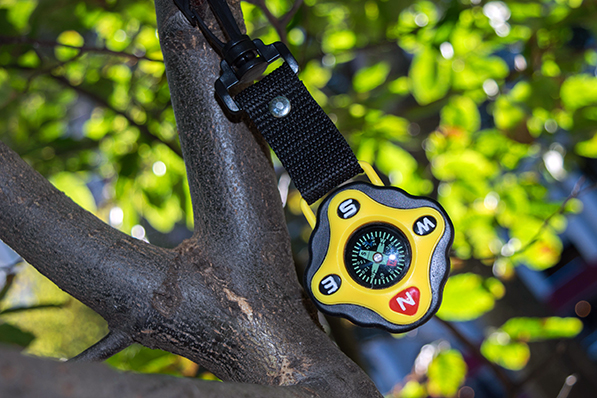 Clip-On Compass from Toysmith:
The OwlCrate crew ensures that you'll never get lost by putting a trusty new compass right inside the box. Now when you're out exploring you'll be able to find exactly where you're headed and where you are. If your compass breaks, you can always look to the stars for guidance using the star chart found inside the April box!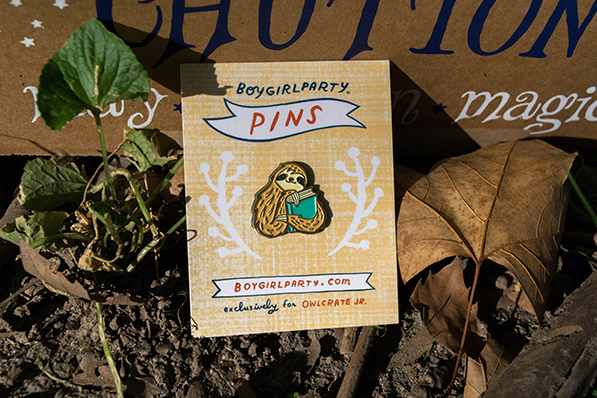 Adorable Sloth Pin from boygirlparty:
One of our favorite items from all 7 OwlCrate Jr. boxes so far, this adorable sloth pin is the cutest ever. It's also exclusively designed by boygirlparty for this box, which means you can't get it anywhere else. Take your new sloth friend on all of your adventures by pinning him to your jacket, backpack, or binocular lanyard.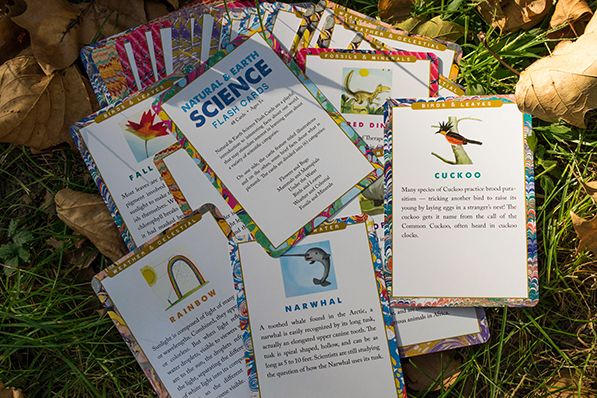 Natural & Earth Science Flash Cards from Eeboo:
Prefer exploring from the safety of your living room? Or maybe it's just raining? These Science Flash Cards will teach you everything you need to know about flowers, insects, undersea creatures, weather, and more!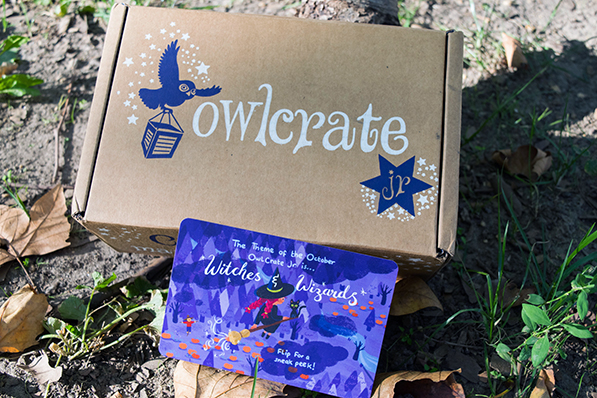 Where will OwlCrate Jr. be taking subscribers next? The theme for October is Witches and Wizards, so we're definitely in for something magical and maybe even a bit spooky. Perfect for Halloween thrills!
From the Card Insert:
"Things are getting a little bit spooky next month, just in time for Halloween! Enter the hair-raising world of wizards and witches – if you dare! Each October box will feature a gripping new fantasy adventure from one of our favorite middle grade authors, along with other magical goodies we've conjured up, just for you!"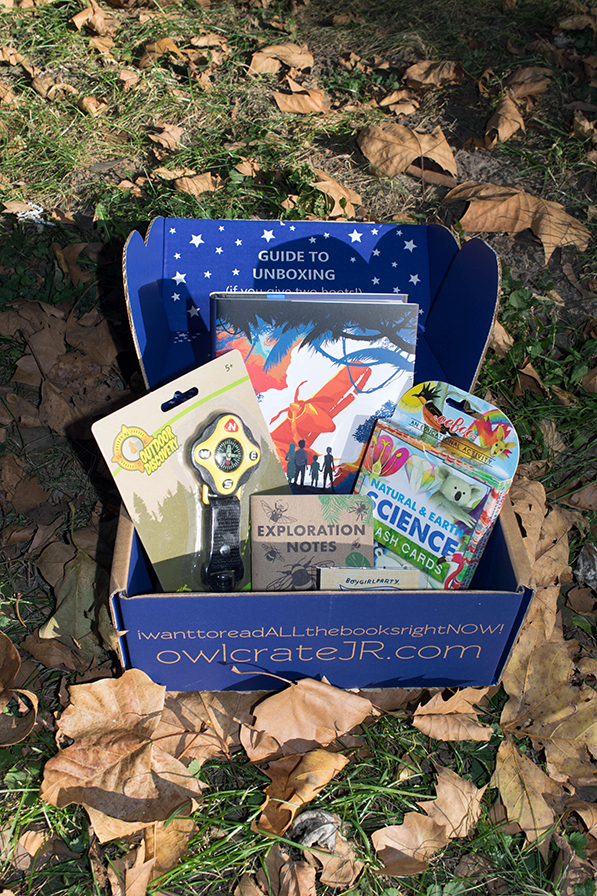 They don't usually spoil things so far in advance, but OwlCrate Jr. announced that the October box will contain items relating to Harry Potter and The Wizard of Oz. If you're ready to sign up for your own OwlCrate Jr. subscription, be sure to use our code OMG15 to save 15% off your purchase!
Now that Fall has officially arrived, check out our Homecoming Style Guide to inspire your homecoming look!