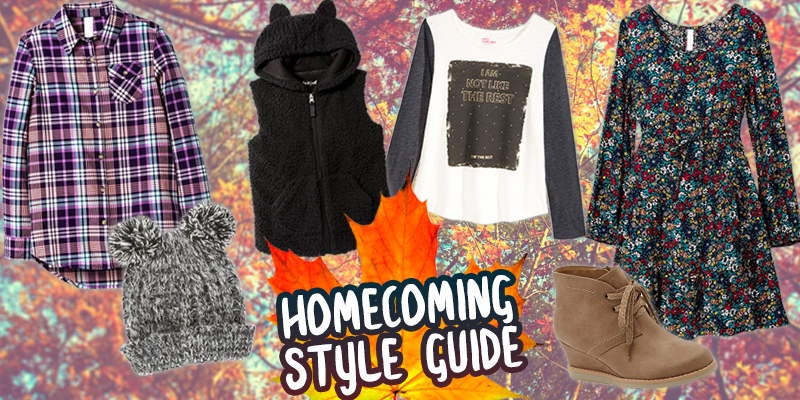 Your Ultimate Homecoming Style Guide
Fall is officially upon us and you're finally all settled into your back to school routine. You've got your schedule memorized by heart, you know exactly which friends you pass in the halls between which classes, and you've already aced at least one really major test. That can only mean one thing – Homecoming is just around the corner! Whether your school goes all out for it's Homecoming celebrations or it's more of a low-key affair, it's a great excuse to hit the mall with your buds and pick out a new outfit.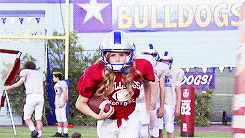 If your school has a football team, you're almost definitely attending the big Homecoming game, building float, or marching in (or sipping a hot chocolate on the sidelines of) the big Homecoming parade. Some schools throw a Homecoming dance for their students, which is a great way to get your groove on with your BFFs and maybe even make new friends. Other schools celebrate the tradition in other ways – the school we went to threw an annual Homecoming carnival! Students would spend weeks building awesome booths and the whole town would come to show their pride for our football team with rides, face painting, and awesome carnival games.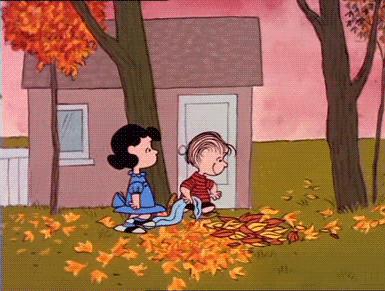 No matter what kind of Homecoming event you're participating in, we've got you covered with our Homecoming Style Guide. We've pieced together some looks perfect for staying warm at the Homecoming game, looking fab at the Homecoming dance, or keeping it comfy at the Homecoming carnival. Check it out!
Your Ultimate Homecoming Style Guide:
Homecoming Game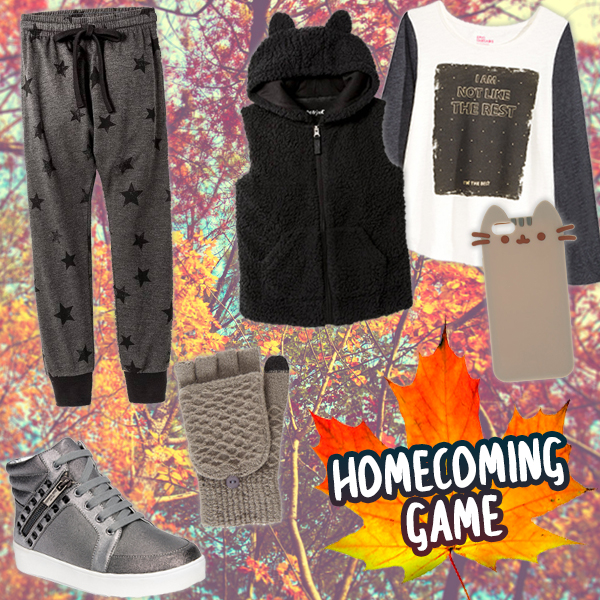 Homecoming events generally take place during September or October, which depending on where you live, can be anywhere from super warm to super chilly. Our layered look makes sure you can keep warm if you need to and will definitely keep your butt comfy while sitting in the bleachers for hours while cheering on your team. (Football games aren't exactly short!)
We picked a pair of awesome starry joggers from the completely amazing Cat & Jack line at Target. They'll be comfy to sit in for hours, they're warm and snuggly, AND you can rock them for pretty much ALL of Fall and Winter. (We love a wardrobe piece that keeps on giving!) A simple long sleeve tee is great for when there's a chill in the air, and is easy to layer under a jacket or vest if you end up getting cold. We chose to pair it with an adorably fluffy cat ear vest, another super versatile piece. Zip it up, keep it open, rock it hood up or hood down – it's up to you. To pull the look together we chose an amazing pair of silver high tops, grey fingerless gloves (with option to turn into mittens) and a Pusheen phone case to keep the cat theme going strong. (Because you can never have too many cats!)
We kept it more muted with blacks, whites, and greys, but you could easily kick this outfit up a notch with your school's colors to really show your team spirit!
Homecoming Dance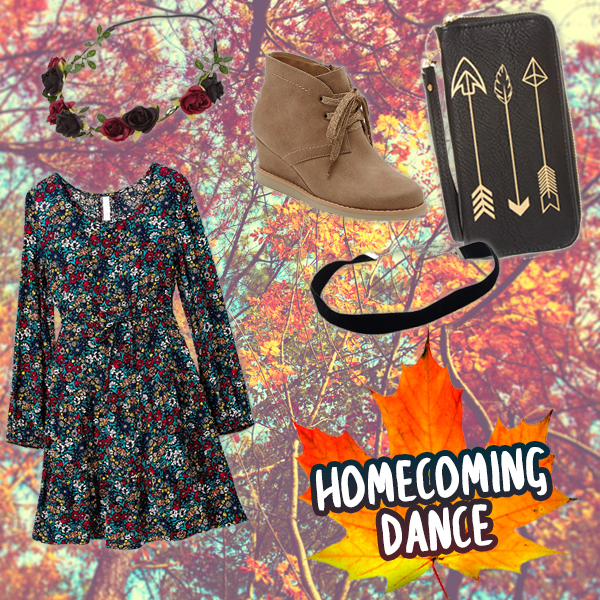 Whether you're campaigning for Homecoming Queen or are just ready to sing your favorite songs at the top of your lungs all night with your besties, it's always fun to dress up and look your best for a school dance. Whether you decide to kick it glam in dress or keep it casual in your lucky pair of Chucks, we know you're gonna look worthy of that Homecoming tiara.
Our choice for the Homecoming dance? A gorgeous retro inspired long sleeved dress. It's a little bit hippie, a little bit delicate, and a whole lot of awesome! The long sleeves will keep you warm on a chilly Fall night and the colors in this dress are a perfect match for your photo backdrop of those gorgeously colored Fall leaves. This dress pairs great with flats, boots, and anything in between – you pretty much cant go wrong. (We chose those amazing tan wedge boots!)
The most important part of any look? Accessorizing! We chose a flower crown, velvet black choker, and arrow clutch, all from Claire's. Add your brightest smile and an extra layer of self-confidence as the finishing touches and you're ready for a night of Homecoming fun!
Homecoming Carnival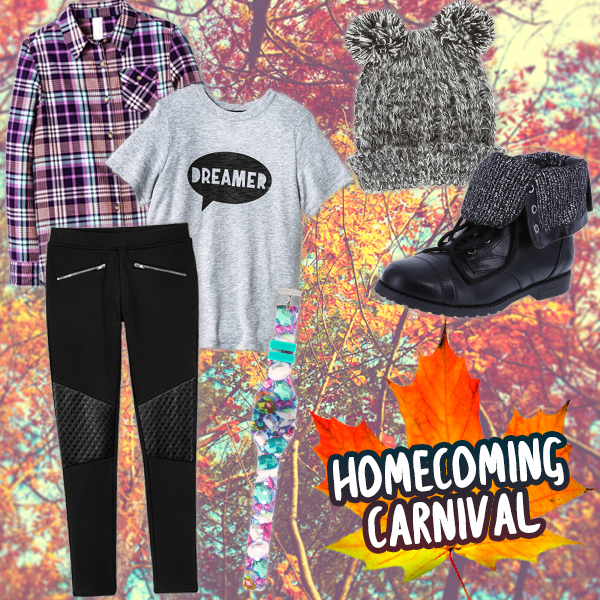 Like the football game, the Homecoming carnival is generally outdoors, meaning another excuse for layers upon layers of cute clothes. While leggings, a comfy pair of boots, and a flannel wrapped around your waist is basically the go-to uniform for Fall, there's a reason for that. It's comfortable, it looks great, and it works in pretty much any situation. Instead of ordinary leggings, try a textured pair like the amazing zippered and leathered ones above. Rock a graphic tee, a colorful cami, or whatever other top floats your boat. The great part about this look is that it's so easy to change to suit your mood.
Since you're at a carnival, try swapping out your usual muted red or blue flannel for some brighter colors to match the mood of the event. (We chose purple/pink for ours.) Wrap it around your waist and put it on when you're cold. Easy peasy! (PS: This look also works perfectly for a Homecoming parade if your school doesn't do a carnival!)
If you're like us, you've been waiting all Summer long to swap shorts for leggings and have an excuse to rock a ridiculously cute beanie, so why not start off with the ultimate in cute – knit pom pom beanie! Add in a fun watch for a pop of color and to keep you on time for any apple bobbing, face painting, or other carnival activities you've signed up for. Oh, and those boots? They're from Payless so they won't suck up all your allowance money and you'll still have cash to buy yourself a delicious apple cider (or PSL!) at the event. Perfect!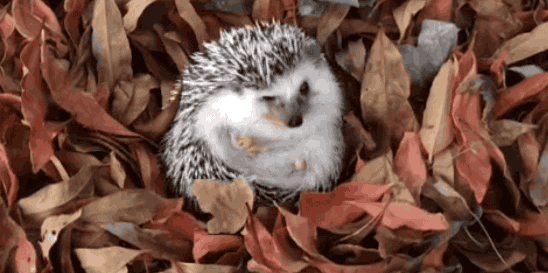 Now that you're ready to tackle all your Homecoming events in style, take our Halloween Zodiac Quiz to see which character is your star-crossed Halloween bestie or another one of our awesome lookbooks!