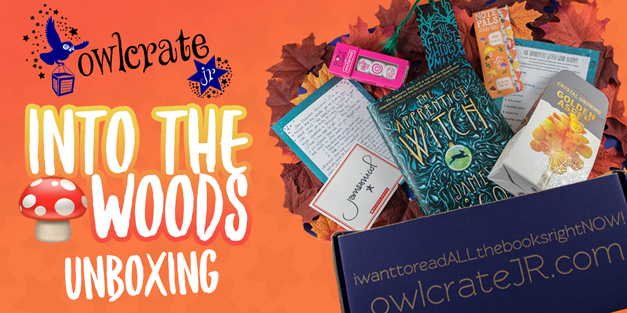 The OwlCrate Jr. August 2017 Box Takes Readers Into the Woods
Every single month we simply can't believe it when our OwlCrate Jr. hits our doorstep. Another box? Already? How do they manage to put these together so fast? Is it magic? They must be using magic! The Into the Woods box for August 2017 certainly radiates magical vibes and so does the book you'll find snuggled inside.
This month's theme and goodies are very enchanting and they're definitely a great escape from the piles of homework you'll have when you head back to school. Let's head Into the Woods and find out what's lurking inside this month's crate.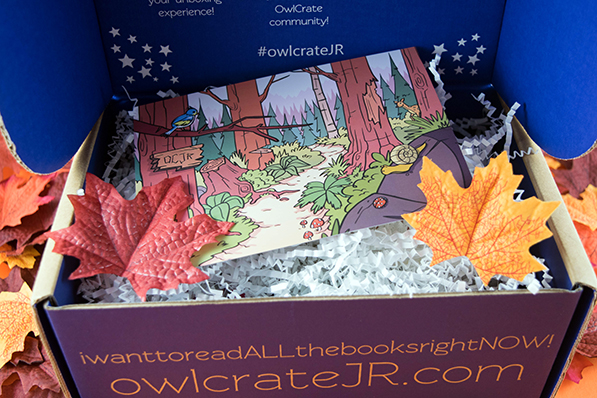 OwlCrate Jr. Unboxing – Into the Woods – August 2017: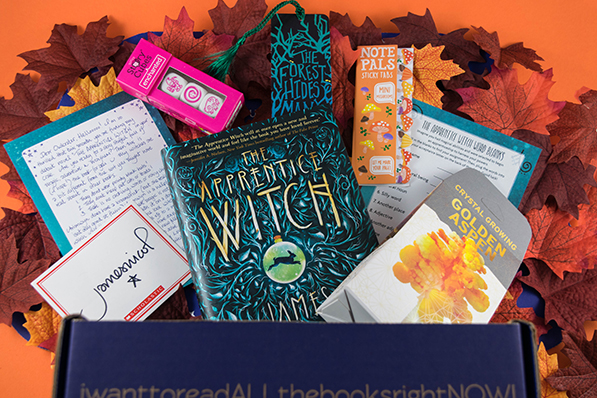 Book of the Month: The Apprentice Witch by James Nichol
About the Book:
Arianwyn has flunked her witch's assessment: She's doomed. Declared an apprentice and sent to the town of Lull in disgrace, she may never become a real witch– much to the glee of her arch-rival, Gimma. But remote Lull is not as boring as it seems. Strange things are sighted in the woods, a dangerous infestation of hex creeps throughout the town, and a mysterious magical visitor arrives with his eye on her.
With every spirit banished, creature helped, and spell cast, Arianwyn starts to get the hang of being a witch–even if she's only an apprentice. But the worst still lies ahead. For a sinister darkness has begun to haunt her spells, and there may be much more at stake than just her pride . . . for Arianwyn and the entire land.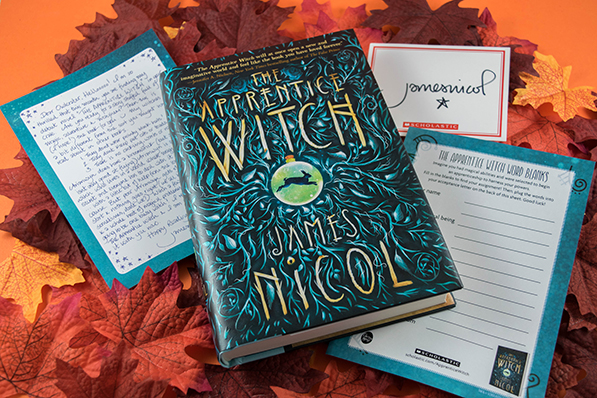 In addition to a new read, you'll also find a letter from the author, a mad-libs style apprenticeship letter (almost as cool as a letter from Hogwarts), and an autograph to cherish forever. Who else is excitedly hoarding all these autograph cards for a future collage or shadow box? Just us? The Apprentice Witch sounds like a fantastic story, we're so excited to dive in.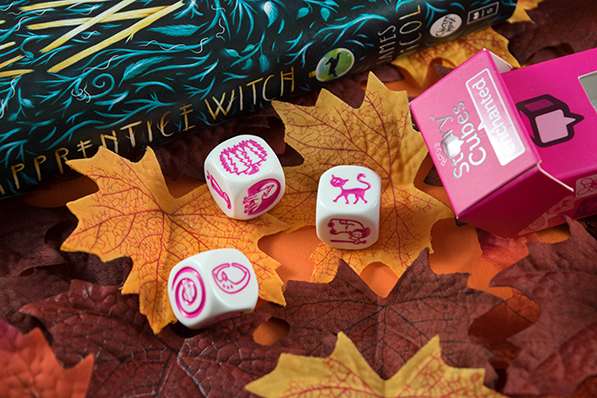 Has reading a really great story ever inspired you to write one of your own? Whether you're looking for new story ideas or just struggling with writers block, the Enchanted Story Cubes you'll find in this month's box will help get your creative juices flowing for sure. Story Cubes are storytelling dice. Instead of a number on each side, each die features a small picture on each side. Shake 'em up, roll, and voila! You've got a brand new story idea laying right there on your desk. Not looking to work on your writing skills? Story Cubes can be used as a storytelling game with friends and family.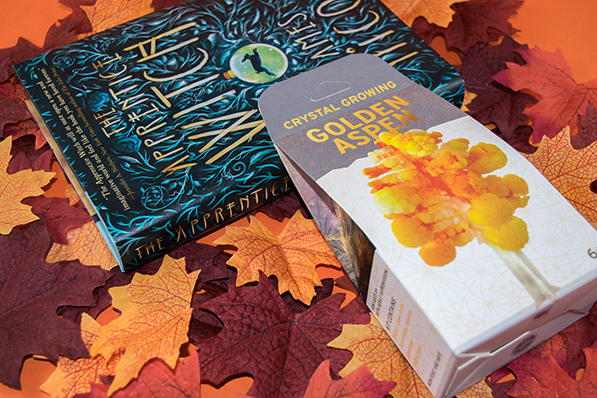 Winning the award for coolest item in the box (and possibly of all 6 OwlCrate Jr. boxes to date) is the Crystal Growing Tree. Subscribers were gifted with an awesome tree growing kit (we got a Golden Aspen) that'll help you grow your own enchanted forest right on your bedside table. Just assemble the paper tree pieces, place it in the base, and fill it with the included solution. Within a few hours you'll have a blossoming crystalized mini tree. Magic? No – science!
Be sure to check our Insta in a few days to see how our tree turned out!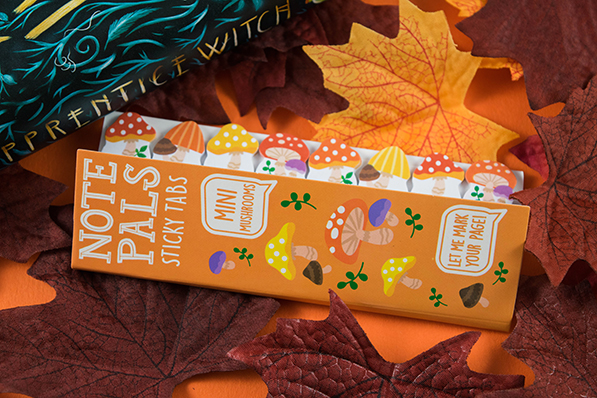 Mini Mushroom Notepals from Ooly:
These mini mushroom sticky tabs are totally adorable and perfect for those of you headed back to school. Use them to flag important pages in your textbooks or as cute decorations in your planner or agenda.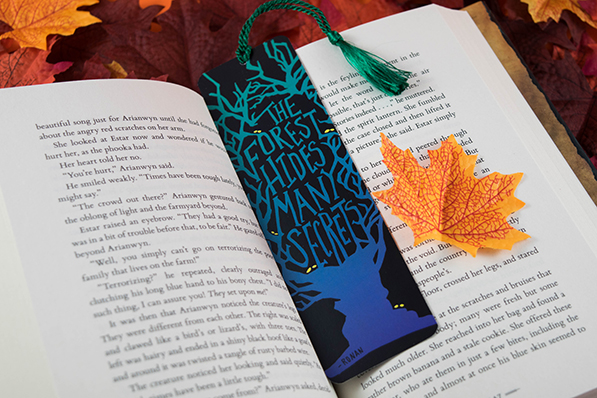 Harry Potter Bookmark illustrated by Ashley Visvanathan:
Getting a new book in the mail means you're likely in need of a bookmark or two. Thankfully, the OwlCrate Jr. Into the Woods box delivers in a big way for Potterheads! This beautifully illustrated bookmark features a quote from Harry Potter and the Sorcerer's Stone!
What's next? This month OwlCrate Jr. subscribers travelled Into the Woods and in September we'll be headed to The Great Outdoors for even more adventuring!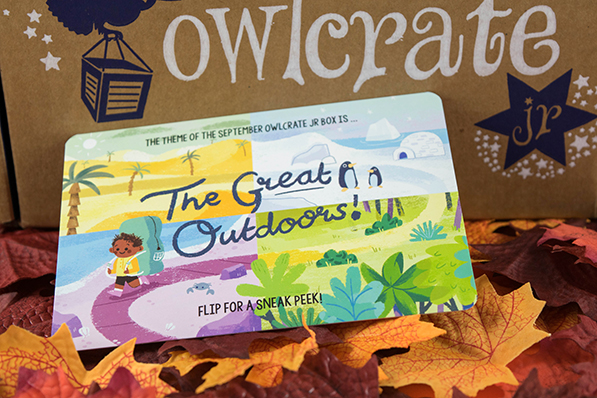 From the Card Insert:
"Go wild this September with our most exhilarating book yet! This epic story of adventure and bravery is perfect for fans of Gary Paulsen, The Swiss Family Robinson, and My Side of the Mountain."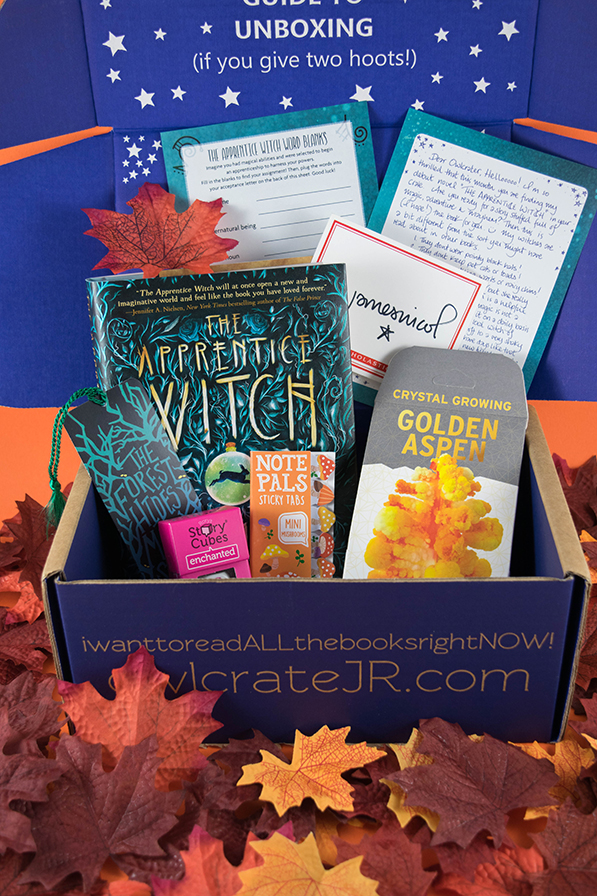 Ready to sign up for OwlCrate Jr. and head to The Great Outdoors? Grab your favorite adult and head over to their website. Use our code OMG15 at checkout to receive 15% off your purchase! Check out our other unboxings for more subscription box magic.
Note: We received this product for free from OwlCrate Jr. as a part of their OwlCrate Rep program in exchange for a fair and honest review. We were under no obligation to write a positive review.