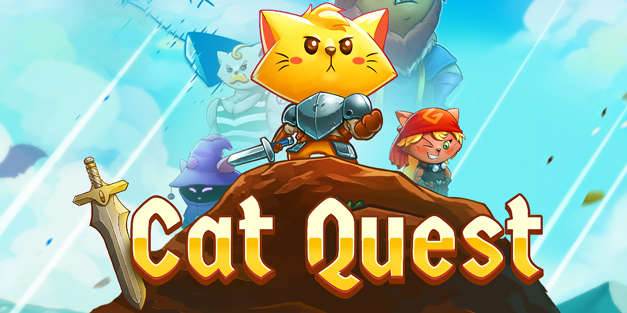 Cat Quest is a Purrfectly Fun RPG Adventure
Meow! Cat Quest is a charming cat-centric action RPG developed by a small team of fellow cat lovers, The Gentlebros. If you love the exploration and combat of games like Legend of Zelda or the overworld of games like Final Fantasy, Cat Quest is definitely up your alley.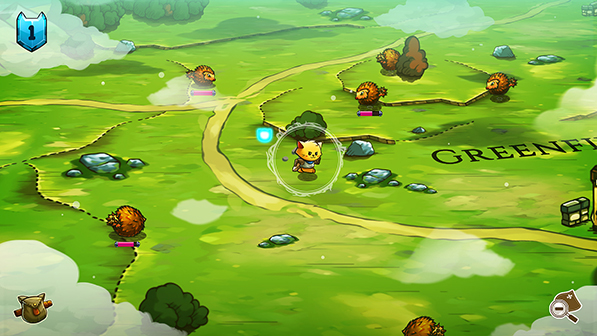 Players control an adorable catventurer on a quest to save his sister from the evil Drakoth, an extremely strong villain with the power to summon dragons. These dragons were only ever able to be defeated by the Dragonblood, cat warriors who are marked with a special symbol. These dragons and warriors were thought to be a thing of the past with no remaining Dragonblood left in Felingard, so it's a huge surprise to all it's cat-izens when they see all the action go down. It's soon discovered that you've been marked with the symbol of the Dragonblood, and Drakoth agrees to return you sister to safety only if you can defeat all of the dragons that he sends to destroy Felingard.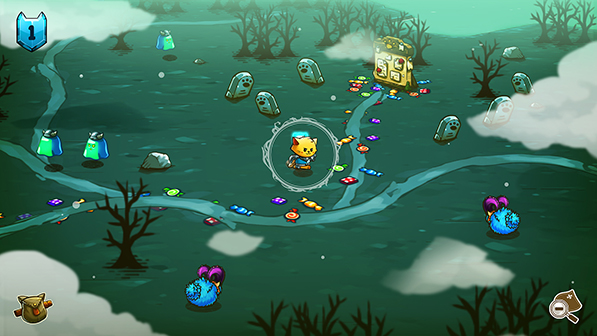 In order to do this you'll need to take to the overworld map, traveling far and wide to defeat enemies, collect loot, and take down the dragons that were sent by Drakoth. There's a few ways to level up your character to prepare for these battles. You'll need to purchase equipment and gear to boost your stats and abilities at Kit Cat's Shop. You can also find useful gear inside cat-eared treasure chests within the 50+ dungeons you'll have to master or after completing quests, along with coins and XP. Adding hats, armor, and weapons to your cat doesn't just make him look super cute – it also boosts his stats.
Additionally, you will need to unlock spells by traveling to the different mage towers throughout the game, allowing you to perform powerful magic attacks at a distance. These spells can be upgraded using coins, making your attacks even stronger, which is extremely useful against the stronger enemies you'll find as you make your way through the game.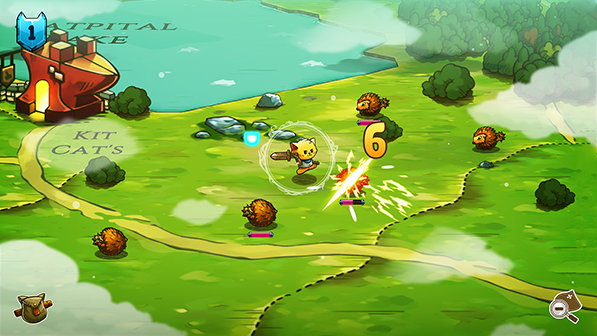 Cat Quest provides an easy to understand tutorial to help you get to know your abilities, your map, and all the tools you'll need along your epic journey. A helpful guardian spirit named Spirry floats by your side (like your own personal Navi), taking you on an interactive adventure through a few parts of the Felingard map to get you acquainted with the game. Each area of the game is filled with adorable art, hilarious cat puns, and intense music that really hypes you up for battle. The controls are pretty easy to pick up and are very responsive, giving players a pretty seamless experience.
Players will need to manage their Health, Armor, Attack, and Magic stats. Some of your stats will regenerate during battle if you can avoid being attacked and you can always take a cat nap in a nearby town to boost your health back to it's full capacity.

Don't be fooled by the cuteness, though. Cat Quest starts out pretty simple, but contains great depth. Starting off, things are pretty easy for you as a low level catventurer to slay any baddies in your way, but as you progress, you'll need to level up to make it through some trickier areas. You will also need to figure out the correct combination of equipment, gear, and magic to boost your stats and be able to take on specific areas or enemies. Combat is fast-paced, smooth and rarely feels repetitive.
Each of the different enemies have their own skills and attack patterns, making it so that thinking on your feet and employing strategy an absolute must in order to really master Cat Quest. Felingard is surprisingly massive, with some areas hidden underground and much larger than they seemed on the world map.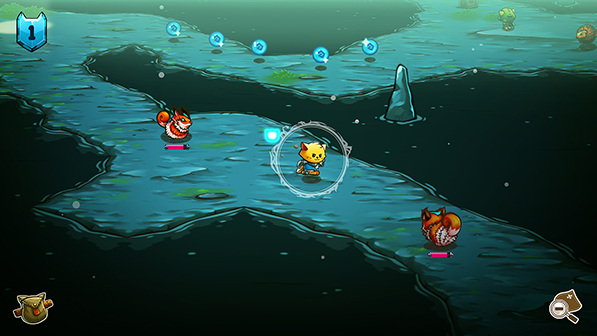 Alongside your main quest of slaying dragons and rescuing your sister, there's no shortage of side-quests for you to take on. These 60 additional quests are a great way to level up, add to your arsenal, and level up your character along the way.
We played the game on both Steam and iOS to get a feel for how it played in both scenarios. We loved the full screen experience of playing on our computer, but it was the iOS version we found easiest to control. We're not fans of WASD controls (we're more arrow key kids over here, darn useless left hands!), so we preferred the touch controls that playing on our iPhone and iPad provided us.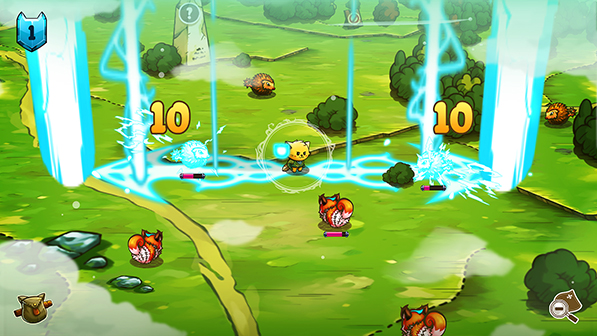 We're so thankful to The Gentlebros for sharing a Steam review copy with us so we could claw our way through the game and share it with you guys. We'd definitely love to see more quests and updates to Cat Quest in the future.
Cat Quest is now available on Steam ($12.99) and iOS devices ($4.99), with an Android release coming in the next few weeks. Cat Quest will also hit PS4 and Nintendo Switch later this year, so there's lots of ways for you to play! For more games to check out, click here!
Note: We received this game for free from The Gentlebros in exchange for a fair and honest review. We were under no obligation to write a positive review.