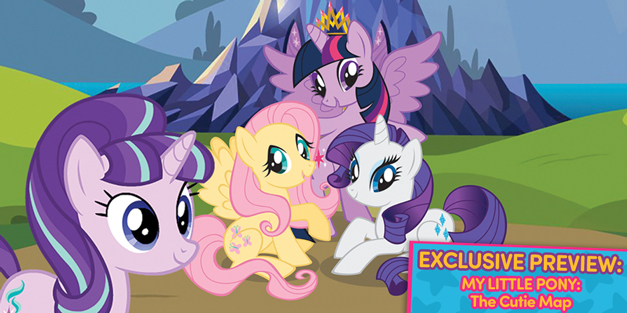 EXCLUSIVE PREVIEW: My Little Pony: The Cutie Map
If you're a fan of watching My Little Pony: Friendship is Magic, you may recognize The Cutie Map story. It's a comic adaptation of the two-part Season 5 premiere in which Twilight Sparkle and Mane 6 unlock a secret map to a small village where the ponies have given up their Cutie Marks. Starlight Glimmer is the leader of the village and has convinced all of the inhabitants that their lives will be better, happier, and more fulfilling without their given marks holding them back.
Will Twilight and the gang be able to uncover the dark secrets of this mysterious village? You'll have to read it to find out! We've got an EXCLUSIVE preview of this 144-page paperback volume of My Little Pony: The Cutie Map from our friends at IDW.
EXCLUSIVE PREVIEW: My Little Pony: The Cutie Map:
If you've never seen the episode, you're in for a treat! Even if you have, the My Little Pony: The Cutie Map trade paperback is a great way to relive the magic of this iconic episode. Excited? It's hitting comic shops on December 6th, so there's not much longer to wait. It also makes a great addition to your holiday wishlist or an excellent gift for the MLP fanatic in your life.
My Little Pony: The Cutie Map
TPB • FC • $7.99 • 144 pages • 5" x 7" • ISBN: 978-1-68405-065-9
Publisher: IDW Publishing
Writer: Scott Sonneborn, M. A. Larson
Art/Cover: Various
SYNOPSIS: Adapting the most beloved My Little Pony animated cartoon episodes to graphic novels! The celebrated animated series comes to bookshelves! Revisit the habitants of Equestria and learn about the magic that friendship brings in this adaptation of the television series. This volume adapts the two-part "The Cutie Map!"
Interested in learning the secret history and lore of Equestria? We recommend the My Little Pony: Legends of Magic comic series. Each issue tells the true story of a legendary pony and how their bravery and courage helped shape Equestria for the better.