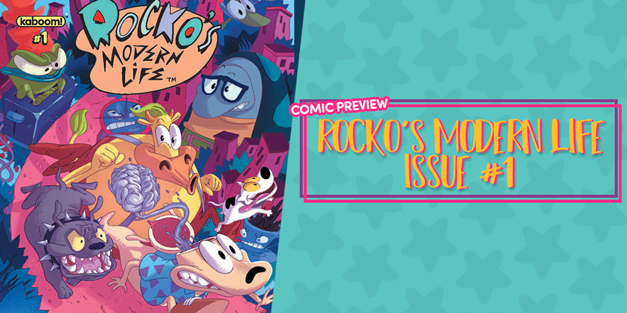 SNEAK PEEK: Rocko's Modern Life #1 – Preview the First Issue of the Comic
Turn the page, wash your hands. Turn the page, wash your hands. This week, new comic book day brings the nostalgia with Rocko's Modern Life #1 from KaBOOM!, an imprint of BOOM! Studios. If you're not in the know, BOOM! and Nickelodeon have teamed up to revive the 90's by turning some of their most beloved Nicktoons into comics. They started with Rugrats back in October, and now the Rocko's Modern Life series is about to hit comic shops everywhere.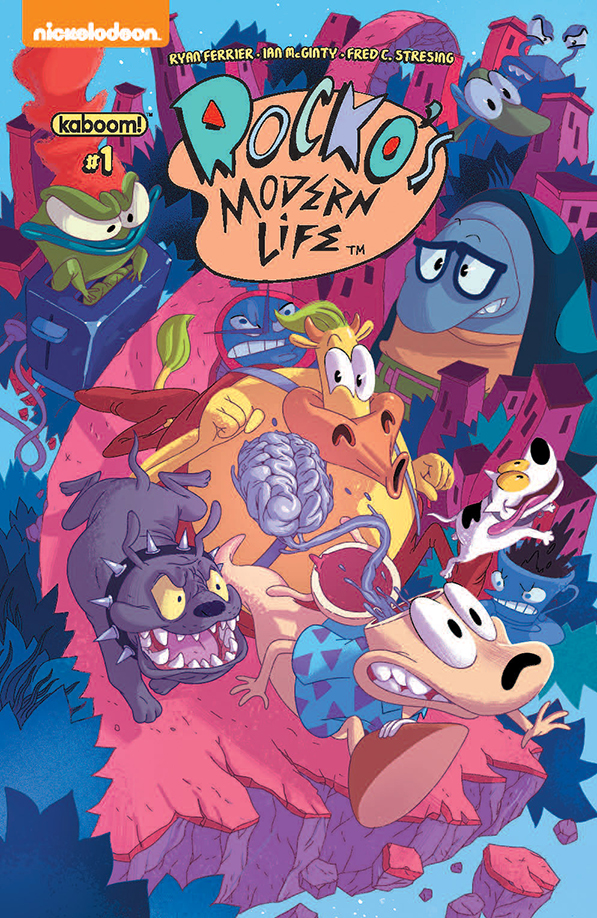 To bring this lovably anxious, totally weird wallaby to life, they've called upon a seriously awesome team of writers and artists who are Nick fans themselves. Rocko's Modern Life #1 feels like it could pick up where the cartoon left off many years ago. Writer Ryan Ferrier stays true to the tone, the jokes, and the overall chaos of the original series. As people who grew up loving the show, it was a total blast to read.
For those of you who've never experienced the amazingness of Rocko, Heffer, and Filburt before, you're in for a treat! This series picks up at a new chapter in Rocko's life – he's laid off from his job at the call center, and the series follows just how far he'll go to be able to put a roof over his head and food in Spunky's bowl.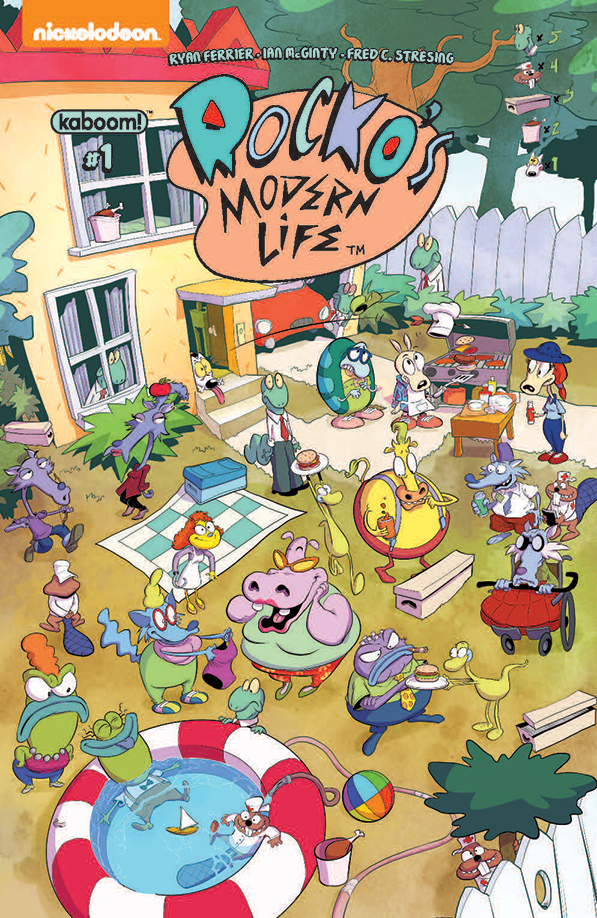 Rocko's Modern Life #1 re-introduces fan-favorite characters and even brings in Chalmers, a new roommate who lives to party. He's your stereotypical rowdy bro, and we just can't think of anyone better to bring a hardcore party sloth to life than artist Ian McGinty. There are a ton of awesome variant covers to collect for this first issue, so be sure to hit your local comic shop on December 6th to pick up your copies. In the meantime, enjoy the first few pages of the issue below.
Rocko's Modern Life #1 – PREVIEW:
Once you hit the final page of this month's issue, KC Green brings Mr. Bighead face to face with Dr. Hutchison, O-Town's craziest dentist. We can't wait until next month for Issue #2, so we can find out what happens next!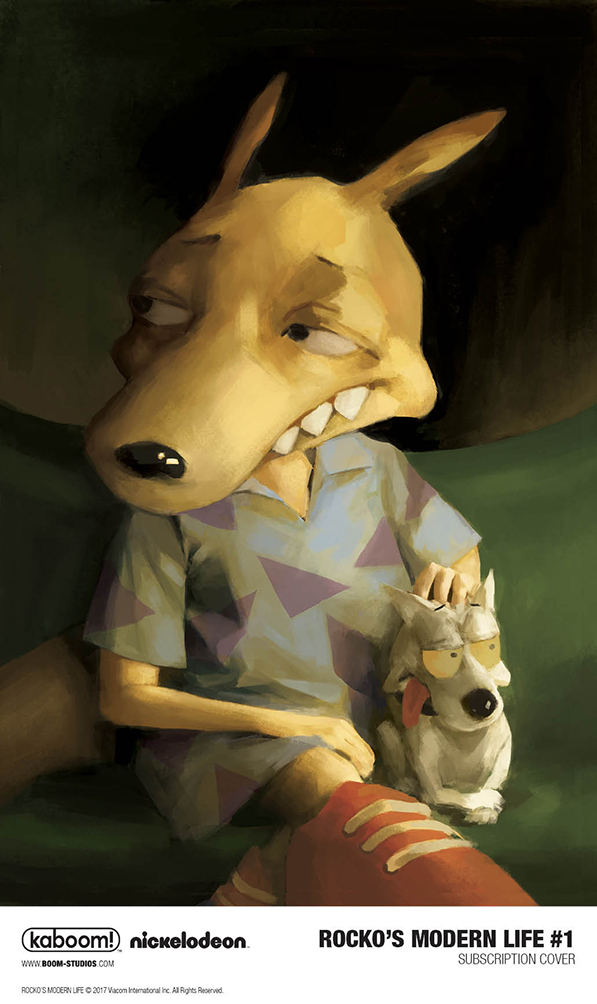 Rocko's Modern Life #1
Publisher: KaBOOM!, an imprint of BOOM! Studios
Writer: Ryan Ferrier, KC Green
Artist: Ian McGinty, KC Green
Cover Artists:
Main Cover: Jorge Monlongo
Portrait Cover: Miguel Mercado
Incentive Cover: Nick Pitarra
Blank Sketch Cover: N/A
Unlocked Retailer Variant: Bachan
Colorist: Fred C. Stresing
Letterer: Jim Campbell
Price: $3.99
Synopsis:
Ryan Ferrier (Regular Show) and Ian McGinty (Adventure Time) continue BOOM! Studios' partnership with Nickelodeon with all-new stories about everyone's favorite wallaby!
When Rocko faces unemployment, a terrible living situation, and increasingly slim job prospects, he is forced to find out just how far he is willing to go to get a job.
Features a backup story by KC Green where Ed Bighead finds himself in the dentist chair of Dr. Hutchison!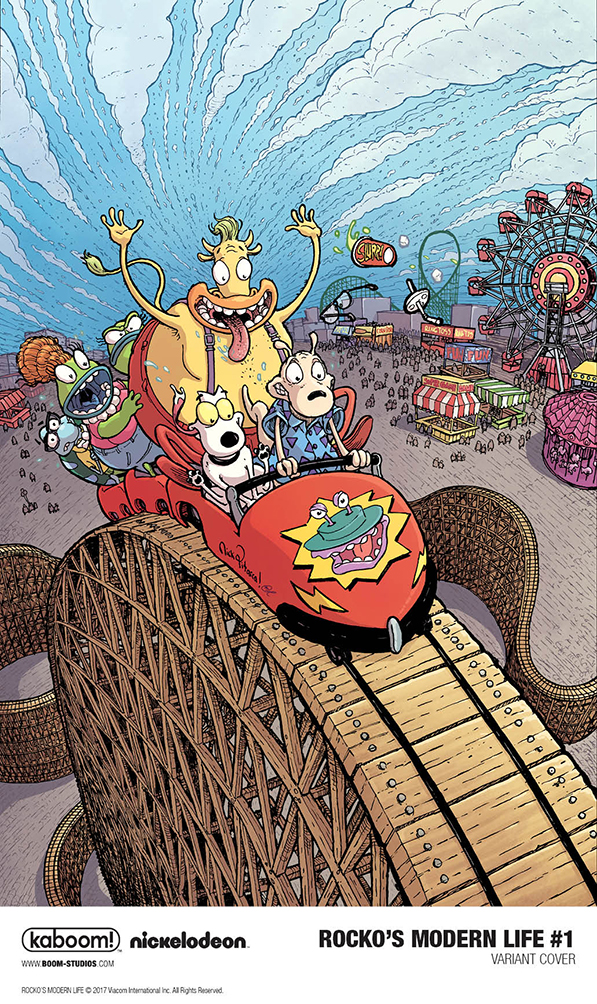 Love comics? Check out our interview with Scott Nickel, one of the writers of the Garfield: The Thing in the Fridge graphic novel!