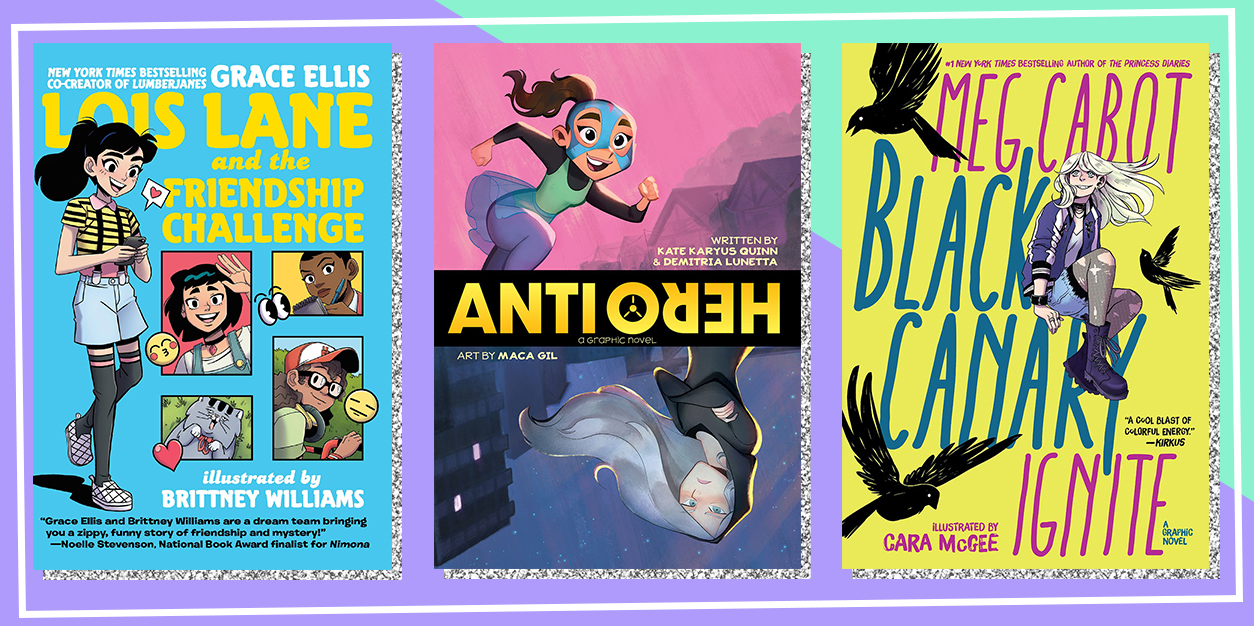 Own Your Girl Power With This Stash of DC Kids Reads + GIVEAWAY!
We've been OBSESSING over DC Kids' latest lineup of graphic novel releases. What could be more empowering than a stack of books filled with strong, driven girls in leading roles? From total icons like Lois Lane and Wonder Woman, to brand new original characters like Primer, they've been hard at work bringing superhero stories to life through relatable middle grade reads.
Whether you're a weekly comic enthusiast, a lover of superhero films, or just a total bookworm looking to add a little more adventure to your bookshelf, these stories are sure to inspire you! The characters in each of these stories feel like real girls. They're flawed and rough around the edges. They make mistakes. But at the end of the day, it's their confidence, courage, and determination (aka their hero qualities!) that shine the brightest – a reminder that there's a hero inside all of us!
Ready to get reading? We rounded up some of our current fav DC Kids graphic novel releases of the year to inspire your girl power and love of reading! Plus – we're giving away a prize pack that includes ALL 5 books, so grab your favorite adult and enter below for your chance to win!
Our 5 Fav DC Kids Graphic Novels That Bring the Girl Power: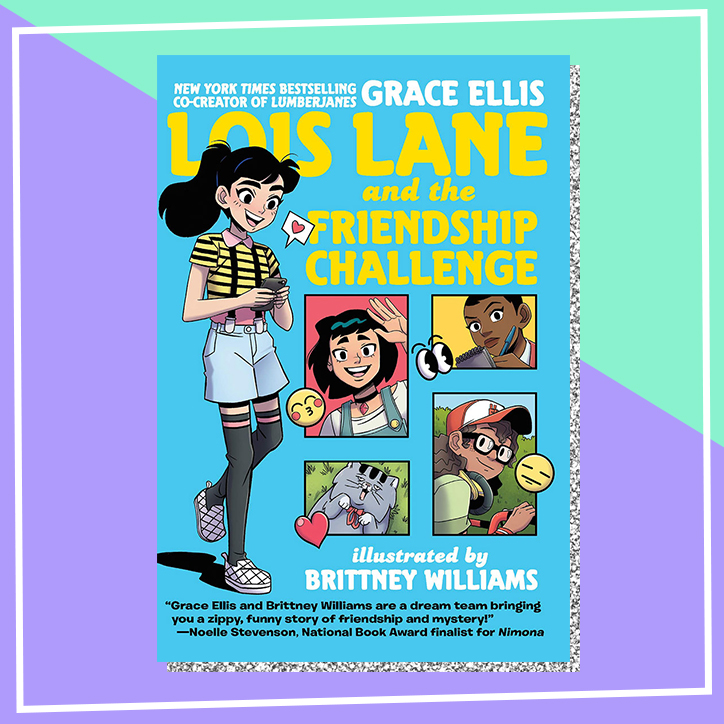 Lois Lane and the Friendship Challenge:
AUTHOR: Grace Ellis
ILLUSTRATOR: Brittney Williams
WHY YOU'LL LOVE IT:
Lois Lane may grow up to be a fierce and fearless reporter who's always chasing a scoop, but first, she'll have to survive friend drama like the rest of us! This relatable read is a perfect end of summer treat that follows an enthusiastic Lois chasing social media fame and solving a local mystery all while trying to have the best summer ever with her BFF. It's a fresh and funny adventure that reminds us to value our besties and learn from our mistakes!
SYNOPSIS:
From New York Times bestselling author Grace Ellis (Lumberjanes) and artist Brittney Williams (Goldie Vance) comes a new story about 13-year-old Lois Lane as she navigates the confusing worlds of social media and friendship.
It's the first day of summer break in the sleepy town of Liberty View, and young Lois Lane bursts onto the scene with what she knows is a sure-to-go-viral video channel. Okay, maybe her platform only receives two views a week (thanks, Mom), and maybe her best friend, Kristen, isn't quite as enthusiastic about social media, but when Lois sets her mind on something, there's no turning back.
At the end of the week, the big neighborhood barbecue and bike race will be the perfect backdrop to Lois and Kristen's #friendshipchallenge video. But when the girls find out the annual fireworks are missing, Lois doubles down on her efforts for fame, testing her friendship in ways she couldn't imagine.
With Kristen leaving for sleepaway camp after the barbeque and a new girl on the block taking all of Kristen's attention, will Lois be able to find the missing fireworks, celebrate the summer, and post the best #friendshipchallenge the internet has ever seen? Or will she have to face her challenges IRL?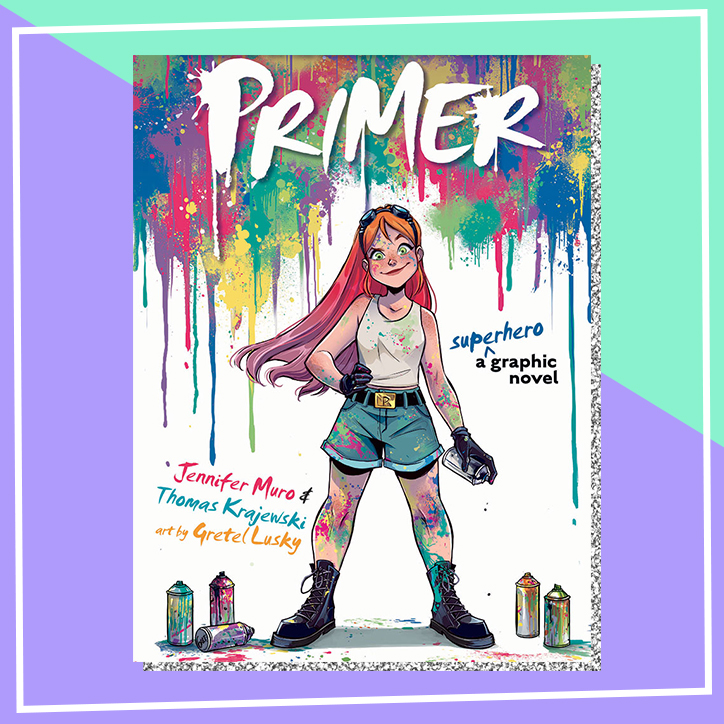 Primer:
AUTHORS: Jennifer Muro and Thomas Krajewski
ILLUSTRATOR: Gretel Lusky
WHY YOU'LL LOVE IT:
Ashley Rayburn is seriously cool. She's got all the makings of a classic superhero, like a tragic backstory that drives her hero motivations, paired with unique paint-based powers that make for a colorful and exciting adventure! Primer is a complex character with an unforgettable story that left us aching for a sequel. *fingers crossed*
Want to know more about Primer? Check out these fun facts about the story!
SYNOPSIS:
Primer introduces a brand-new superhero with a colorful array of superpowers to explore.
Ashley Rayburn is an upbeat girl with a decidedly downbeat past. Her father is a known criminal who once used Ashley to help him elude justice, and in his attempt to escape, a life was taken. He now sits in federal prison, but still casts a shadow over Ashley's life. In the meantime, Ashley has bounced from foster home to foster home and represents a real challenge to the social workers who try to help her–not because she's inherently bad, but because trouble always seems to find her.
Ashley's latest set of presumably short-term foster parents are Kitch and Yuka Nolan. Like Ashley, Kitch happens to be an artist. Yuka, on the other hand, is a geneticist working for a very high-level tech company, one that's contracted out to work for the government and the military. And it's Yuka's latest top secret project that has her very concerned. Developed for the military, it's a set of body paints that, when applied to the wearer, grant them a wide range of special powers. Fearful that this invention will be misused, Yuka sneaks the set of paints home, substituting a dummy suitcase with an ordinary set of paints in their place.
From here, signals get crossed. Ashley comes home from school one day with her new friend Luke and, thinking that the Nolans have purchased a surprise gift for her upcoming birthday, finds the set of paints. Being an artist, Ashley naturally assumes these are for her. It isn't long before she realizes that she's stumbled upon something much bigger and a lot more dangerous. Although she uses her newly discovered powers for good, it's not long before the military becomes wise to what happened to their secret weapon. And this spells big trouble not only for Ashley, but for her newfound family and friends as well.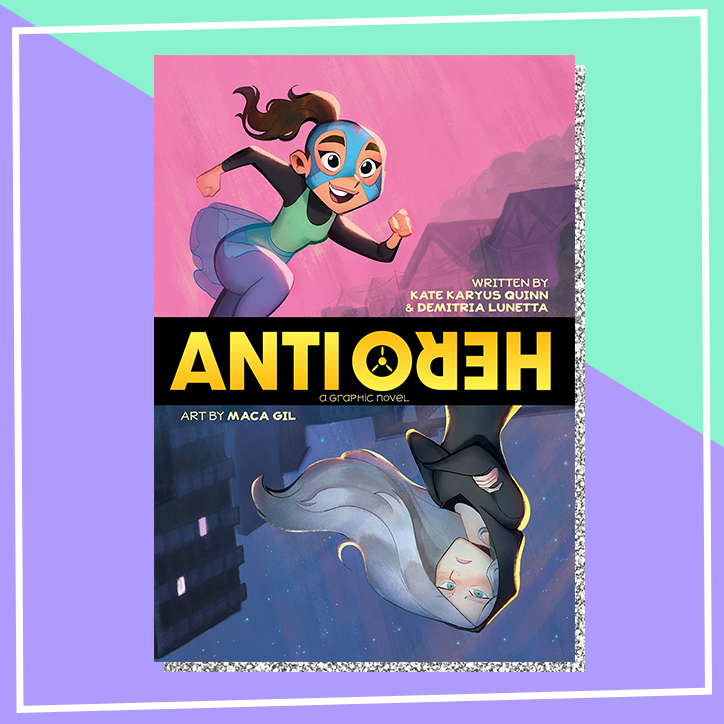 ANTI/HERO:
AUTHORS: Kate Karyus Quinn and Demitria Lunetta
ILLUSTRATOR: Maca Gil
WHY YOU'LL LOVE IT:
Body-swaps, unlikely friends, and seriously kick-butt teens? Count us in!? Piper and Sloane couldn't be more different, but they're about to find out what it means to take a walk in someone else's shoes. When these two brilliant girls work together, they're unstoppable! Balancing the middle school halls and family life with the gritty streets of Gotham, this girl-power fueled superhero story is begging for a spot on your bookshelf!
Go beyond the panels of this fab read with these ANTI/HERO secrets!
SYNOPSIS:
Piper Parajo and Sloane MacBrute are two 13-year-old girls with very different lives but very similar secrets.
At school, Piper is pretty and popular, upbeat and always willing to help out her friends, where as Sloane is a loaner, smart and snarky but with zero friends and zero interest in having any. Outside of the classroom, Piper is strong, really strong, like ripping the doors off of cars strong. She longs to be a superhero and tries to use her powers to do good, even if she tends to leave a massive mess in her wake. Sloane on the other hand is smart, like evil-genius level smart, and in order to provide for her mother, she puts those smarts to use for her villainous grandfather.
When a mission to steal an experimental technological device brings the two girls face-to-face with each other, the device sparks, and the girls switch bodies! Now they must live in each other's shoes as they figure out a way to switch back.
Anti/Hero is a story that explores what makes a hero, how one can find friendship where it's unexpected, and what it means to walk in another person's shoes…literally!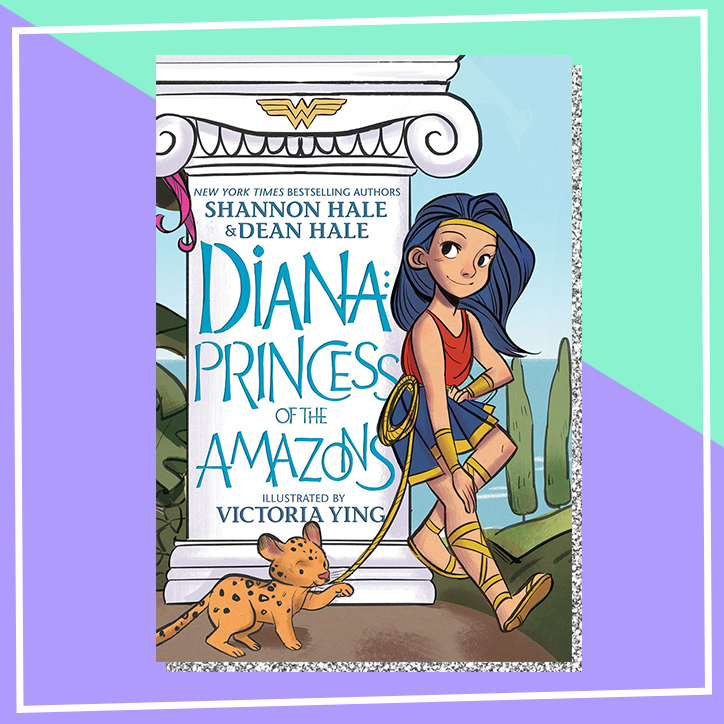 Diana: Princess of the Amazons:
AUTHORS: Shannon Hale and Dean Hale
ILLUSTRATOR: Victoria Ying
WHY YOU'LL LOVE IT:
Learning the origins of your favorite superheroes is what makes these legendary world-savers so relatable to us ordinary humans. That's why you'll love getting a glimpse into Diana's life as an 11-year-old – long before her Wonder Woman days. Her struggle to fit in and live up to her mother's expectations make this SUCH an authentic read that reminds us that even heroes sometimes feel lonely and insecure. It's not all feels though – we promise that Diana has quite the adventure!
Want to know what it was like growing up all alone on Themyscira? Check out this minicomic where Diana leads a guided tour of the Paradise Islands!
SYNOPSIS:
Cut off from the rest of the world, Diana had an idyllic childhood on Themyscira. But now 11-years-old, she's beginning to feel more and more isolated. Though she has many "aunties" and a loving mother, she is an only child. THE only child, in fact.
After an escapade goes wrong, Queen Hippolyta chastises Diana for not living up to the Amazon standard. Diana just can't seem to measure up, no matter what she does! Literally every other person on the island is an adult proficient in their trade and mighty in body, while she is gangly, sometimes clumsy, and not particularly proficient in anything. She's not Wonder Woman yet. What Diana needs is a friend; someone her own age whom she can talk to. But when she decides to take matters into her own hands—she may just make a monster instead.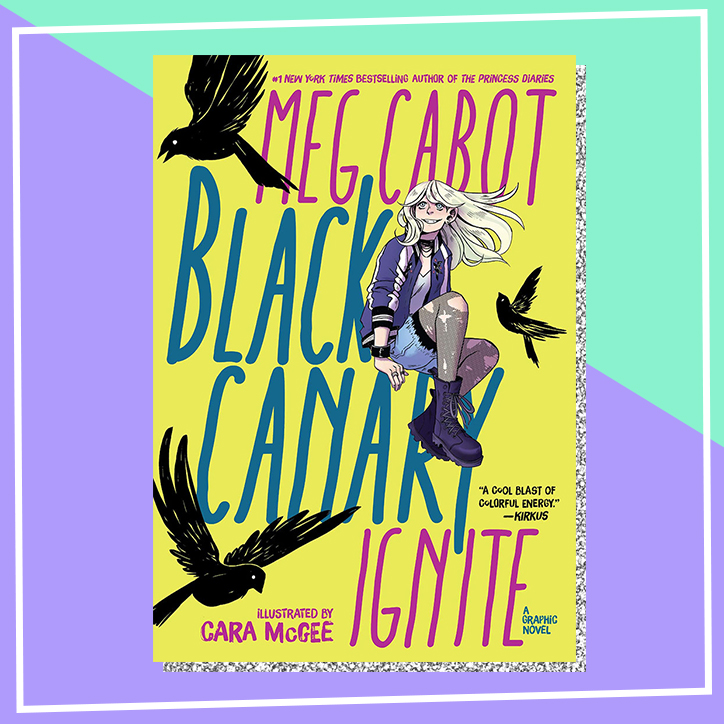 Black Canary: Ignite:
AUTHOR: Meg Cabot
ILLUSTRATOR: Cara McGee
WHY YOU'LL LOVE IT:
Um, can we just say that Dinah Lance is AWESOME? Sure, she's flawed, but isn't that the point of superhero stories? To show us that we're all capable of changing the world? Dinah – aka Black Canary – oozes rockstar energy and spunk in every panel. She knows exactly what she wants won't let anything stand in her way, including her overprotective parents. Discovering her abilities and her mother's secret history turn her world upside down, and she's bringing you along for the ride!
We think you'll adore this empowering story about finding your voice and discovering who you're meant to be without giving up who you are!
SYNOPSIS:
From the #1 New York Times bestselling author of The Princess Diaries comes Black Canary: Ignite, Meg Cabot's first graphic novel! With expressive and energetic art by Cara McGee to match the trademark attitude and spunk of Meg Cabot's characters and dialogue, this mother-daughter story embraces the highs and lows of growing up without growing out of what makes us unique.
Thirteen-year-old Dinah Lance knows exactly what she wants, who she is, and where she's going. First, she'll win the battle of the bands with her two best friends, then she'll join the Gotham City Junior Police Academy so she can solve crimes just like her dad. Who knows, her rock star group of friends may even save the world, but first they'll need to agree on a band name.
When a mysterious figure keeps getting in the way of Dinah's goals and threatens her friends and family, she'll learn more about herself, her mother's secret past, and navigating the various power chords of life.
Black Canary: Ignite is an inspirational song that encourages readers to find their own special voices to sing along with Black Canary!
DC Kids Graphic Novel Giveaway: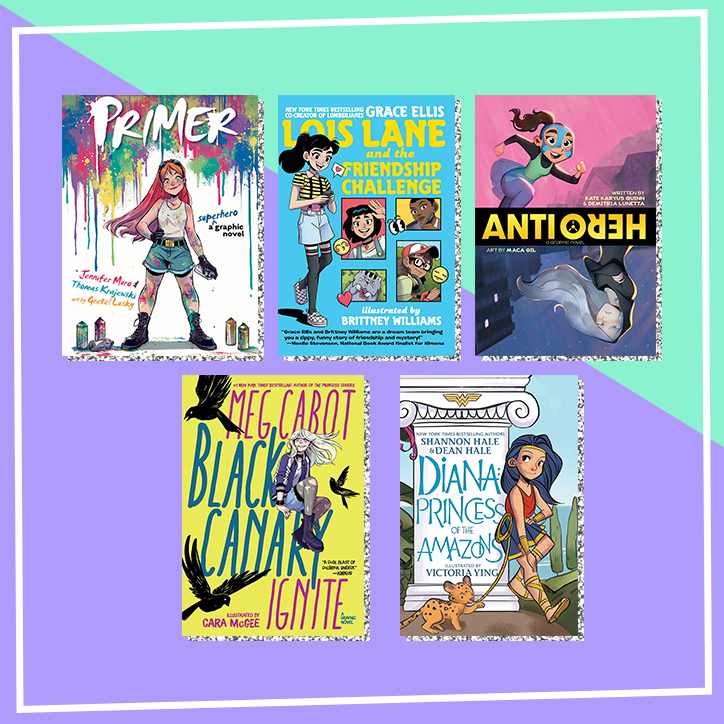 WHAT DO I WIN?:
ONE (1) lucky winner will receive a DC Kids Graphic Novel Prize Pack featuring:
– ONE (1) copy of Lois Lane and the Friendship Challenge
– ONE (1) copy of Primer
– ONE (1) copy of ANTI/HERO
– ONE (1) copy of Diana: Princess of the Amazons
– ONE (1) copy of Black Canary: Ignite
HOW DO I ENTER?:
Grab a parent or guardian and have them fill out the form below by August 26, 2020 at 11:59pm ET.
Giveaway runs from 08/12/20 at 12:00 pm ET through 08/26/20 at 11:59 pm. Open to US residents ONLY. Be sure to read the fully detailed rules HERE before entering.
THIS GIVEAWAY HAS ENDED AND THE WINNER HAS BEEN CONTACTED.
You must be 18 or older to enter. Please, only ONE entry per person. If selected as a winner, we will provide your parent/guardian with an affidavit to confirm that you are a valid winner who has permission to win. They will be REQUIRED to sign and return the affidavit to YAYOMG! to claim your prize. Prizes will not be mailed out without signed parental consent.
Want to keep your girl power flowing? These empowering quotes by amazing women make great additions to your dream board, school planner, or even Instagram captions!