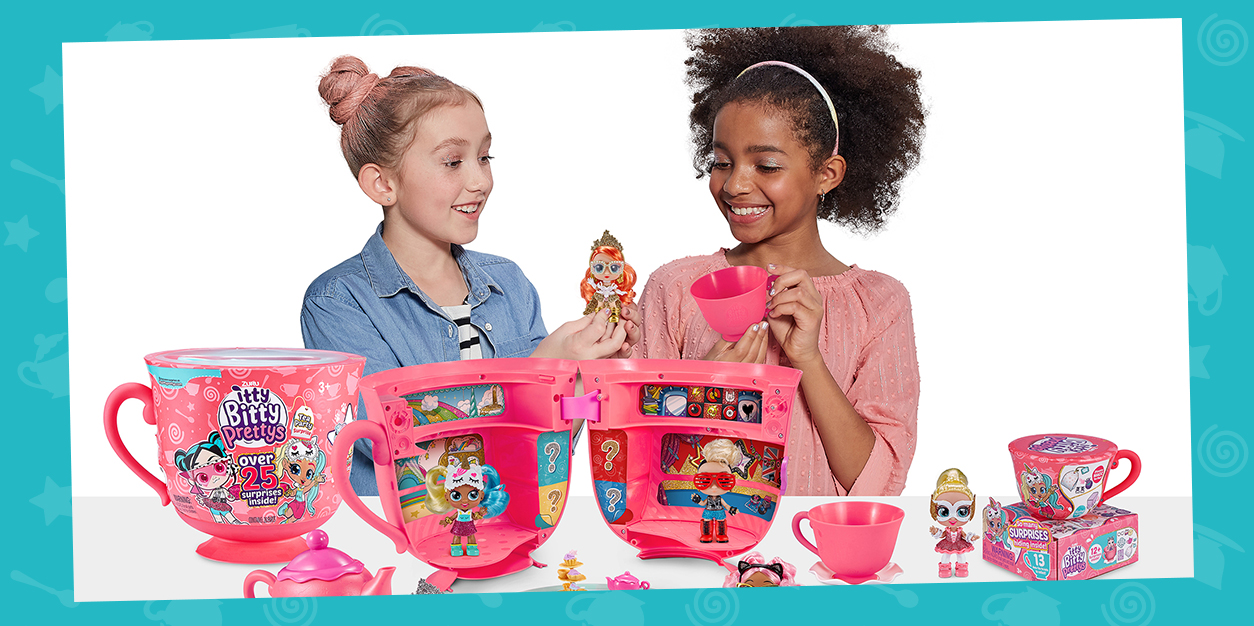 Get Your Par-TEA On With Itty Bitty Prettys + GIVEAWAY!
NOTE: We teamed up with ZURU for this Itty Bitty Prettys Giveaway. All opinions are our own; we were under no obligation to give a positive review. Giveaway prizes provided by ZURU.
It's par-TEA time, and we're here to spill the tea on the cutest new collectibles – Itty Bitty Prettys!
Itty Bitty Prettys are a brand new line of surprise collectible dolls with a tea party theme. According to the brand, "These fashionistas are from all different backgrounds, but share their love of tea, surprises, and throwing the most epic party!"
We teamed up with ZURU to bring the Itty Bitty Prettys to YOU through a tea-riffic giveaway! Grab your favorite adult and enter below for your chance to win!
Everything You Need to Know About Itty Bitty Prettys: Tea Party Surprise:
What are Itty Bitty Prettys? They're a whimsical squad of collectible dolls who are the queens of surprises and celebration! They're turning the classic tea party concept upside down by adding a splash of funky fashions combined with a spoonful of fun.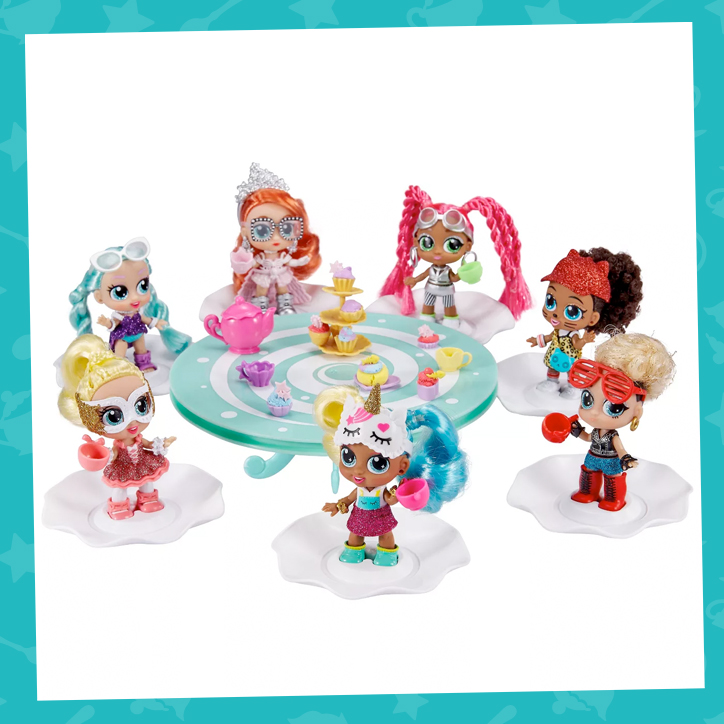 The first series features both Little Teacups, which are a smaller teacup shaped unboxing experience featuring 12 surprises to discover. If you want the party to last all night long, look no further than the Big Teacups, which are a huge playset featuring over 25 surprises for you to find.
As you unbox your new fashion-forward friends, you'll get to steep mystery teabags and fizz away shimmering sugar cubes to reveal all the hidden surprises and accessories. You'll even get to mold and make your own squishy treats to make the party extra sweet!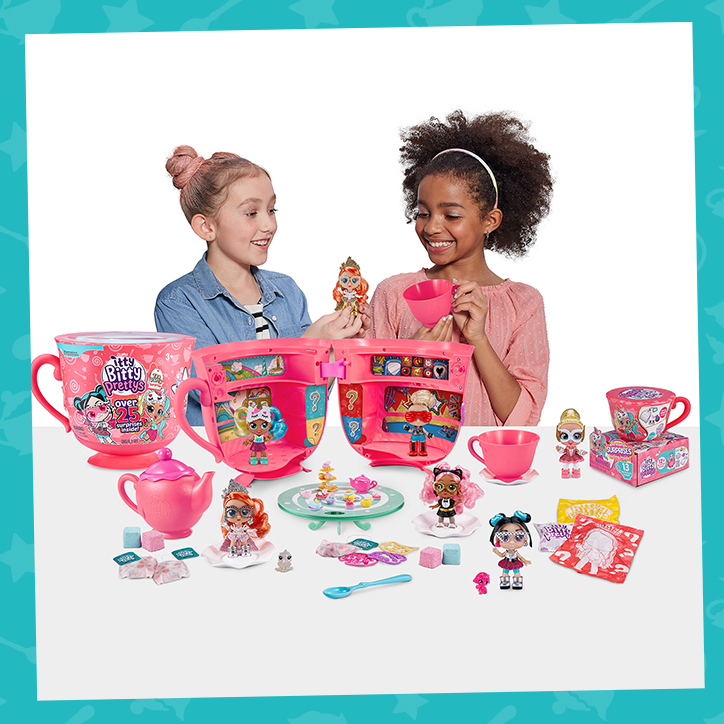 There are 13 beau-tea-ful characters to collect in the first series, including Royal Tea, the Super Rare princess decked out in glamorous gold accessories. From the unicorn obsessed Sugar Q to 8-Tea-8 serving rockstar vibes, these cuties bond together through tea parties to celebrate friendship and embracing everyone's unique style.
Each Itty Bitty Prettys doll has brushable hair and swappable outfits and accessories, which means you can get super creative mixing and matching all their fabulous fashions for endless style combinations.
Can't wait to play? You can find Itty Bitty Prettys at Walmart, Target, and other toy retailers now!
Itty Bitty Prettys Giveaway: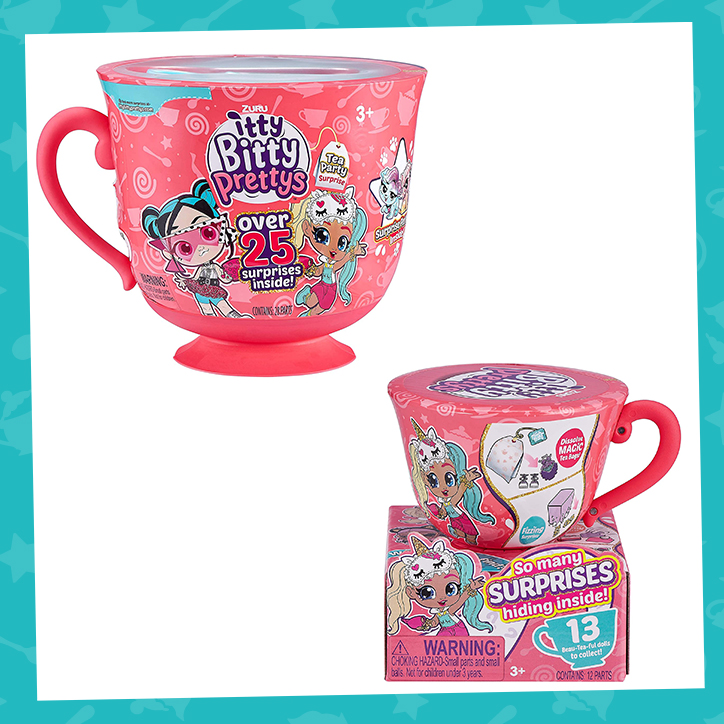 WHAT DO I WIN?:
ONE (1) lucky winner will receive an Itty Bitty Prettys Prize Pack featuring:
– ONE (1) Itty Bitty Prettys Big Teacup Playset
– THREE (3) Itty Bitty Prettys Little Teacup Packs
*Prizes generously provided by ZURU. These products come blind-boxed, and we cannot guarantee which products you will receive!
HOW DO I ENTER?:
Grab a parent or guardian and have them fill out the form below by August 22, 2020 at 11:59pm ET.
Giveaway runs from 08/07/20 at 02:30 pm ET through 08/22/20 at 11:59 pm. Open to US residents ONLY. Be sure to read the fully detailed rules HERE before entering.
THIS GIVEAWAY HAS ENDED AND THE WINNER HAS BEEN CONTACTED.
You must be 18 or older to enter. Please, only ONE entry per person. If selected as a winner, we will provide your parent/guardian with an affidavit to confirm that you are a valid winner who has permission to win. They will be REQUIRED to sign and return the affidavit to YAYOMG! to claim your prize. Prizes will not be mailed out without signed parental consent.
The party doesn't stop here, though! Our giveaway is just one small piece of ZURU's World Tea Party Day event featuring all your favorite toy influencers and unboxers. Head to ZURU's Instagram for an all-day party!