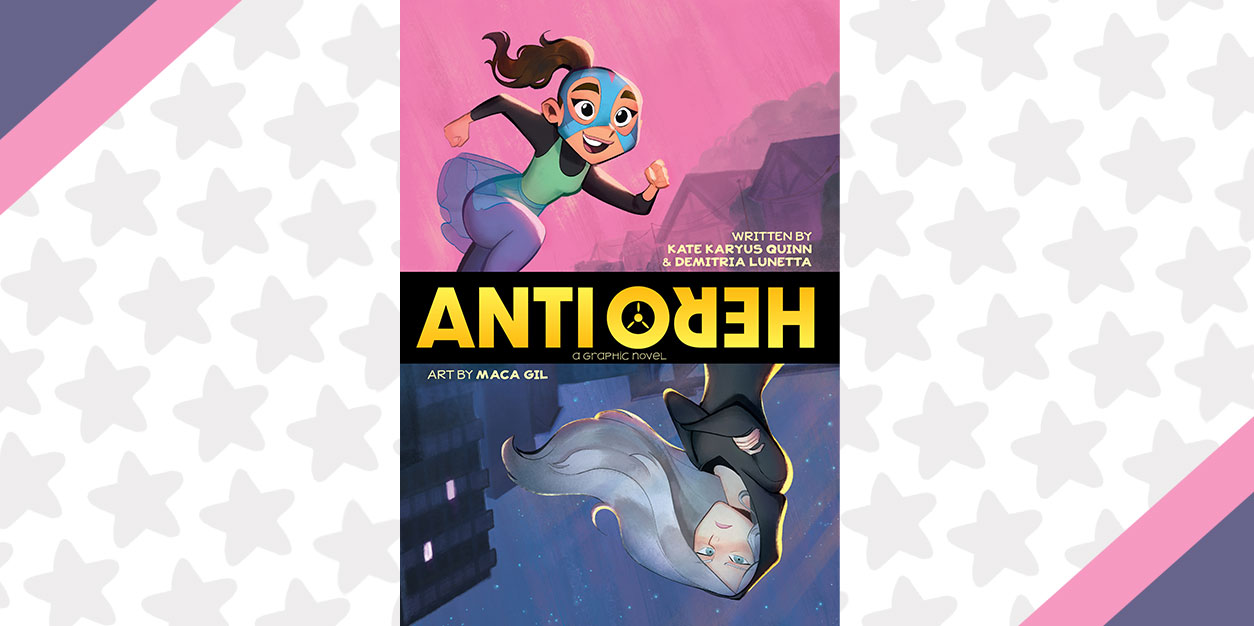 Piper Párajo and Sloane MacBrute Share ANTI/HERO Secrets
Piper Párajo and Sloane MacBrute are two middle school girls growing up in East Gotham (yes – that Gotham!). They both lead extremely different lives but unknowingly share a super similar secret.
They're also the leading ladies in the empowering new DC Kids graphic novel, ANTI/HERO. The story is packed with thrilling adventure, teen girls with extraordinary abilities, and even a Freaky Friday-style body swap – an absolute must-read!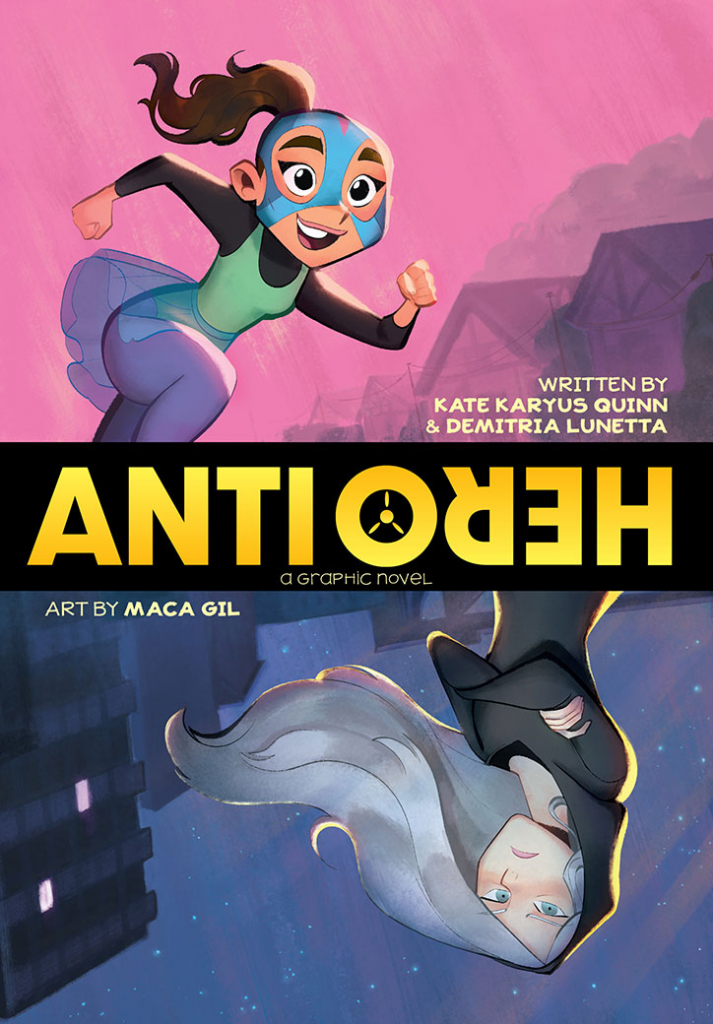 Piper Parajo and Sloane MacBrute are two 13-year-old girls with very different lives but very similar secrets. At school, Piper is pretty and popular, upbeat and always willing to help out her friends, whereas Sloane is a loaner, smart and snarky but with zero friends and zero interest in having any. Outside of the classroom, Piper is strong, really strong, like ripping the doors off of cars strong. She longs to be a superhero and tries to use her powers to do good, even if she tends to leave a massive mess in her wake. Sloane on the other hand is smart, like evil-genius level smart, and in order to provide for her mother, she puts those smarts to use for her villainous grandfather.
When a mission to steal an experimental technological device brings the two girls face-to-face with each other, the device sparks, and the girls switch bodies! Now they must live in each other's shoes as they figure out a way to switch back.
ANTI/HERO
AUTHORS: Kate Karyus Quinn and Demitria Lunetta
ILLUSTRATOR: Maca Gil
PUBLISHER: DC Kids
DATE: April 14, 2020
We'd tell you more about it, but we've got the honor of having co-authors Kate Karyus Quinn and Demitria Lunetta here to do exactly that. They're taking you beyond the panels of ANTI/HERO, sharing secrets about Piper and Sloane before their lives were turned upside down.
Super Secret Facts about ANTI/HERO:
Hey guys! This is Kate Karyus Quinn and Demitria Lunetta, co-authors of ANTI/HERO, an awesome new graphic novel from DC Kids. We're super excited to be hanging out today!
Today we're presenting facts from the two main characters of ANTI/HERO, Piper and Sloane. While these two girls have a lot in common, neither of them know that at the beginning of the book. But that changes after the girls accidentally switch bodies and have to literally walk in the other's shoes.
The facts below represent the way that Piper and Sloane see themselves and the world before ANTI/HERO begins.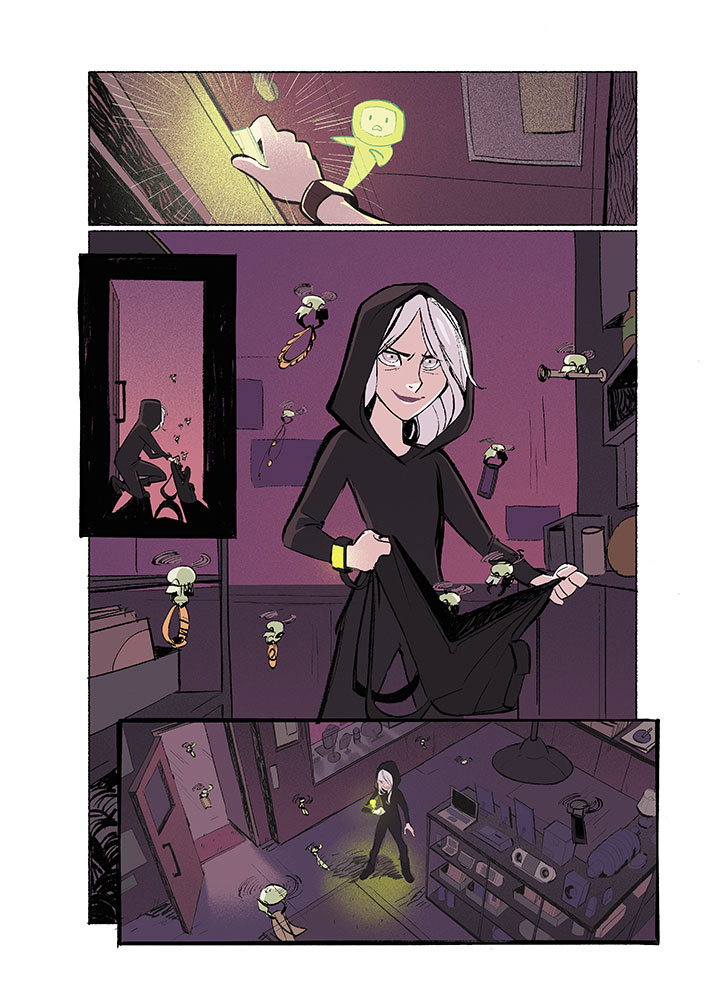 SLOANE FACT #1:

Brains are better than brawn. The brain is essentially the biggest muscle in the body. Now here's a secret. My brain is superpowered. That means it's faster than a brand new computer. I can come up with answers before you even finished hearing the question. And I remember everything. So basically, my brain is my brawn and I'm the strongest person I know.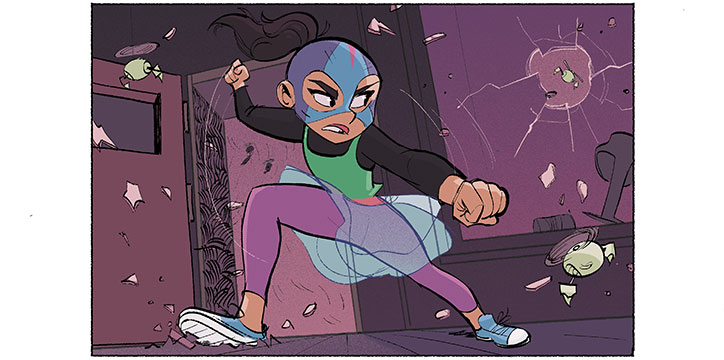 PIPER'S FIRST SUPERFUN FACT!!!!!:

Ohmygosh! I know this is supposed to be a super secret, but I also know you won't tell. So are you ready for this? I, Piper Pájaro, am super strong. But that's not all. I'm also a superhero. You wanna know my secret hero name? Then you'll have to wait for the next SUPERFUN FACT!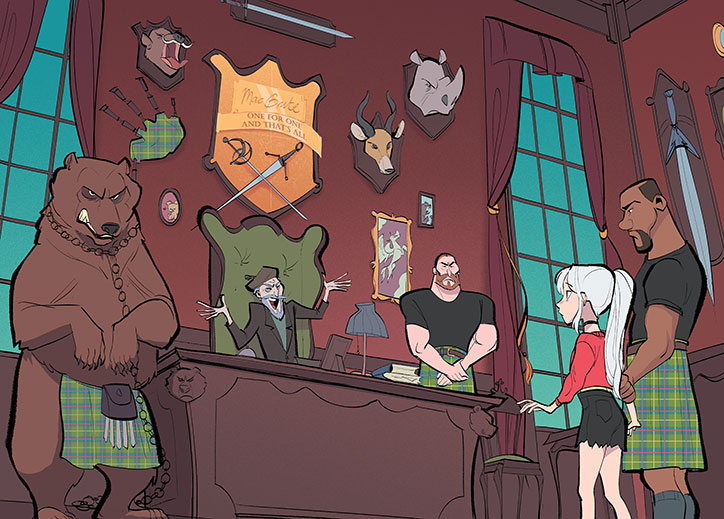 SLOANE FACT #2:

My last name is MacBrute. If you're from East Gotham, then you know what that means. The MacBrutes are no good. Villains. Thieves. I'm not sure if I want to be a villain. But sometimes it seems like the rest of the world has already decided for me.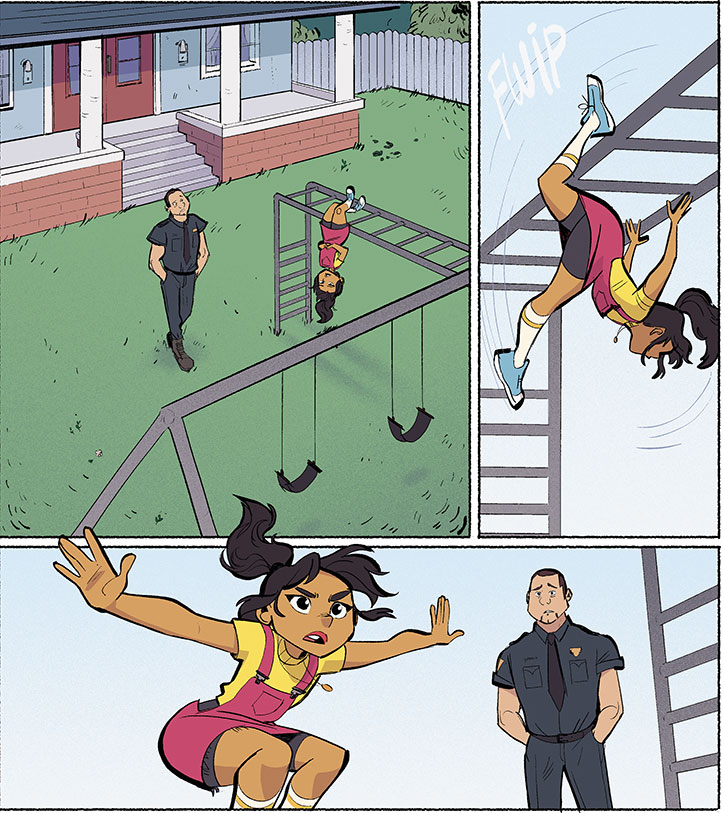 PIPER'S SECOND SUPERFUN FACT!!!:

Hummingbird! That's my superhero name? Don't you love it? I know, I know, Hummingbirds aren't known for being super strong. They're small and light and quick. But I'm all those things too. I've been doing gymnastics since I was old enough to walk and now with my super strength, I can flip so high that I feel like I can fly.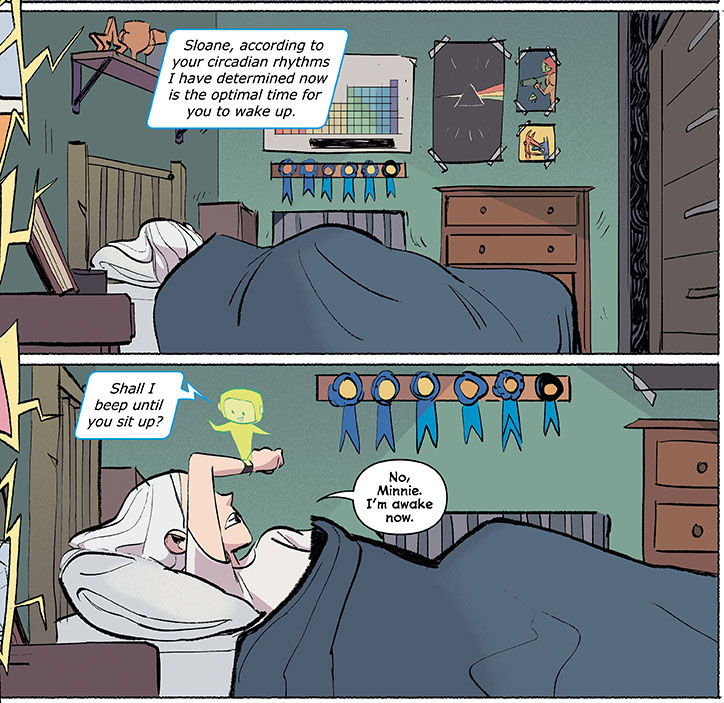 SLOANE'S FACT #3:

Robots can make pretty good friends. Great friends actually. If you program them that way anyway. Robotics, especially drones and artificial intelligence, are two of my areas of expertise. I love them. And maybe they don't love me back, but they are way more loyal than a real friend would be. And that's a fact too.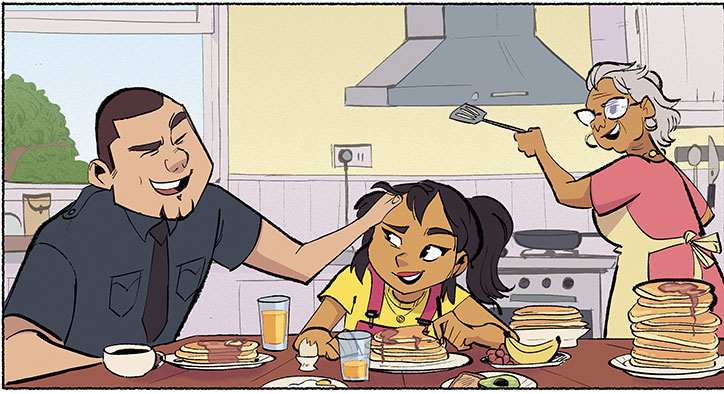 PIPER'S THIRD SUPERFUN FACT!!!:

I live with my Abuela and Uncle John. Abuela is the best cook in the whole world. And Uncle John is a cop and a little overprotective sometimes, but I'm so lucky to have them. Especially since my parents took off a few years ago to work in Antarctica and never call anymore. But that part of this fact is NOT super fun. So that's enough of that..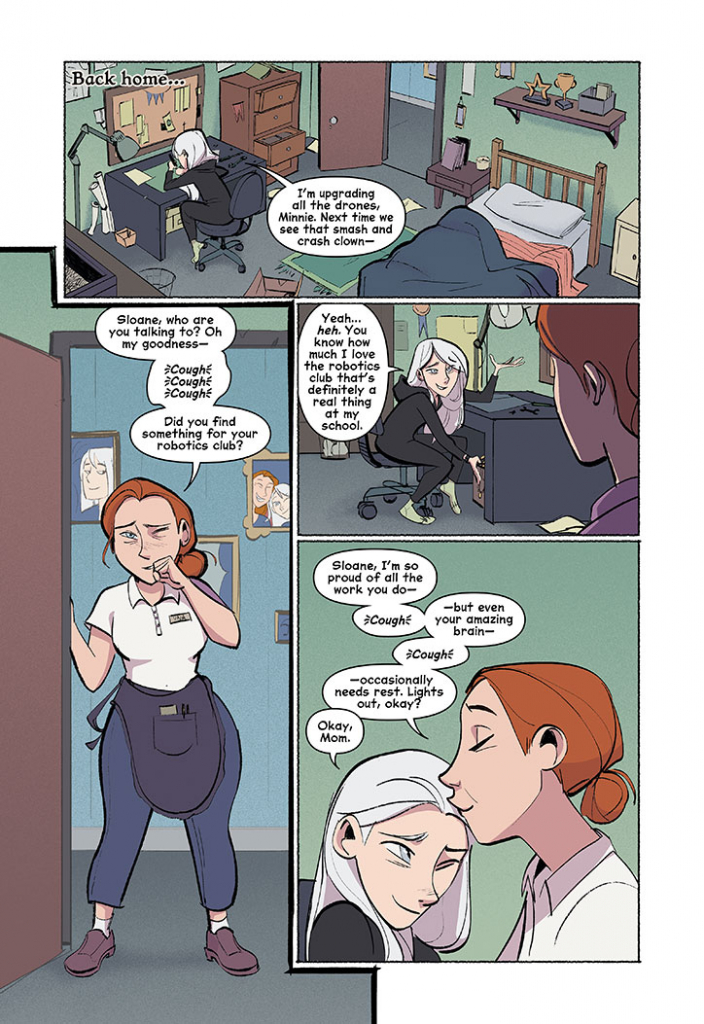 SLOANE'S FACT #4:

No one knows my secrets. Not even my mom. And no one can ever find out.

PIPER'S FOURTH (AND LAST!) SUPERFUN FACT!!!:

No one knows my secrets. Not even my Abuela or Uncle John. And definitely not my parents. And no one can ever find out.
You can get your hands on a copy of ANTI/HERO today by ordering from your favorite bookstore or comic shop! You can also check out a 7-page preview by clicking here!
In need of even more superhero fun? DC Kids recently launched DC Kids Camp, an awesome way to stay creative and keep in touch with your favorite DC characters and creators while stuck at home!