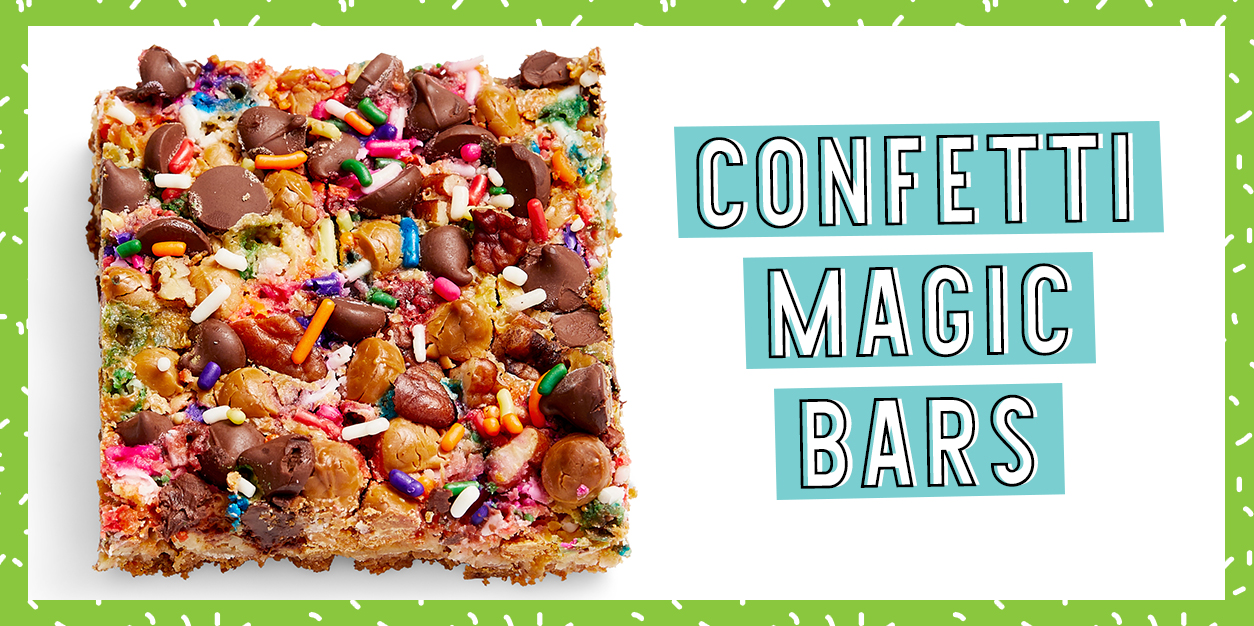 These Confetti Magic Bars are Colorful, Customizable Treats
NOTE: This Confetti Magic Bars recipe was originally featured in Food Network Magazine: The Big, Fun Kids Baking Book. It has been republished on our website with permission.
If you're looking for a tasty treat to whip up for movie night or your next birthday bash, these Confetti Magic Bars are the ultimate choice!
Kind of like a cookie and a brownie high fived and became best friends, these delicious, chewy bars are a sweet treat that everyone will love! This magical dessert is filled with gooey chocolate and butterscotch chips, rainbow sprinkles, pecans, and shredded coconut. They're simple enough for even the most beginner baker to master and are easily customizable by swapping out for different chips, nuts, etc. We love a dessert that lets our imaginations run wild!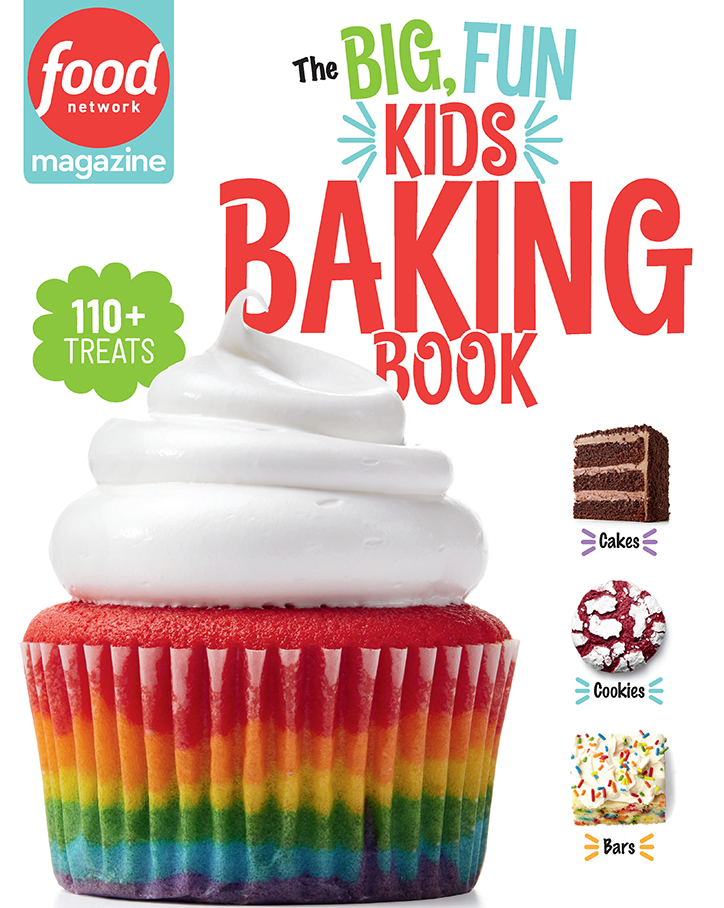 The ultimate kids' cookbook for beginner bakers, from the editors of America's #1 food magazine and bestselling authors of The Big, Fun Kids Cookbook.
This collection is packed with tons of recipes for easy sweets and treats, designed with young cooks in mind and triple tested by the chefs in Food Network Kitchen. Kids will get all the info they need to make their favorite desserts: muffins and quick breads, brownies and bars, cookies, cupcakes, sheet cakes, and more. The recipes are simple to follow and totally foolproof, and each one comes with a color photo and pro tips to help junior chefs get started in the kitchen.
Inside you'll find:
• 110+ delicious recipes
• Fun food trivia
• A visual recipe index with a photo of every recipe
• Choose-your-own adventure recipes (such as design-your-own Whoopie Pies and Banana Bread)
• Crowd-pleasers like Red Velvet Brownies, Pumpkin Spice Chocolate Chip Cookies, Mini PB & Chocolate Cupcakes, Chocolate Candy Bar Layer Cake, and more!
• Fun food crafts such as cookie puzzle pieces and DIY sprinkles
• Amazing fake-out cakes including spaghetti and meatballs, a taco, and a pineapple
• Bonus food-themed activity pages with word scrambles, spot-the-difference photo games, and more
• Lay-flat binding and a heavy paper stock that will stand up to frequent use
Food Network Magazine: The Big, Fun Kids Baking Book
AUTHOR: Maile Carpenter and the editors of Food Network Magazine
PUBLISHER: Hearst Home Kids
DATE: July 27, 2021
These Confetti Magic Bars were created by the amazing team at Food Network Magazine and are just one of over 110 delicious desserts found in their upcoming cookbook, The Big, Fun, Kids Baking Book. Filled with everything from classic layer cakes to trendy quick breads, clever baking tips, and fun food trivia, you'll love baking your way through this amazing book.
The Big, Fun, Kids Baking Book hits shelves on July 27th (pre-order here), but you can get your bake on now and show off your skills with this Confetti Magic Bars recipe.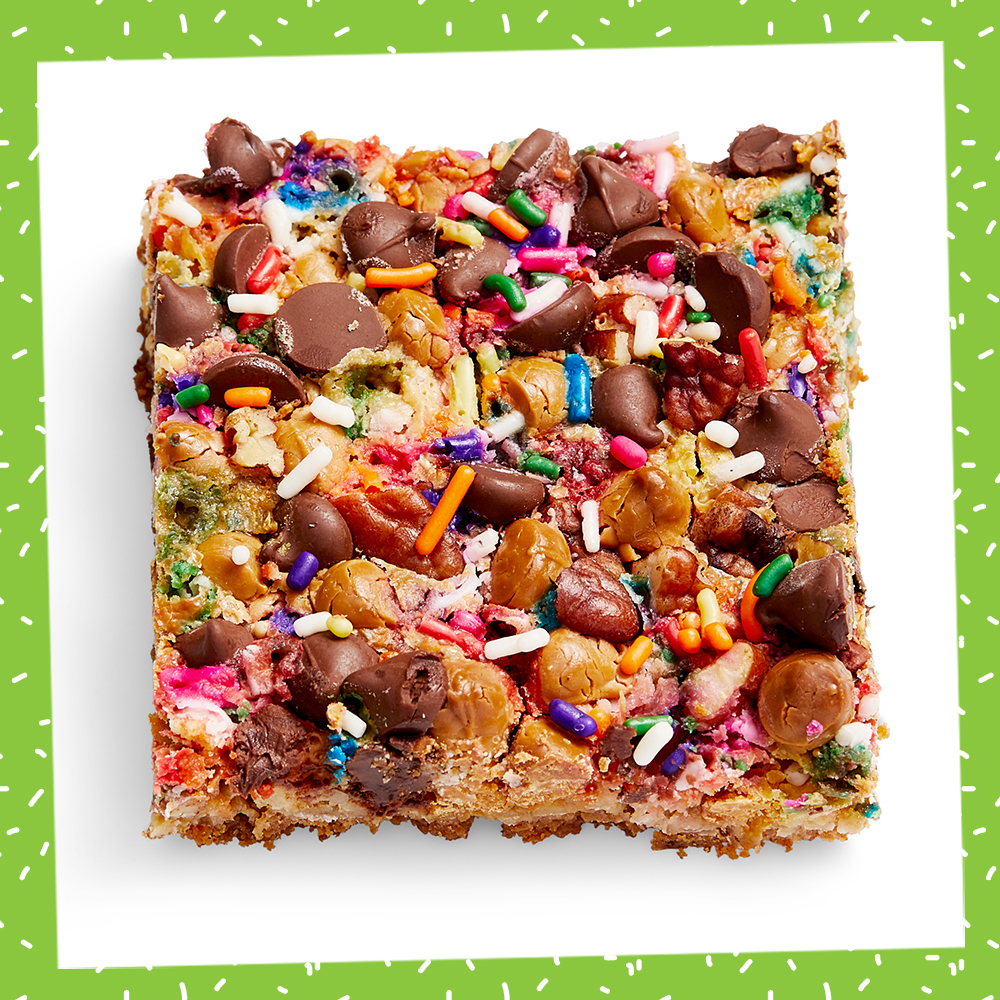 RECIPE: Confetti Magic Bars:
ACTIVE TIME: 20 min TOTAL TIME: 55 min (plus cooling) MAKES: 24 to 30
INGREDIENTS:
Vegetable oil, for the pan
1 stick unsalted butter, melted
2 cups graham cracker crumbs
1 14-ounce can sweetened condensed milk
1 cup chopped pecans
1 cup sweetened shredded coconut
1 cup butterscotch chips
1 cup dark chocolate chips
¼ cup rainbow sprinkles
RECIPE:
1. Preheat the oven to 350˚F. Coat a 9-by-13-inch baking pan with vegetable oil. Mix the melted butter and graham cracker crumbs in a medium bowl with a wooden spoon. Press the mixture into the pan with your fingers.
2. Pour the condensed milk over the crumb mixture. Top with the pecans, coconut, butterscotch chips, and chocolate chips. Scatter the sprinkles on top.
3. Bake until the bars are golden around the edges, 35 to 40 minutes. Remove the pan from the oven with oven mitts, then put the pan on a rack and let the bars cool completely. Cut into squares.
TIP: These bars really are magic: You just layer all the ingredients in a pan and bake! To create your own version, switch up the nuts or chocolate chips!
Love to bake? You'll love getting to know Chef Simone Bridges, teen baker and CEO of Goddess Food Factory!