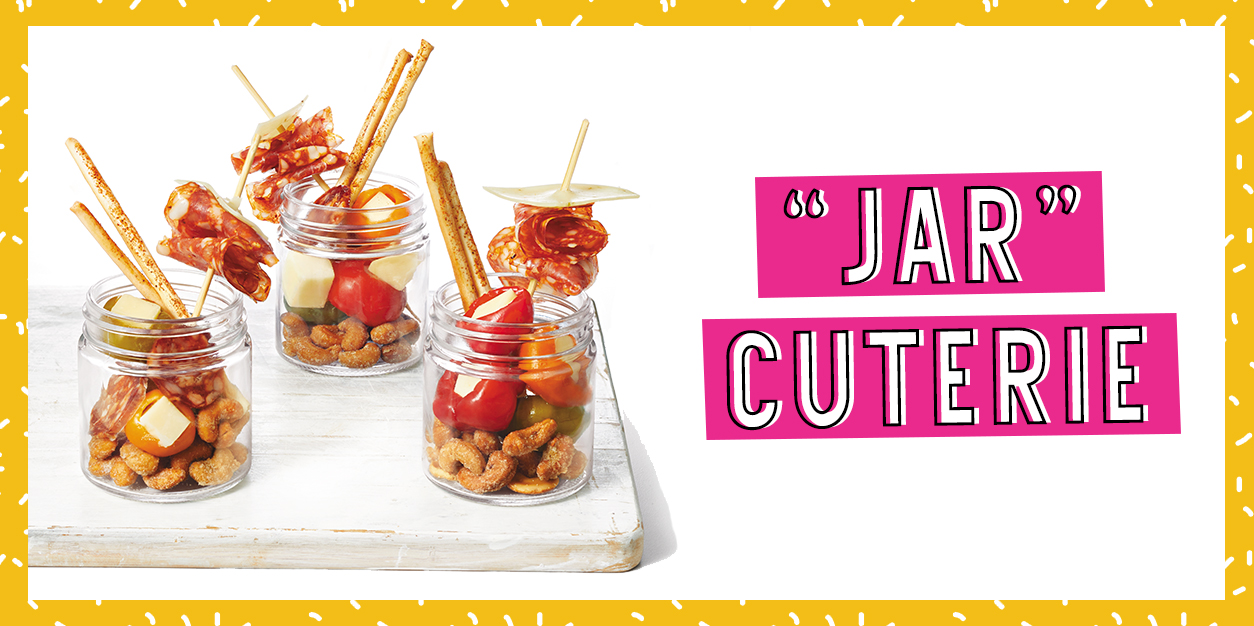 "Jar"cuterie is the Cutest Party Snack
NOTE: This "Jar"cuterie recipe was originally featured in Food Network Magazine: The Recipe-A-Day Kids Cookbook. It has been republished on our website with permission.
Charcuterie boards are super trendy right now, but JARcuterie takes this party staple and kicks up the cute factor!
Tired of trail mix and on the hunt for a posh idea for a birthday party snack? Enter "Jar"cuterie. This fun twist on a party staple will elevate your snack table without elevating the effort required to cook! This simple recipe looks like it takes tons of effort, but it's more assembly than cooking, making it the perfect pick for a budding chef in training.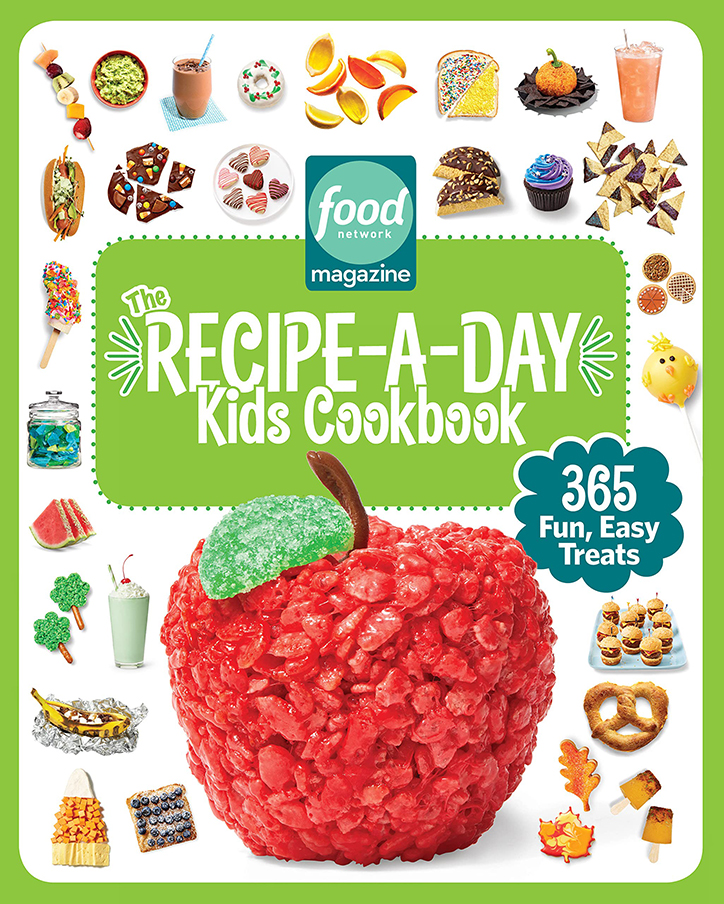 Make every day special with an easy and exciting recipe, whether it's the first day of school, a big birthday, or just a lazy Sunday.
Check out an irresistible new book for young cooks from the editors of Food Network Magazine, America's #1 food magazine and best-selling authors of The Big, Fun Kids Cookbook. In this colorful cookbook, kids will find ways to celebrate every occasion, big and small.
Flip through this book and you'll find a great idea for every day of the year, starting today. What's your birthday? Anyone who picks up this book will turn straight to that date to see which treat falls on their special day! Will it be a daisy cupcake made with snipped marshmallows? Miniature chicken and waffles? Homemade chocolate lollipops? A giant pretzel? Of course, all the big holidays are represented, too—like flag tarts for the Fourth of July or spooky treats for Halloween. And we never miss an excuse to celebrate historic events: You can make star cookies on the day Pluto was discovered. The easy recipes were all created with beginner cooks in mind (some use prepared ingredients!), and each one has been tested in Food Network Kitchen, so it's sure to come out perfect every time.
Inside you'll find:
• 365 sweet and savory recipes and photos—one for every day of the year!
• Holiday cookies and gifts (doughnut snowmen)
• Easy food crafts (a cookie bouquet)
• Fake-out snacks (ice cream sandwiches that look like sliders)
• Cupcake decorating (flower cupcakes made with candy)
• Cute bites for April Fool's Day, Earth Day—and leapfrog cookies for Leap Year!
• Fun food trivia throughout
Food Network Magazine: Recipe-a-Day Kids Cookbook: 365 Fun, Easy Treats
AUTHOR: Maile Carpenter & the editors of Food Network Magazine
PUBLISHER: Hearst Home Kids
DATE: April 5, 2022
Like the Garden Plot Veggie Dip recipe we shared recently, this adorable take on charcuterie comes directly from The Recipe-a-Day Kids Cookbook from Food Network Magazine. Overflowing with creative ideas for every single day of the year. From simple snacks for your study sesh or inspired holiday treats and funny fake-outs, this awesome cookbook gives you 365 reasons to test out your kitchen skills.
Every recipe in this cookbook was designed to be quick and easy, and "Jar"cuterie is no exception. Ready to level up your snack game? Keep reading below for your new favorite party treat!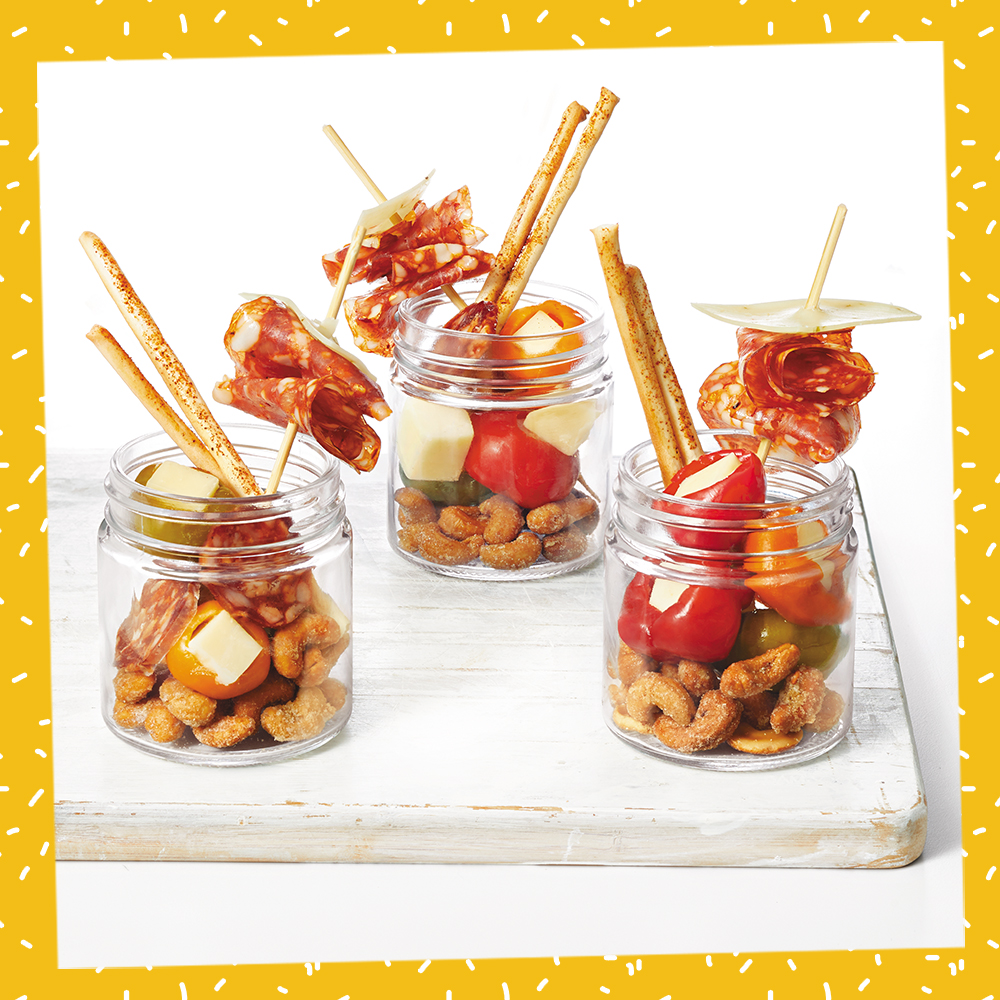 RECIPE: "Jar"cuterie:
HOW-TO:
Make charcuterie in a jar!
Fill half-pint jars with candied nuts, stuffed pickled peppers, hot soppressata, jack cheese, and thin breadsticks dusted with chili powder.
YAYOMG! TIP:
This recipe is simple, but it's endlessly customizable! Swap breadsticks for pretzels, add in fruit like grapes or chunks of apple and use your favorite meats or cheeses to make this different every single time.
The key to the best charcuterie is to make sure you have at least one item from each category: Sweet, Salty, Savory, and Spicy, so let your imagination run wild!
Time to step into the kitchen? You'll love these recipes:
?Garden Plot Veggie Dip
?Strawberry Shortcake Layer Cake