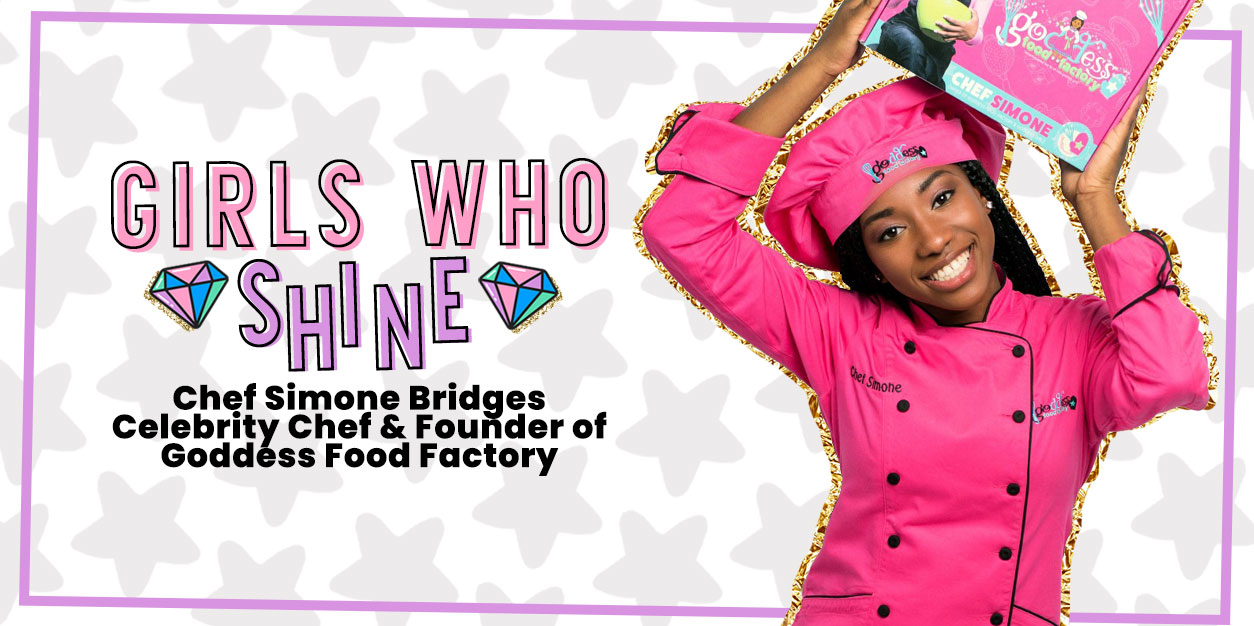 GIRLS WHO SHINE: Chef Simone Bridges, Founder of Goddess Food Factory
GIRLS WHO SHINE is a new series on YAYOMG! where we're spotlighting passionate young entrepreneurs, activists, innovators, and other girls who shine bright in a big way!
GIRLS WHO SHINE is back, and we're kicking off a brand new year of honoring amazing girls! This month we're spotlighting Chef Simone Bridges, a 15-year-old award-winning celebrity baker, entrepreneur, and youth advocate.
After a lifelong passion for baking, Simone started Goddess Food Factory at just 11 years old. Being endlessly curious and creative, Simone quickly started experimenting in the kitchen, infusing her love of science into her desserts. The result? Some seriously tasty and unique treats that have wowed everyone from locals in Florida, to master chefs and celebrities around the world!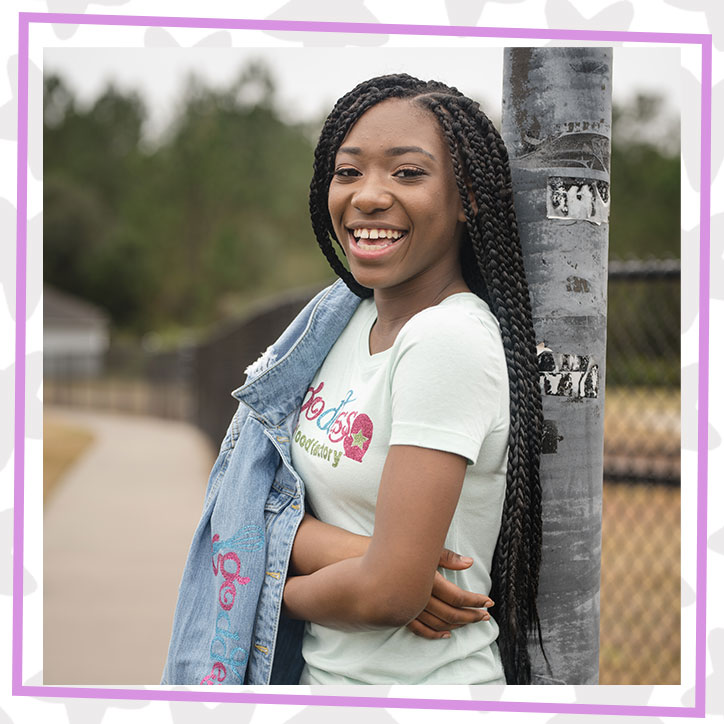 Simone flexes her culinary abilities through her bakery and baking classes, but it's her Ex.S.T.R.E.A.M. Baking Kit that truly stands out. This monthly subscription combines science and baking to gets kids whipping up tasty desserts while also teaching STEM/STREAM techniques in a fun, hands-on way.
In addition to her company, Simone also founded her own nonprofit organization, Simone Bridges Inspires, which she uses as a platform to empower kids to find their superpower and educate them about STREAM, culinary, and entrepreneurship skills. She is all about inspiring the kids of today to become tomorrow's leaders and follow their dreams!
Get to know Simone Bridges as she shares how she discovered her baking passion, the women who inspire her, and the lessons she's learned as a young entrepreneur!
Get to Know Chef Simone Bridges: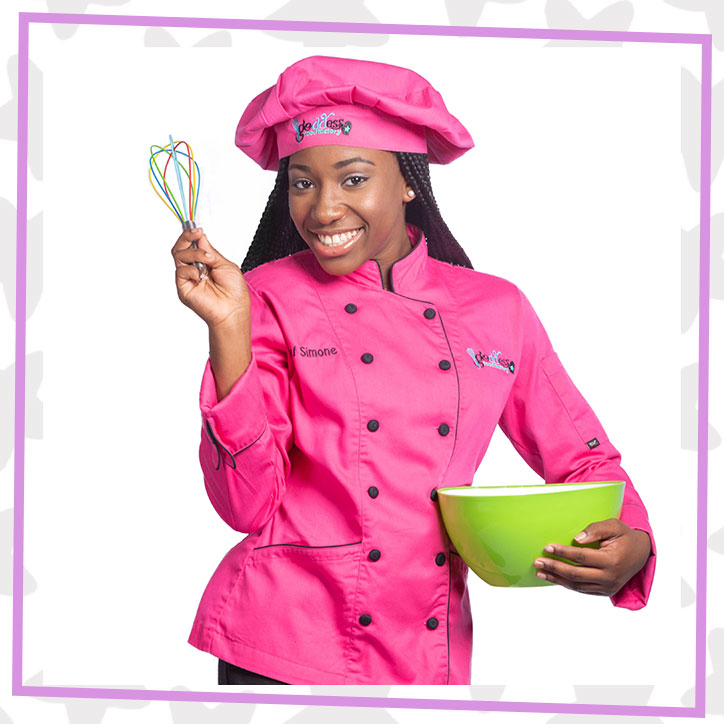 What inspired you to transform your passion for baking into a business?

SIMONE BRIDGES: My grandmother, Phyllis taught me how to bake when I was only three years old. At age five, I used my Easy-Bake oven to make treats. I pretended like I was a business owner and my cousins were my customers. When I was seven, I was allowed to use a conventional oven. I practiced baking all the time. Every time my grandmother taught me how to make a new dessert, I practiced at home and put my own twist on it.

At nine, I started selling treats to our church family, neighbors, and several friends. As my passion for baking grew stronger, my culinary skills increased too. I desired to have my own bakery and on January 28, 2017, I opened Goddess Food Factory. I was eleven years old.
Tell us about your baking boxes and what goes into creating each box.

SIMONE: I created STREAM-based baking kits so that kids can have the same hands-on experience at home as they do at my bakery or at workshops that I facilitate.

Our Ex.S.T.R.E.A.M. Baking Kit is the #1 educational fun box that prepares little bakers for college and career readiness. Each subscription baking kit has elements that teach and builds skills in science, technology, reading, engineering, arts, and mathematics. Goddess Food Factory has carefully selected items that include quality fresh ingredients and a hands-on step-by-step creative recipe using chemical-free decorations.

Kids learn chemistry and other SCIENCE concepts through baking and make TECHNOLOGY connections through research. The kits contain a short READING story with comprehension questions, an ENGINEERING culinary tool, an ARTISTIC custom Goddess Food Factory item, MATHEMATICAL skill-building word problems, and so much more! All recipes and items change each month.
What is the most valuable lesson you've learned through your work so far?

SIMONE: There's a saying, "Sometimes You Win and Sometimes You Learn." As the CEO of Goddess Food Factory, I've learned several valuable lessons that have played major roles in the success of my business.

The importance of being my own walking billboard is one valuable lesson that I learned. I was in Miami, Florida speaking with Ms. Corporate America, Elizabeth Garcia. She's also the owner of Elizabeth's Secret Beauty Bar. I was telling her about my business. She asked me about the products I sold and so forth. So I began to share all of the items: mittens, aprons, hats, backpacks, t-shirts… And then she stopped me. She questioned, "Why aren't you wearing one of your shirts with your brand on it instead of promoting someone else's brand? You are advertising for them instead of yourself." At that very moment, I knew she was correct because my mom told me the same thing all of the time and I kept making the same mistake. And there I was, at a very important business event with several influencers and if I had chosen to simply brand myself, I would have exposed several people to my logo, even if I didn't have a moment to get a one-on-one conversation with them.

Since then, I stay branded, especially at functions of any kind. I keep business cards on me and I give them to everybody.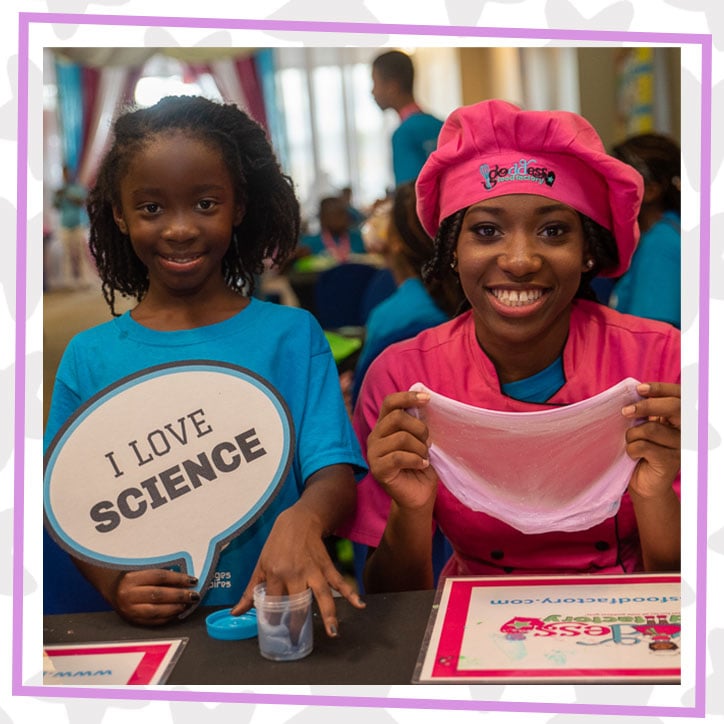 Do you have a favorite dessert you love to make?

SIMONE: My Snicker Brownie dessert is my absolute favorite treat to make. Everyone loves them! I've even baked them with Mr. Steve Harvey on his talk show and shared them with several celebrities and local patrons. Additionally, I've been featured on the cover of magazines and on several blogs because of how delicious my brownies taste.
What is the biggest challenge you've faced as a young entrepreneur?

SIMONE: One difficult aspect is being a young baker and entrepreneur is not being able to register for certain baking classes or entrepreneurial networking events due to age requirements. There are courses that I want to take in order to increase my skills, but most of the time I'm not old enough to register for them. Thank Heaven for YouTube, online webinars, and my grandmother for teaching me several skills that I need to continue growing.
This is how I shine bright…

SIMONE: Giving back to the community is very important. I understand that my life is BIGGER than me and that's why I created Simone Bridges Inspires, Inc. Plus, I wanted an additional way to increase STREAM education and careers.

My 501(c)3 nonprofit organization has allowed me and local volunteers to visit schools and help them create STREAM clubs. The kids have so much fun learning in a hands-on and engaging way. I've conducted STREAM and healthy eating classes at several organizations as well. Although I make sweets, I teach kids how to ration how much sweets they can eat within a certain amount of time. Our "Get Healthy, Stay Healthy" program is always a big hit. It makes me happy to see kids gain more knowledge in STREAM and learn how to take care of their health.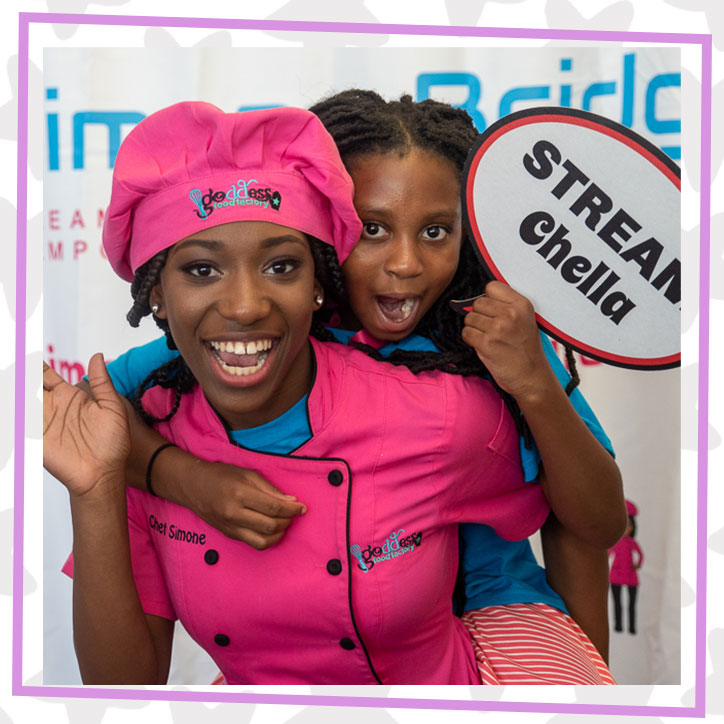 My biggest dream is…

SIMONE: My future goals include hosting more events for underserved youth and empowering them to discover their inner superpower. I want to continue my work as a change agent in empowering kids to BAKE THE WORLD A BETTER PLACE!
The women who inspire me are…

SIMONE: Having mentors that I can go to for advice is valuable. I'm extremely fortunate that I come from a family of entrepreneurs.

Lavish Moments Weddings, Events & Rentals is our family business which is led by my mom, Arica Bridges. She helps me by teaching me how to run the back end of my business. I've learned how to create different revenue streams and how to price my products so that I can make a profit.

In addition, my grandmother owns Glory Cakes & Pastries. So, I learned how to be a Kid Boss at an early age. I pull a lot of inspiration from my grandma, Phyllis Harris. We're always creating new desserts. She teaches me how to make desserts the traditional way and then I experiment on what to add to them. Sometimes, we bounce ideas off of each other. I love adding peaches and pecans to a lot of different desserts. It often gives a unique taste to the desserts that my customers and I like. Fresh fruit is seasonal, so we like to change it up and use only the best ingredients.

My grandma has a lot of patience, but she doesn't like to waste food. So, I can't experiment too much when I'm with her. However, when I get home, I'll experiment over and over again until I feel like I have the perfect blend of ingredients. I'm kind of like a palate princess. My taste buds are very wonderful, and I have a niche for combining unusual ingredients together to create delicious masterpieces.

Having great people who inspire and uplift me when times get tough, saves me from stressful moments, and helps me make great business decisions!
The advice I want to share with other girls…

SIMONE: My mantra is to dream big and never give up. My parents have always taught me that I can achieve anything that I put my mind to and I truly believe that.

My advice for other youth is to dream bigger than big and to start now. Don't wait to start making your dreams come true!
Inspired by Chef Simone? We think you'll love getting to know the other girls in our GIRLS WHO SHINE series – click here!