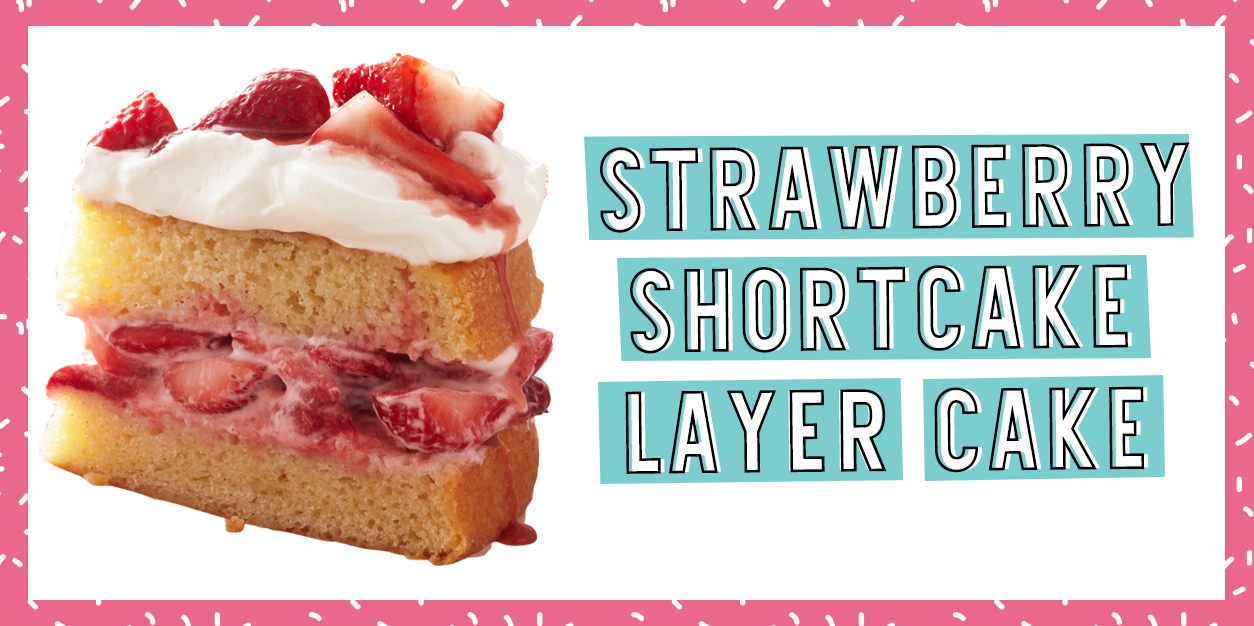 This Strawberry Shortcake Layer Cake Gives Off Endless Summer Vibes
NOTE: This Strawberry Shortcake Layer Cake recipe was originally featured in Food Network Magazine: The Big, Fun Kids Baking Book. It has been republished on our website with permission.
With school on the horizon, you're likely on the hunt for ways to make the most of the end of your summer vacation. This delicious, fluffy Strawberry Shortcake Layer Cake is the sweetest way to embrace those summer vibes for as long as possible.
Like the Confetti Magic Bars recipe we shared recently, this tasty cake recipe comes straight from between the pages of The Big, Fun Kids Baking Book from Food Network Magazine. Filled with 110+ recipes, fun food trivia, and baking craft ideas, you'll have a blast baking your way through everything from muffins and cupcakes to layer cakes and cookies, mastering your baking skills!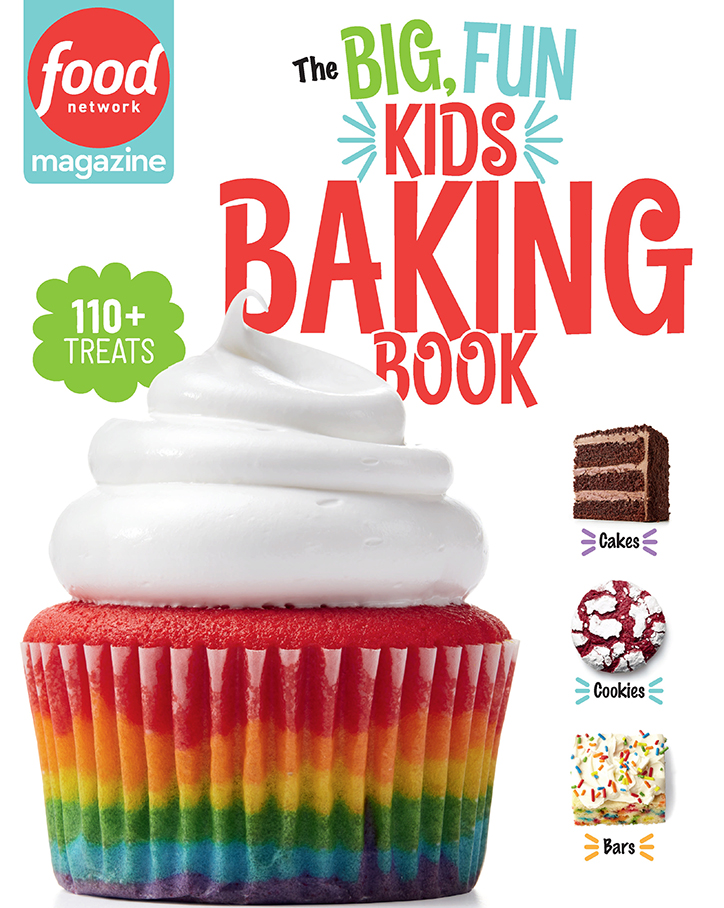 The ultimate kids' cookbook for beginner bakers, from the editors of America's #1 food magazine and bestselling authors of The Big, Fun Kids Cookbook.
This collection is packed with tons of recipes for easy sweets and treats, designed with young cooks in mind and triple tested by the chefs in Food Network Kitchen. Kids will get all the info they need to make their favorite desserts: muffins and quick breads, brownies and bars, cookies, cupcakes, sheet cakes, and more. The recipes are simple to follow and totally foolproof, and each one comes with a color photo and pro tips to help junior chefs get started in the kitchen.
Inside you'll find:
• 110+ delicious recipes
• Fun food trivia
• A visual recipe index with a photo of every recipe
• Choose-your-own adventure recipes (such as design-your-own Whoopie Pies and Banana Bread)
• Crowd-pleasers like Red Velvet Brownies, Pumpkin Spice Chocolate Chip Cookies, Mini PB & Chocolate Cupcakes, Chocolate Candy Bar Layer Cake, and more!
• Fun food crafts such as cookie puzzle pieces and DIY sprinkles
• Amazing fake-out cakes including spaghetti and meatballs, a taco, and a pineapple
• Bonus food-themed activity pages with word scrambles, spot-the-difference photo games, and more
• Lay-flat binding and a heavy paper stock that will stand up to frequent use
Food Network Magazine: The Big, Fun Kids Baking Book
AUTHOR: Maile Carpenter and the editors of Food Network Magazine
PUBLISHER: Hearst Home Kids
DATE: July 27, 2021
Our fav part of the book? The fake-out cakes! These recipes will teach you how to make cakes that look exactly like spaghetti and meatballs, tacos, and other foods, and they're such a fun way to prank your friends and family.
When it comes to the Strawberry Shortcake Layer Cake, we're head over heels! It's moist and fluffy, tart, yet sweet, and it gives off such summery energy. Plus, it's SO pretty and looks super impressive even though it's not too hard to make!
The Big, Fun Kids Baking Book is now available, and you can snag the recipe for the Strawberry Shortcake Layer Cake below!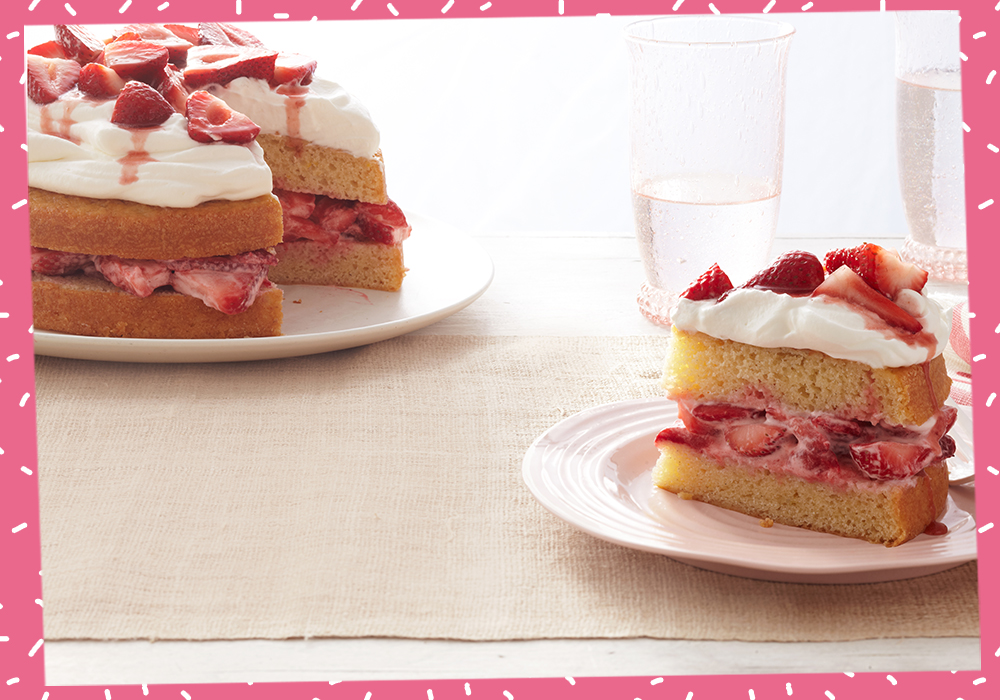 RECIPE: Strawberry Shortcake Layer Cake:
ACTIVE TIME: 20 min TOTAL TIME: 55 min (plus cooling) MAKES: 24 to 30
INGREDIENTS:
FOR THE CAKE
5 tablespoons unsalted butter, melted, plus more for the pan
1 ⅓ cups all-purpose flour, plus more for the pan
1. cups granulated sugar
1. teaspoons baking powder
½ teaspoon salt
1 ½ teaspoons vanilla bean paste (or seeds from ½ vanilla bean)
2 large eggs, at room temperature, lightly beaten
¾ cup whole milk, at room temperature
½ teaspoon finely grated lemon zest
FOR THE TOPPINGS AND FILLING
1 ½ quarts strawberries, hulled
1 tablespoon water
1 tablespoon strawberry jelly
3 tablespoons confectioners' sugar
1 tablespoon fresh lemon juice
1 ½ cups cold heavy cream
¼ teaspoon pure vanilla extract
RECIPE:
1. Make the cake: Preheat the oven to 350˚F. Butter an 8-inch round cake pan, then line the bottom with parchment paper; butter the parchment. Dust the pan with flour, tapping out the excess.
2. Combine the flour, granulated sugar, baking powder, and salt in a large bowl with a whisk. Whisk the melted butter, vanilla bean paste, beaten eggs, milk, and lemon zest in a medium bowl until just smooth. Add the egg mixture to the flour mixture and stir with a wooden spoon to combine.
3. Scrape the batter into the pan using a rubber spatula. Bake until a toothpick inserted into the center of the cake comes out clean, 35 to 40 minutes. Remove the pan from the oven with oven mitts. Put the pan on a rack and let cool 10 minutes. Loosen the edges of the cake with a small knife, remove the cake from the pan and let cool completely on the rack. Remove the parchment.
4. Meanwhile, make the toppings and filling: Halve 16 strawberries. Whisk the water and strawberry jelly in a medium bowl until smooth. Add the halved strawberries and toss to coat; set aside. Thinly slice the remaining strawberries with a paring knife. Toss with 2 tablespoons confectioners' sugar and the lemon juice in another medium bowl; set aside. In a large bowl, beat the heavy cream, the remaining 1 tablespoon confectioners' sugar, and the vanilla extract with a mixer on medium-high speed until soft peaks form. Refrigerate the whipped cream until ready to assemble.
5. Carefully slice the cake in half horizontally with a long serrated knife. Place the bottom half cut-side up on a platter. Drizzle the juices from the thinly sliced berries over the cut sides of both cake halves. Using a rubber spatula, stir a few tablespoons of the whipped cream into the sliced berries, then spoon them over the bottom cake layer. Cover with the other cake layer, then top with the remaining whipped cream. Top with the halved strawberries and their juices.
TIP: To cut a cake into thinner layers, mark around the sides of the cake with toothpicks, so you know where to cut. Then use a long serrated knife to slice it.
In need of even more sweet treats to bake? Check out the recipe for these chewy Confetti Magic Bars!